Welcome to my Patriotic Porch Tour! Today I am thrilled to be joining some amazing bloggers for this fun tour of 15 different porches each with their own patriotic flair. A huge thank you to Amber of Follow the Yellow Brick Home for hosting this tour and including me. If you have just come from Kristin at White Arrows Home 's porch tour, welcome! Isn't her porch just awesome?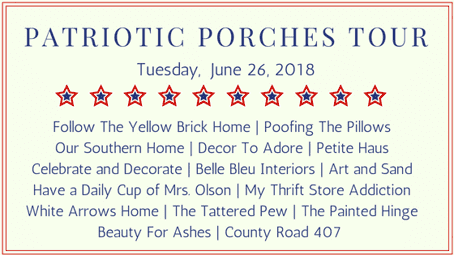 5 Simple Porch Styling Tips
Today I am excited to show you how I have dressed up my porch for Summer as well as share 5 simple porch styling tips!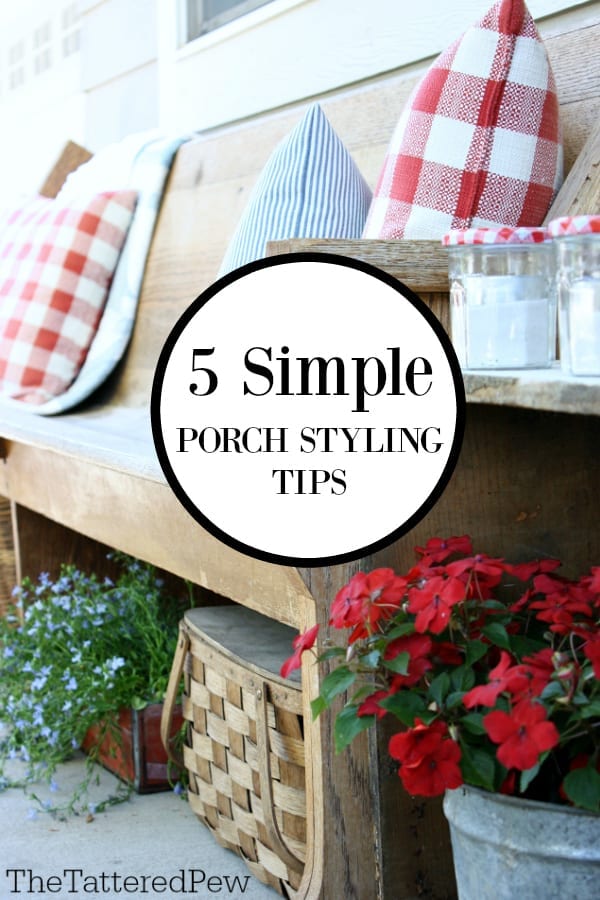 Our porch is my haven and I LOVE decorating it. It holds my beloved second pew, Ms. Fanny. Yes I said second because I actually have three pews. I guess you could say I have a thing for pews! (If you would like to read about the story of Ms. Fanny you can click HERE.)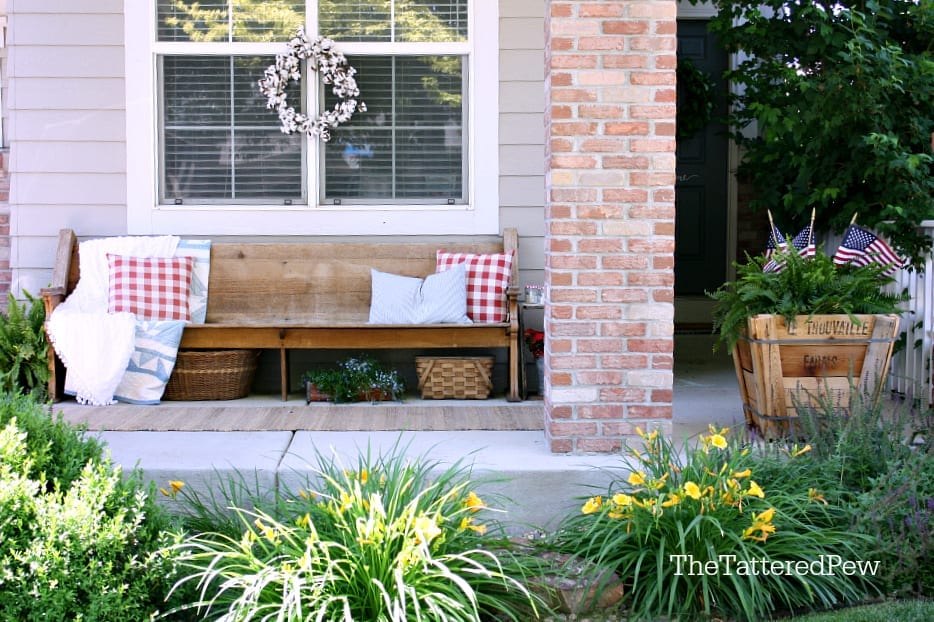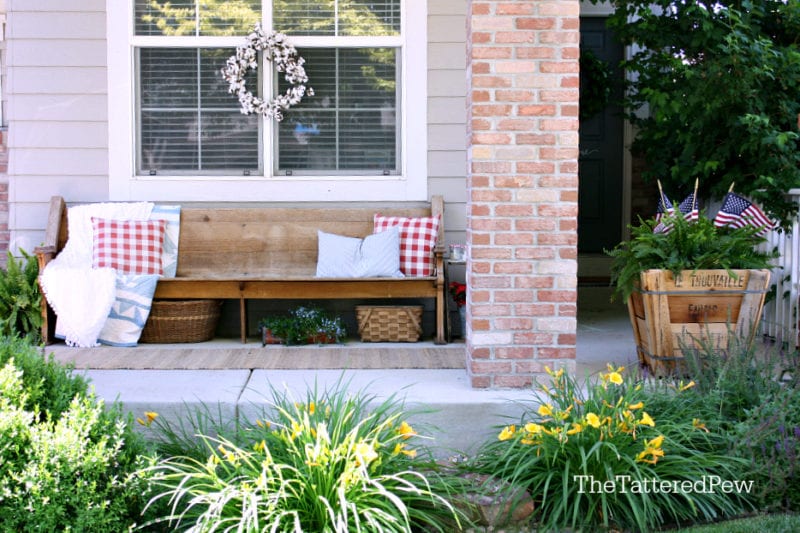 Tip #1-Theme
Find a theme for your porch. With the Fourth of July coming up I knew that I wanted my porch to have a red, white and blue color scheme. I always turn to flowers first when I want to add color then I build from there.  I chose red Impatiens and blue Lobelia and the Boston ferns are still going strong from earlier this Spring when I shared my Spring porch refresh.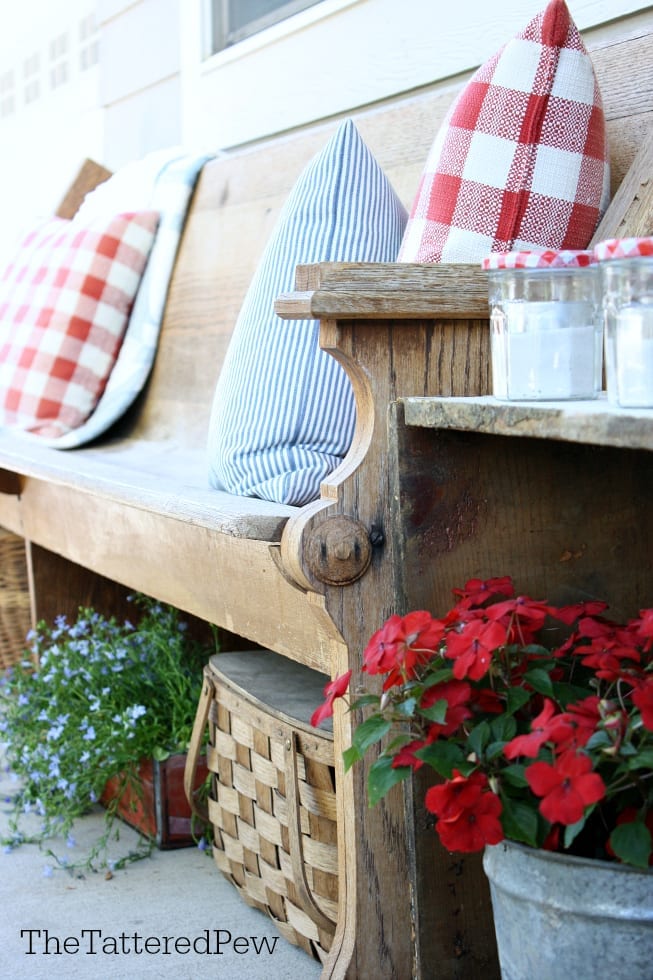 Tip #2- K.I.S.S.
Keep it simple sister! I have a secret…I very rarely plant my plants or flowers in actual pots with dirt. Let me explain. The ferns you see are just placed in their planters (wooden crate/metal bucket) and the flowers are still in their plastic containers as well. I prefer to call them "drop in" flowers or plants! Sometimes I put dirt around the top to hide the plastic containers they come in and sometimes I don't. This way I can move them around or if I happen to forget to water them I can toss them and replace them if needed. I like to keep it simple!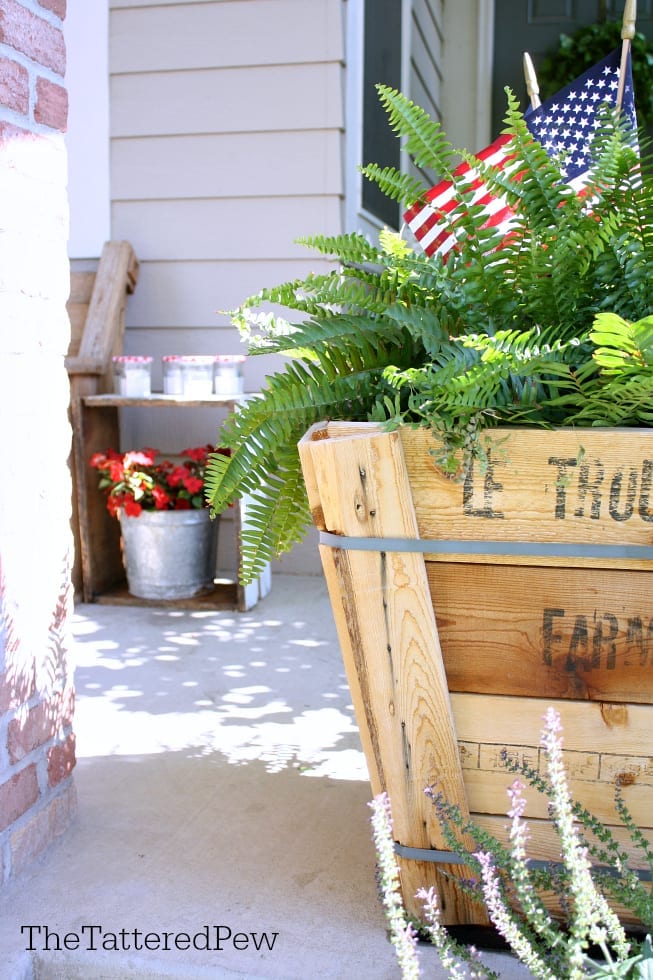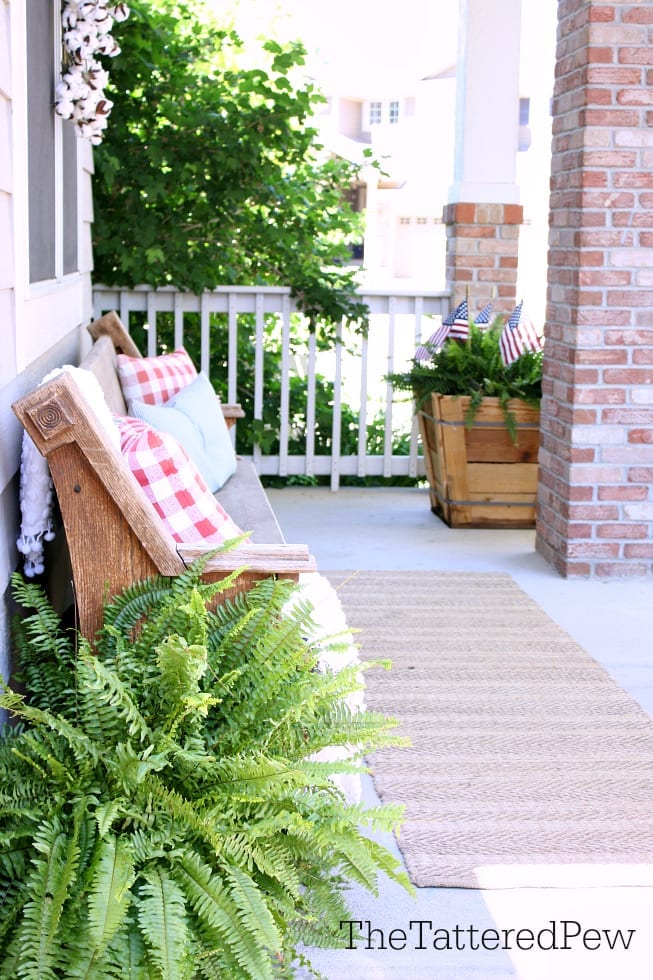 Tip #3-Shop Your House First
This might be my all time favorite tip and I use it inside and outside my home. Remember tip #1? Well once I have a "theme" I like to go shop my house for anything theme related. I also shared this tip on yesterday's post where I shared my summer dining room and entryway which you can see HERE. For our porch I found the old red cocoa-cola crate in our garage, the red and white pillows from our backyard, the French basket from our family room and the quilts and blue and white pillow from inside as well.  Oh and I almost forgot, the long jute runner I stole from our kitchen! The rest of the items were already on our porch and I just moved them around! This is a smart and fun way to refresh without breaking the bank!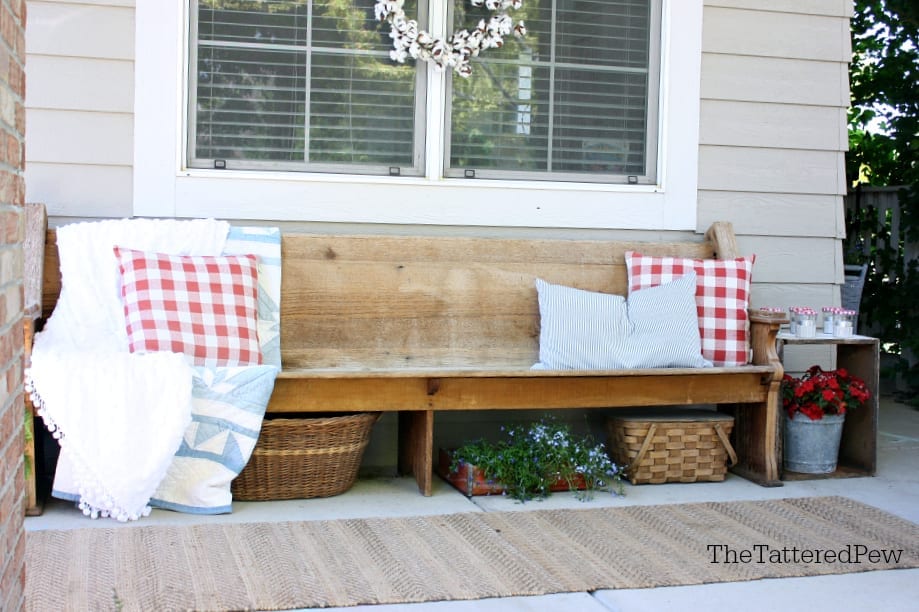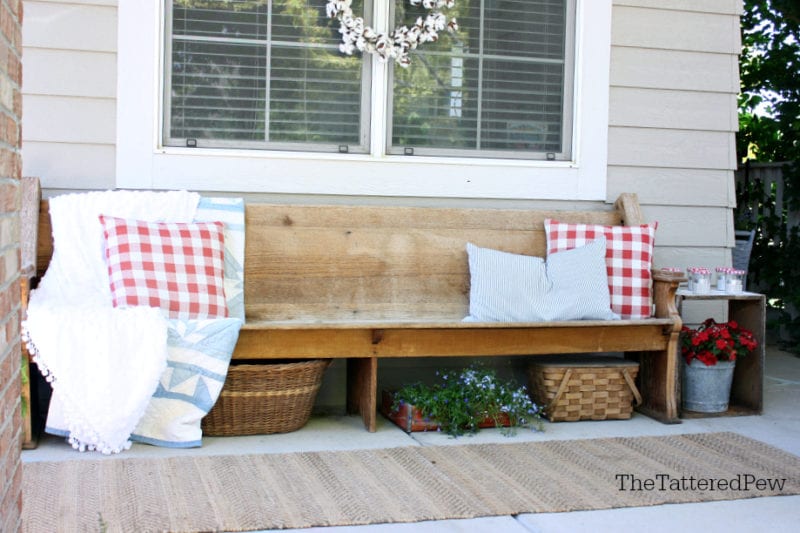 Tip #4-Don't Be Afraid to Bring the Indoors Out
Like I said in tip #3 half of my porch decor came from inside my house! Having the unexpected outside brings a certain element of surprise as well as comfort. I like to look at my porch as another room in my home so why not bring the indoors out? I know a lot of people worry about having their nice quilts and baskets outside but not me. Most of my items are vintage already so a little bit of dirt will only add more character! 😉 But all kidding aside, there are times when I will bring my pillows or quilts in at night and there definitely are items that I would never bring outside. Just use your own discretion and don't be afraid to get creative.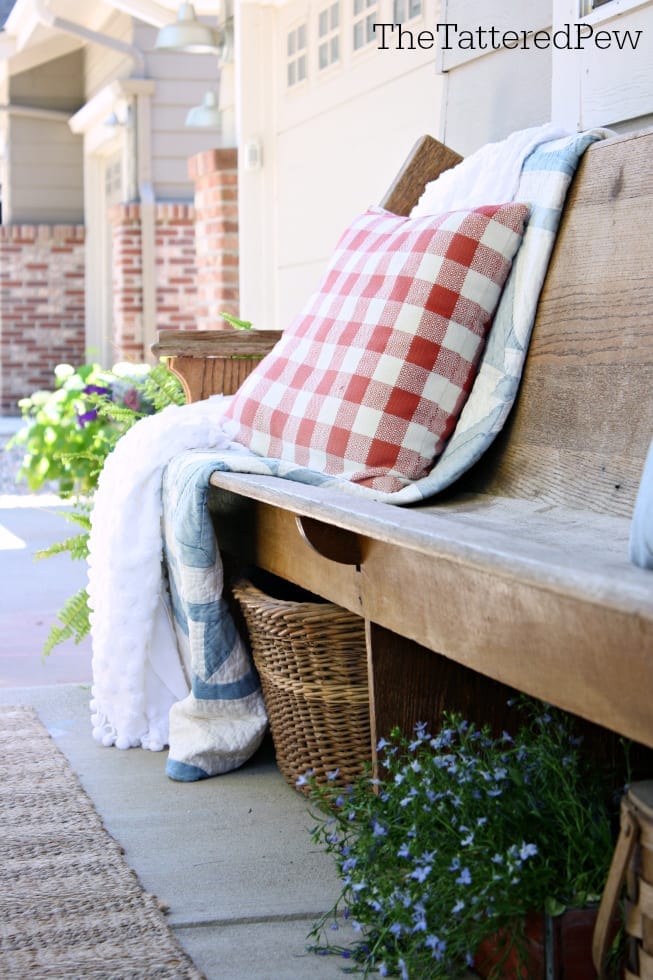 Tip #5- Don't Forget to Have Fun!
Remember it's really all about having fun and bringing your personality to the space! These little votives were a fun little DIY project that I whipped up in less than 5 minutes. These are jelly jars of my mom's that we have used during our many tea parties. You can catch a glimpse of them HERE. All I did was add sand to them and a mini candle and BAM, darling little vintage looking votives! Instant character, instant color and even a little bit of recycling! In my book color always equals fun!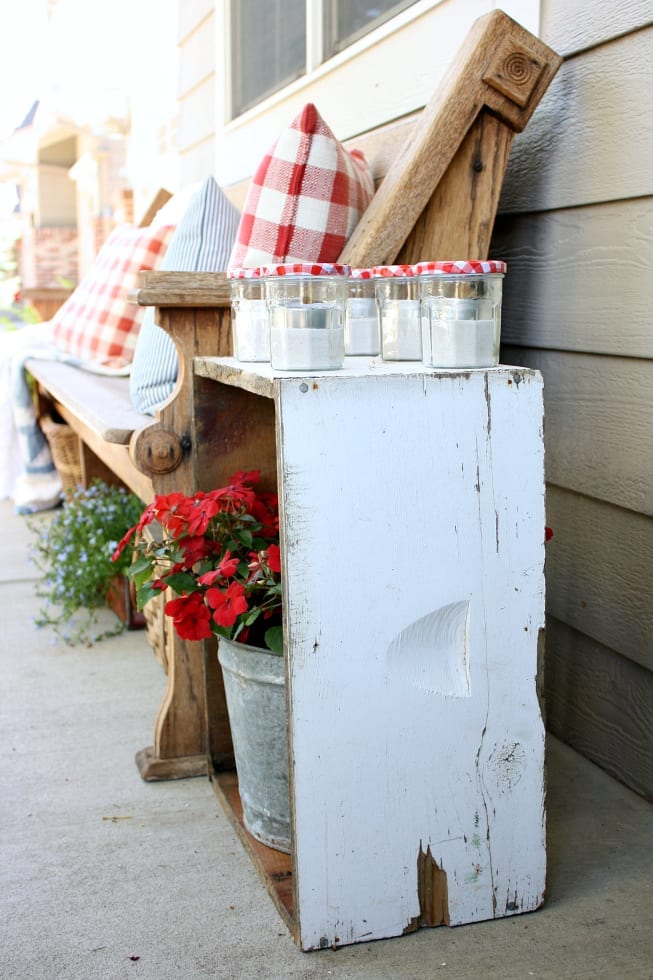 Our Patriotic Porch
Thank you for stopping by our porch today! I hope you found some inspiration as well as a few helpful tips for the next time you decorate your porch or outdoor space. Please let me know if you have any questions.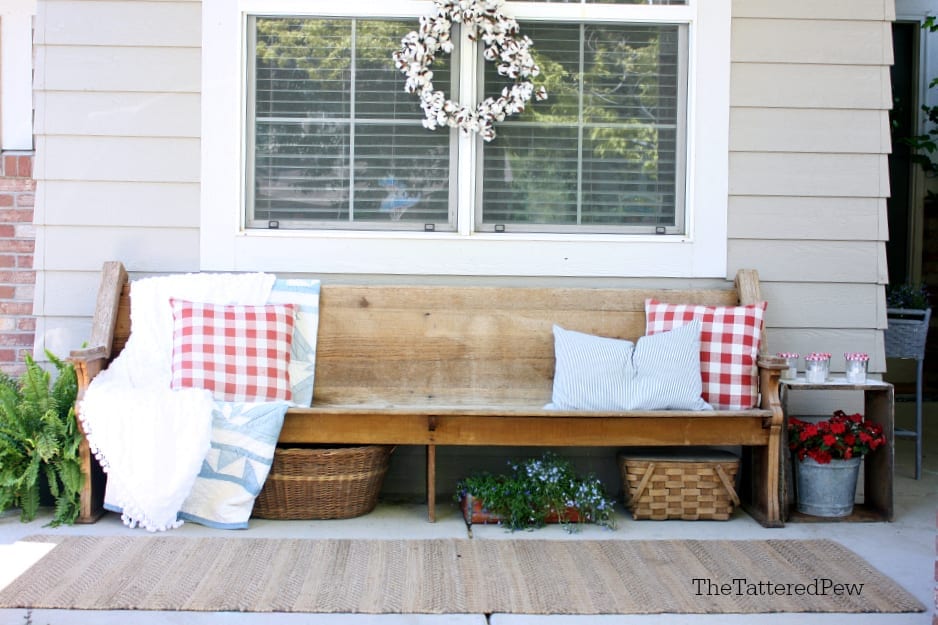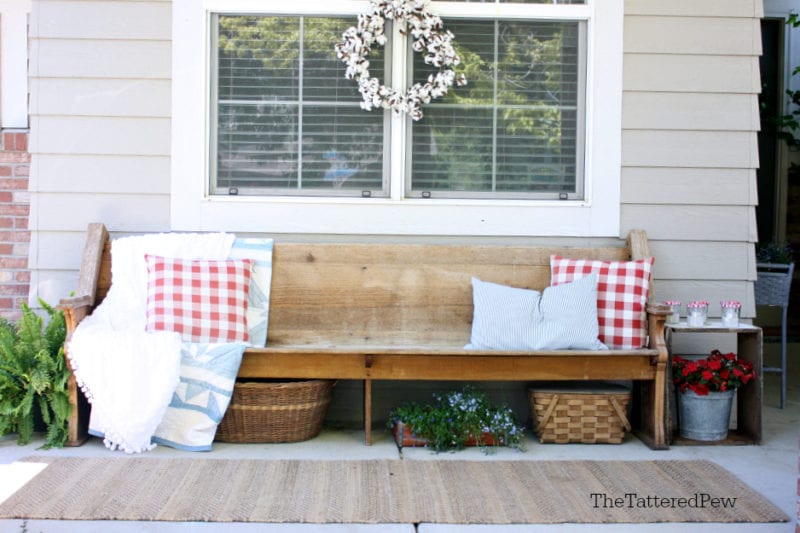 The next stop on the Patriotic Porch Tour is the Painted Hinge. I know you will love Michelle's porch and style!
xoxo,
Kelly
Make sure you visit the others bloggers tours as well. You can find each of their links listed below!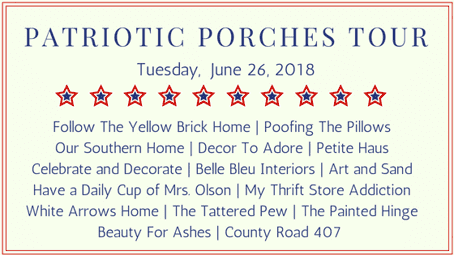 Follow The Yellow Brick Home | Poofing The Pillows | Our Southern Home
Decor To Adore |  Petite Haus | Celebrate and Decorate | Belle Bleu Interiors
Art and Sand | Have a Daily Cup of Mrs. Olson | My Thrift Store Addiction
White Arrows Home | The Tattered Pew | The Painted Hinge
Beauty For Ashes | County Road 407