Colorful Cottage Spring Kitchen Tour
I just love Spring!
It's all about new life, new beginnings and of course sunshine.
Yes, there is still snow here in Colorado but I am already dreaming of planting flowers and working in my garden. So to hold me over until it arrives I have been busy bringing that Spring feeling indoors and decorating our kitchen.
This post may contain affiliate links. While it's no additional cost to you, clicking these links helps keep this blog going. You can view my disclosure policy for details.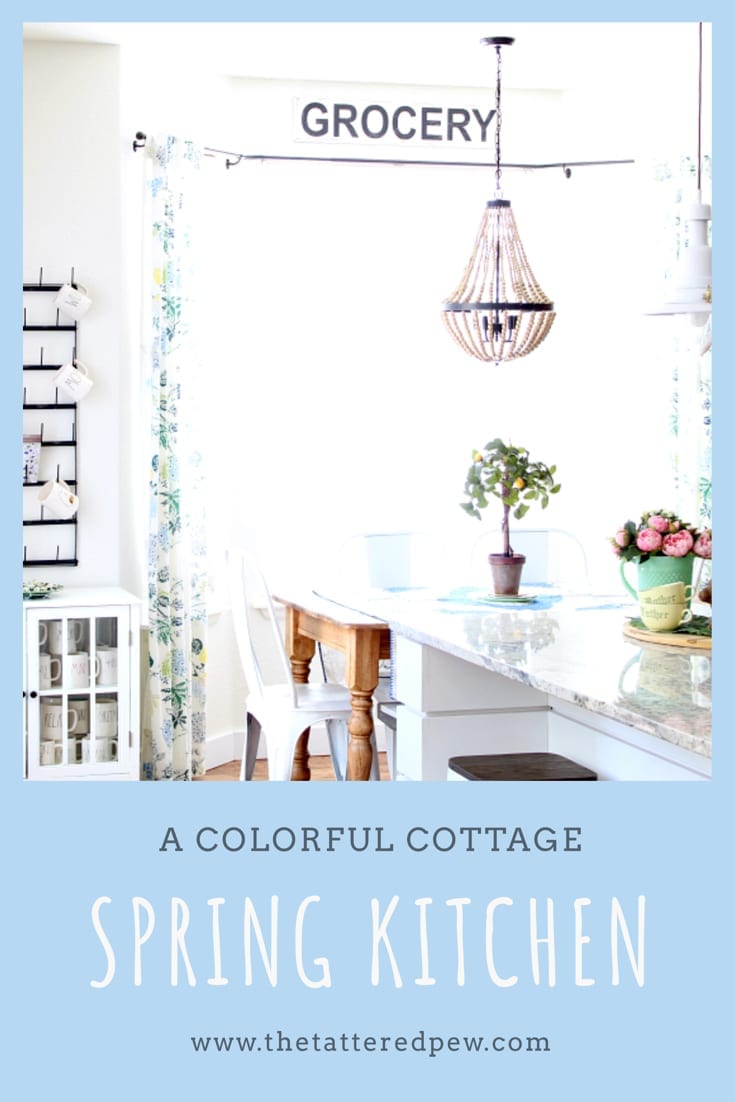 Last week I shared How to Transition from Winter to Spring Decor and today I can't wait to show you a tour of our colorful cottage Spring kitchen! Thank you to Mansa from Simplicite Design & Sweets for inviting me to participate in her week long Breath of Fresh Air Spring Home Tour featuring 30 bloggers (links at the end of this post). If you are coming from Miranda at Blue Agate Abode welcome, isn't her use of color just gorgeous?!
Colorful Cottage Spring Kitchen Tour
Let me be honest. I don't live in a cottage….instead I like to pretend that our builder grade home is a cottage and I dress her up accordingly.  You can do that when it's your home, right?! 😉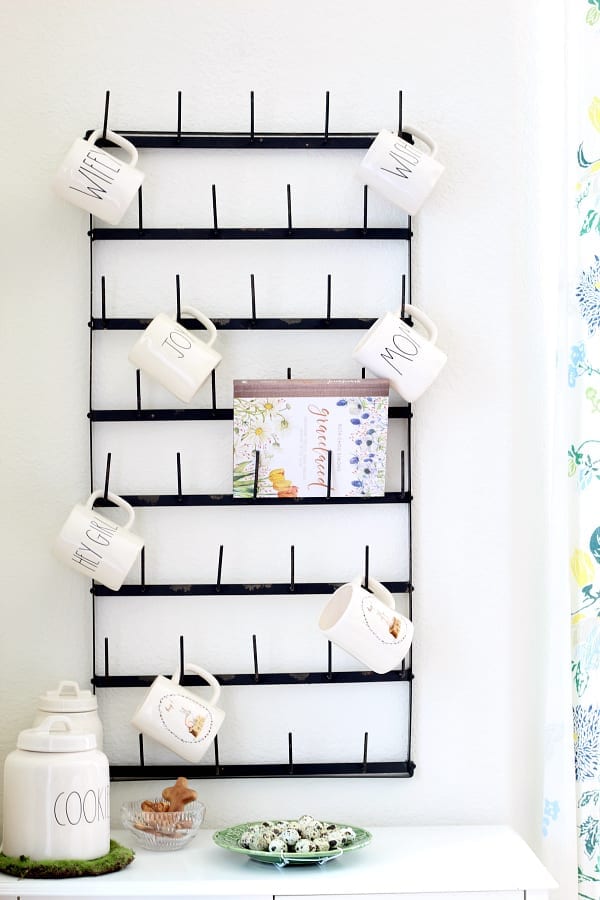 Our kitchen gets such great light especially in the morning. Sometimes when I walk downstairs to get my morning coffee ( or should I say stumble) I just pause and soak in the sunshine as it comes through the windows. I love the cottage vibe our kitchen gives off.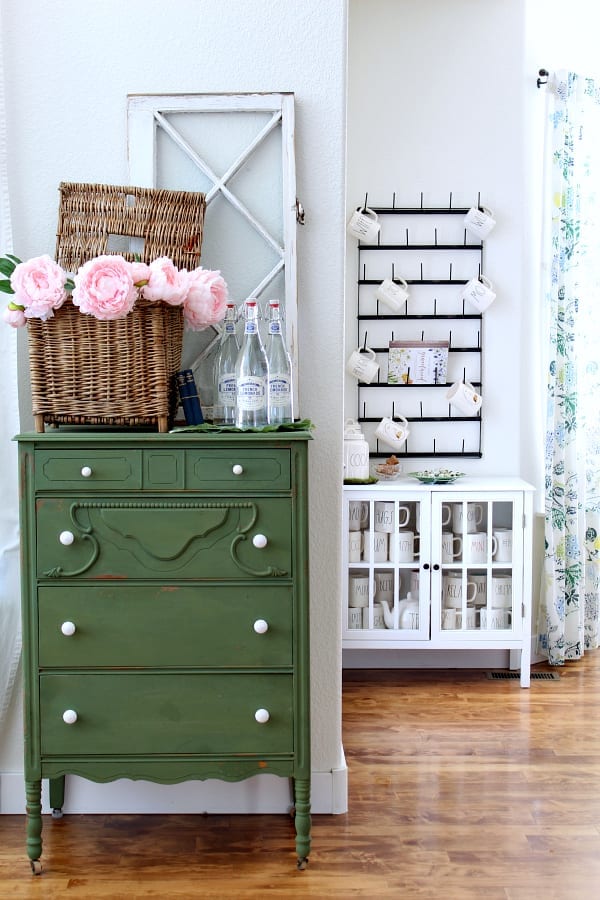 The walls are painted Albaster by Sherwin Williams and it is the perfect white in my opinion. You can see what our walls looked like before I painted them by clicking here.  The contrast of the white walls against my favorite green dresser that I painted Boxwood, adds just the right amount of  color to our cottage.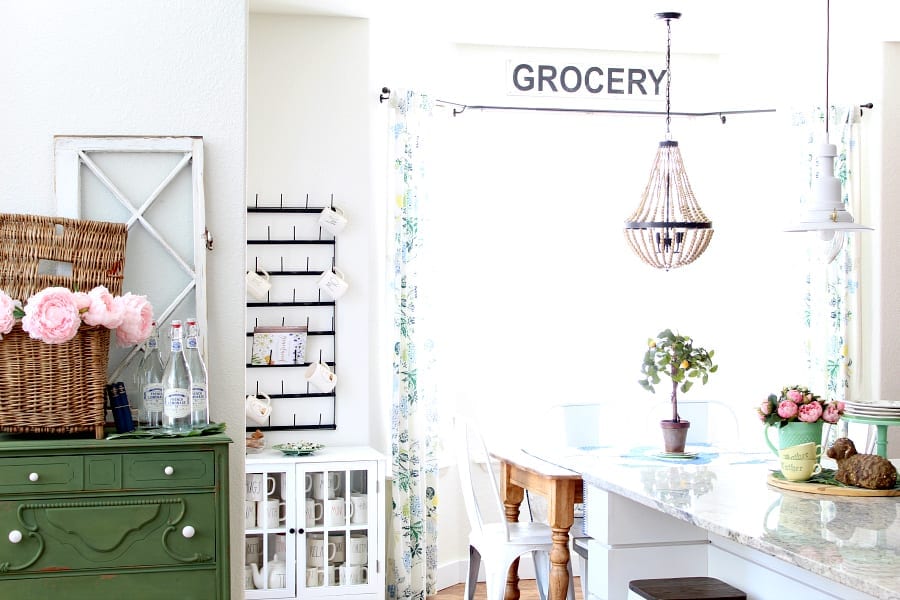 Touches of Pinks and Greens
To enhance that colorful cottage vibe even more I decided to focus on pinks and greens once again this Spring. I used these colors last year and fell in love with them. Bringing out my jadeite was a must as were touches of flowers and floral decor! Once I added the faux peonies to my green jadeite pitcher , I was instantly in love with the combo!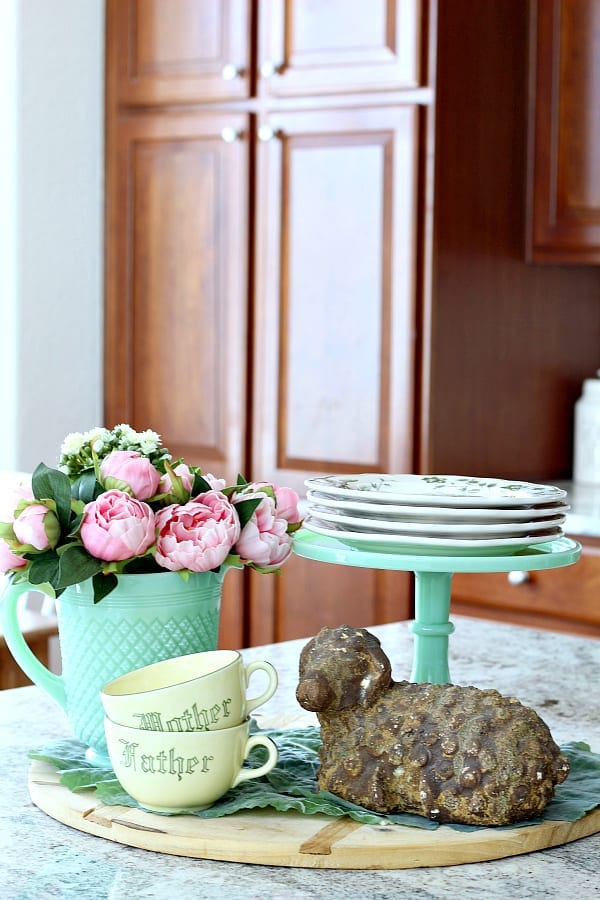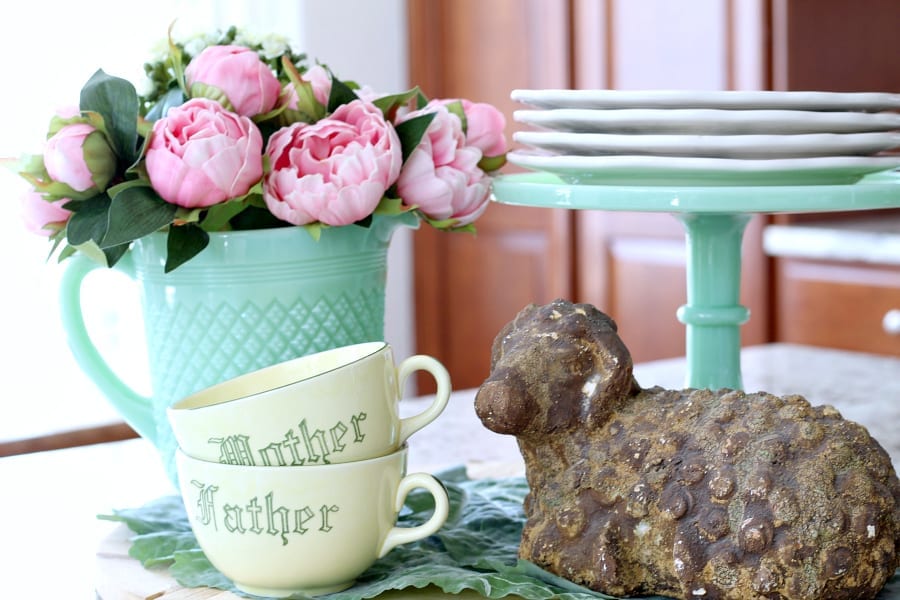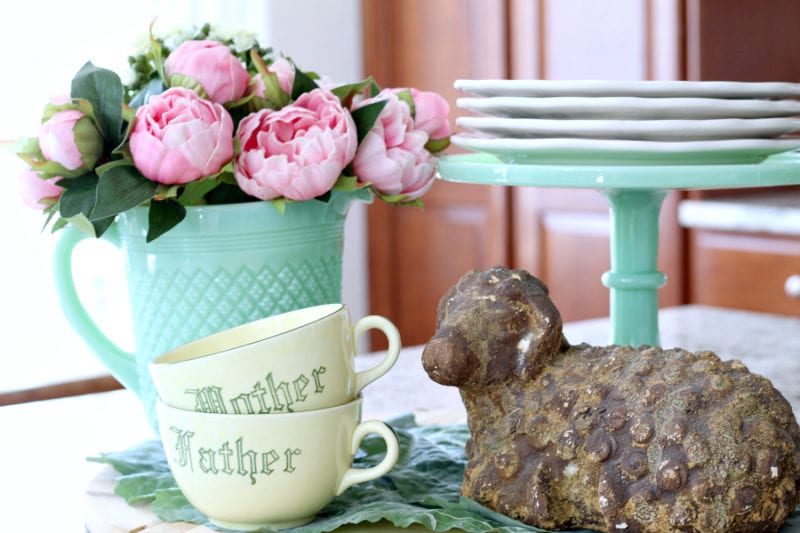 Of course I had to add a few vintage touches here and there, like these mother and father cups I found at a local flea market. I have a total love affair with vignettes (my Pinterest board is proof) and mixing in the old with the new.   The vignette on my counter is the perfect example. This may be one of my all time favorite Spring vignettes I have created.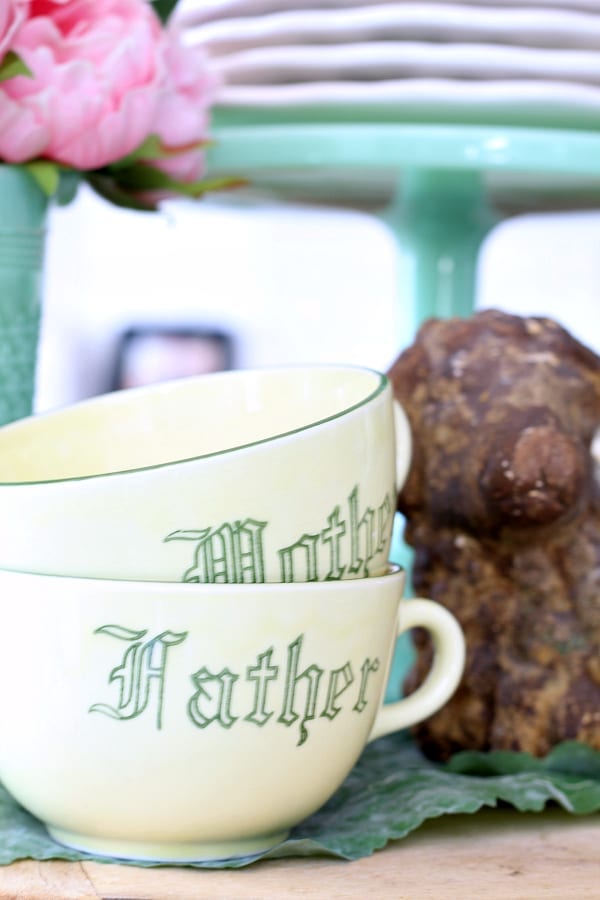 The bunny plates were a HomeGoods find! I used them in last year's Spring kitchen tour as well and was so excited to bring them out again. I saw a few more this year again at HomeGoods if you are looking for adorable bunny plates!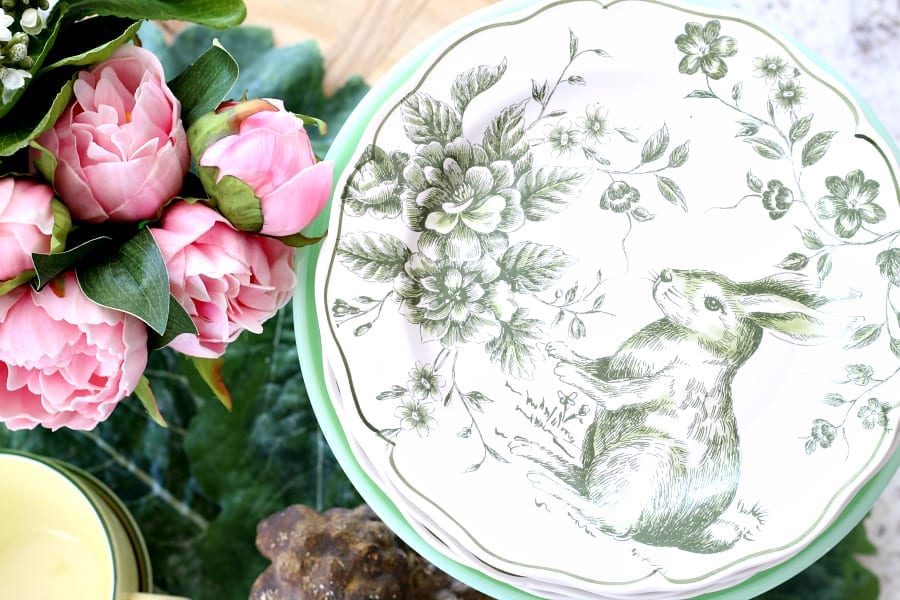 The Kitchen Island & More
Our island is the heart of our home. It started with my husband and I designing it and now it has become a hang out zone for our family and friends. Decorating it for Spring has only made it better.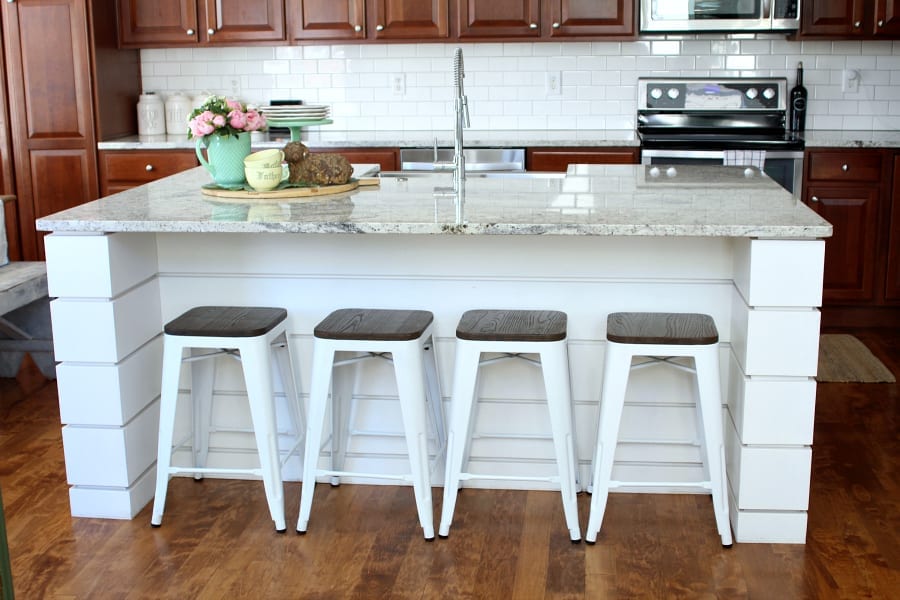 Across the island is our sun filled kitchen nook. See that wood table with the beautifully turned legs? It was FREE! Yep, I scored it from a friend who was moving. It was love at first sight! I had fun adding touches of Spring to this area as well.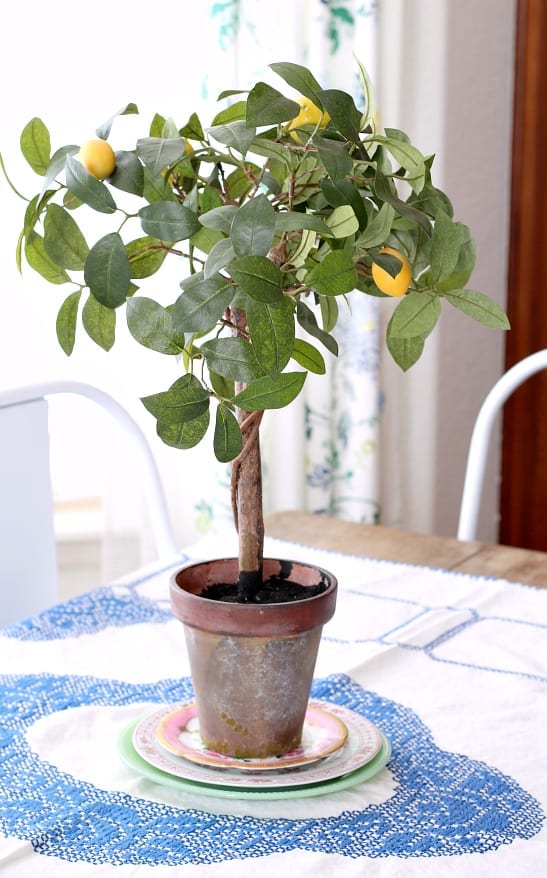 This area calls for color! So I decided to mix it in starting with this lemon topiary. Everyone needs a lemon topiary, right?! I found this one at Rod Works and I'm thinking I might need a few more. It is sitting on a stack of vintage plates and a beautiful blue hand stitched vintage tablecloth. I love when my random finds all come together for the perfect colorful decor!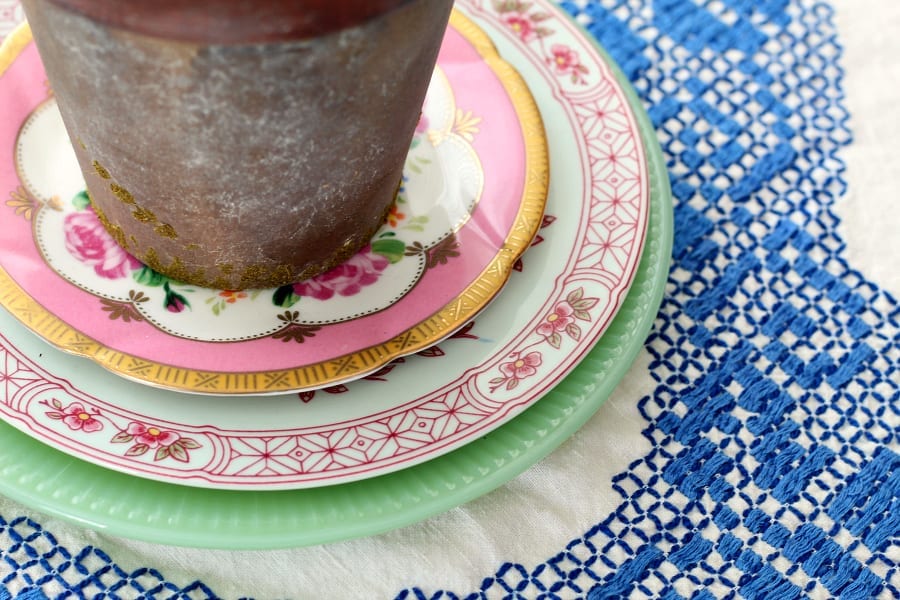 Shop the Post


I Love My Spring Kitchen
Even though it's not technically Spring yet our colorful cottage kitchen is the perfect cure for my case of Spring fever! I just love all of the color…it makes me happy! Next you can head over to Adrienne Elizabeth Home Style Life for her gorgeous Spring home tour which is the next stop on the blog hop! Don't forget to check out the full list of bloggers and their links below for some more lovely Spring inspiration as well.
Happy almost Spring friends!
xoxo,
Kelly