Christmas In Our Kitchen and Dining Room
Are you in the mood for some Christmas decorating? It's not too early to start thinking about ways to add a little bit of Christmas cheer to your home. In this blog post, we'll take a look at some ideas for decorating your kitchen and dining room for Christmas. I'll take you on a tour and show you how to create a festive atmosphere without going overboard. So if you're looking for some inspiration, read on and come take a peek at Christmas in our kitchen and dining room this year!!!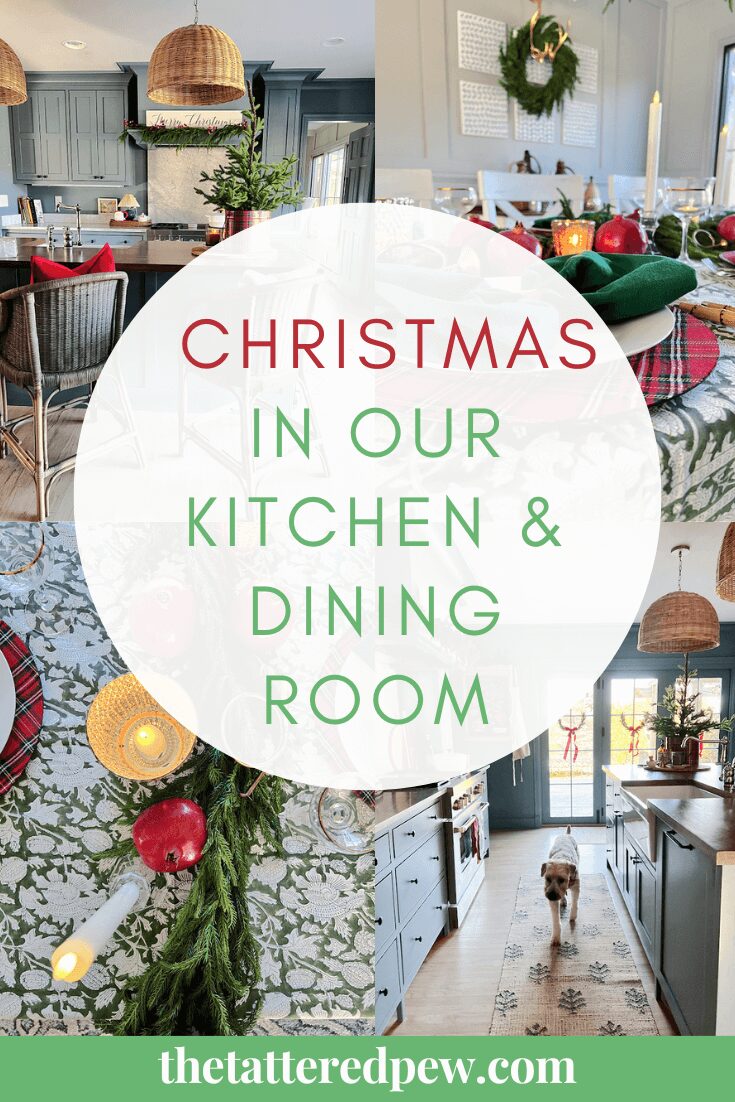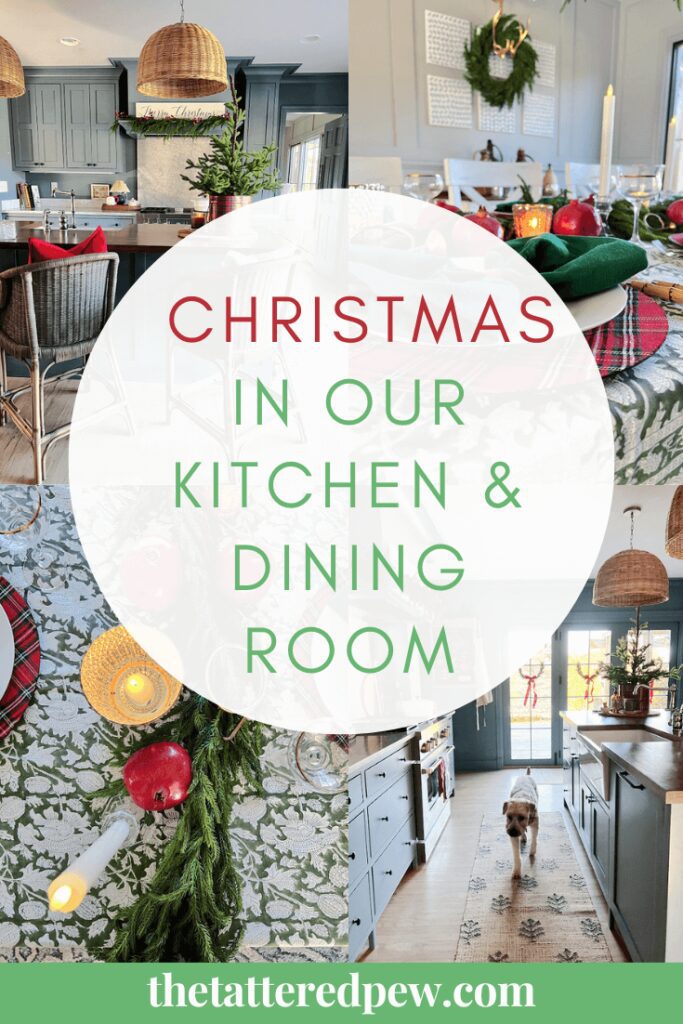 *Thank you to Wayfair for generously sponsoring this post. All opinions are my own. Thanks for supporting the brands that keep The Tattered Pew sharing! As an Amazon Associate, I earn from qualifying purchases. This post contains other affiliate links too for your convenience. Click here to read my full disclosure policy.
Christmas In Our Kitchen and Dining Room
Do you decorate for Christmas before or after Thanksgiving? I know this seems to be the hot question lately and obviously I have already decorated.
Either way, I say do what brings you joy! And today's post is all about inspiration and bringing that joy. So whether you tuck these ideas aside for after Thanksgiving or you have already gotten started, my hope is that you leave here today with some fresh new ideas!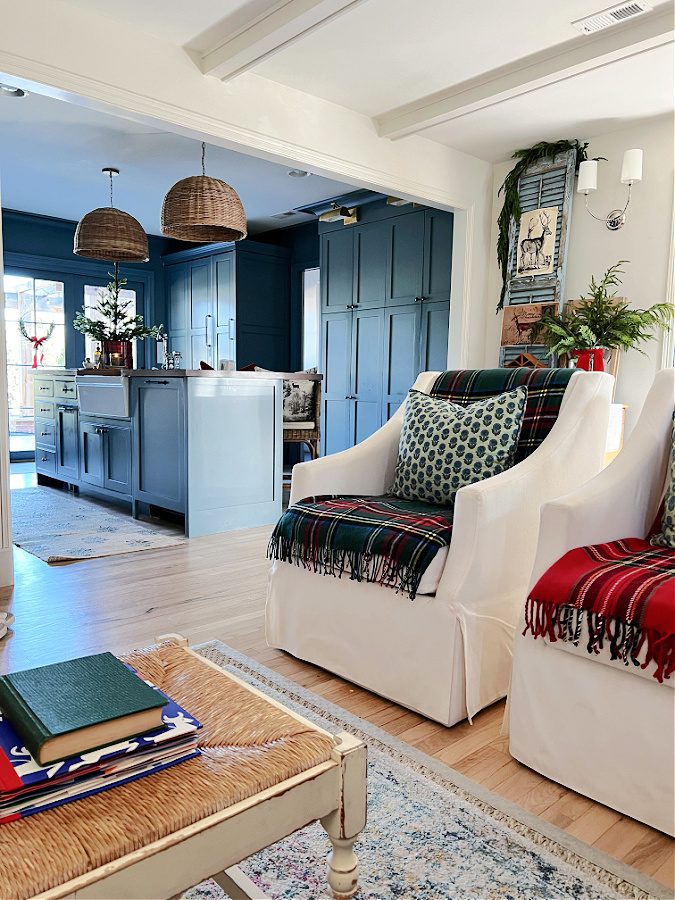 Celebrating Christmas Round Up
Today I am joining Leen from Sand Dollar Lane for her Celebrating Christmas blog hop. This is a week long tour and you can visit all of the homes at the bottom of my post. So much Christmas inspiration for you on this beautiful Wednesday.
If you are popping over from Suzy of Worthing Court Blog and her lovely French blue decor ideas for Christmas, welcome! I have met Suzy in person and she is as kind as can be!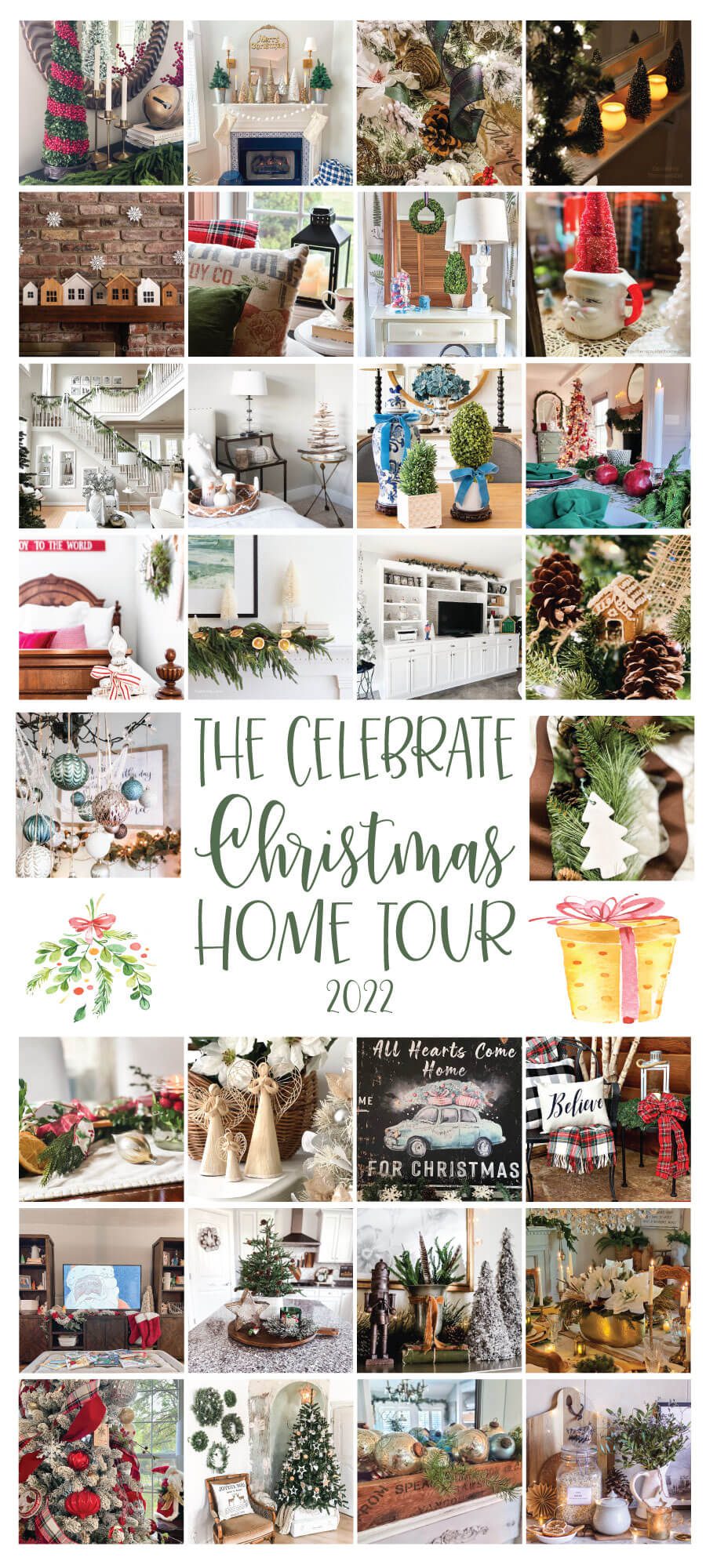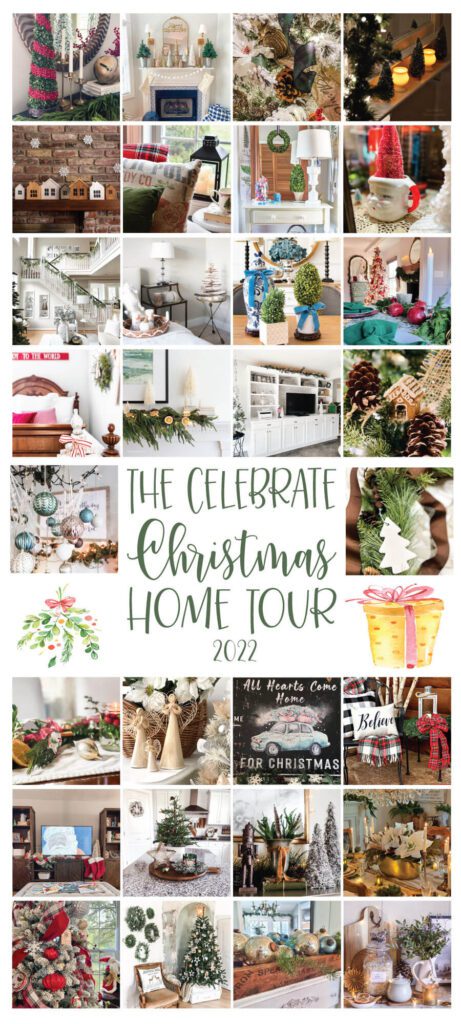 Welcome to Our Home!
Before we get started I wanted to welcome you to our home! And give a small warning, I have broken this tour into two parts because I took a ton of pictures! So after Thanksgiving I will share the rest of our home and I hope you will join me.
I am Kelly and I live in beautiful Colorado with my awesome family and two dogs. I thrive on hunting for unique and budget friendly finds on-line, at consignment shops , flea markets or even Home Goods! I'm new to full time blogging after leaving my 20 year teaching career and loving it. I survive on Jesus and coffee and the occasional bit of whiskey in a tea cup.
Oh, and I LOVE all things Christmas! You can see my last year's Christmas tours here and here! I'm all about celebrating Jesus and his birth and I was born on December 22nd and brought home in a stocking, so it only seems fitting, right?
Ok, enough about me. Let's start in the kitchen, shall we ?
Christmas in Our Kitchen
When we bought this house a little over a year ago it was love at first sight for me with this all blue kitchen! Our cabinets and walls and trim are all painted in the color Blustery Sky by Sherwin Williams. It's a beautiful blue gray color and I love it!
But, with the kitchen being all blue it does sometimes get a bit dark at times.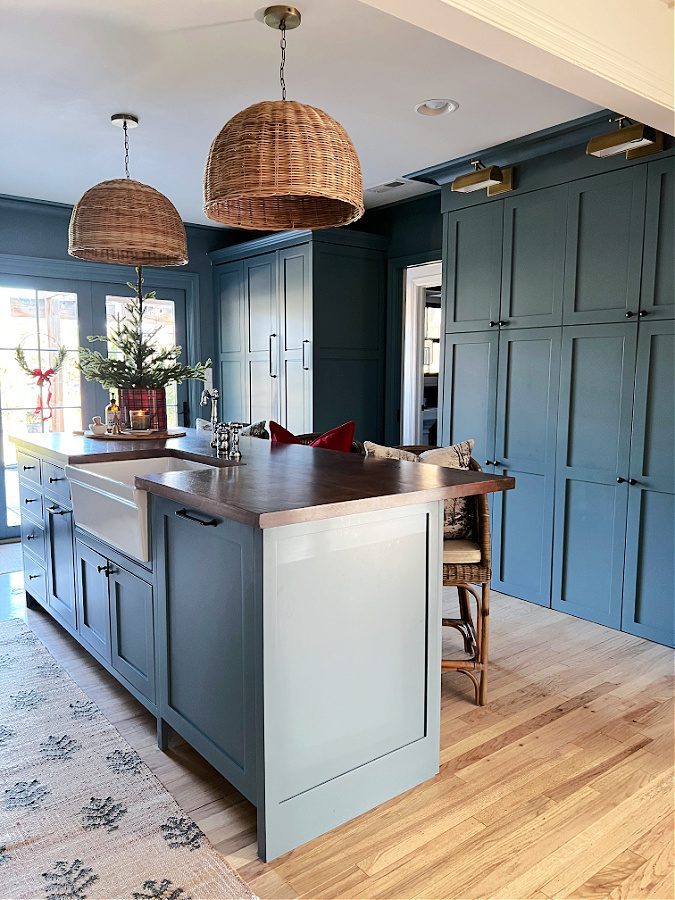 So I recently changed out the previous lighting over our island for these gorgeous basket pendant lights from Wayfair and I could not be happier!
I love Wayfair's lighting selection and had fun looking through all of their amazing quality options at an affordable price!
Changing out your lighting is an easy way to get that custom look in your home.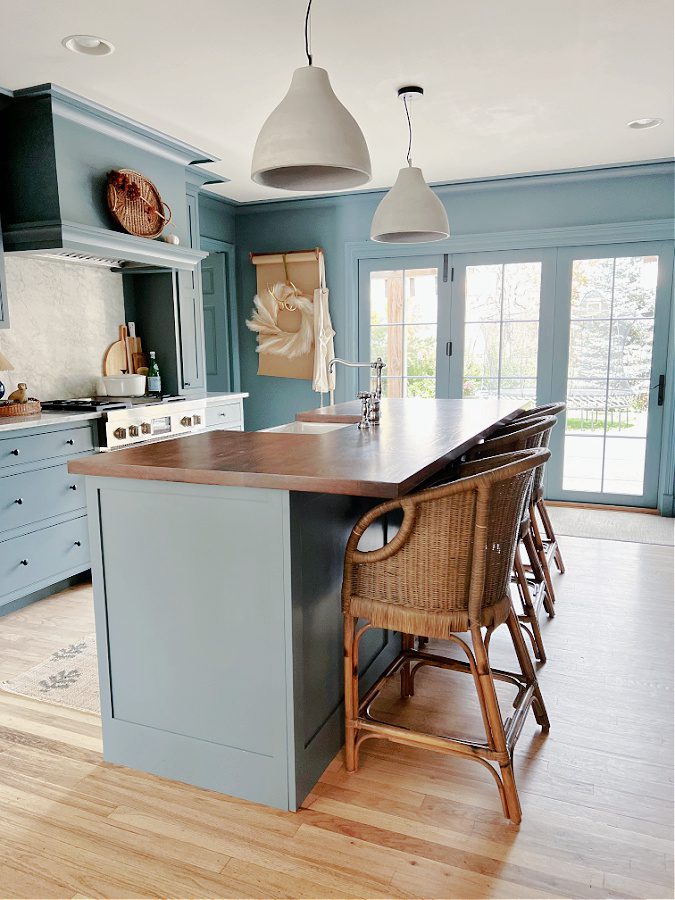 They add a whole new vibe to this space that it was previously missing. I love the warmth they add to the space and the light shines through the weave of the shade so beautifully and gives us that much needed extra light we were missing.
My mom helped me and we changed them out ourselves! You can visit this link HERE to watch the entire process over on my Instagram stories. I saved it to my highlights. We had a lot of fun!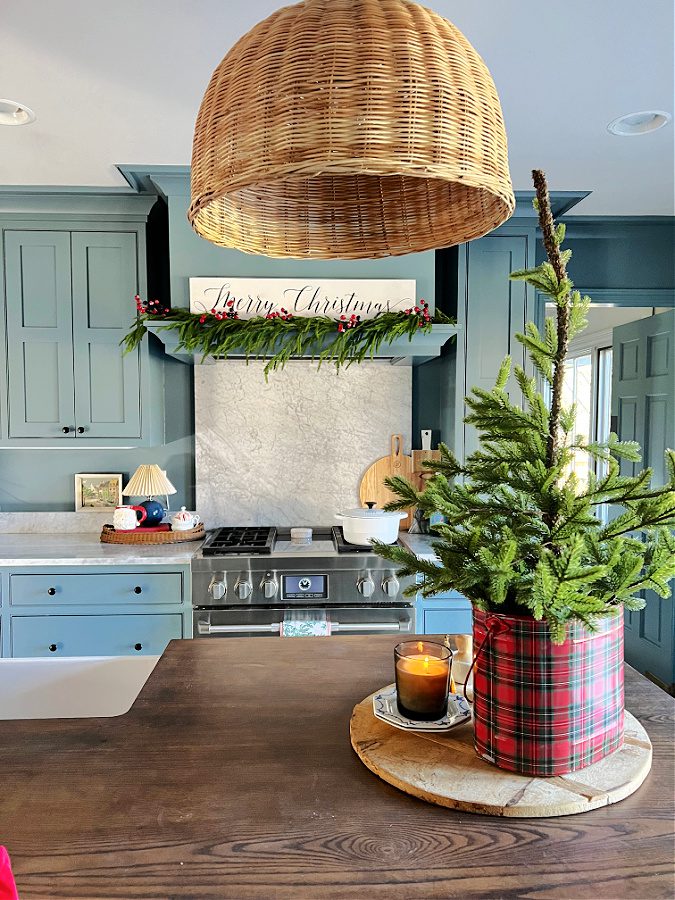 Of course now I want to change out the stools because there is a lot of the same texture and color happening in this space. I have three options in mind.
Option 1: I can paint the current counter chairs white for some contrast. Option 2: I could change them out for these beauties from Wayfair. Or Option 3: try these white outdoor ones for a fun change.
Let me know what you think?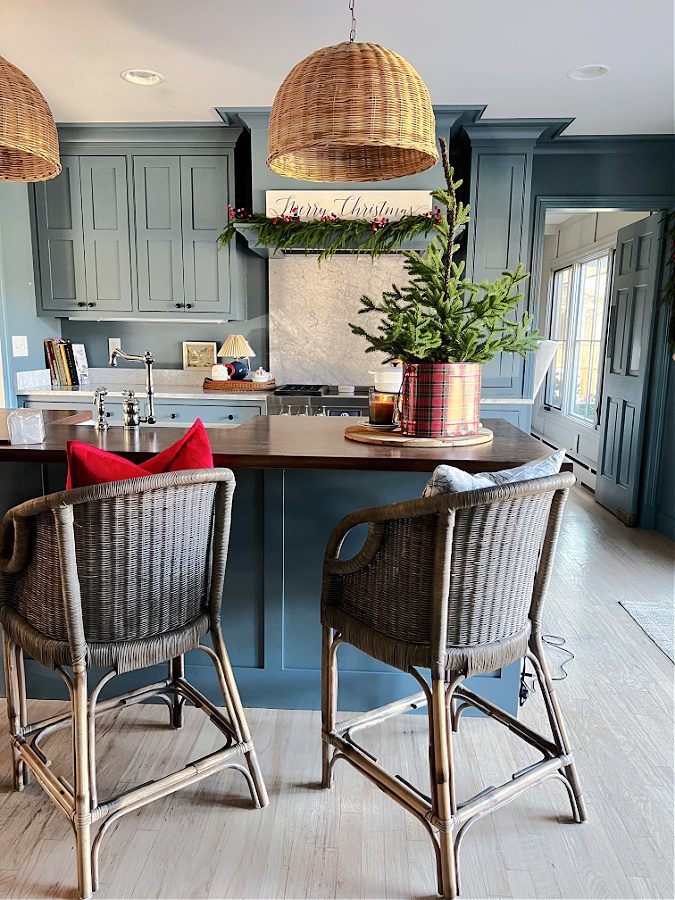 I still love these chairs though. They are actually outdoor patio bar chairs that we got from Wayfair years ago. I can no longer find them but I did find these similar ones if you like the look!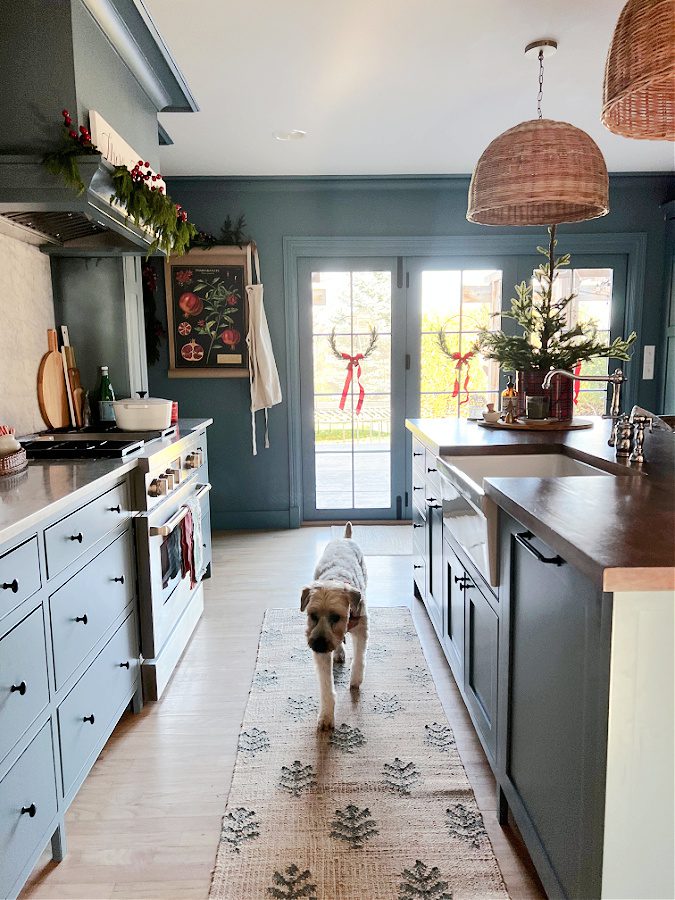 Back to Christmas, I kept things rather simple for Christmas decor in our kitchen. I added three wreaths to our back sliders and tied red ribbon on them.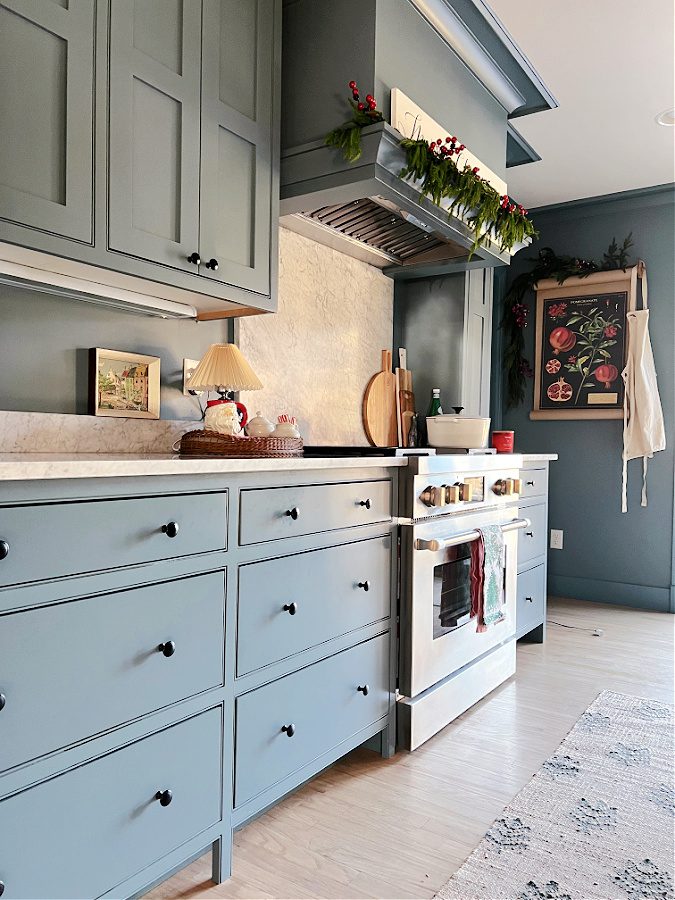 I also added my favorite faux garland and red berries over the hood and around our wall mounted craft paper roll. The garland is sold out most places but I did find some over on Etsy recently!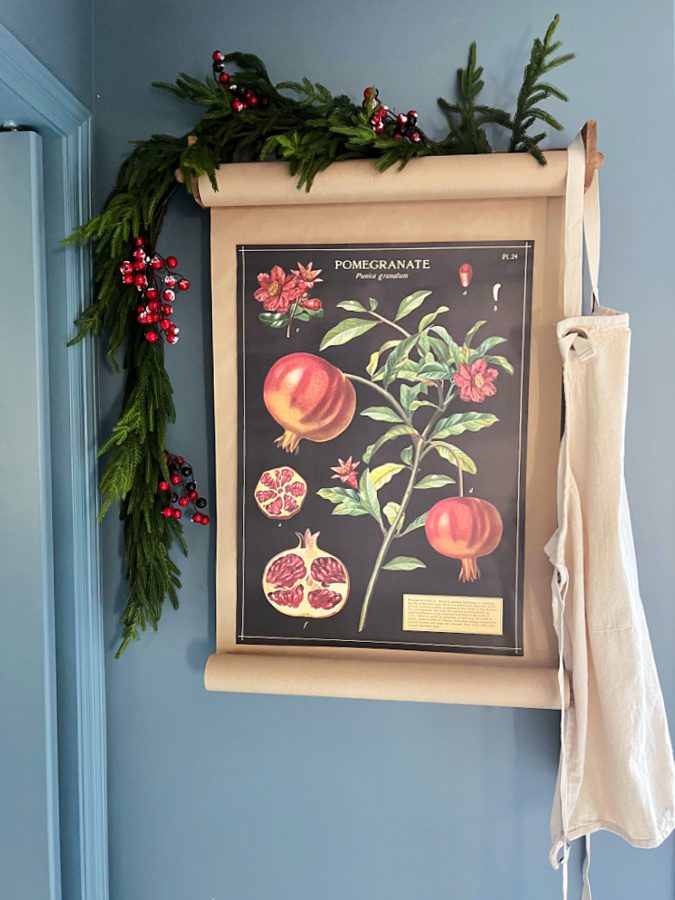 Shop Our Christmas Kitchen
Simply scroll through the pictures and click on each picture to visit the item. If you need help finding sources or items please reach out or leave a comment at the end of my post!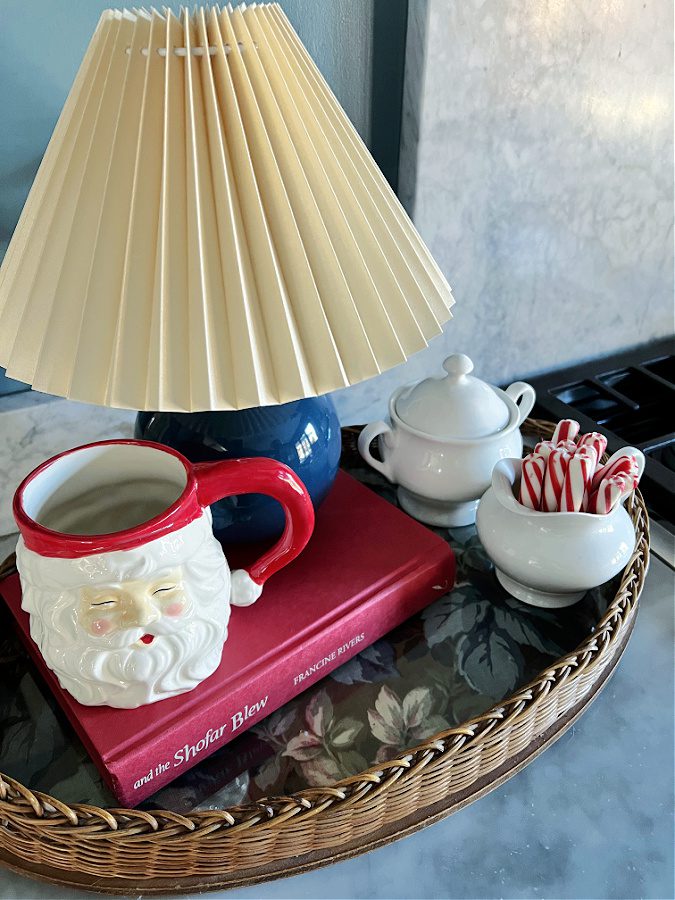 On the back counter I used a vintage tray to corral a few of my favorite things including one of our Santa mugs!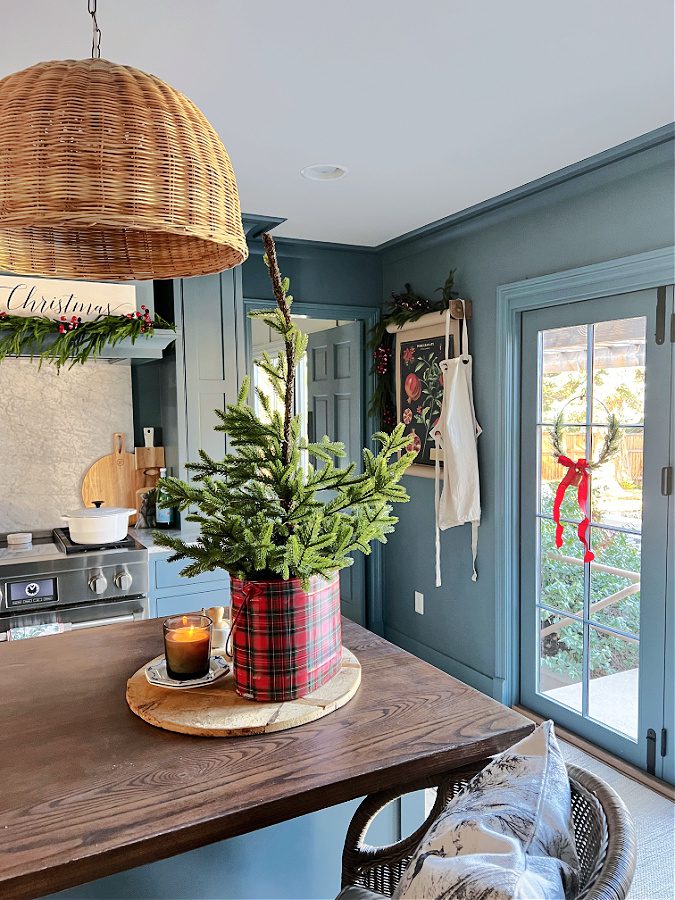 Oh, and how cute is this tree tucked into this plaid metal bucket? So simple yet so pretty for Christmas in the kitchen!
The picture below is a peek into our ding room from our kitchen. Let's head there next!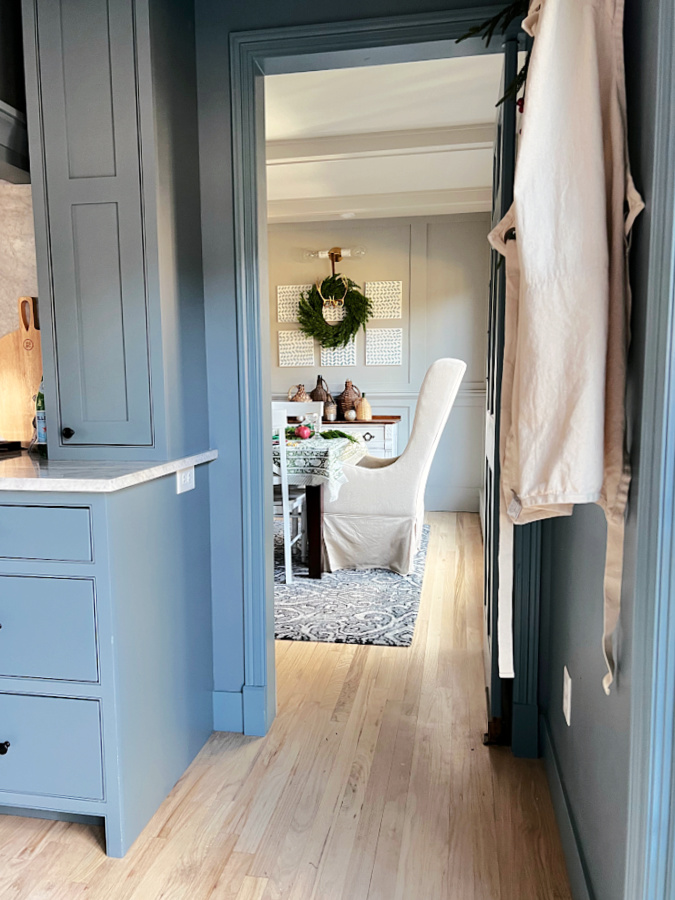 Christmas In Our Dining Room
Next up let's pop in to our dining room. This room is right behind the wall in our kitchen that holds our oven. The door you see above is the perfect pass through and you can also get here through our family room .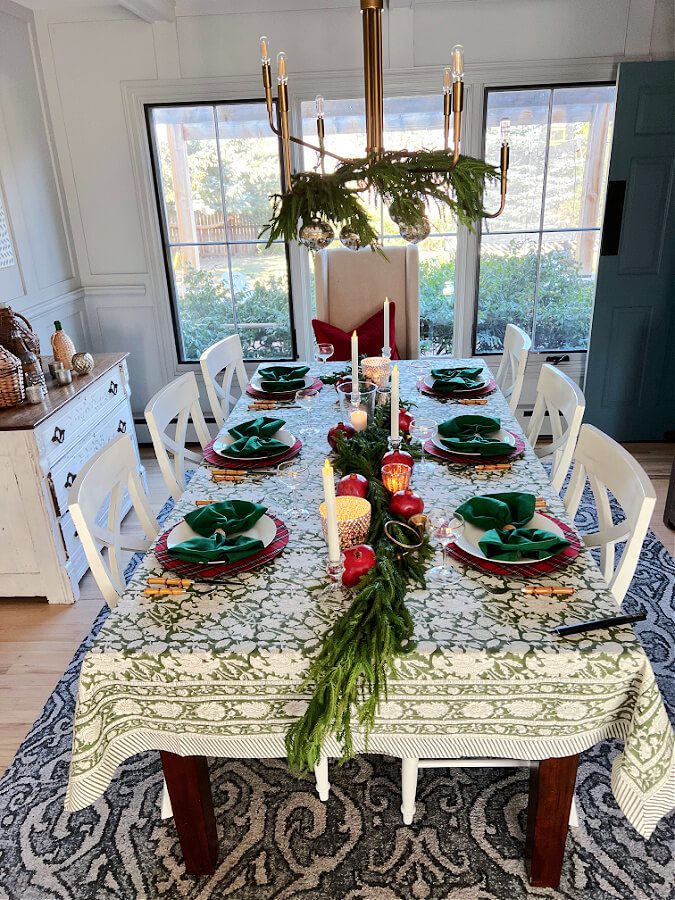 I had a lot of fun setting this table for Christmas! Just like last year's Christmas dining table, I used a bright and colorful tablecloth. It makes everything pop and adds such a fun pattern!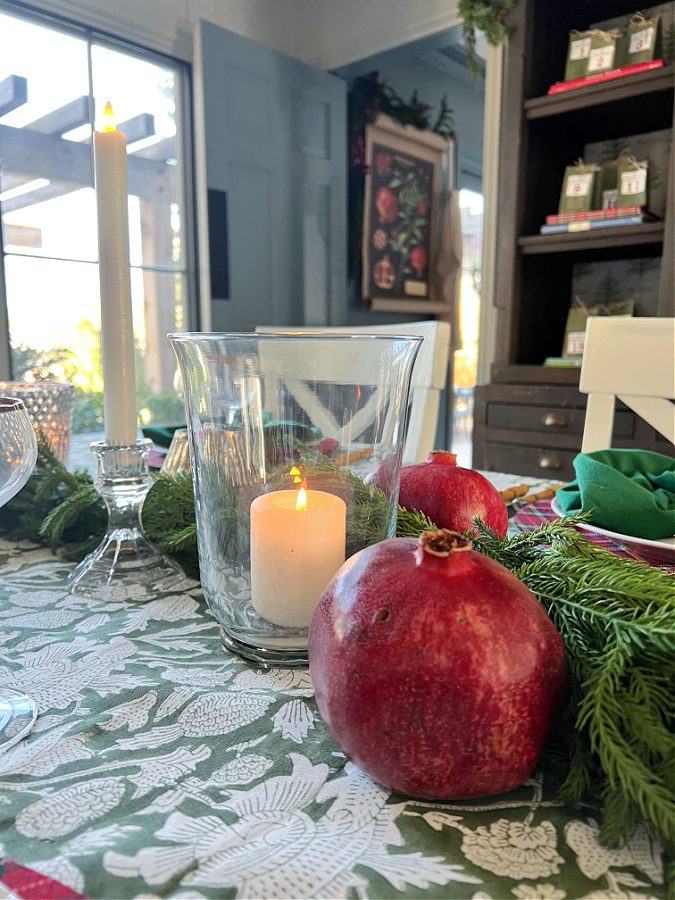 Candles, pomegranates, greenery and a few gold and plaid accents made this Christmas table come alive!
After laying the garland down I spread out the real pomegranates, then the candles and finally a few mini brass horns.
The gold rimmed couple glasses and place settings were next.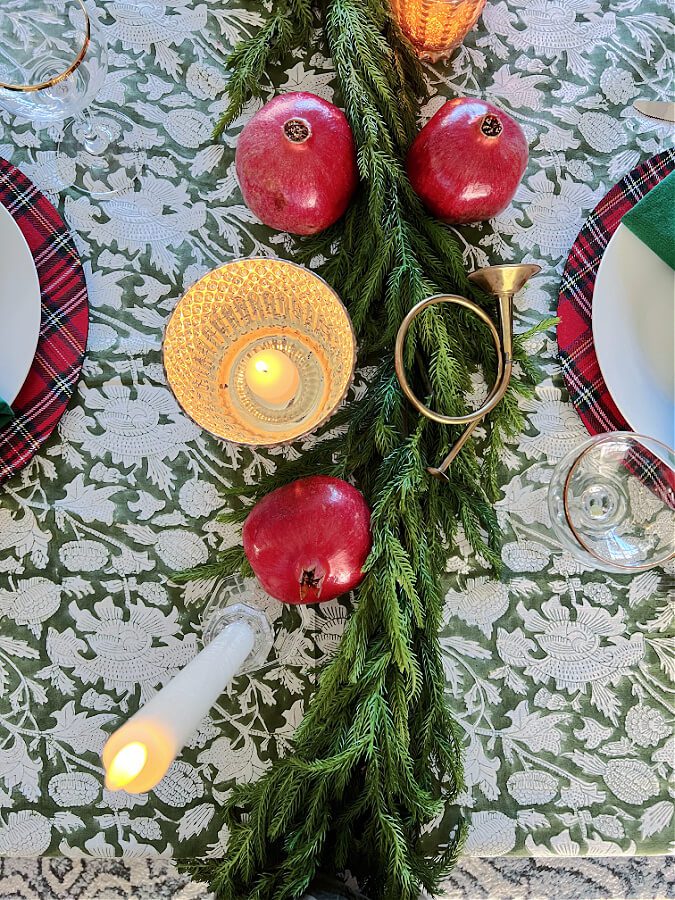 Behind our dining table is one of my favorite consignment shop hutches and it is filled with a Christmas countdown! I shared the full tutorial over on the Miss Mustard Seed blog if you want a better peek!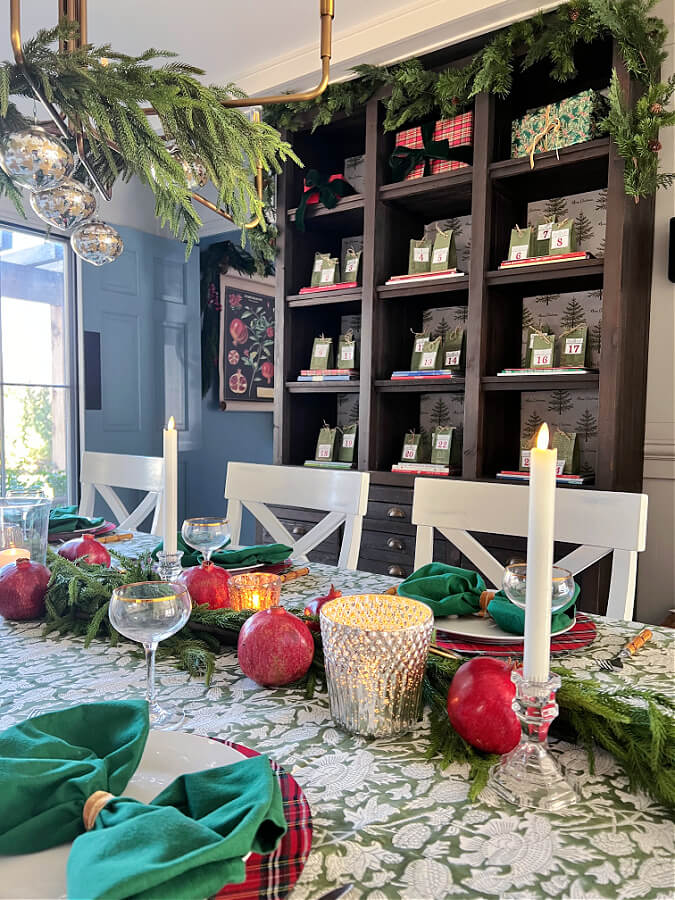 The traditional reds and greens have my heart this year and this table is no exception! There was a lot of layering.
And of course I could never forget the chandelier. It needed greenery and ornaments too!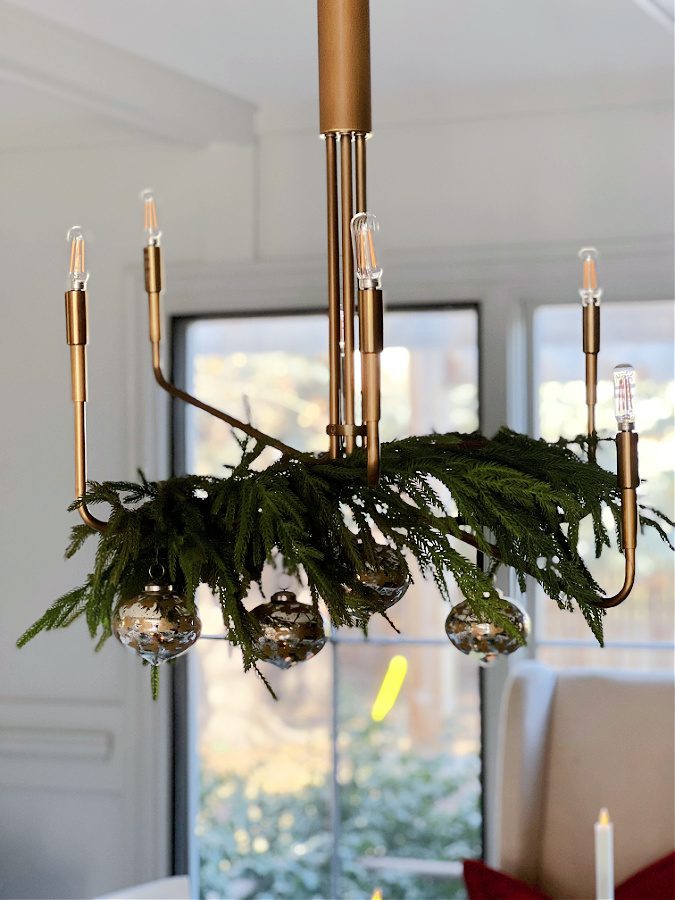 Shop Our Christmas Dining Room
Simply scroll through the pictures and click on each picture to visit the item. If you need help finding sources or items please reach out or leave a comment at the end of my post!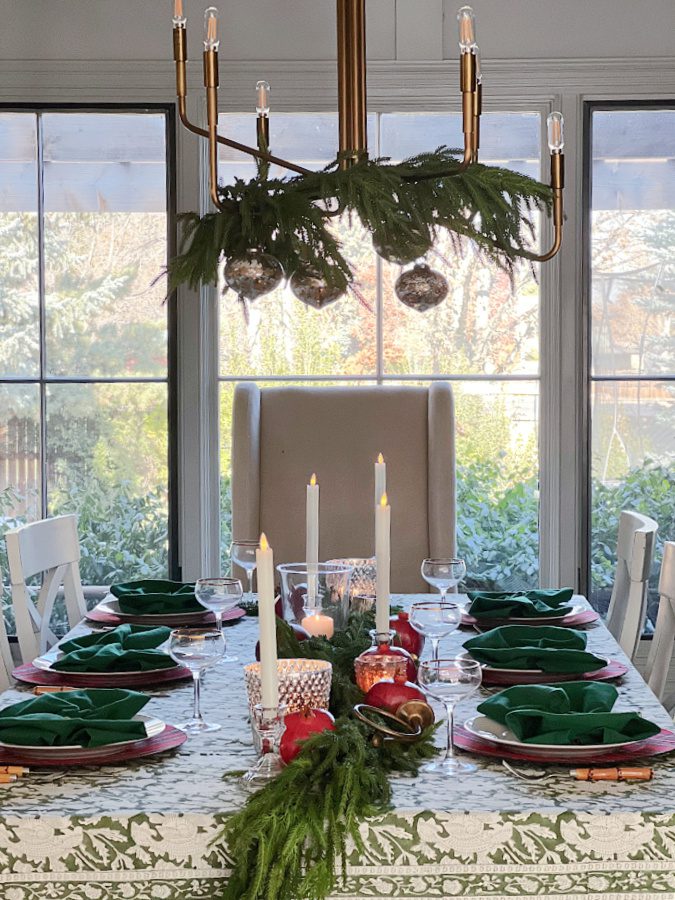 These plaid chargers are actually my mom's. She is always so sweet to lend me items…we share a lot. It was also her idea to make the napkins on the plates look like bows. How cute did that turn out?
And of course I had to use my favorite faux bamboo flatware. I love how it works for every season!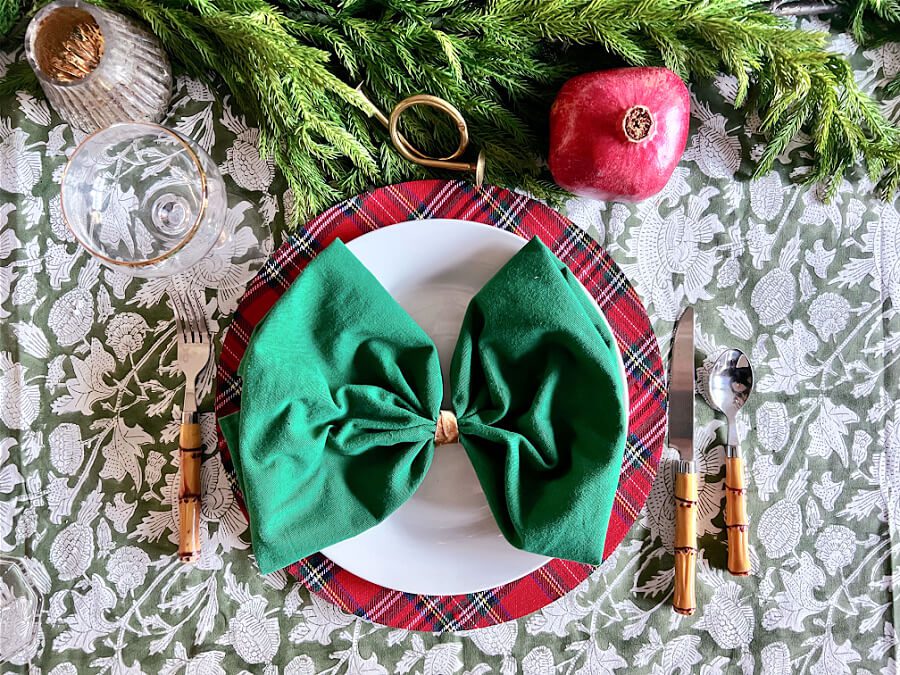 Across from the table I hung this real look greenery wreath over my DIY art work and kept things simple with my wicker demi john collection beneath it.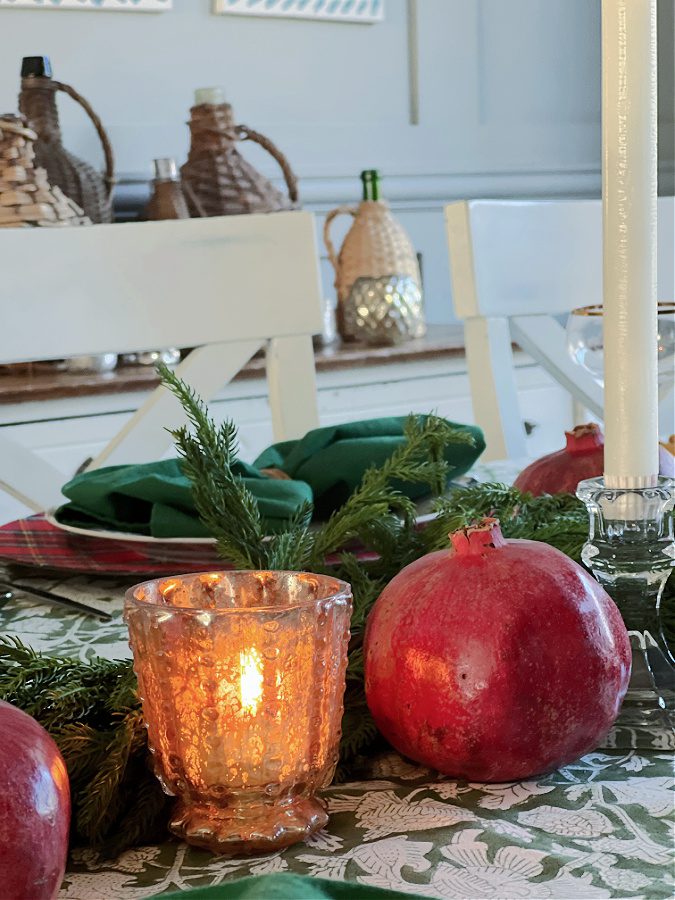 And now, for a peek at our tree and mantel before I share them next week. I just love that you can see our tree from the dining room table!
It all looks so festive and makes me smile every time I walk in the room.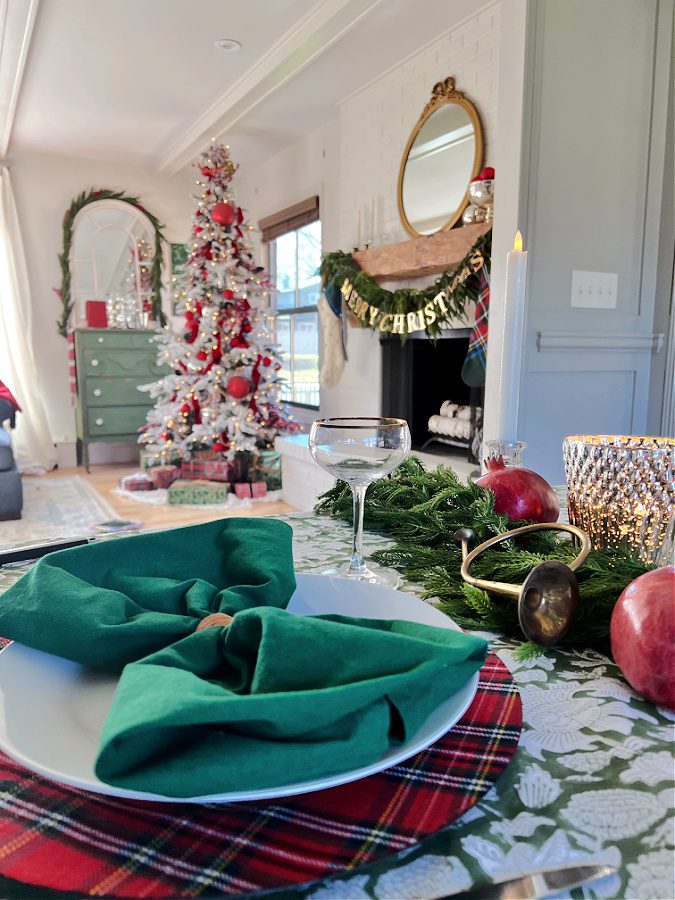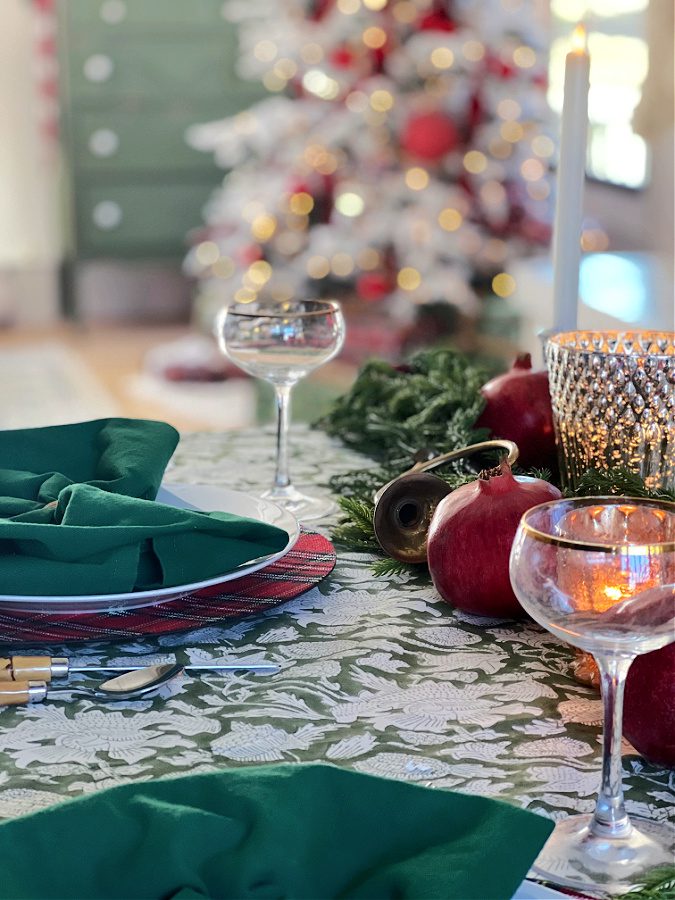 Christmas In Our Kitchen and Dining Room
Thank you for stopping by Christmas in our kitchen and ding room today. I'm so glad you are here and hope you will come back a gain soon. I have so much more to share in the coming weeks! Have a wonderful Thanksgiving and early merry Christmas wishes too!
Now make sure to head over to my dear friend Kim from Cottage in the Mitten and her festive entryway! Then scroll down and check out the rest of the tours.
I'd love to have you hang out with me some more! Feel free to follow along with me on any of the platforms linked below.
LTK | Facebook | Instagram | Pinterest | Amazon
xoxo,
Kelly
Have fun visiting the homes below and get inspired for Christmas decorating this year!

Sand Dollar Lane // 2 Bees in a Pod // At Home with Kristy // Exquisitely Unremarkable
Our Crafty Mom // Hearth and Vine

Zucchini Sisters // Postcards from the Ridge // Southern Crush at Home // Amy Sadler Designs
Pasha is Home // Simple Nature Decor

Worthing Court // The Tattered Pew // Cottage in the Mitten // DIY Beautify
Thistle Key Lane // At Lane and High // Feet Under My Table

White Arrows Home // Aratari at Home // White Lilac Farmhouse
Cottage on Bunker Hill // Bricks 'n Blooms

My Family Thyme // Southern Home and Hospitality // Songbird // Shiplap and Shells
Chalking Up Success // Pure Happy Home
Did you like this post? PIN it for later!