White is the New Black…a Total Interior Transformation
White is the new black…at least when it comes to paint it is! And today I want to walk you through the transformation my house went through from golden yellow walls with white doors to black interior doors with white trim and white walls. I'm hoping this post will give you lots of black and white paint ideas to try in your home!
I have to give my husband credit for this blog title because the moment he suggested it I knew it was perfect! We FINALLY decided to paint the interior of our home. It has been the same golden yellow color for almost ten years now.
Ten years ago it was the "in" color. And for ten years it has worked beautifully in our home as the perfect complimentary neutral. But the trends of decor have changed and so has my taste.
White IS the New Black
Lately I have been drawn to more fresh, clean and modern color pallets. So when I saw the color Alabaster by Sherwin Williams I knew it was exactly what I wanted. A very clean white with a hint of creaminess.
I also knew that I wanted some contrast somewhere in my home since my trim was already pure white. I loved the idea of a house with black interior trim, but I didn't want too much black to take away from the clean, white walls. So instead, we started thinking about painting some of the interior doors.
I looked at Pinterest , Instagram and Joanna Gaines for inspiration. I landed on the color Tricorn Black after seeing my friend Heather use it in her brand new build here in Northern Colorado.
So after chatting with my husband and showing him my inspiration we decided to paint our doors this beautiful contrasting black. We used a wonderful local company by the name of Shade Brothers Painting who I highly recommend!
Black Interior Doors with White Trim: Before and After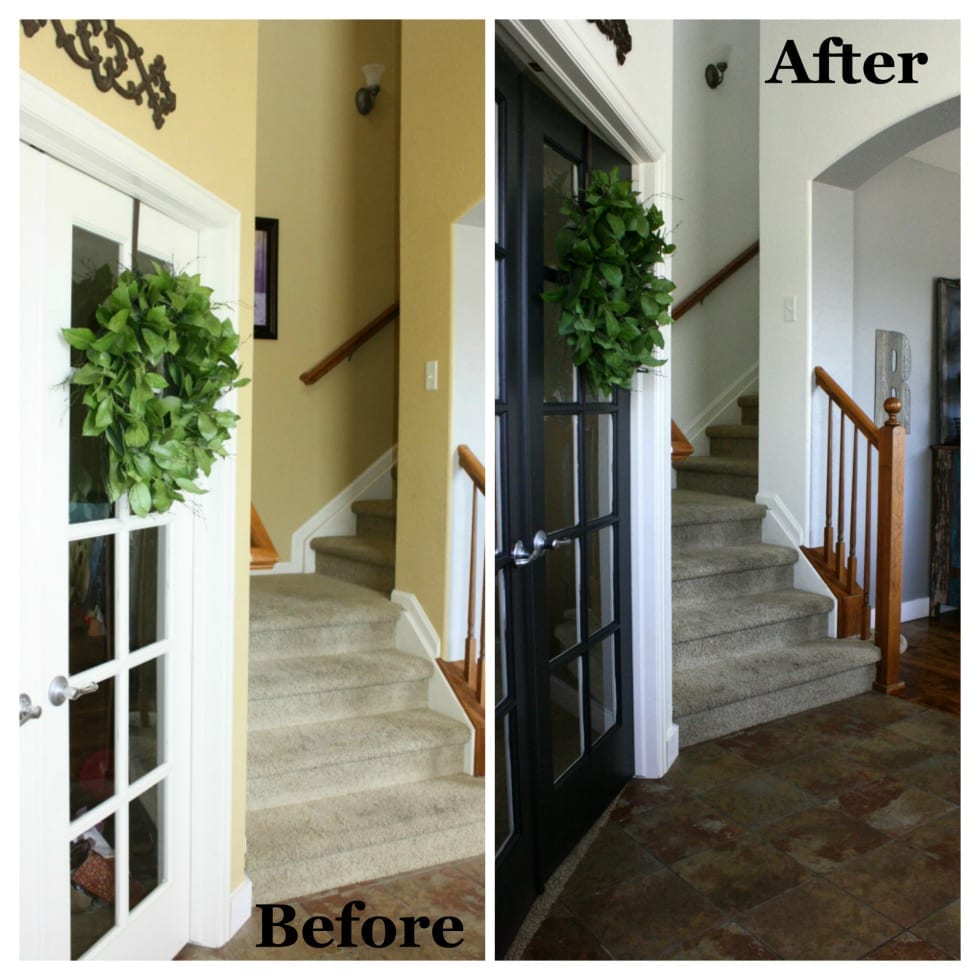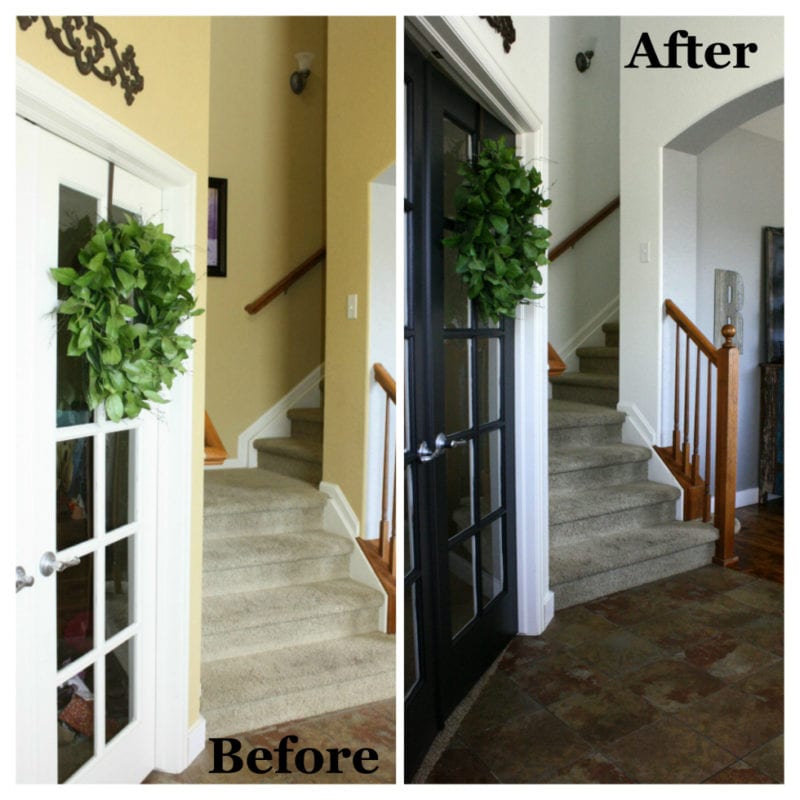 I've always loved homes with black interior doors, but actually making the change in our home was a little nerve-wracking. But painting our french doors was the best decision we made and it is my favorite part of this transformation. The Tricorn Black interior paint gave them new life and adds the perfect touch of class!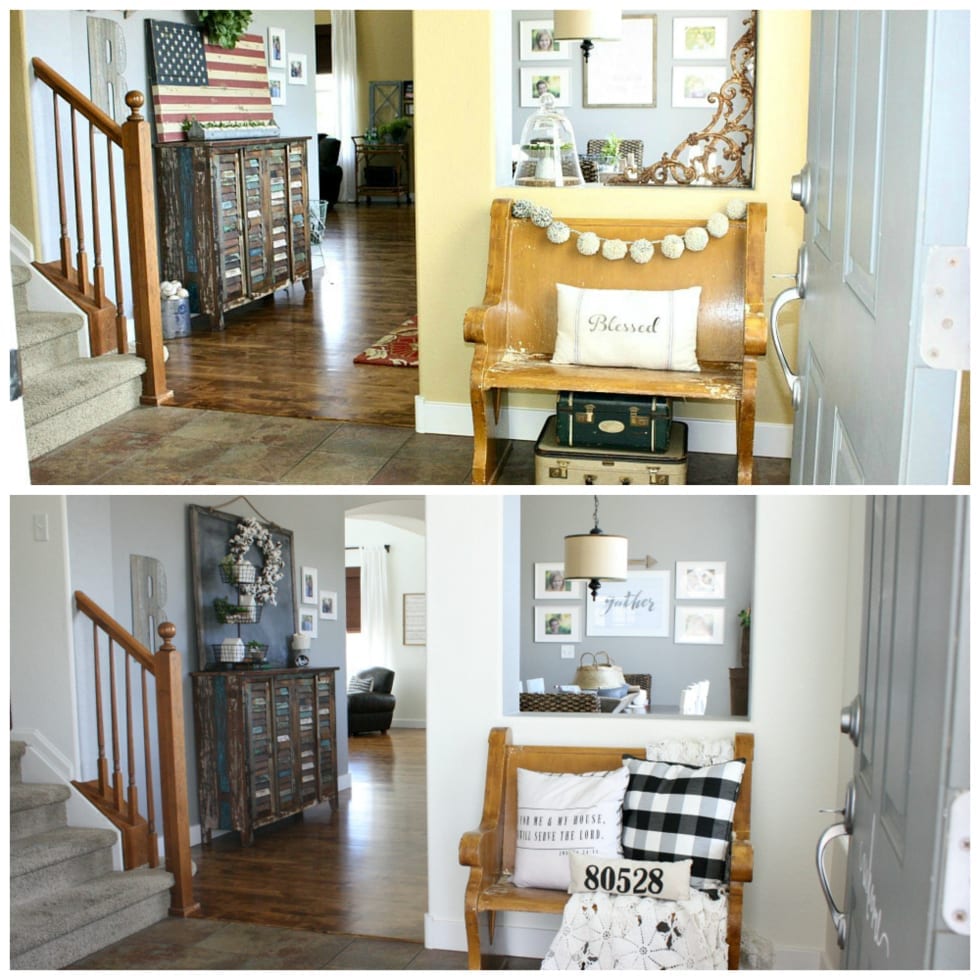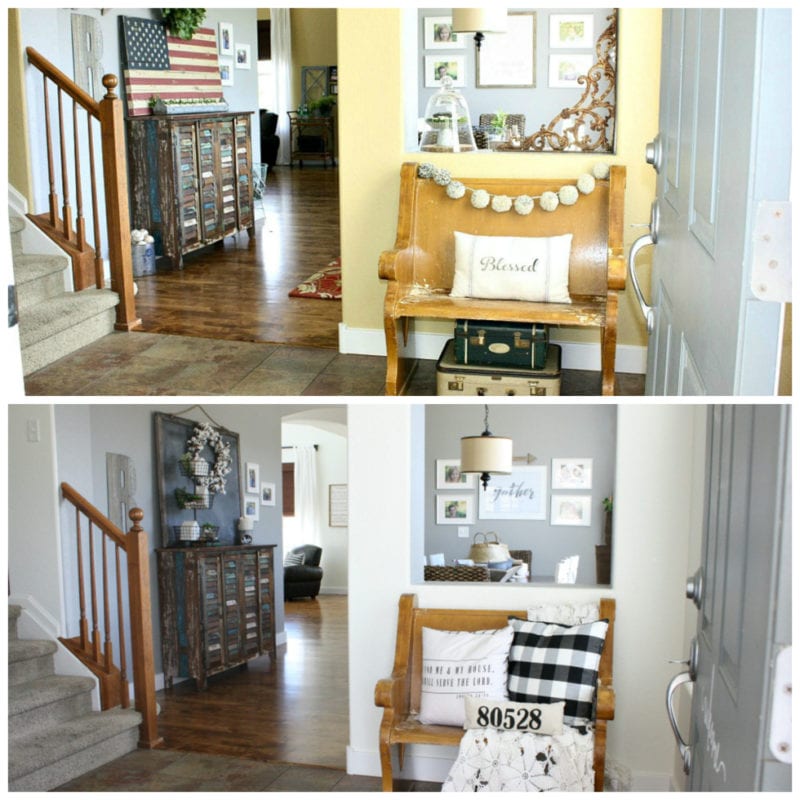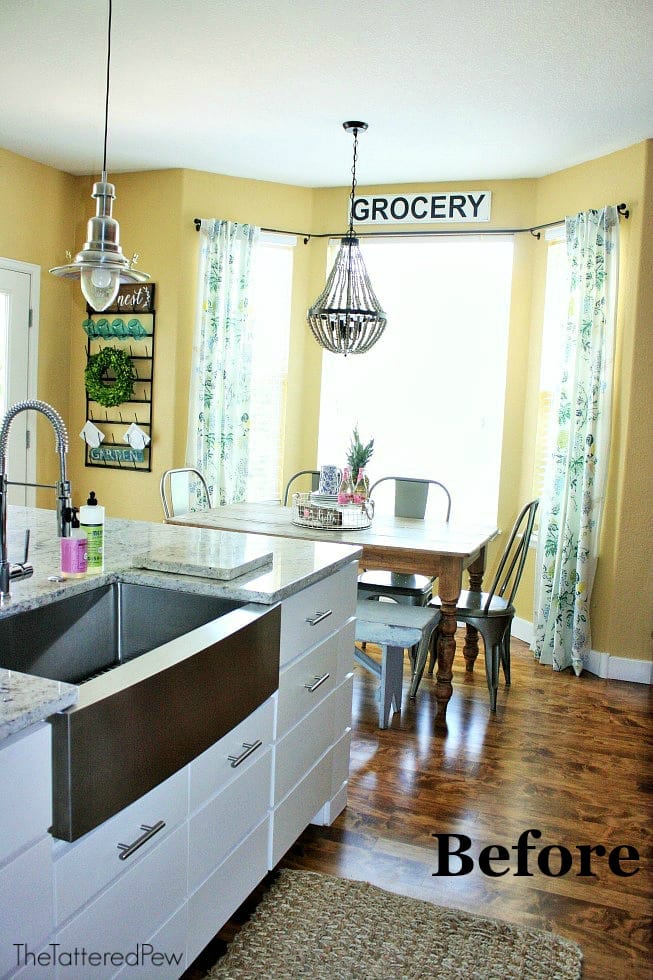 The black interior front door with white trim makes our entry feel fresh and updated as you enter our home! Now I just need to paint the outside of the front door! I will go with Tricorn Black of course! *** You can see our updated entryway HERE!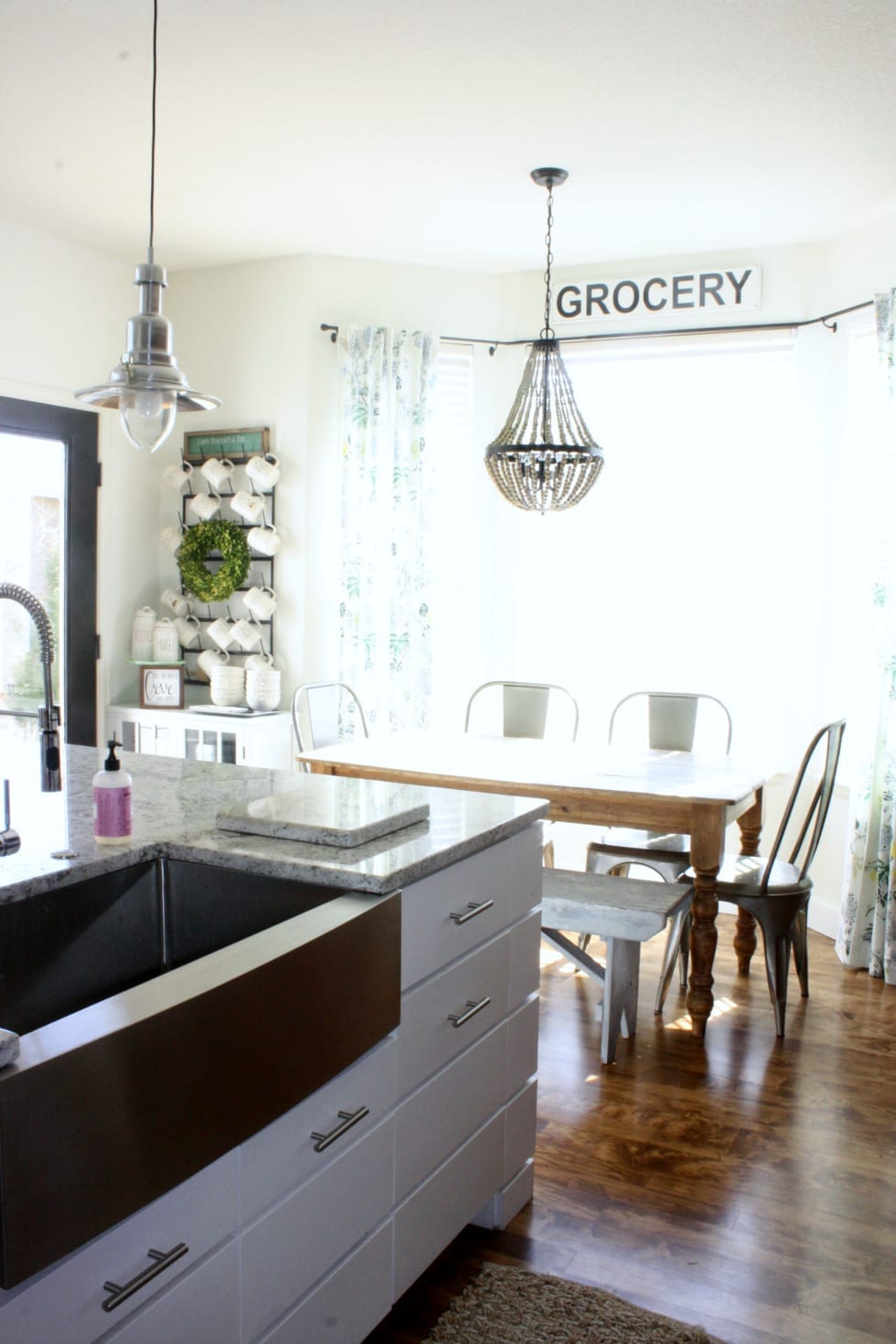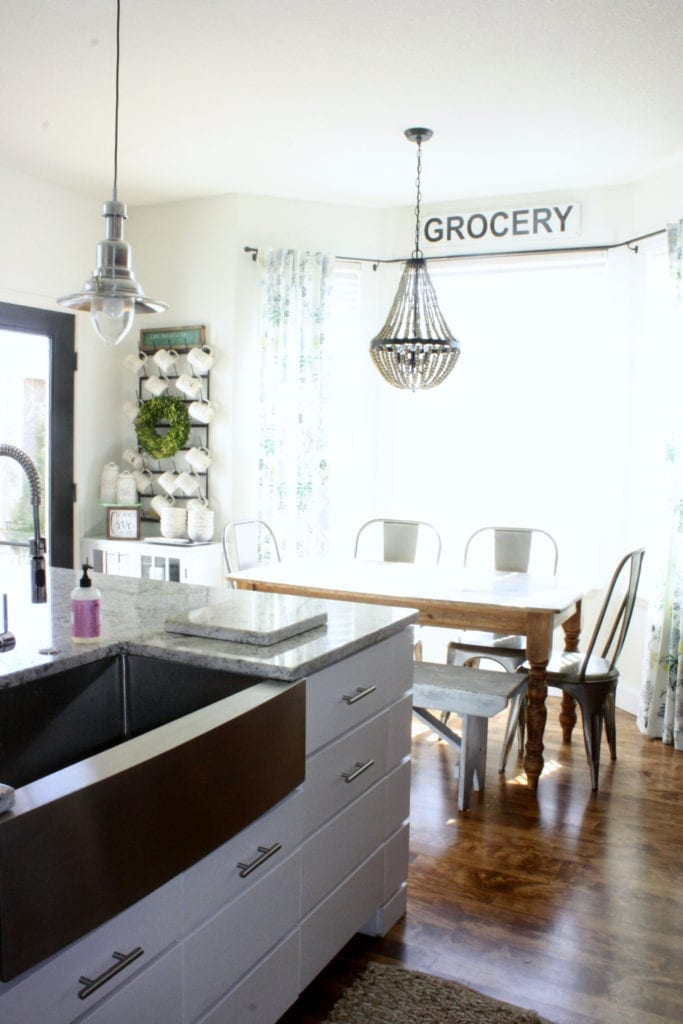 The kitchen is one of my favorite parts of our home. Mostly because my husband and I designed the island, counter tops and back splash together.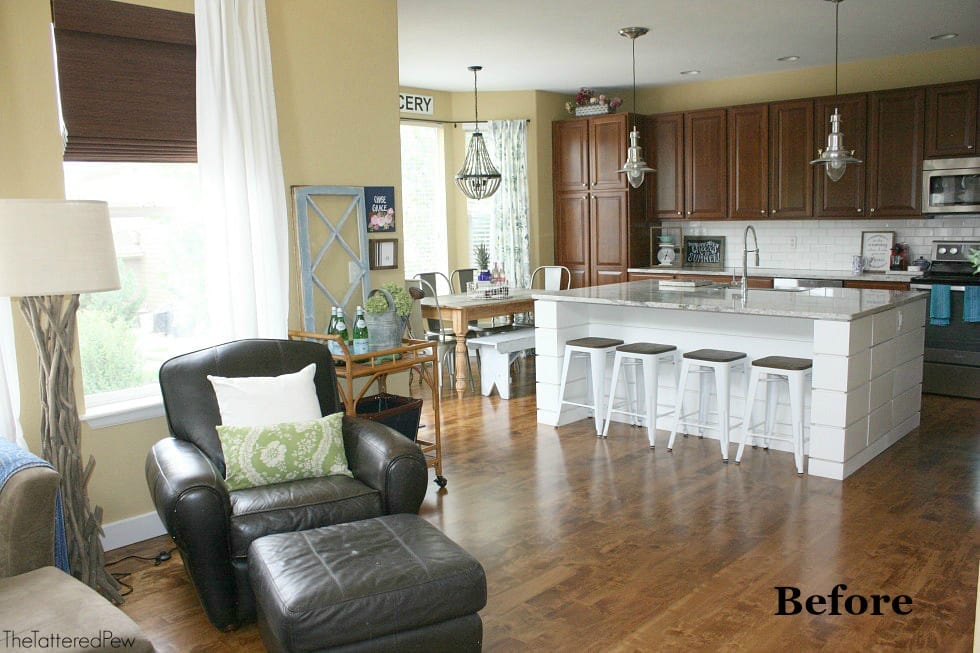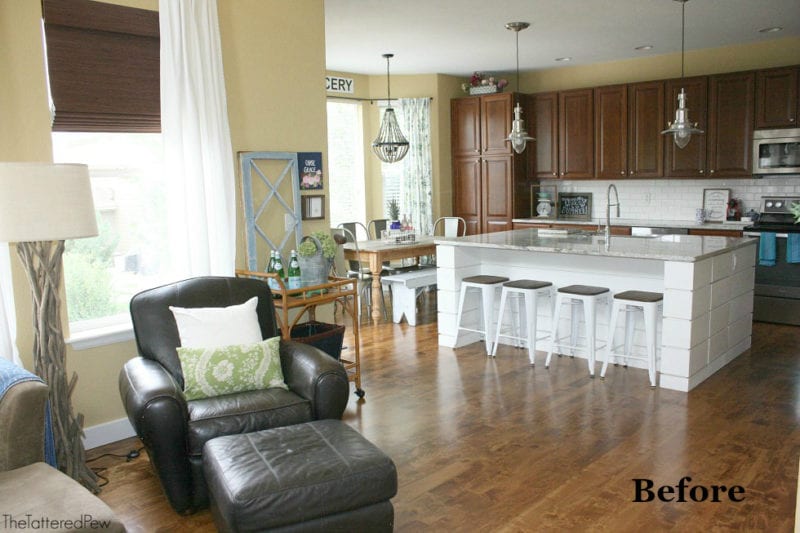 Now it is so bright and fresh and it feels finished. And it's actually undergone an even bigger transformation since these before-and-after photos were taken. We worked with a local company to refinish our kitchen cabinets with Benjamin Moore Chantilly Lace paint and it really completes the black and white interior paint color scheme in our home!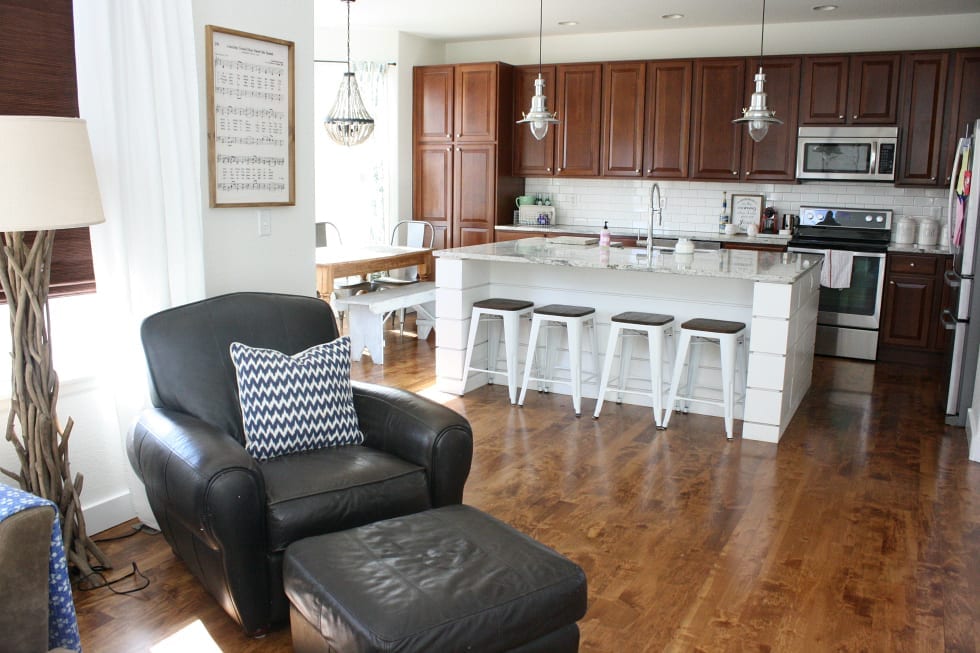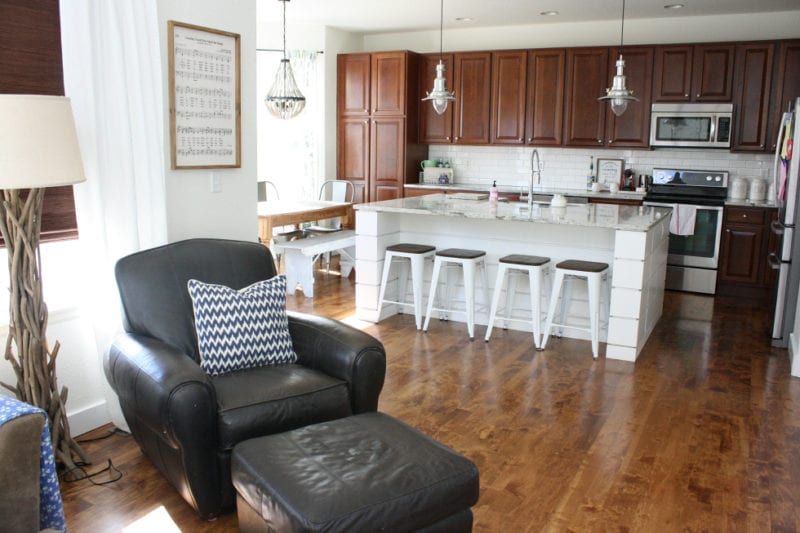 A Total Transformation
This peek back into our kitchen makes my heart happy! Anybody else out there love a good transformation like I do?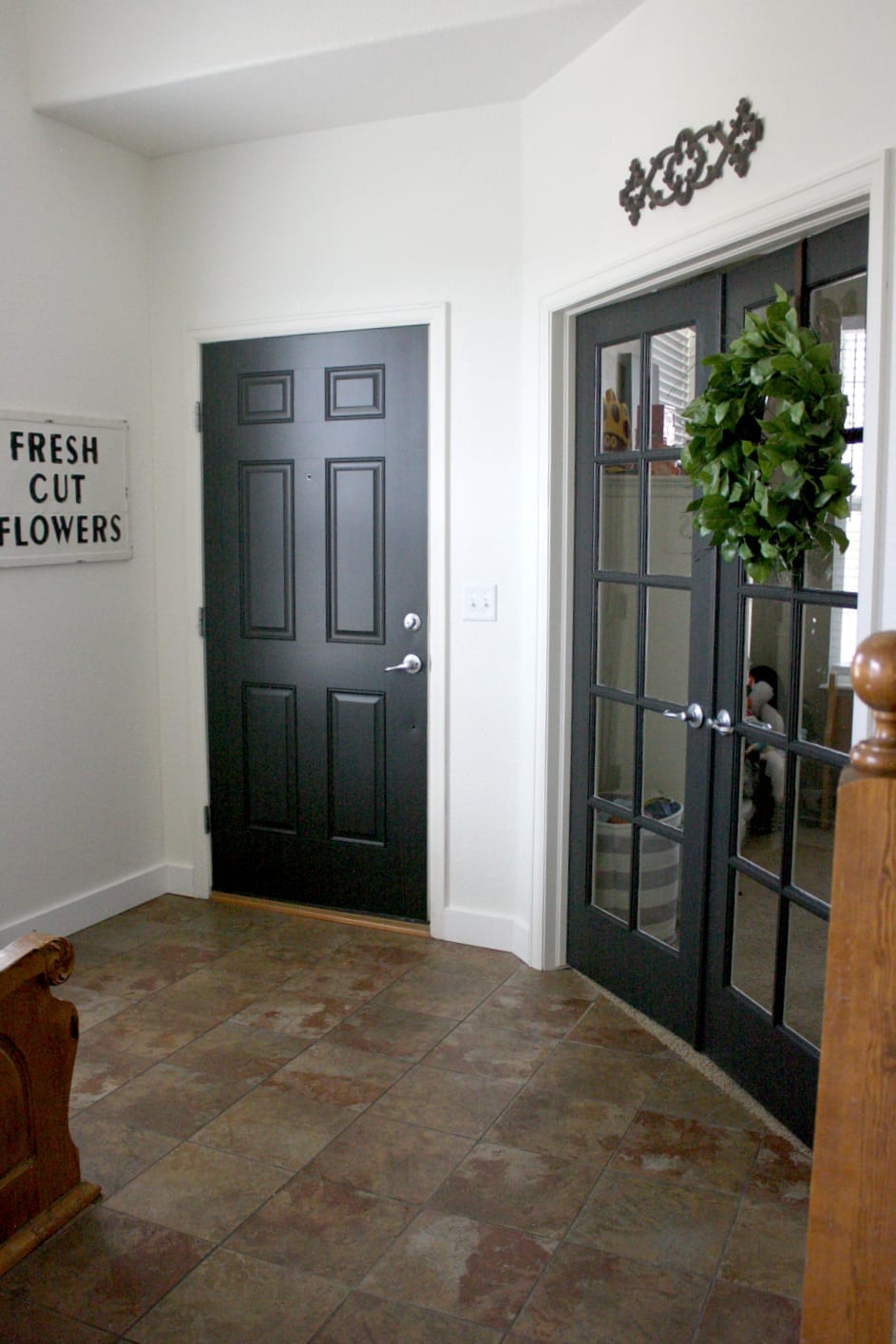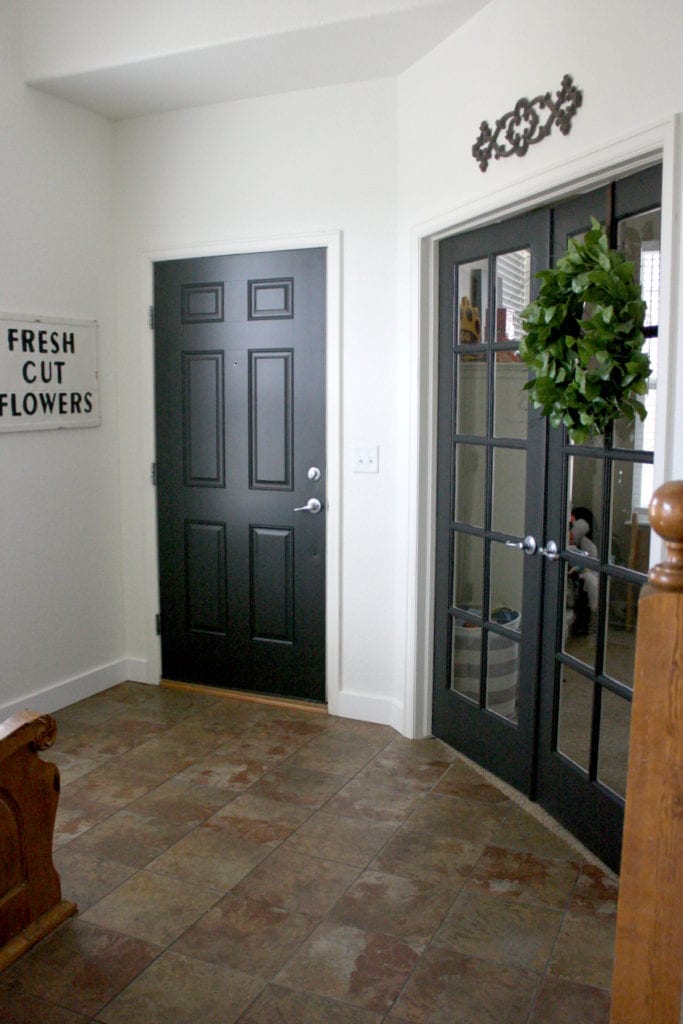 Now my job is to add pops of color and touches of Spring. I am loving our total home transformation! I'm also loving our home again…it was touch and go there for awhile;).
Ready for Your Own Black and White Interior Paint Transformation?
I absolutely love the way our house has been transformed by painting the walls white and adding black interior doors with white trim. While the color palette is simple, it has completely changed the look and feel of our house!
If you're considering a similar shift, it's important to really plan out your transformation in advance. These were some of the questions we had and factors we considered when choosing our black and white interior paints.
Are black interior doors a fad?
This was something I thought a lot about. After all, if we're going to put time and money into a whole-house paint transformation, then we want it to stand the test of time! If you ask me, black interior doors with white trim are not just a fad. Black and white is pretty much the most classic color combination you can get, and I'm confident we'll love this space for years to come.
Do black interior doors make a room look smaller?
Not in my experience! This was definitely something I wondered about before we painted our doors. While I loved the idea of homes with black interior doors, I was worried they might make our space feel darker or more cramped. And the whole point of making this color change was for everything to feel light and bright.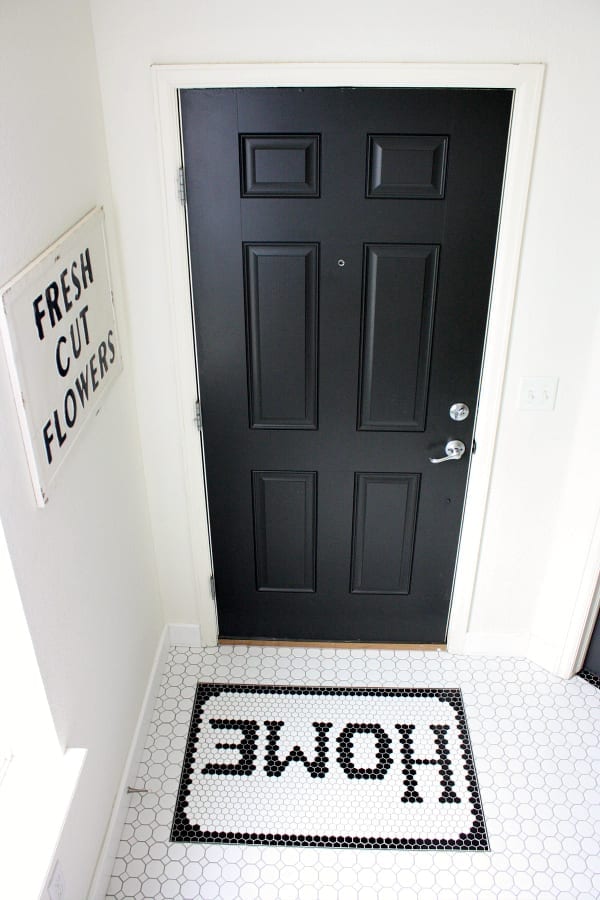 Exploring Black and White Paint Color Combinations
One of the hardest parts of going with a black and white paint color scheme inside our home was choosing the actual paint colors.
Thankfully, I had some homes I already loved that I could pull inspiration from. But if you're looking to transform your home to include white walls and black interior doors with white trim then you'll have a lot of paint colors to choose from!
Not sure which colors to try in your home? Here are a few of my favorites – including the paint colors we chose for our paint transformation!
White Interior Paint Colors
Sherwin-Williams Alabaster White: This gorgeous white paint is the one we went with in our home. I loved it because it's a warm, creamy white that helps create a bright, light space without feeling too cold or harsh.
Benjamin Moore Chantilly Lace: This is another favorite white paint. It's actually the color I used for refinishing our kitchen cabinets! I love it because it's a truly neutral white paint with virtually no undertones.
Benjamin Moore White Dove: This white interior paint is really more of an off-white with soft yellow undertones. This is another great option for anyone who wants a warmer white that is light without feeling too overpowering.
Benjamin Moore Classic Gray: While the name makes this paint sound gray, it's really more of a soft, off-white. The color of this paint changes a lot in different lighting, which can give your home a different feel throughout the day.
Black Interior Paint Colors
Sherwin-Williams Tricorn Black: This is the black paint we used for our interior doors. I love it because it's very close to true black and offers a really rich, deep color. It's the perfect contrast for our white walls and looks beautiful on our black interior doors.
Farrow & Ball Railings: This UK-based paint company has some really interesting paint colors, and Railings is just one of them! Railings is a really unique color because it's a soft black with strong blue undertones that might even look navy blue in certain light.
Magnolia Prairie Smoke: Let's face it, I'd trust Joanna Gaines with just about any home design decision. So it's not surprising I love this black interior paint in her collection! Prairie Smoke is a soft black that almost looks like a chalkboard. This would be so pretty as black interior trim!
Benjamin Moore Black Beauty: This is a really rich, saturated black interior paint that looks gorgeous paired with a warm, creamy white. It would look really nice on interior doors but I could also see it as a really unique accent wall in a dining room or office!
BONUS: Bringing Black Paint Outside
I know we've been talking about white interior walls and black interior doors with white trim, but I couldn't resist showing off our black(ish) exterior paint color, too! Our home is painted in Sherwin-Williams Peppercorn and I get comments on it all the time.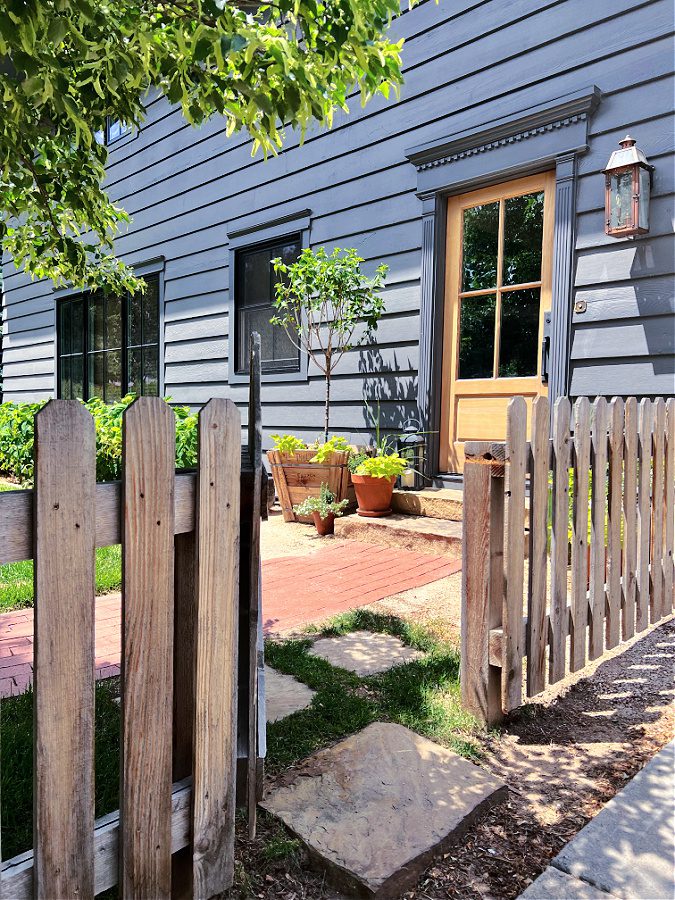 While it's not super common to see a house with black exterior paint, I love this color so much! Peppercorn is really more of a dark, muted gray paint color than a true black. We used it on the siding and the window trim of our home and I love the classic, monochrome look it creates.
It's also the perfect blank canvas for decor at our front entryway and contrasts beautifully with our golden-yellow front door.
Next week I will be joining some other lovely bloggers to give you a Spring Tour of our homes! I hope you will come back and check out the rest of our home! As always I appreciate your following along here on the blog! You can also find me on Instagram @thetatteredpew and on Facebook at The Tattered Pew. I hope you have a wonderful weekend!
I'd love to have you hang out with me some more! Feel free to follow along with me on any of the platforms linked below.
LTK | Facebook | Instagram | Pinterest | Amazon
xoxo,
Kelly