DIY Floral Arrangement Workshop
A little over a week ago I had the opportunity to go to a DIY floral arrangement workshop called Blooms and Brews. It was hosted by my good friend Melissa Matz who is the owner of Blooming Betties. My sister and I went together and we had an amazing time and left wanting more. Lucky for us, Melissa has 3 more events scheduled throughout the summer! I figured if we loved it so much that you would too!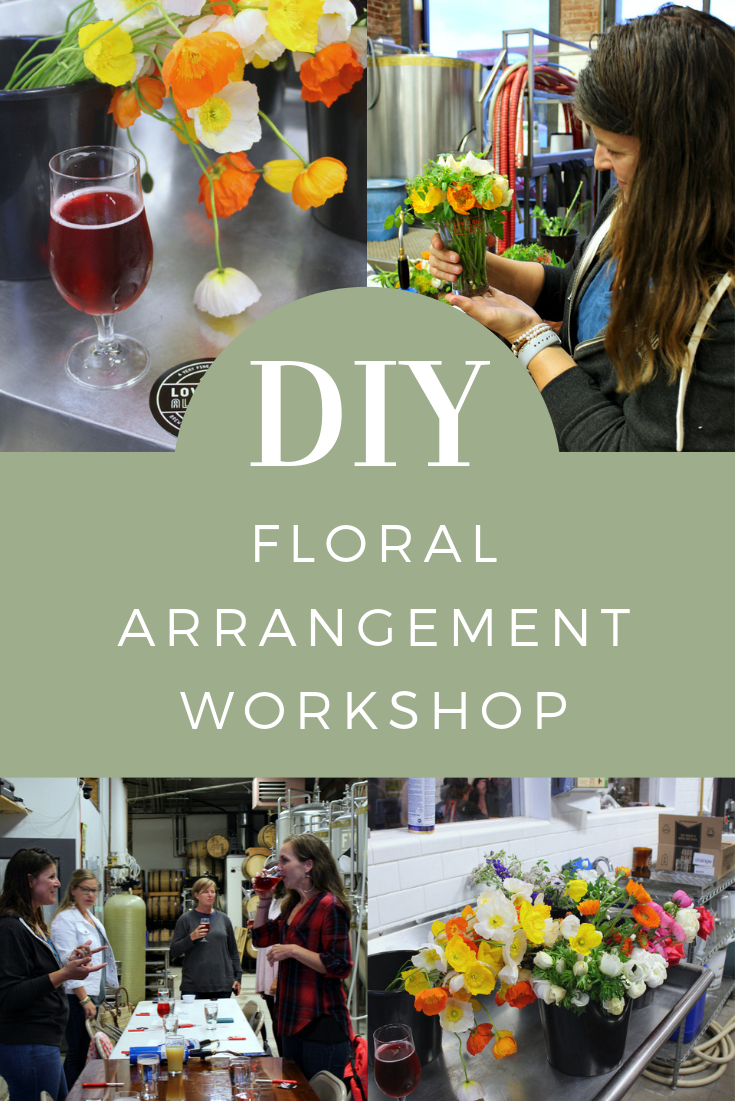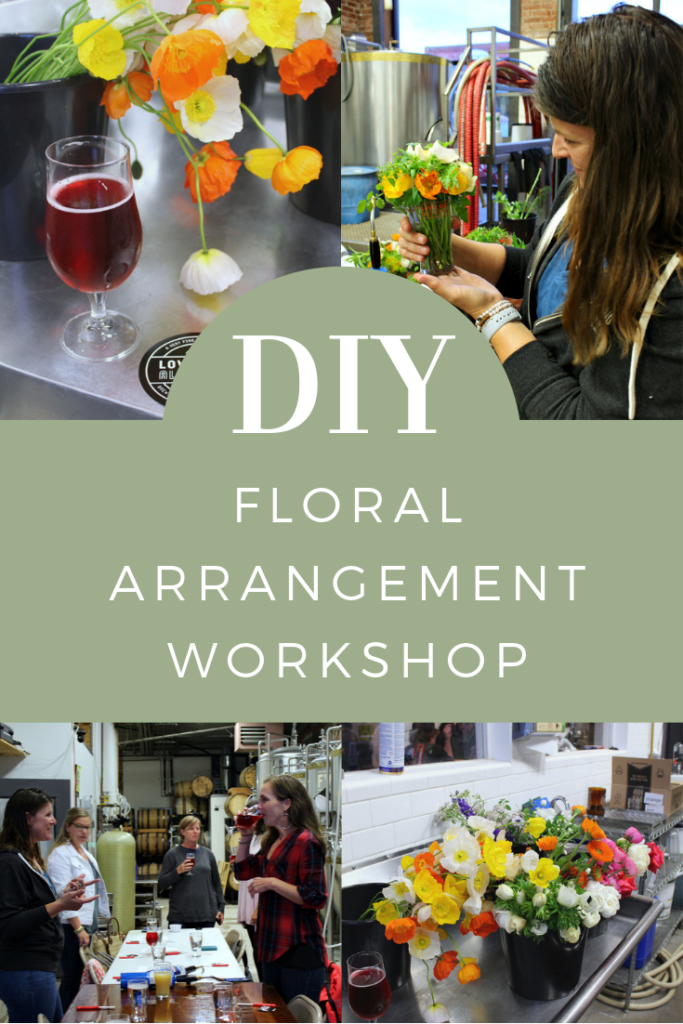 What is Blooming Betties
First, let me share a little bit more about Melissa and Blooming Betties . I had the pleasure of living with Melissa while we both attended Colorado State University. She is a hard worker,and has a personality and spirit about her that instantly draws you in. Not only is she passionate about her flowers but more importantly she is very passionate about her family. Over on her blog she shares all about how her business is named after her grandmother Betty. You may have heard me talk about this darling flower company if you follow me over on Instagram.  And, if you read my Mother's Day Gift Guide here on the blog, you know my wonderful husband bought me one of her bi-monthly flower subscriptions!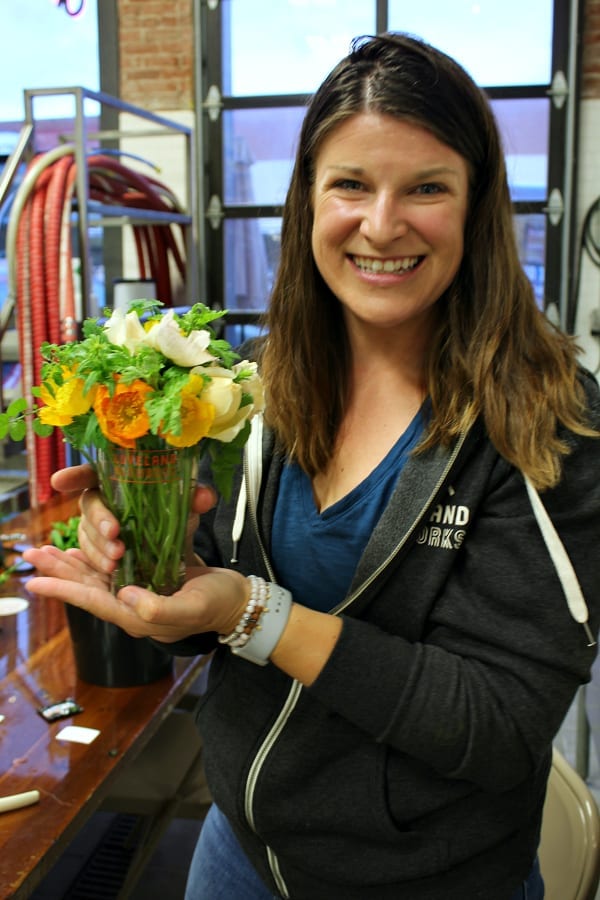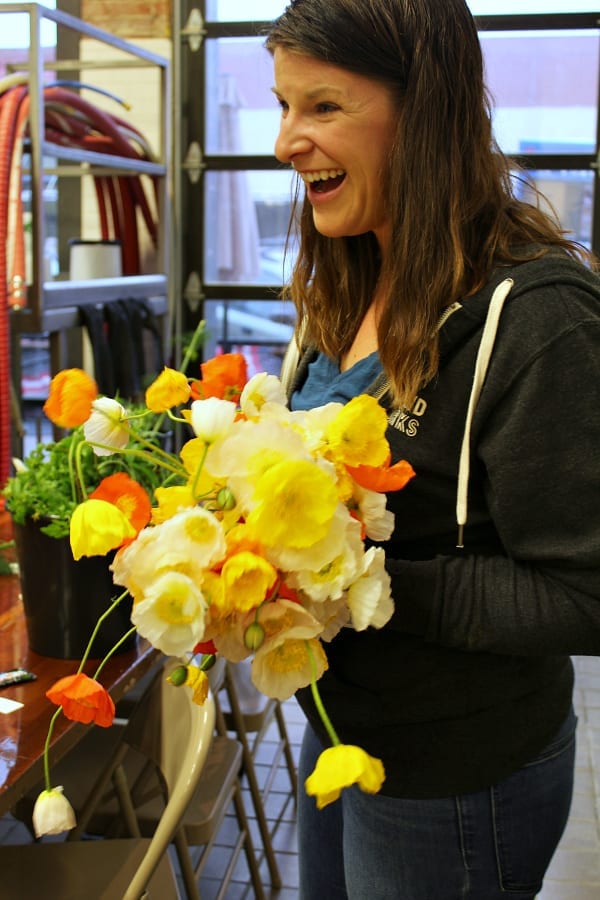 This is a quote from Melissa's site: "Blooming Betties is a micro flower farm in the heart of downtown Loveland, Colorado specializing in market bouquets, mason jar arrangements, DIY flower buckets, and customized individual orders for Colorado's Front Range and rural Northeastern Colorado."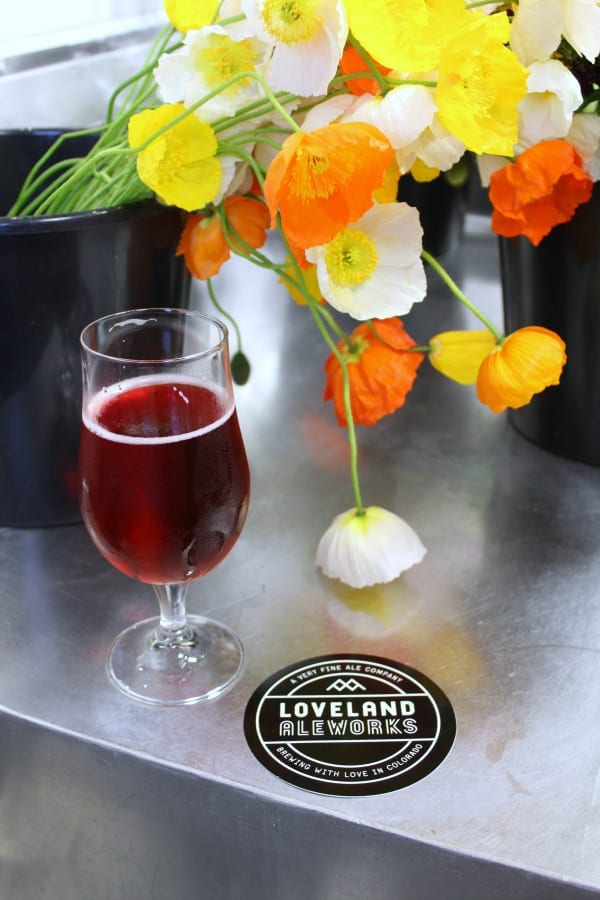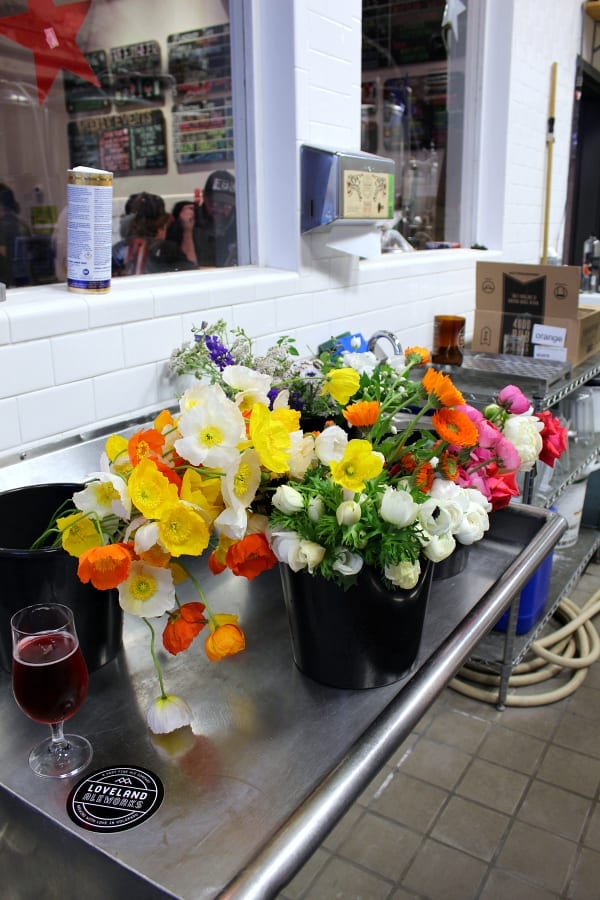 DIY Floral Arrangement Workshop
This was Blooming Bettie's inaugural floral arrangement workshop. We really had no idea what to expect from this workshop but since we love flowers we knew it would be fun.  We went with open minds and ended up having a very fun and informative night!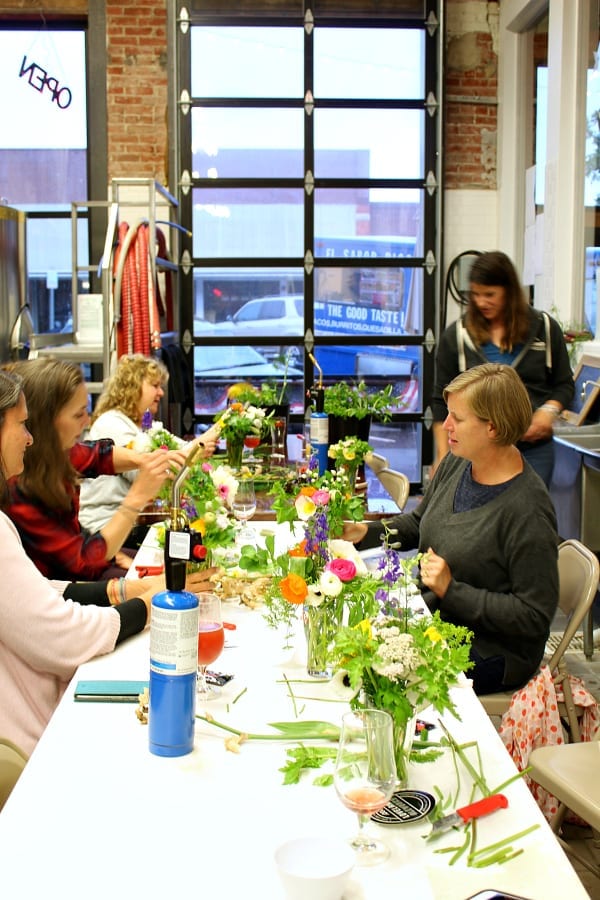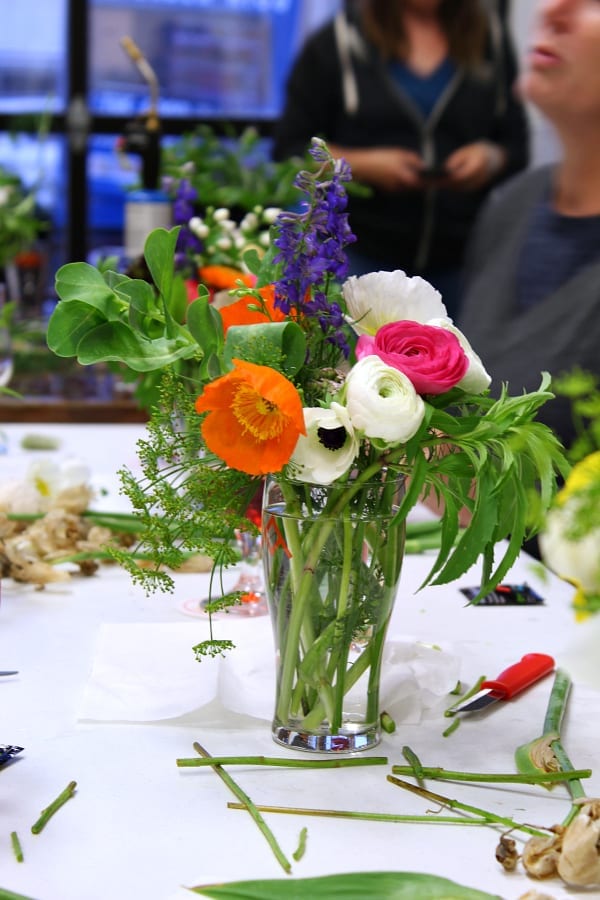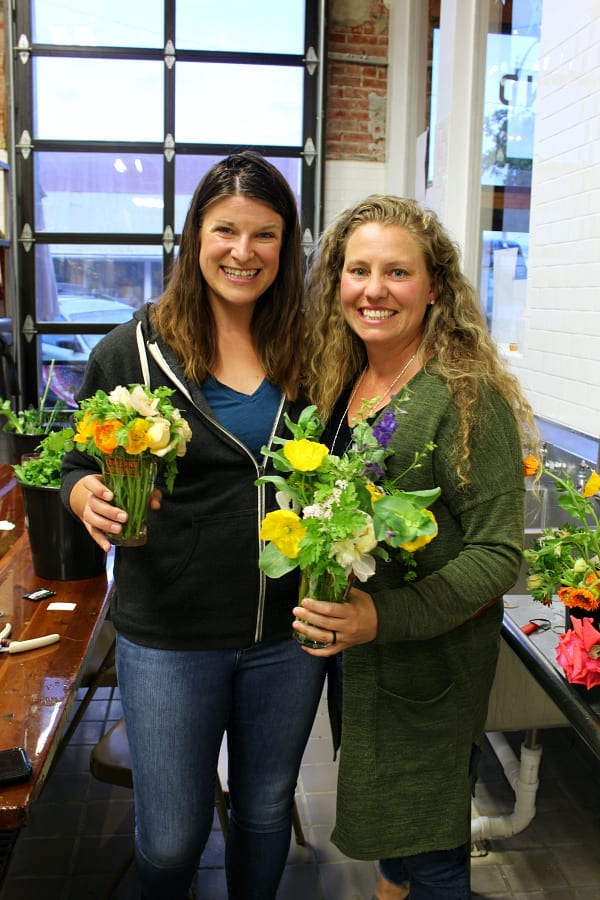 Arranging the Flowers
The workshop began with us gathering around the table where Melissa gave us a brief history of how she started Blooming Betties and how she grows her own flowers. She then talked to us about starting with our greens first and layering the bottom of our vases with them. Next, she talked about choosing a focal flower and last she showed us how to pick and layer the arrangement with more flowers. As we worked she talked and showed us examples and spoke about each of the flowers. I of course picked a peony for my focal flower. I also used poppies which she had us torch on the ends so they would last longer. It was so much fun! You can see in the collage below the progression of my arrangement!

Tips and Tricks
We learned so many great tips and tricks! The tips that helped me were how to properly cut the floral stems (she even gave us our own red floral knife!),  how, where and why to strip the leaves from the stems, how to care for the flowers (a clean vase is important), to start with your greens first and to put your focal flower low and then build your arrangement from there. So much goodness!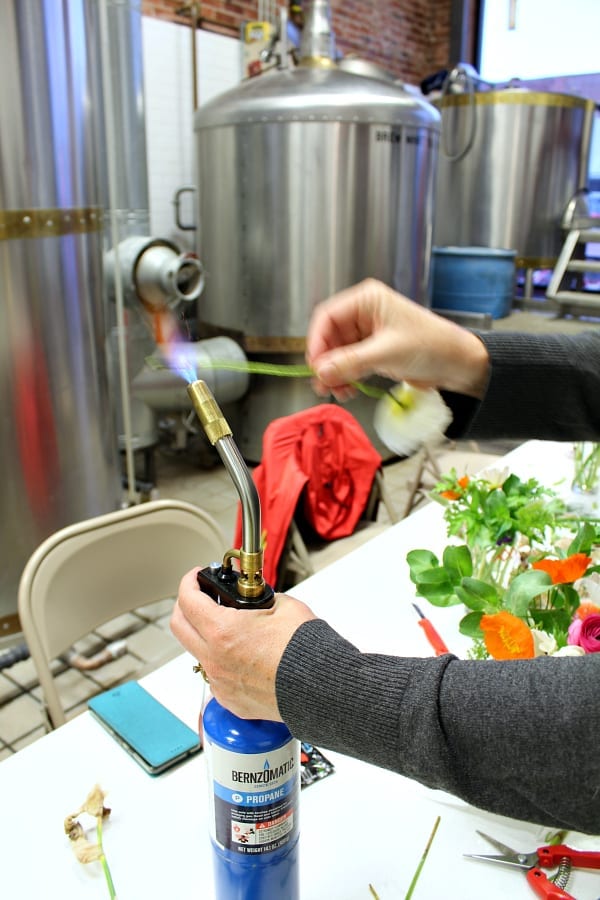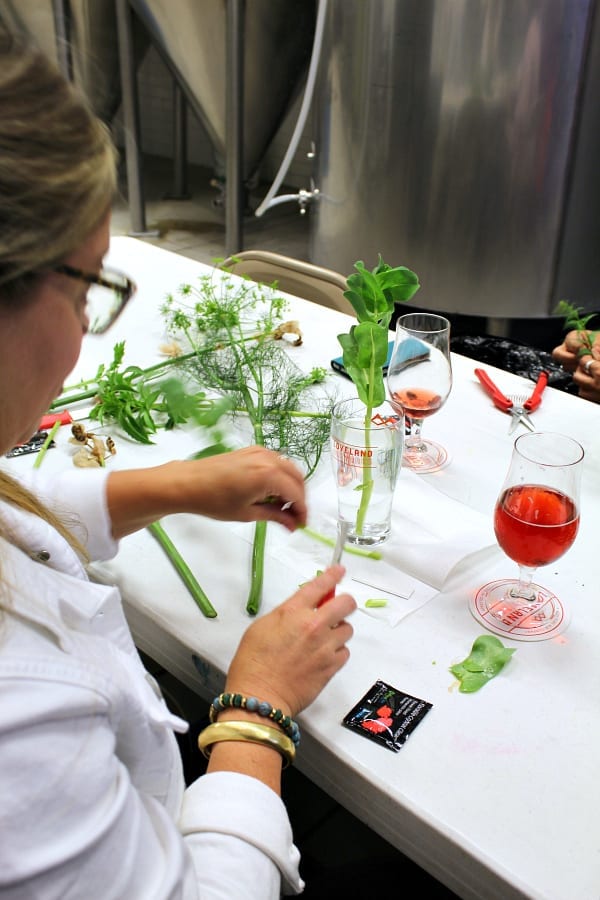 Come Join a Workshop
If you are interested in attending a Blooms and Brews Melissa hosts her floral workshops at a local brewery called Loveland Aleworks. Your ticket includes all the materials needed to design an arrangement of locally grown seasonal flowers in a beer pint as well as a beer to fuel your creative juices!  There are three more this summer: July 27th, August 16th(succulents) and September 14th (Dahlias). You can register by clicking HERE!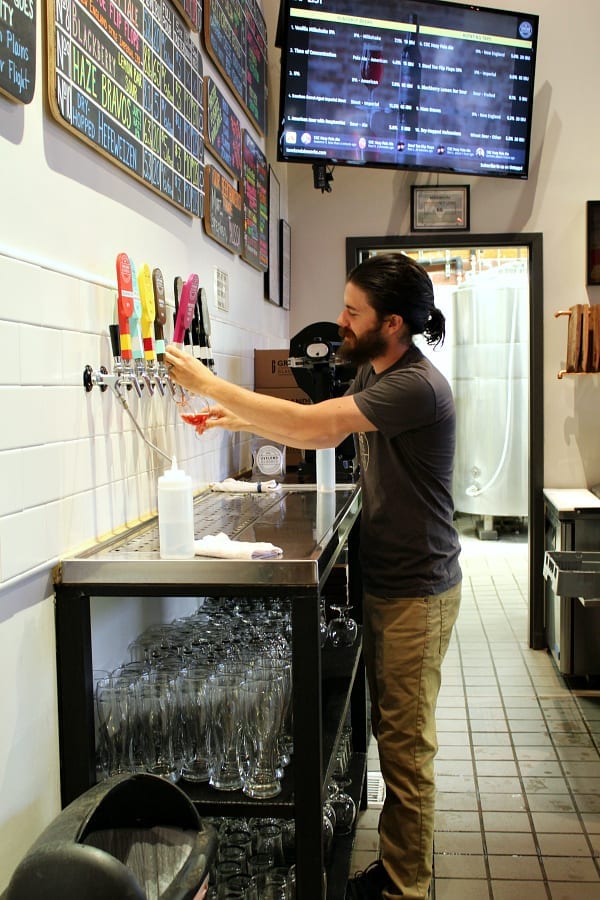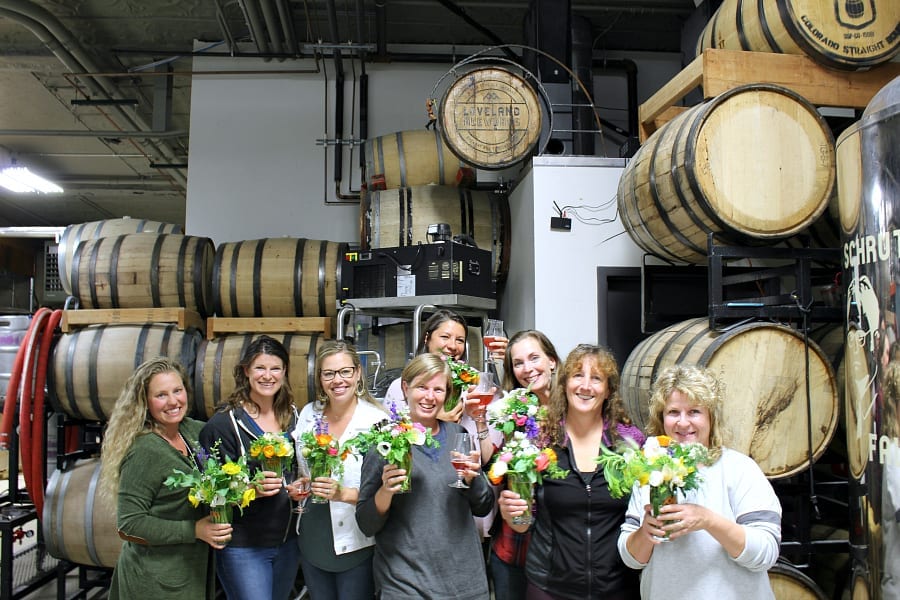 Floral Arrangement Workshops
I have to say that Blooming Betties sure knows how to host a fabulous DIY floral arrangement workshop! My sister and I can't recommend these workshops enough! If you happen to be local to Colorado I hope you will join me at one of Blooming Bettie's next workshops. I'm curious, have you ever attended a floral workshop before?
You can follow Blooming Betties on Instagram, Facebook and her blog!
xoxo,
Kelly