Fall In Our New Home (Part 1)
Fall has made it's way into our new home and I am here for it! Having a new pallet to decorate this Fall has brought me so much joy. Come take a peek at Fall in our new home!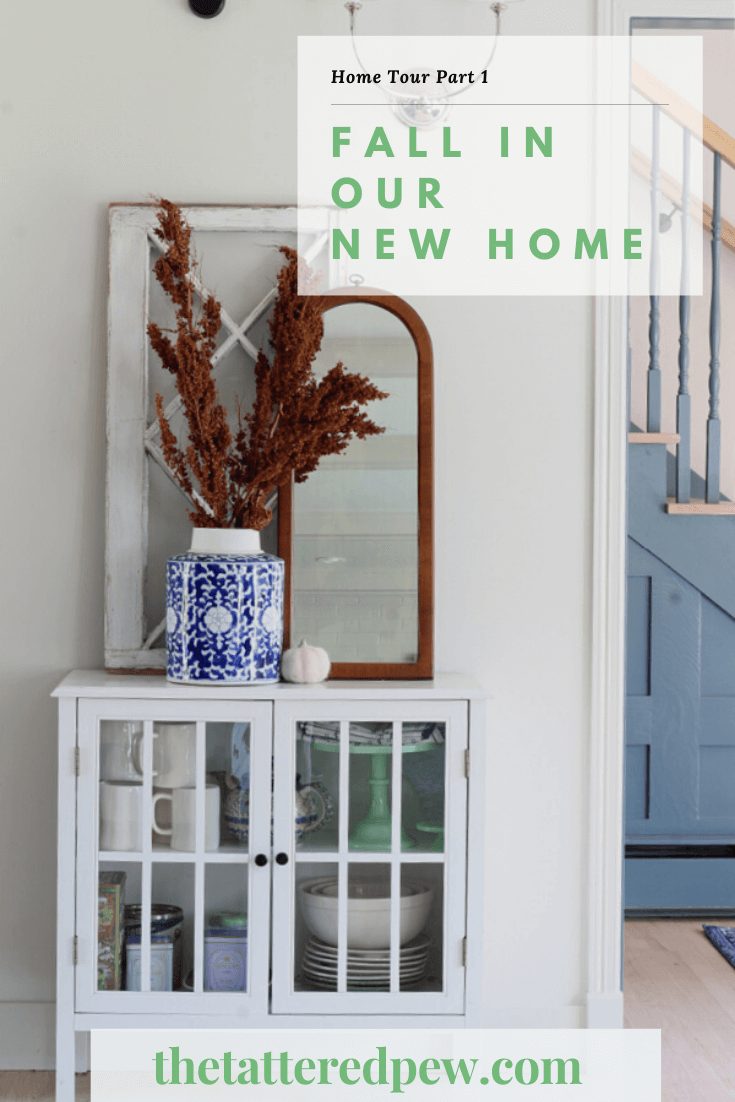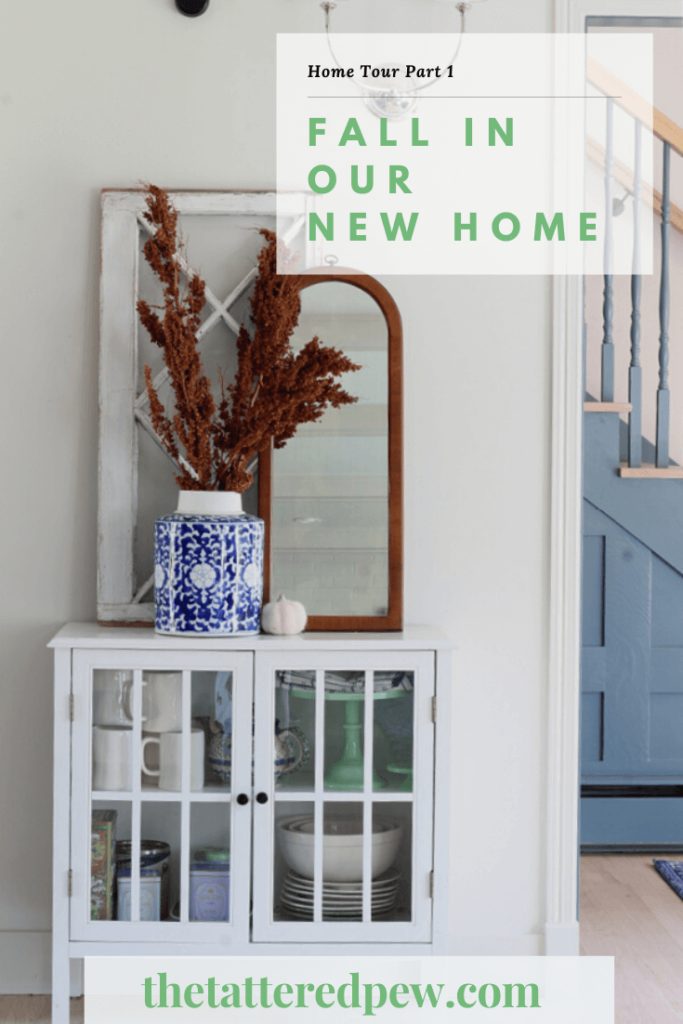 Fall In Our New Home
Welcome Friends! If you are new around here I am so glad you stopped by. My name is Kelly and my family and I just recently bought our dream home here in Colorado. So that means this Fall Home Tour you are about to take is a very special one for me. This is Part 1 and here is part 2.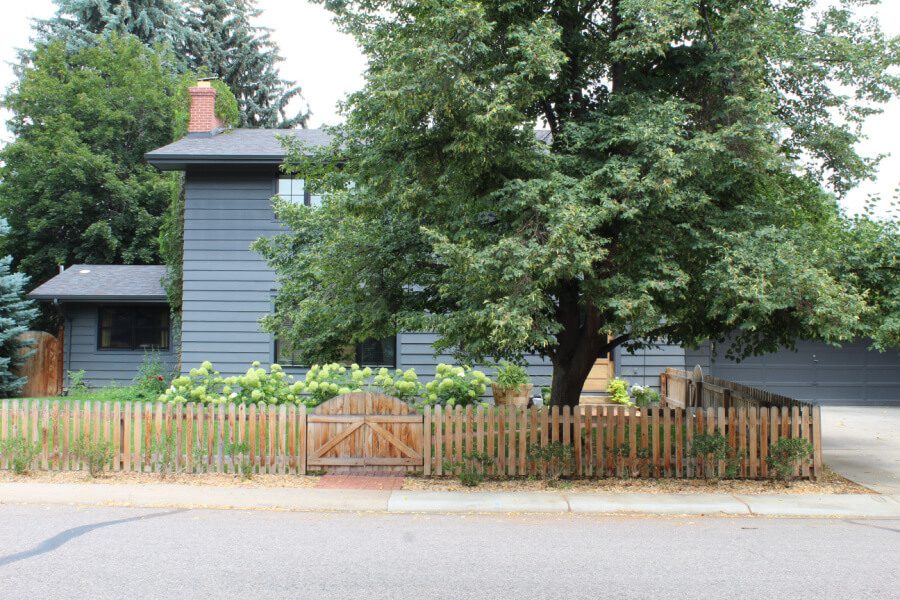 Today marks day one of the week long Seasonal Simplicity Fall Home Tours. If you are coming over from Krista of The Happy Housie, welcome! Krista is no stranger to new houses and I have loved watching her decorate her new home for each season. She is the host of this week long Fall Home Tour and I am grateful to have our home included. You can find the other tours linked below.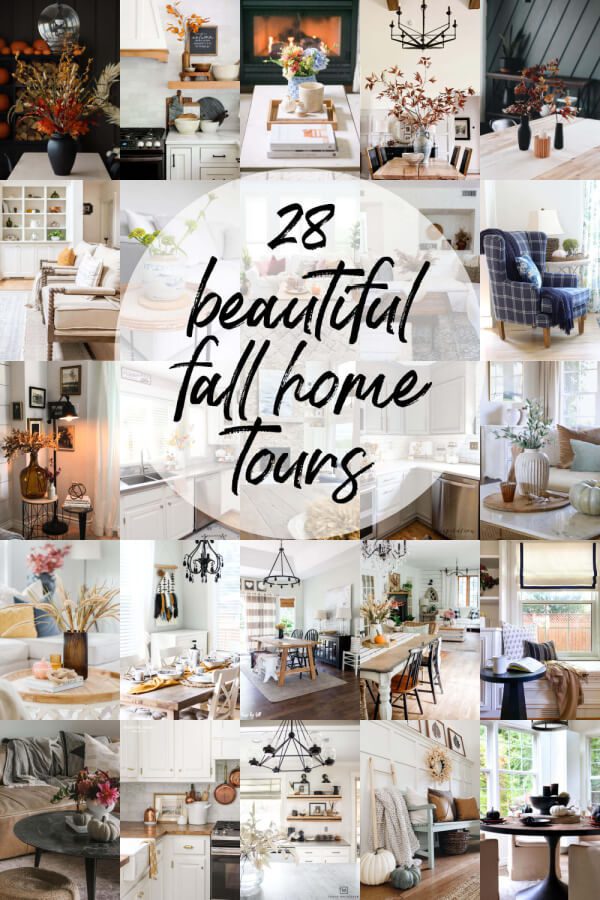 Fall On Our Steps
This year I started decorating for Fall on the outside. We no longer have a porch and so I enjoyed the challenge of figuring out how to decorate these gorgeous stone steps for Fall. I shared my step by step process (pun and all) in more detail here.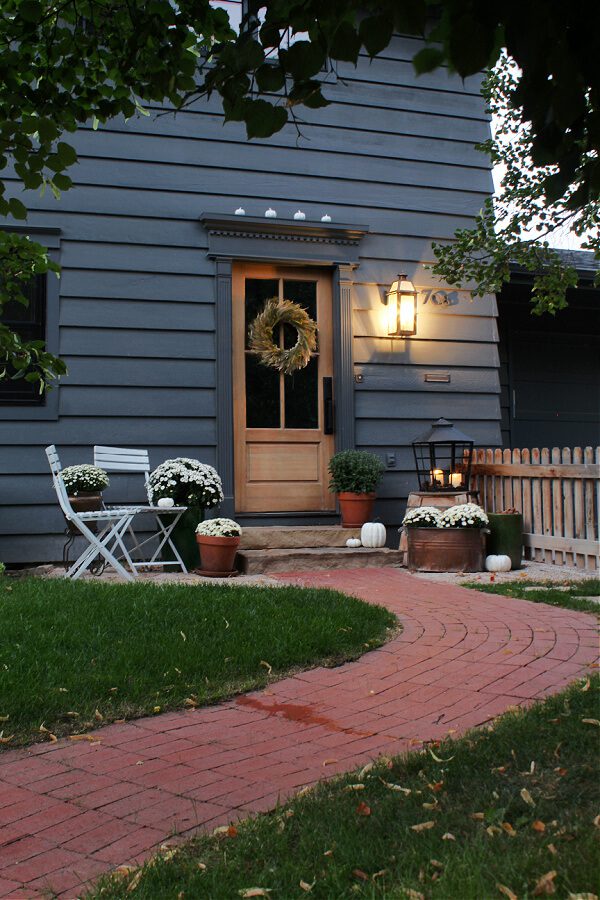 I love the moody fall feels our exterior exudes. We have a copper lantern on our house and I decided I wanted to add more touches of copper outside.
Copper is perfect for fall decor but can be pricey! I'm all about getting that high end look on a budget. So instead of buying the ourreagosly priced copper lanterns from Frontgate that I was drooling over, I decided to DIY my own. If you want to read more about my DIY copper lantern then you will enjoy my post on how to quickly get the look of aged copper.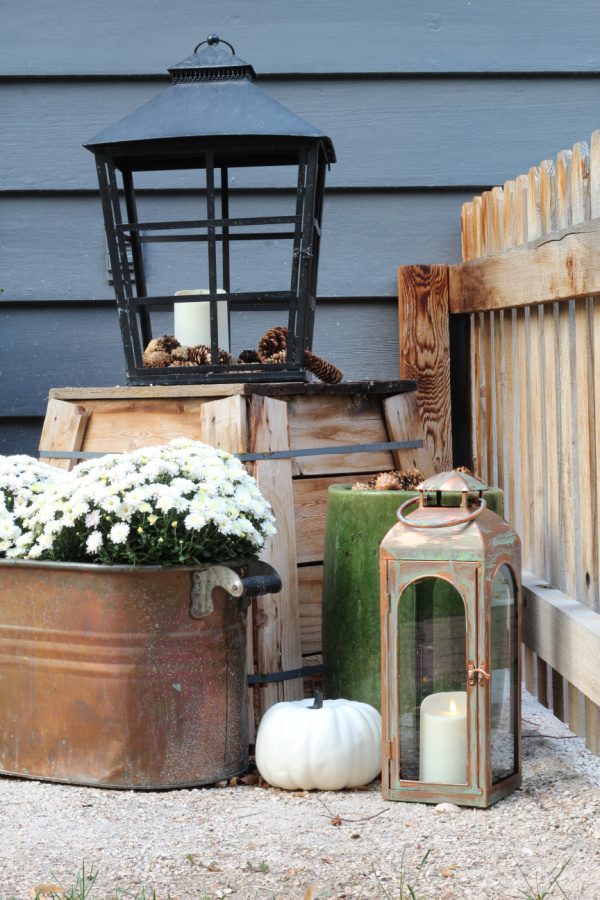 Fall In Our Entry
Come on in to our front entry. I decided to keep it very simple in terms of Fall decor in this space, and instead let the details do the talking. Isn't the blue woodwork, window moldings and stairs just beautiful? You can see why we fell in love with this home as soon as you enter.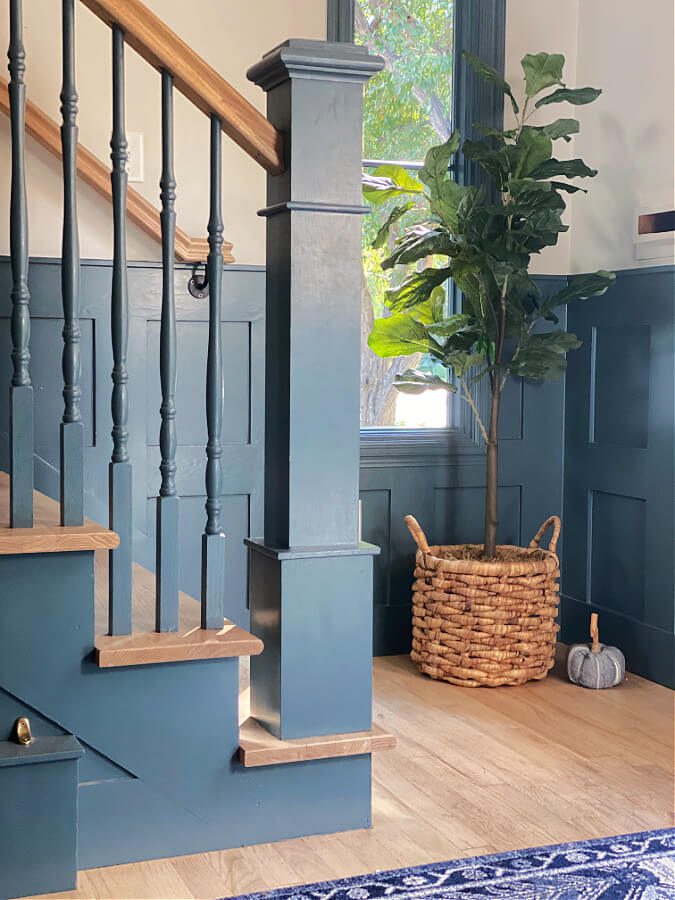 Blue is my favorite color and the main color in our new home, so when I found the darling little blue fabric pumpkin in my fall stash I knew it needed to come out. It looks perfect next to my faux fiddle fig!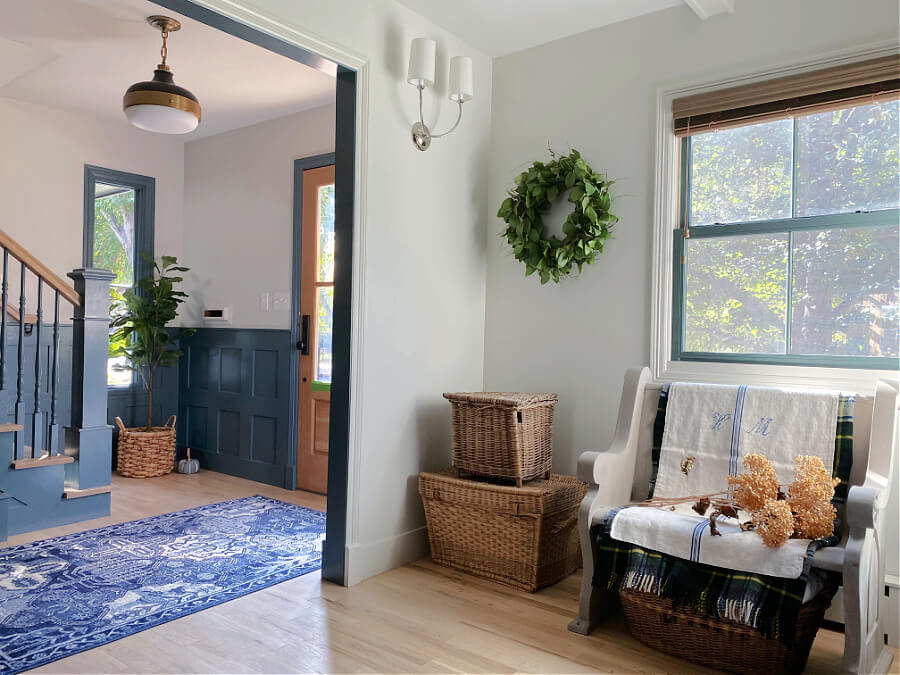 My sweet little Tattered Pew has her very own little space that sits right between our entry and the family room. I stacked some baskets next to her, hung a lemon leaf wreath on the wall and layered some linens on top of her.
For some natural Fall decor I sat some weathered dried hydrangeas on her. Normally I like my Annabelle hydrangeas to dry green but these felt more "Fallish" to me this year!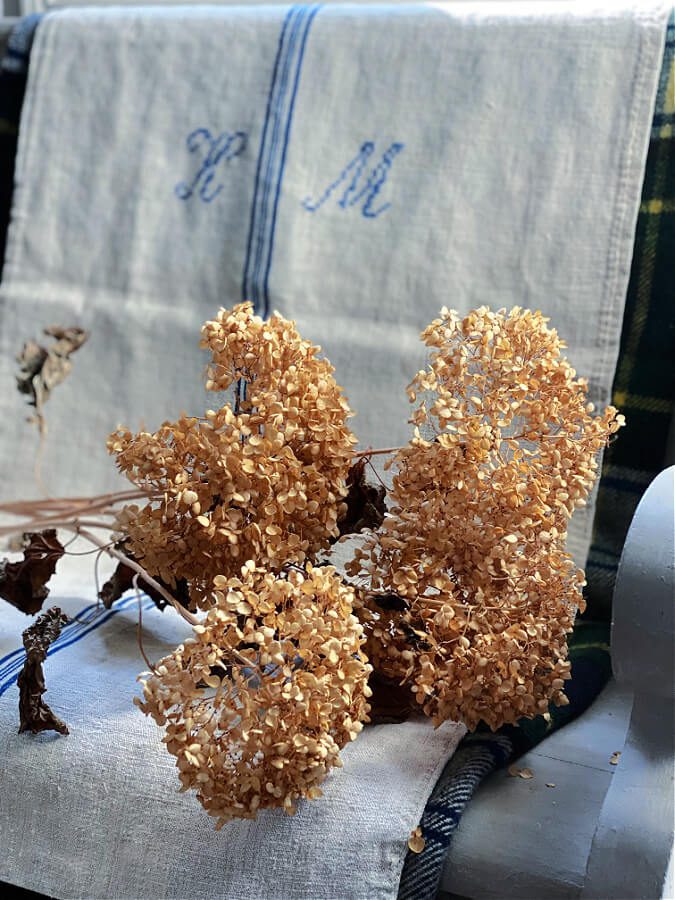 Some may just say they are dead, and yep they are but I love their warmth and texture and simplicity. And lately I'm all about using decor in my home that I love and not worrying about what others think.
It's been interesting transitioning into a new home and finding spaces for all of my furniture that worked in our last home. It's really helped me put a finger on where I want to go decorating wise in here and honestly, I'm leaning more towards a traditional feel.
A Small Peek Into The Kitchen
Right as you walk through our entry on your right, you see our blue kitchen. I will be sharing more of this space in Part 2 of my Fall home tour next week and I'm pretty sure you will love it as much as I do. But for now here is a very small peek!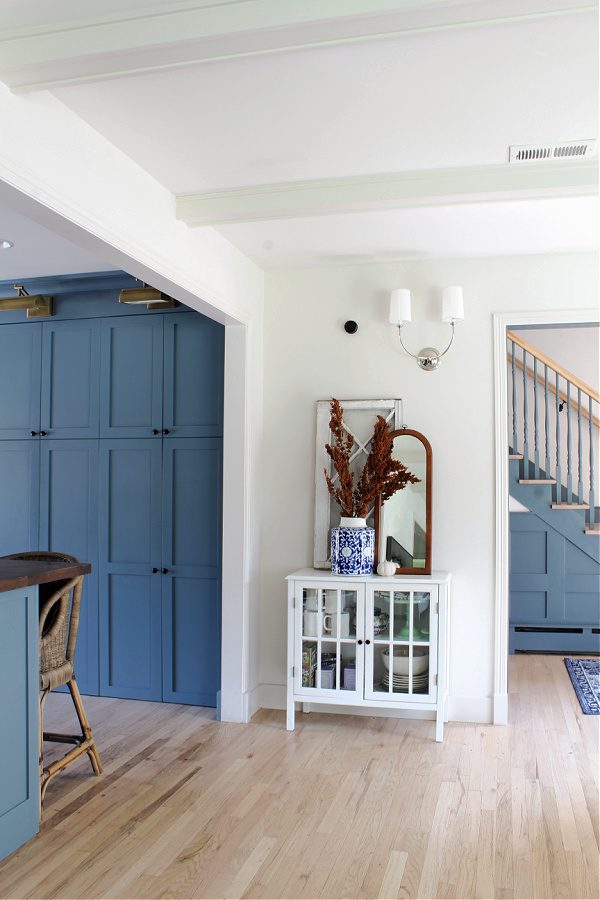 This unique space between the entry and or kitchen needed something and our white cabinet that used to be in our kitchen fit here perfectly. The Fall stems you see are actually weeds that I pulled off of the side of the road. I used them in last year's Fall Home Tour too!
Anybody else love roadside weeds for decor?
They are cheap, full of texture and always make for a good story! Ha!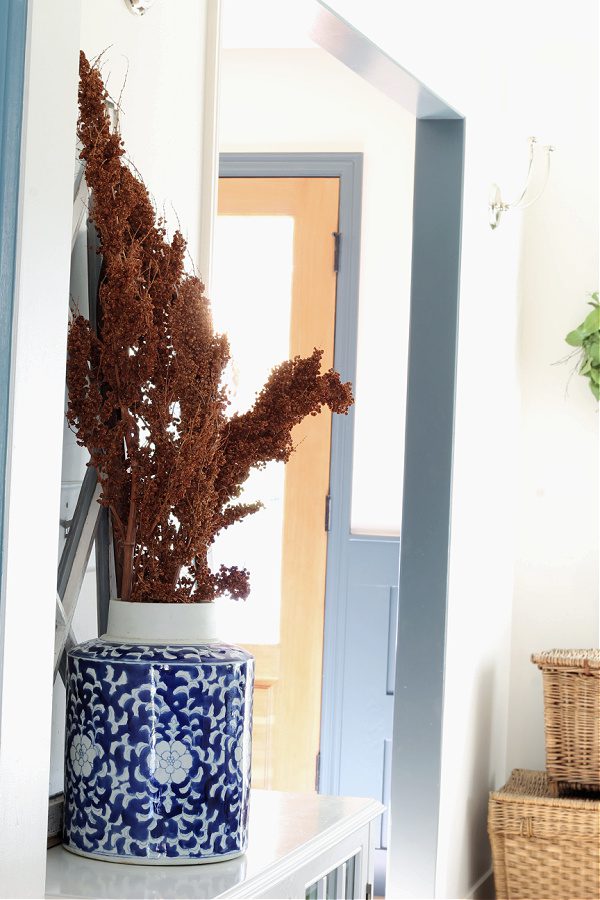 Fall In Our Family Room
Now I'd love to show you around the last space on this tour that I have decorated for Fall in our new home. This is a look in to our family room!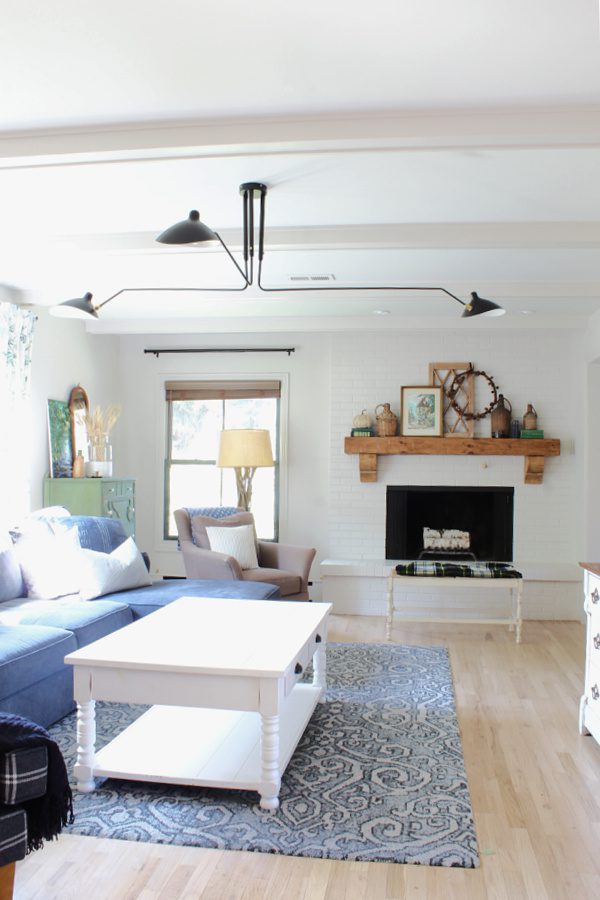 This is where you can find our family 95% of the time. If we aren't here we are either out back or in the kitchen. It's cozy, warm and the theme of blue continues!
Our new fireplace is wood burning and I can hardly wait to have our first fire in here. For now I have some white aspen longs placed inside to break up all of the black. I had a lot of fun decorating the wood beam mantel for Fall this year.
I decorated it not one but two ways!
You can see them both here where I shared simple and colorful Fall mantel decor ideas!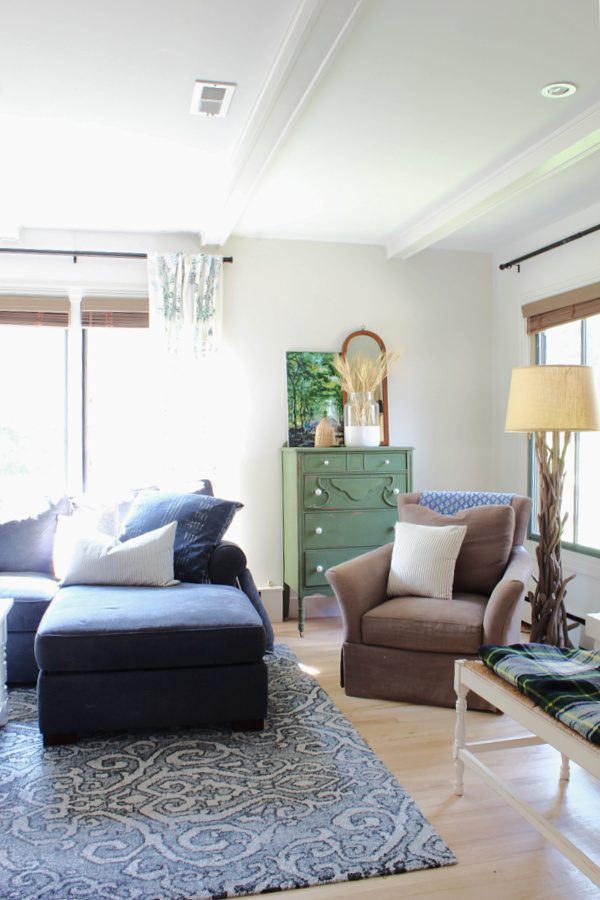 Just to the left of our mantel is where my favorite boxwood green dresser found her spot! We tried her out in a few different areas but kept coming back to this wall.
What do you think of her in her new home?
I did some layering of decor on top of her and love the simplicity. Can you spot our Cairn Terrier Zoey below? She loves this area too.
Seating In The New House
Our family room has several different seating options. On of my favorites is our blue and white plaid accent chair from Wayfair which fits this space perfectly! However, my Pottery Barn sofa did not. Sadly I had to sell her as she wouldn't fit in the basement either.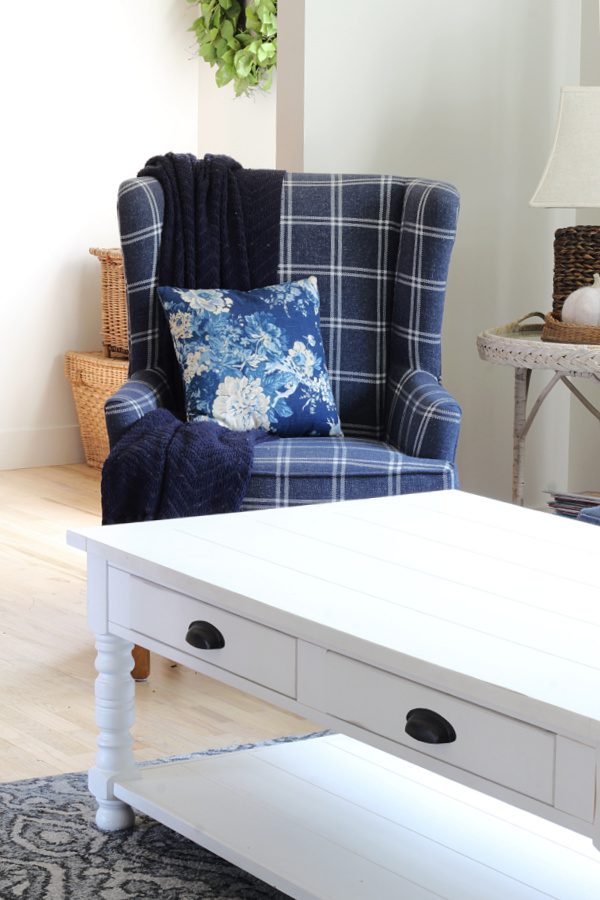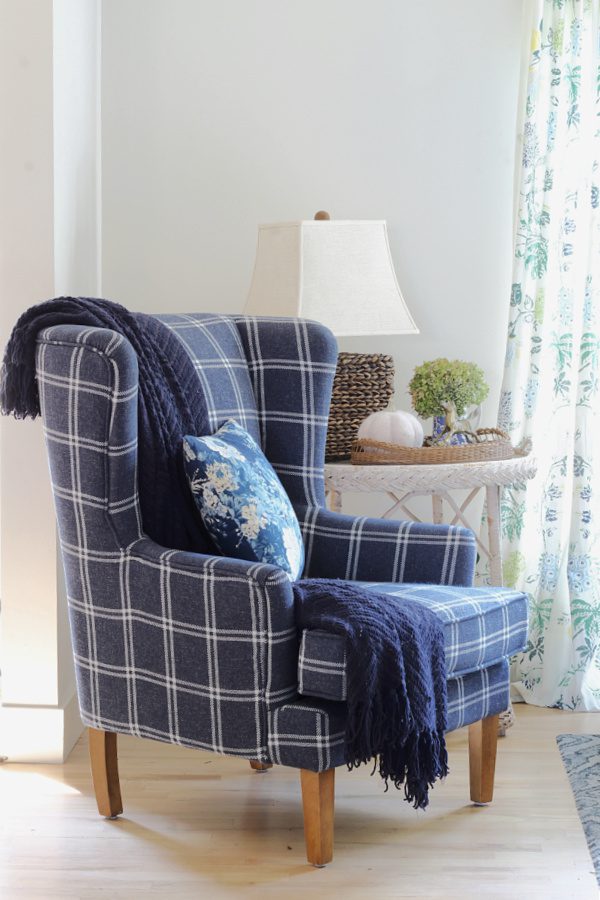 Instead we have been using this dark navy blue Pottery Barn sofa I found several years ago at Curate Consignments. It's been in our basement and the kids love it! So we brought it up here and now it will stay here until I change my mind or feel the itch to switch.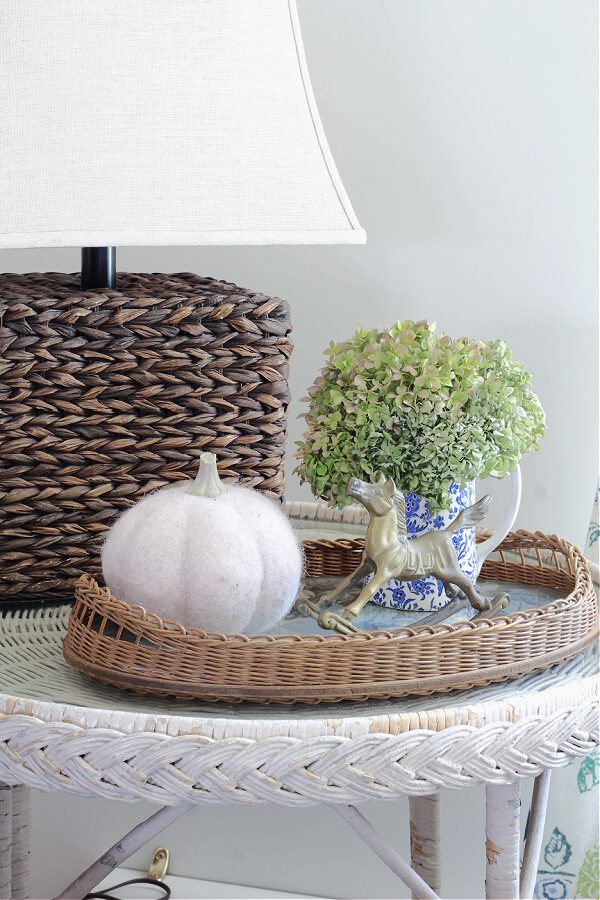 I have kept all of my furniture ( besides the sofa) and rugs so far and they have all found various spots throughout our house. It's been fun to try them out in new and fun spaces. The white coffee table above seems a bit large for this space and so I have been keeping my eyes open for a round smaller one.
Also, did you notice the cool black ceiling light fixture? I wasn't so sure about it at first but it has grown on me!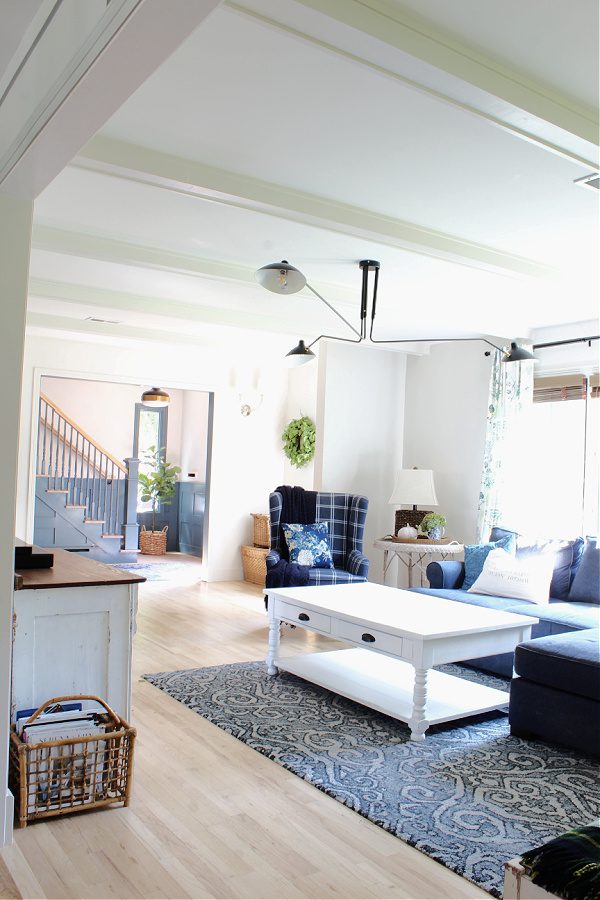 Shop Our Home

Fall In Our New Home
Well there you have it, part 1 of Our Fall Home Tour! I hope you had fun taking a peek around. As always it's a work in progress but honestly I am loving every minute. Please let me know if you have any questions! I love chatting with you about my home and I always love comments!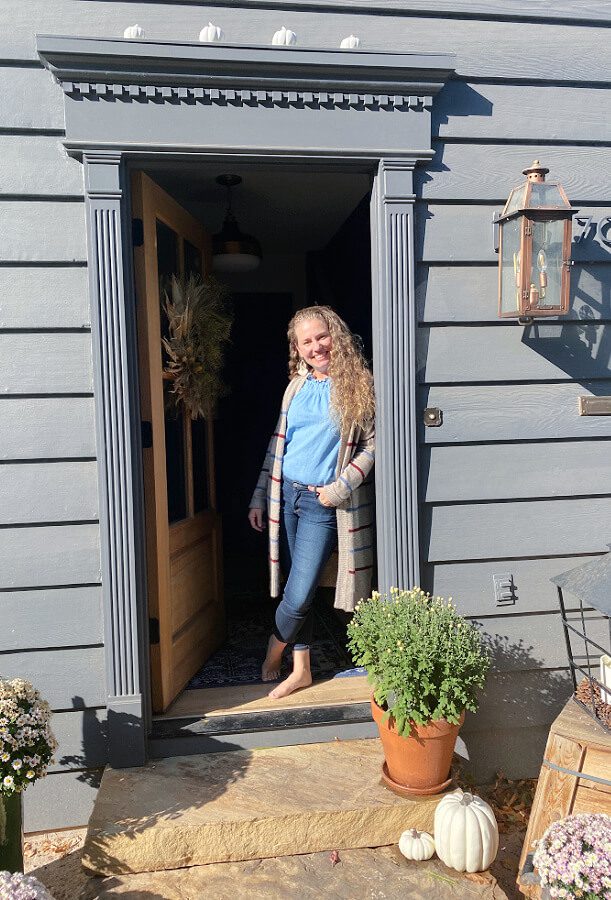 Next stop on the tour is Jenna of Jenna Kate At Home. Jenna and I have met in person and her heart is just as beautiful as her home. I can't wait for you to see her simple and subtle Fall decor.
xoxo,
Kelly

This week I'm joining some of my talented blogging friends for the Fall Seasonal Simplicity Series. All week long we are sharing our homes decorated for Fall. Be sure to check out all of the beautiful inspiration by visiting today's tours, and pop by again during the week to visit everyone else who is sharing!
Sharing with me today…
Monday
And sharing the rest of this week…
Tuesday
Wednesday
Thursday
Friday