I don't know about you but after Christmas I am always craving simplicity around my home and I like to take the less is more approach. This is also true when it comes to my outdoor decorating. Today I am excited to share with you some of my favorite winter porch ideas, that I promise, anyone can do.

I am joining my friends for the Welcome Winter mini blog hop hosted by Cecilia of My Thrift Store Addiction. Make sure to visit the blogs linked at the bottom of this post to help cure those winter decorating blues!
Winter Porch Ideas
Do you decorate your porch for winter? I do, and guess what? It's actually one of the easiest things to decorate because it's simply about removing certain things. My winter porch ideas are honestly about undecorating.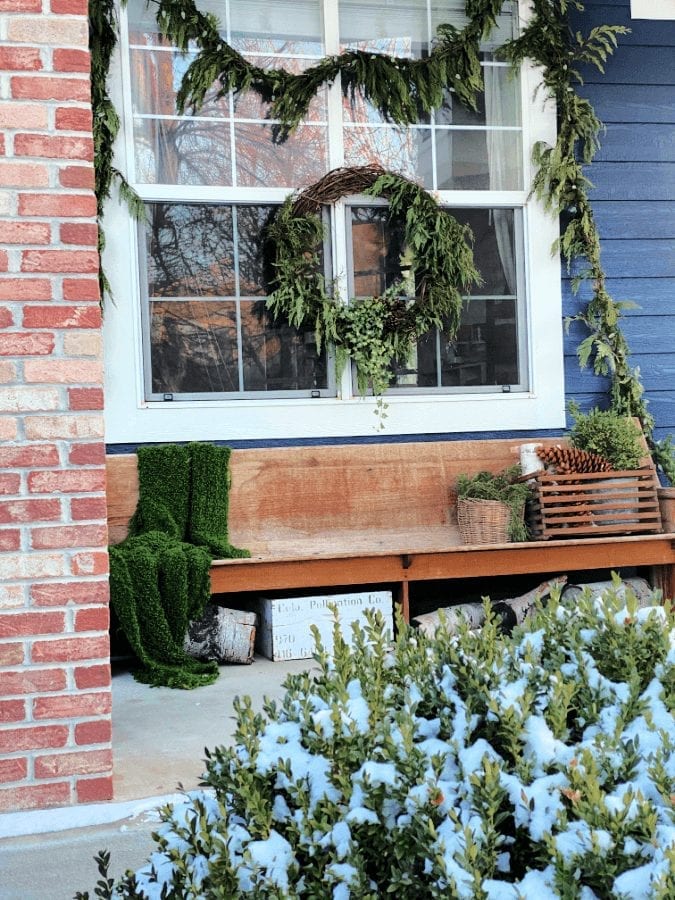 Removing All Traces of Christmas (Undecorating)
Our Christmas porch this past year was one of my all time favorites. It was full or fresh greenery along with fun pops of red. But it was definitely a Christmas porch, not a winter porch.
I also think I loved it so much because of the DIY wreath I made for our window above the pew. It was such a simple DIY yet such a huge statement!
I wasn't ready to fully let it go, and so I didn't!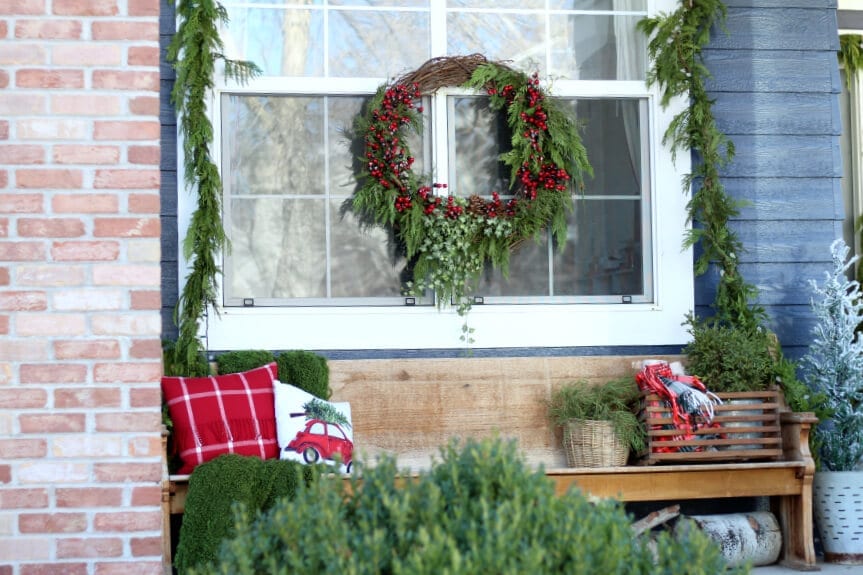 Check it out below! I simply removed the red berries from the wreath and it was instantly transformed into a new and gorgeous winter wreath! Just a bit of easy undecorating that included removing the pillows and plaid throw. It took me less than 10 minutes.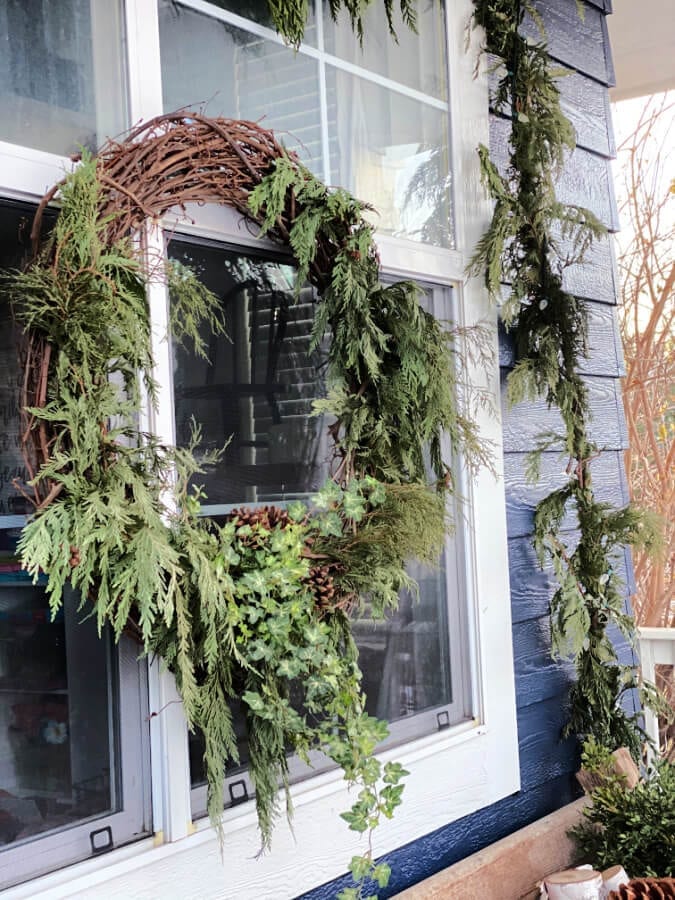 Winter Greens
Outdoor winter decorations that are not Christmas are actually easier than you might think. My number one rule for winter porch decor is bring on the greenery.
Fresh or faux makes all the difference by simply adding color and life to a space. When I invested in the 20ft fresh cedar garland from Costco in early November, I knew it would last on my porch well into February. Once all of the red was removed it became winter and not Christmas.
And yes, I did leave the twinkle lights up!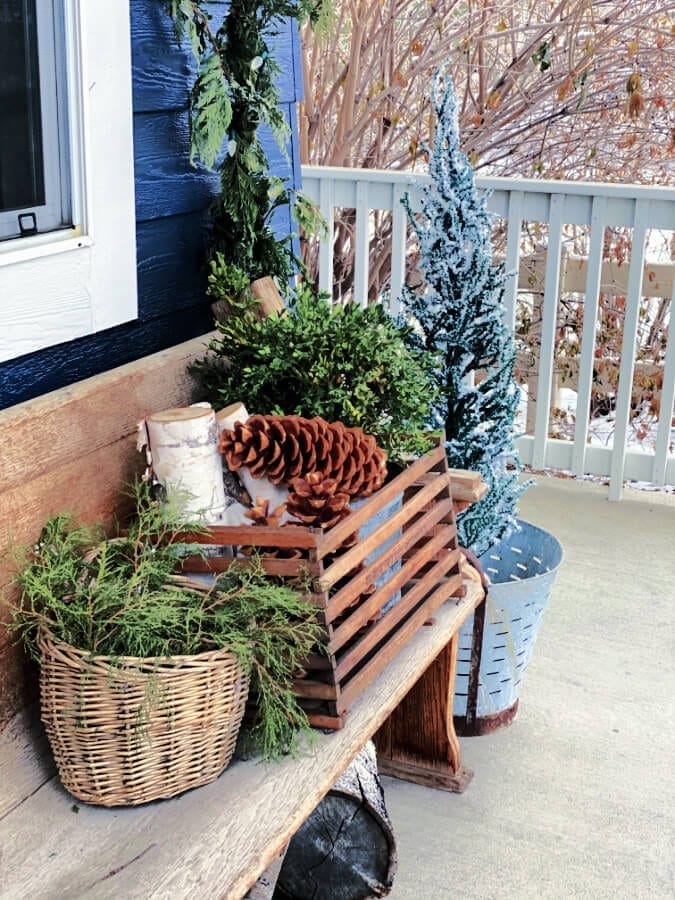 Winter Porch Plants and Planters
When it comes to winter planter ideas and plants I like to keep things easy on our front porch. Some of my favorite ideas are faux flocked trees in olive buckets, old crates or anything planter like. I also love sticking greenery clippings in baskets or containers to add pops of color.
The greenery in the basket on our pew is from a bush in our backyard. Free greenery is also a favorite of mine!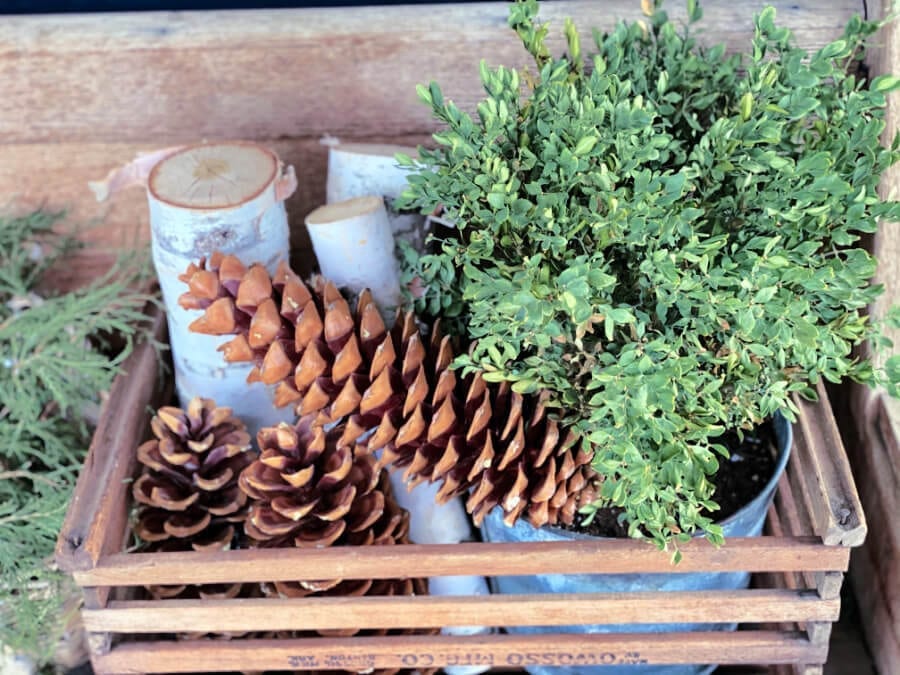 Of course I can't forget my favorite boxwood bush that stays green year round. It also made an appearance on our fall and spring front porch! I highly recommend investing in a boxwood plant not only because of their constant greenery but because of their beauty, texture and low maintenance.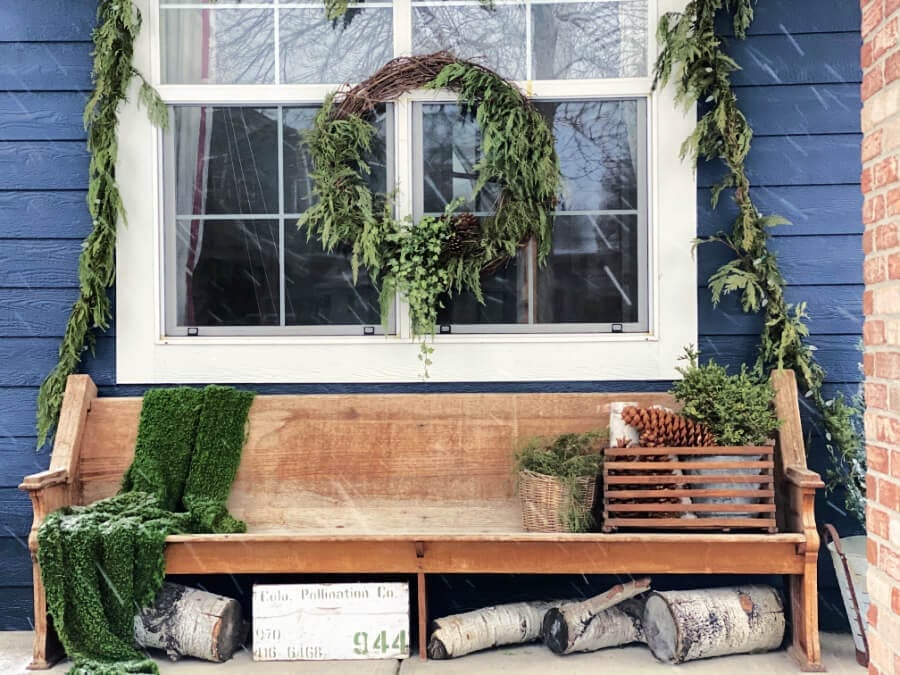 Also, you may have noticed the large sugar pine cones that I have in the crate on my pew? I snagged them at an after Christmas sale for $2.50 each! Of course I bought their last three.
They compliment the pine cones in my wreath perfectly, don't you think? Pine cones always make me think of winter decor and they are a must for winter porch decorating!
How Do I Make My Porch Cozy?
If you have been around my porch for awhile now you know I love making it cozy! A lot of people ask how do I make my porch cozy, especially in the winter? Well I think adding texture in the form of a blanket or throw adds that instant cozy feeling that most of us crave.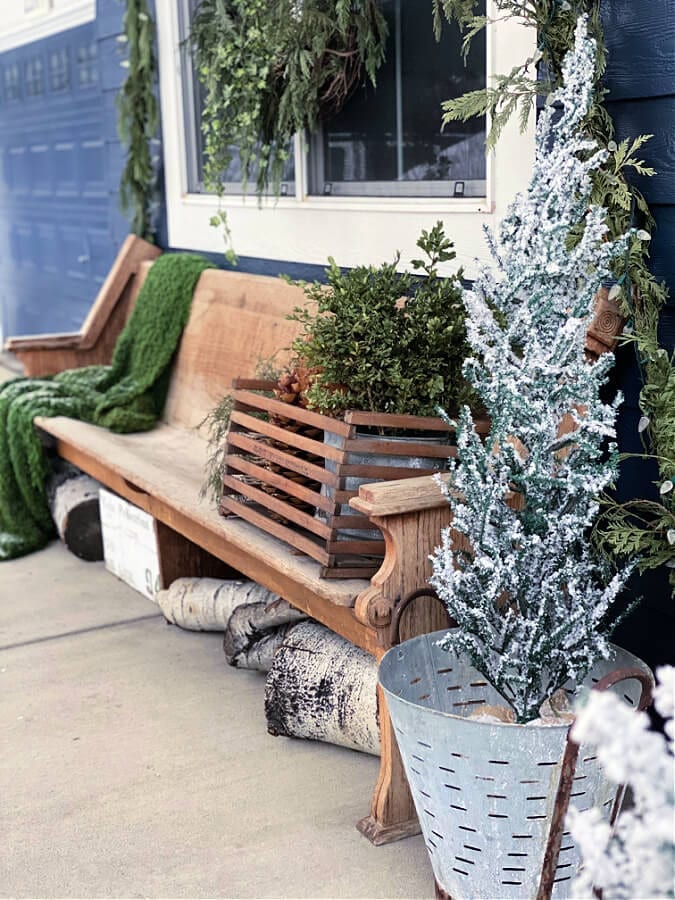 I removed the Christmas pillows but left my favorite fluffy green blanket that I found at IKEA several years ago. It's one that I have specifically designated for outside.
If you live in Colorado like me, or other states that have crazy weather, you have to be careful with what you leave on your porch because the weather is constantly changing.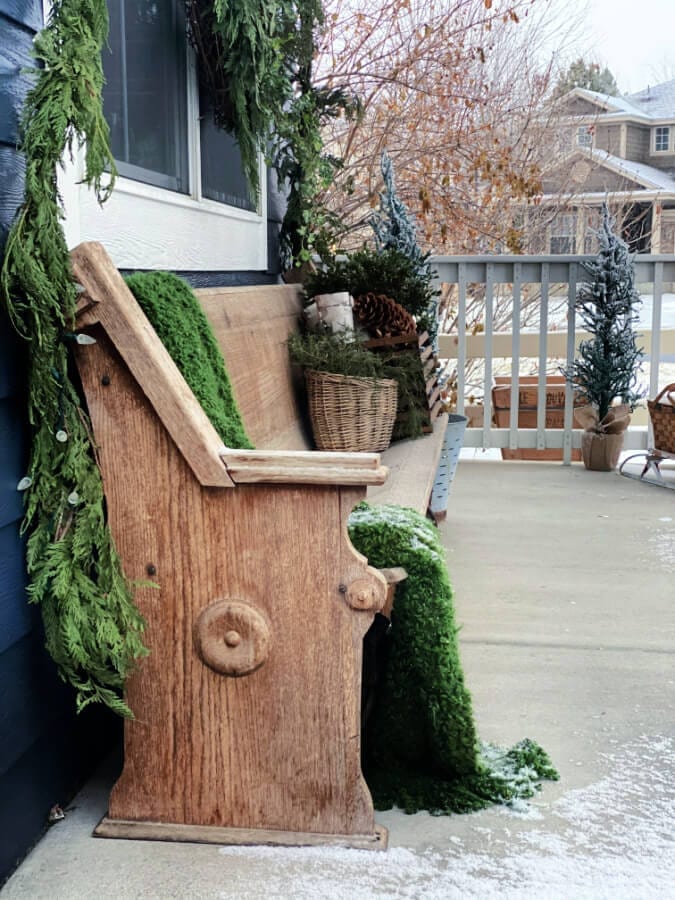 Vintage Decor
Some of my best winter porch ideas include using vintage decor to accessorize our front porch. My favorite vintage piece is of course my pew, Ms. Fanny. You can read all about how I found her here. Having a fun focal point on your porch always makes decorating it a whole lot easier!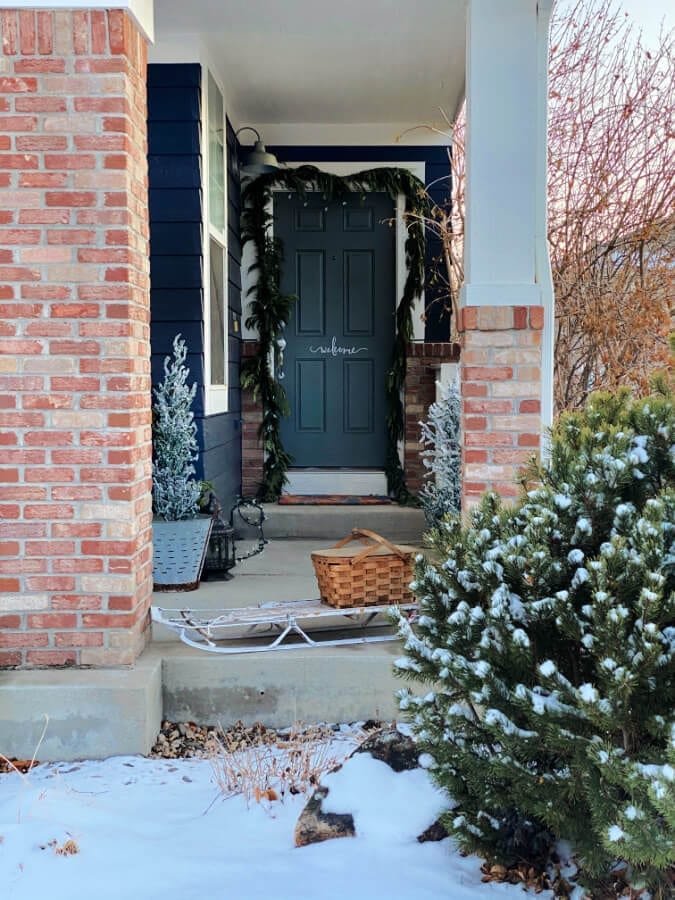 This vintage sled and old basket offset the pew nicely and draw your eye to the door. They offer a fun and playful touch to our porch that I love.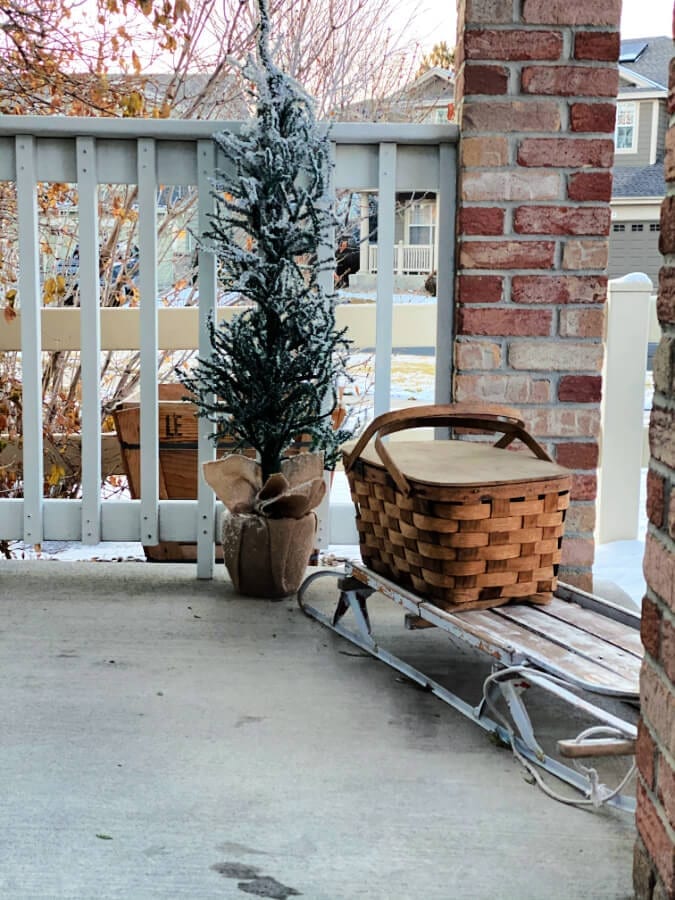 Leaving No Space Undecorated
Don't forget when it comes to decorating your porch it's always a good idea to decorate in the unexpected spaces.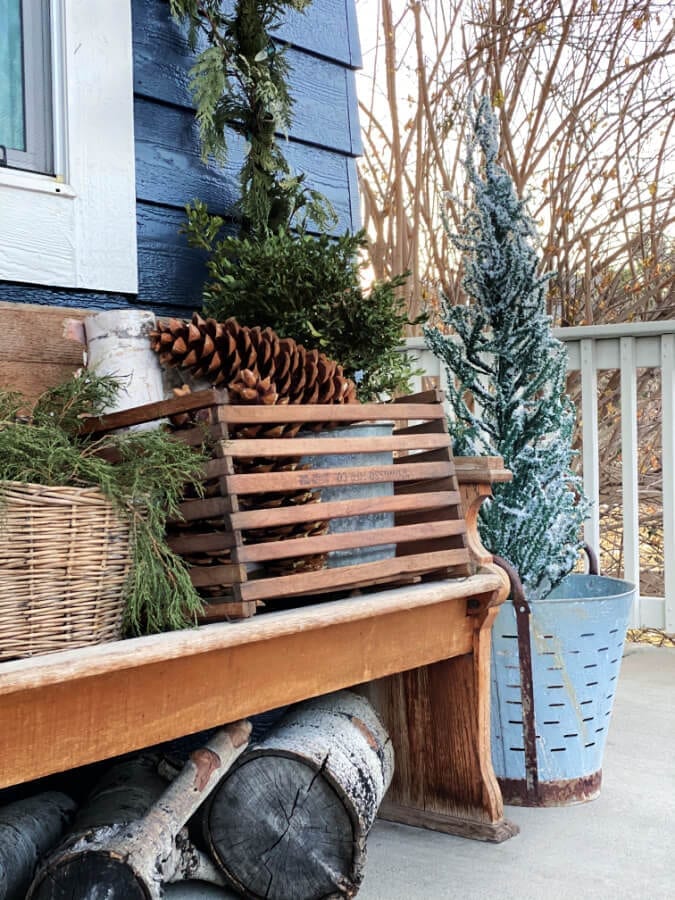 One of my favorite places to decorate on our porch is under the pew! I love adding stacks of wood like these old chunky birch logs. Their white color is perfect for winter!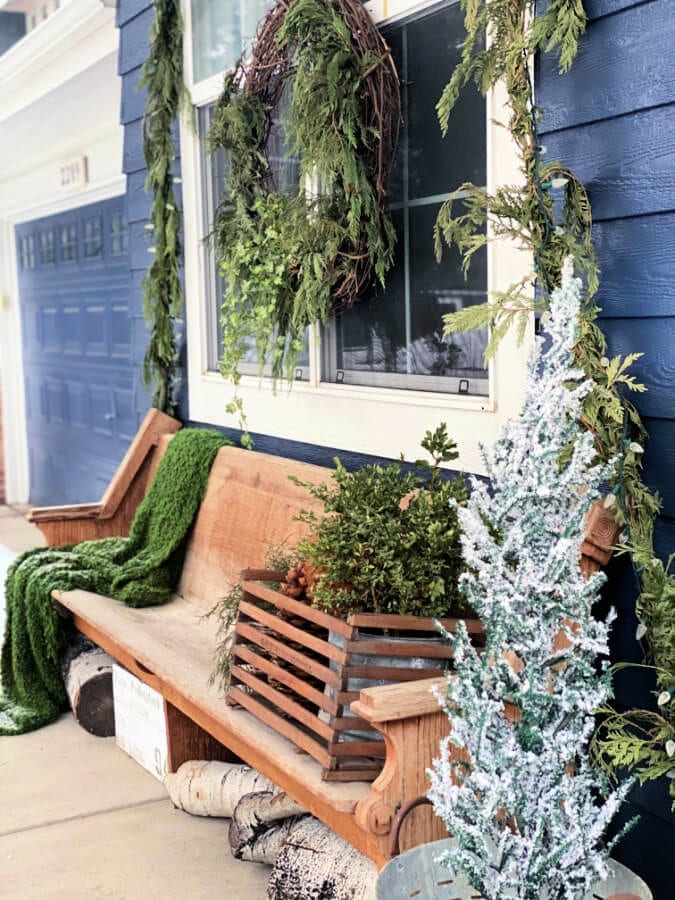 This old white and green bee crate breaks up all the wood and fills the space under the pew nicely.
When I hunt for items for my porch I look for unique items that have the colors I love. Green is always a go to for me no matter the season.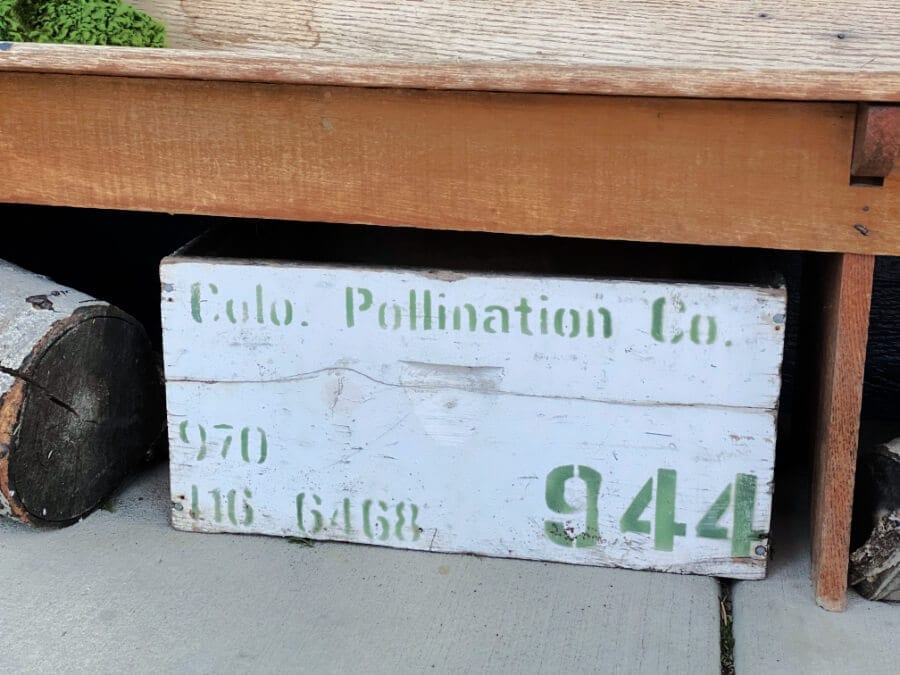 Winter Porch Ideas
Hopefully I shared a few winter porch ideas that you might want to try yourself. I plan to leave my winter decor up through February or March… or as long as my greenery stays green!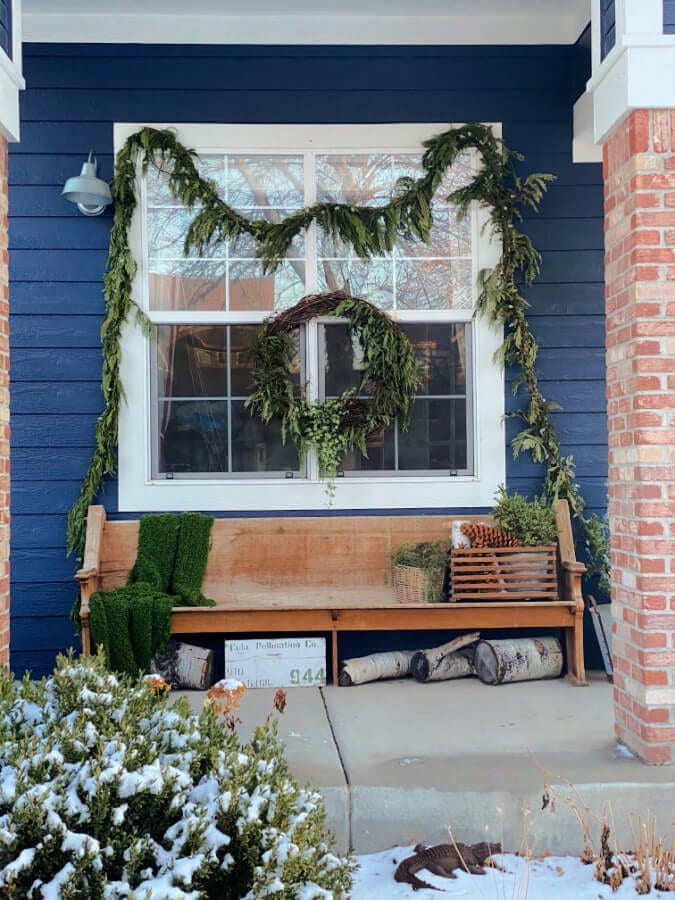 Thanks for stopping by today… you are welcome anytime! Make sure to check back here on the blog soon because there will be a rather large change happening to our entry. I can't wait to show you!
Now make sure to visit my blogging buddies posts below to see all of their beautiful winter decorating inspiration!
XOXO,
Kelly