Christmas In Our New Home (Part 1)
Are you ready for some Christmas inspiration today? Today is day one of the Bloggers' Best Holiday Home Tours and I am so excited to be hosting 28 of my blogging friends sharing their beautiful holiday homes! So grab a warm drink and a cozy spot and get ready to be inspired. You can find each of their posts linked at the bottom of mine.
This post contains some affiliate links for your convenience. Click here to read my full disclosure policy.
But first come on in and check out Christmas in our new home!
If you are popping over from Libbie of A Life Unfolding, welcome! Wasn't her neutral Christmas décor just lovely? If you are a new friend or an old friend visiting my blog today, I am so grateful you chose to spend some time with me here.
I'm Kelly, a December baby wo loves all things Christmas and all things Jesus!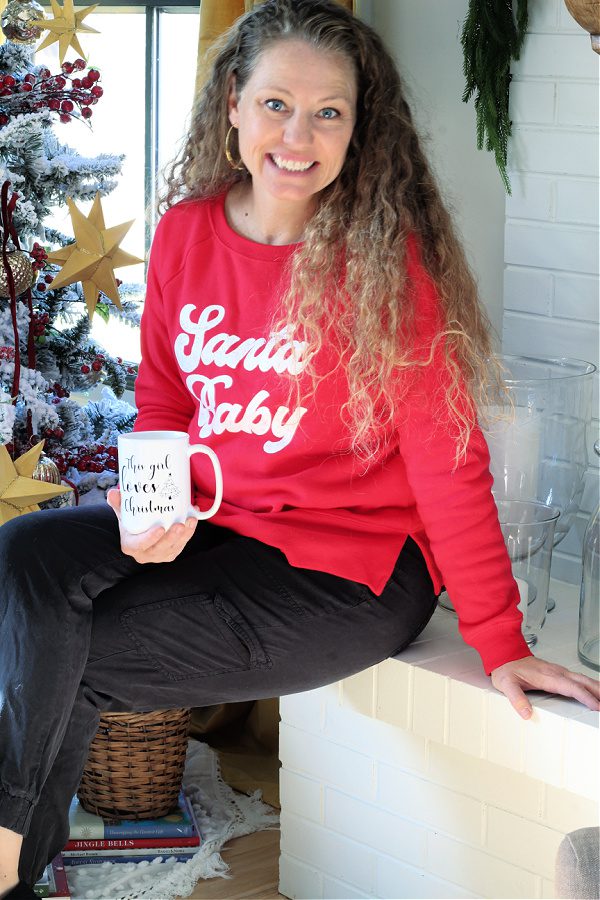 Today I am sharing Christmas in our new home part 1, featuring our entry, family room and office. If you want to see part 2 you can visit THIS POST!
Decorating our home for Christmas this year was a slow process. I'm still getting to know spaces plus I wanted to savor it and live with things for a bit. My mom came over and helped me out a lot and I am always grateful for her eye for design and detail. I'm sure I will continue to tweak things here or there but for now, she is all dolled up for Christmas and I am loving it!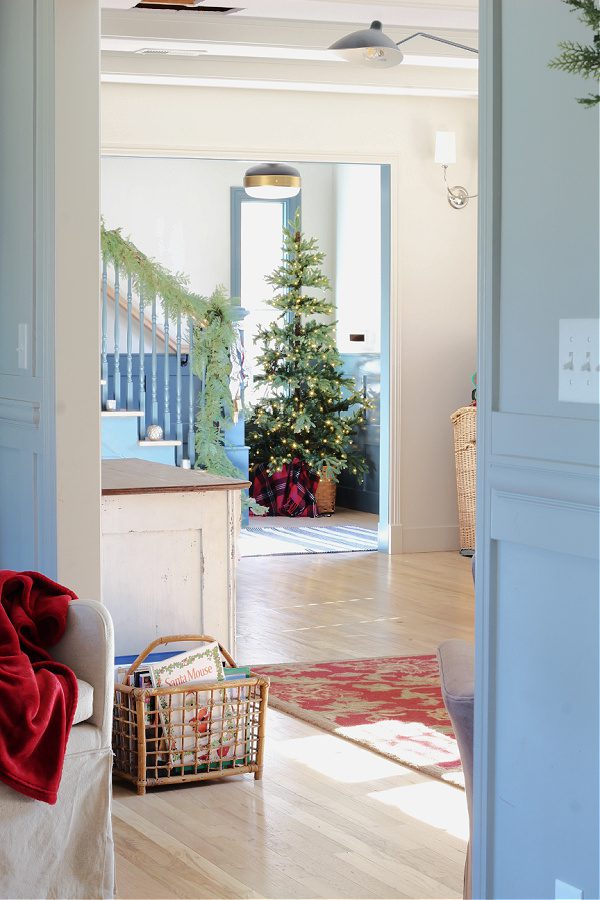 Christmas In Our Entry
Our entry is such a cozy little spot in our home and when it comes to decorating for Christmas I love using a lot of greenery in the form of trees and garland and wreaths.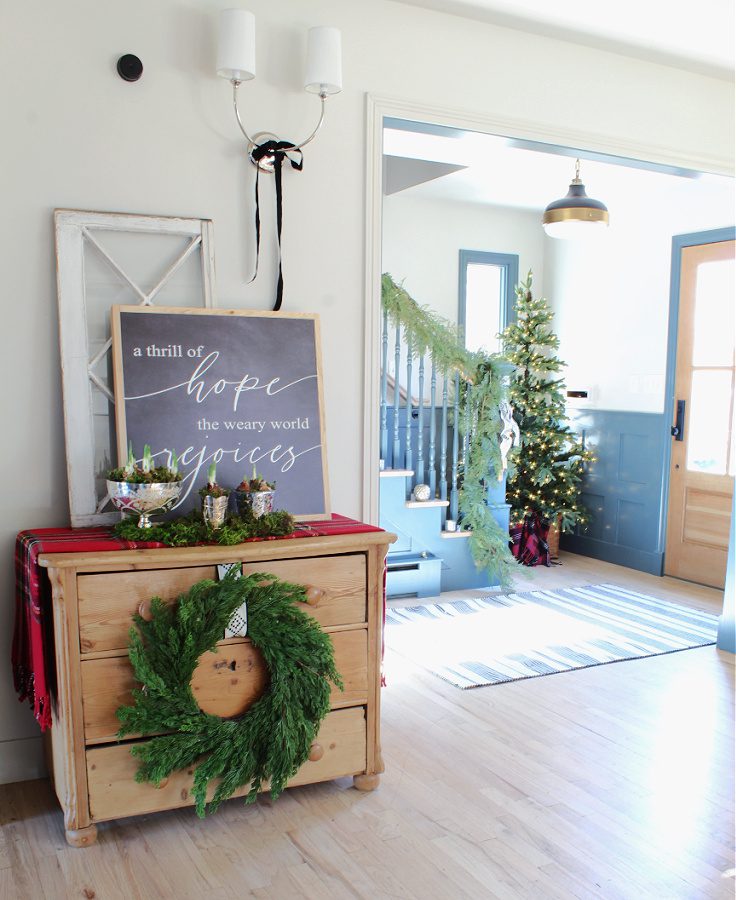 I knew I wanted one of my trees in this space I just wasn't sure where. So at first we tried the tree by the closet doors and that was a disaster. Between not being able to open the closet doors and having no plug near the tree it just wasn't a good spot. My awesome husband suggested I try it at the base of the stairs and he was right. It works in this spot perfectly! (this tree was a Facebook Marketplace find from last year)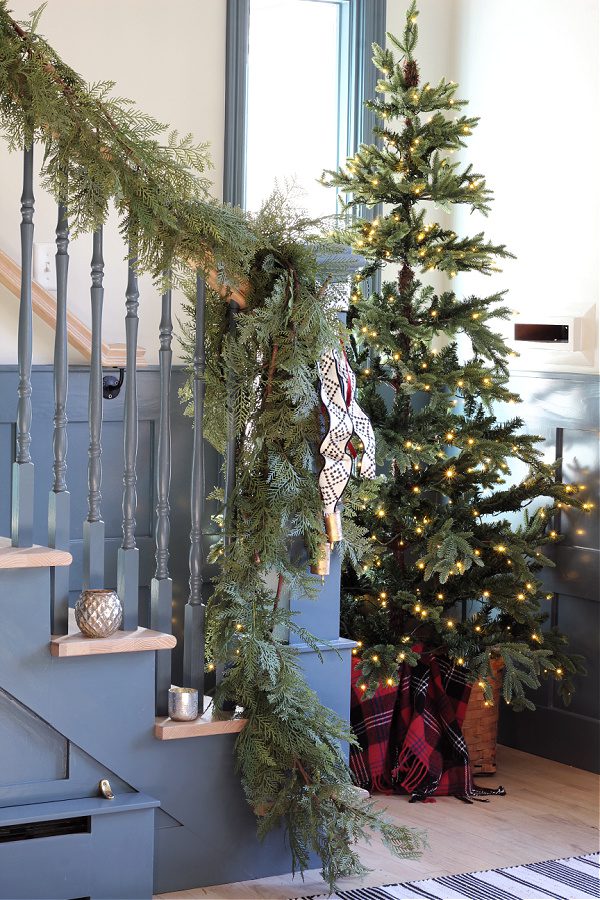 Do you have a stair banister to decorate? This is my first one!
I couldn't wait to add garland and ribbon to this beauty. I have had this garland for years and I love it. It's from a local store called Cozy Cottage here in Colorado.
I simply attached the garland using floral wire. I kept the ribbon simple with some black and white patterned ribbon from Hobby Lobby and a skinny red velvet ribbon (also found on our tree) from Home Goods. And the bells add a fun touch too!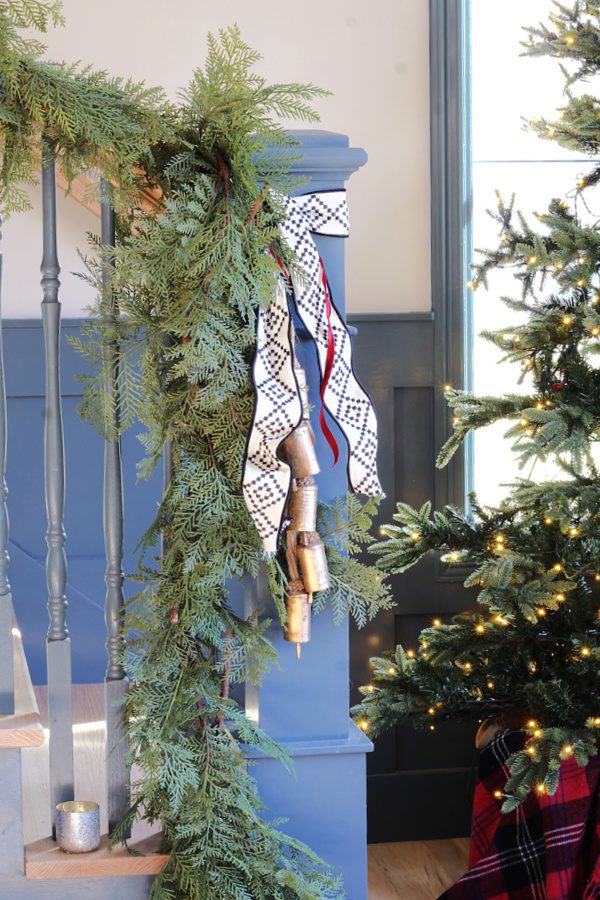 You will also start to notice little mercury glass votives and plaid throughout my Christmas décor this year. No real theme just an eclectic mix of what I love!
My Favorite Little Dresser
Just around the corner from our stairs, and still in our entry area, is my favorite little pine dresser. I found this beauty on Facebook Marketplace last year for $40! I had fun decorating her for Christmas. For a focal point I leaned against the wall an old window and my gorgeous new sign from Between You and Me Designs.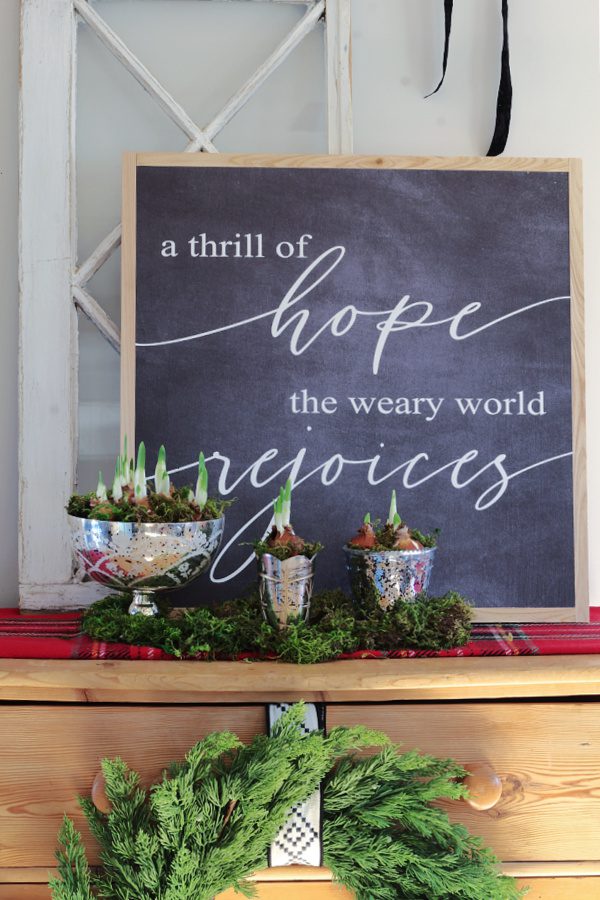 I love the sconce above the sign but I'm thinking of changing out the plain white to a fun pattern? Maybe a DIY to share here on the blog!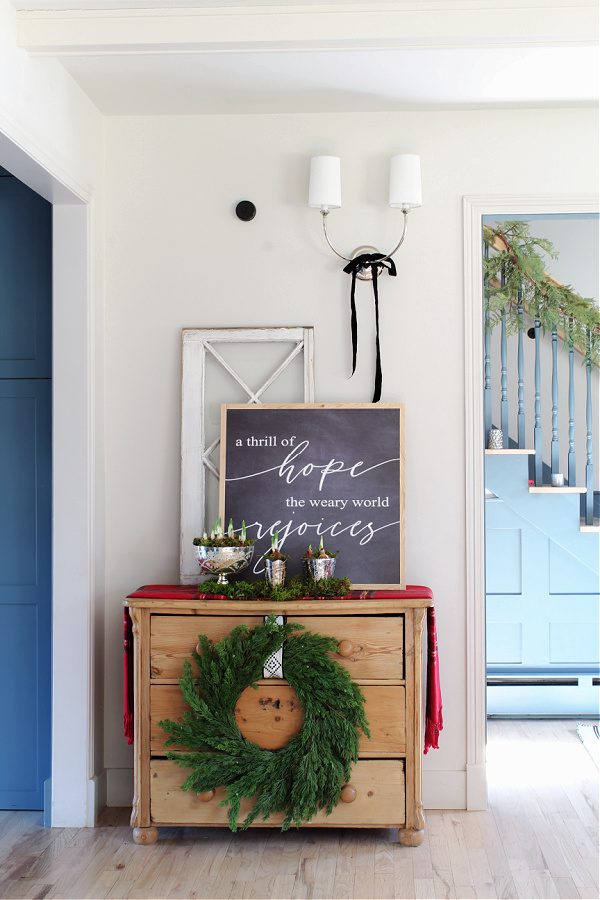 I folded a plaid blanket and used it as a runner across the top of the dresser. This was the perfect spot to display my growing paperwhites! The moss adds a lovely organic feel too! I have been collecting mercury glass pieces for awhile now and these are some of my favorites.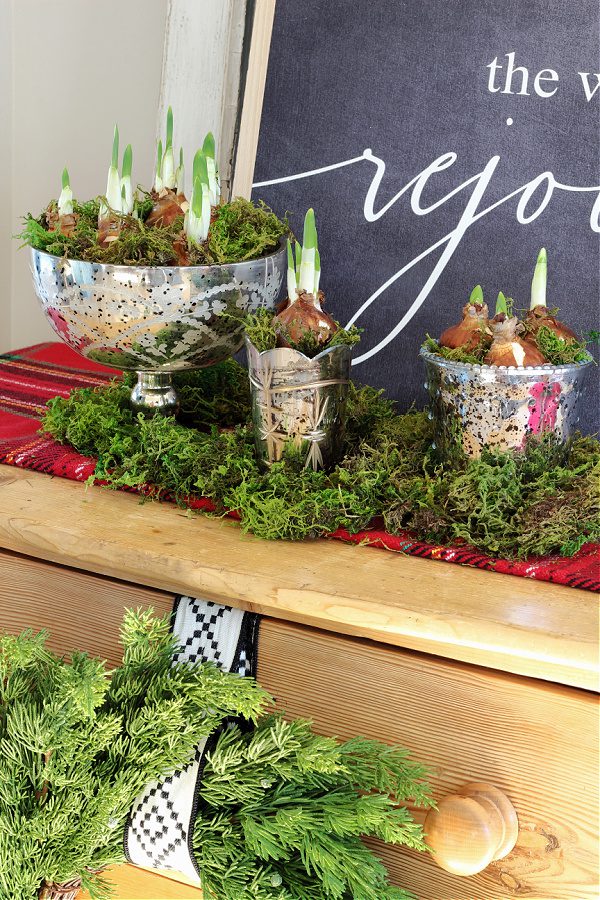 These pictures are from about 5 days ago and now the paperwhites are so tall and I can't wait for them to bloom! If you are curious about how to grow them I wrote a post all about how easy they are to grow. The rest of my Christmas greenery is all faux though.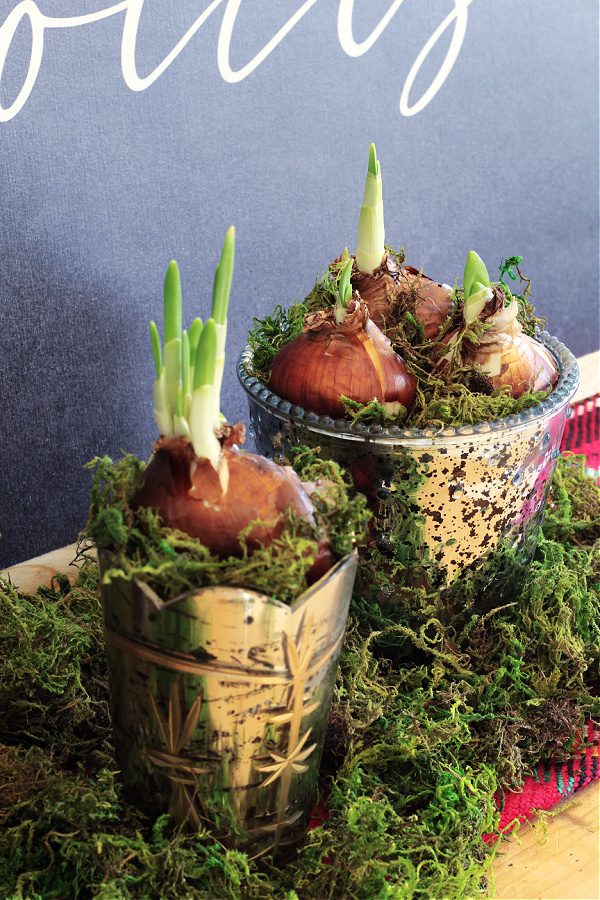 Give Me All The Plaid
Just across the way from my favorite dresser is my new favorite basket that sits next to my favorite pew and my favorite nativity set.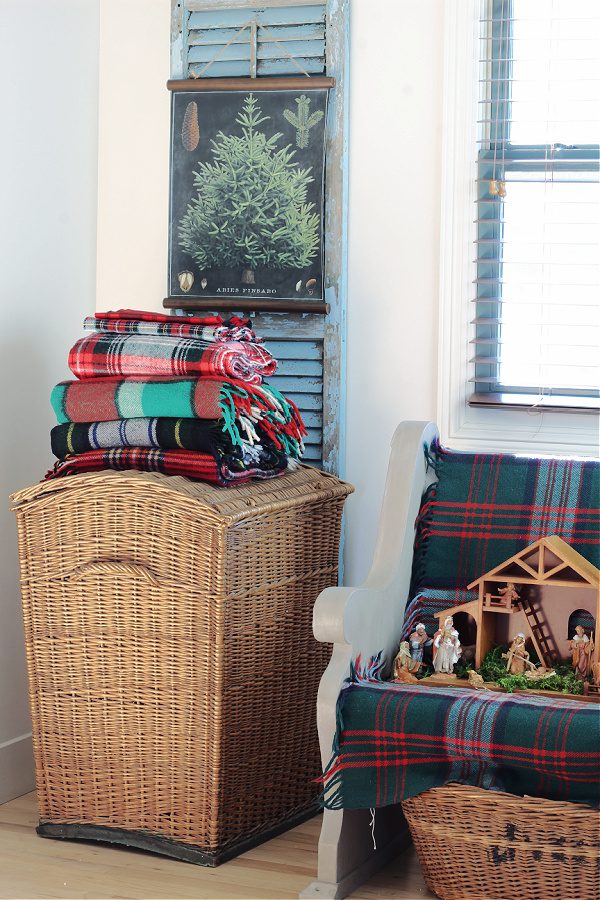 I know what you must be thinking. This lady has a lot of favorites!
And yes, yes I do. But don't worry, I rotate them so none of them get jealous! ha I recently found this basket at Magpies, a local shop, and the plaid blankets are all from flea markets. I love mixing and matching patterns and textures and that's what this corner is all about!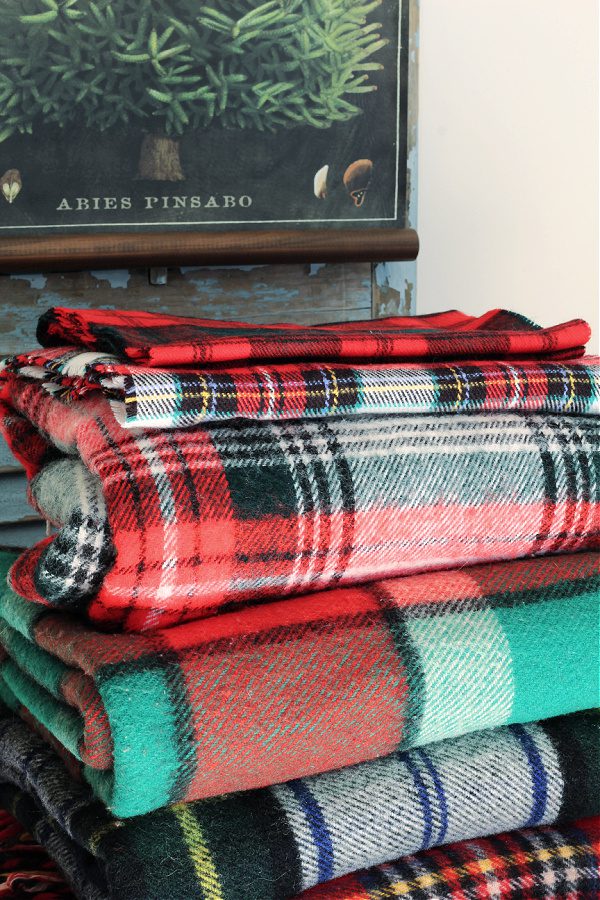 The nativity set is mine from childhood. I have a lot of fond memories of playing with it. I have it down low so my kids will play with it too! We have a fun tradition where we hide baby Jesus until Christmas morning. Looks like I still need to take him out!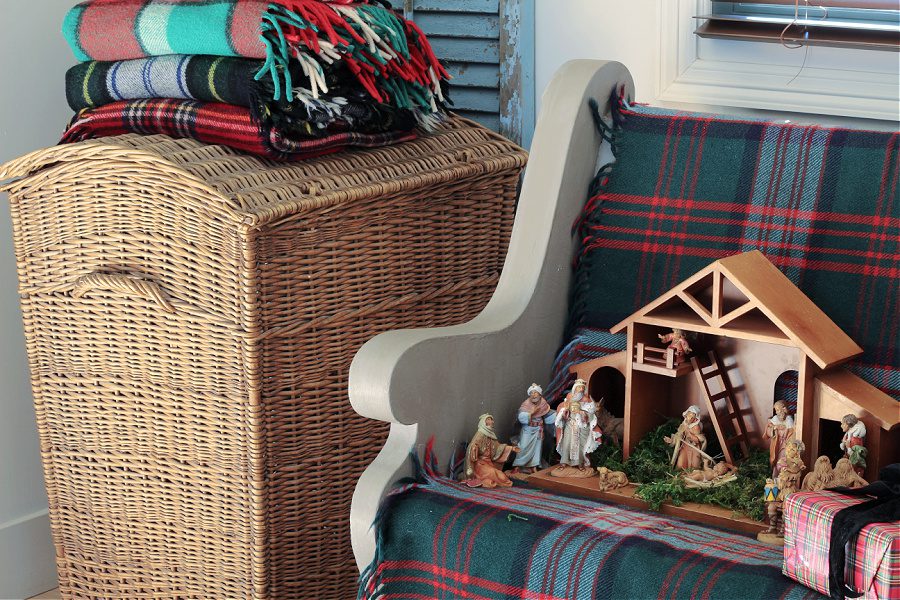 Christmas In Our Family Room
Come on in to where we spend 95% of our time. Here in our family room is our main Christmas tree! This year we had to get a new tree from Home Depot because our favorite Balsam Hill tree was too tall for the new ceilings. I was pretty sad when I figured that out. But we are loving our new flocked tree!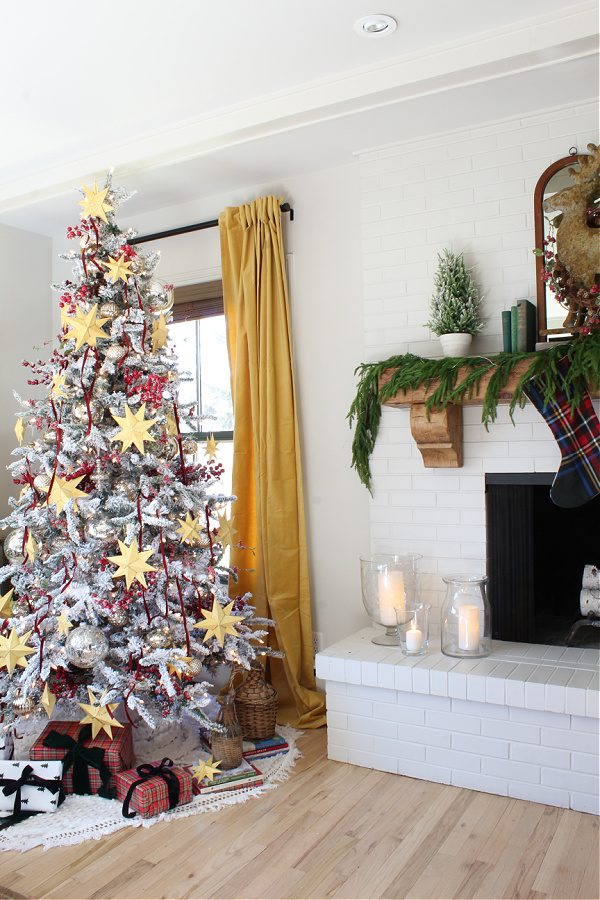 I shared our Christmas mantel décor last week if you want to visit that post you can click here!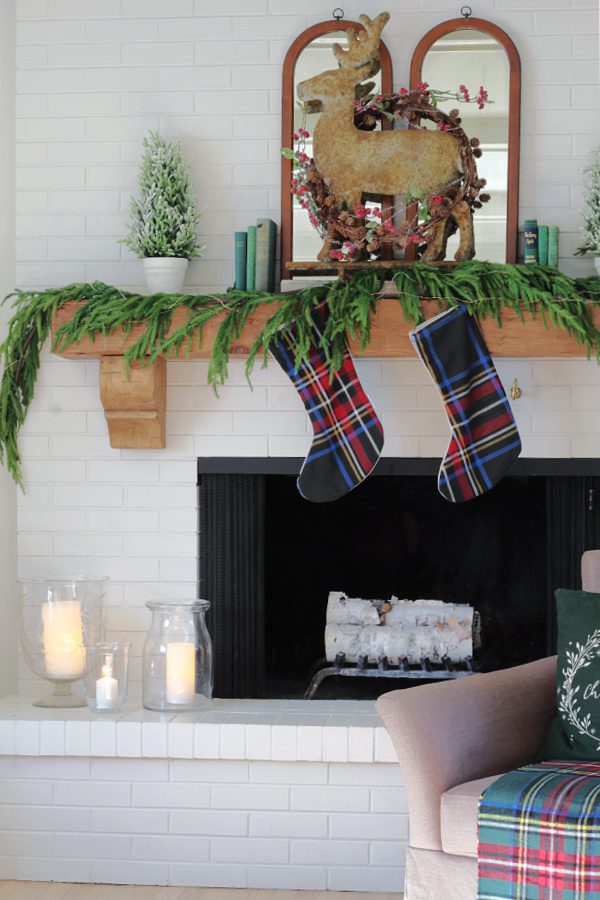 Our Tree Decor
Is your tree up yet?
I love how our tree is right next to our mantel. For the tree skirt I used an old bedspread and on it I scattered some books and demijohns. The packages are fake, but I do have a lot of my shopping already done. This is a first for me!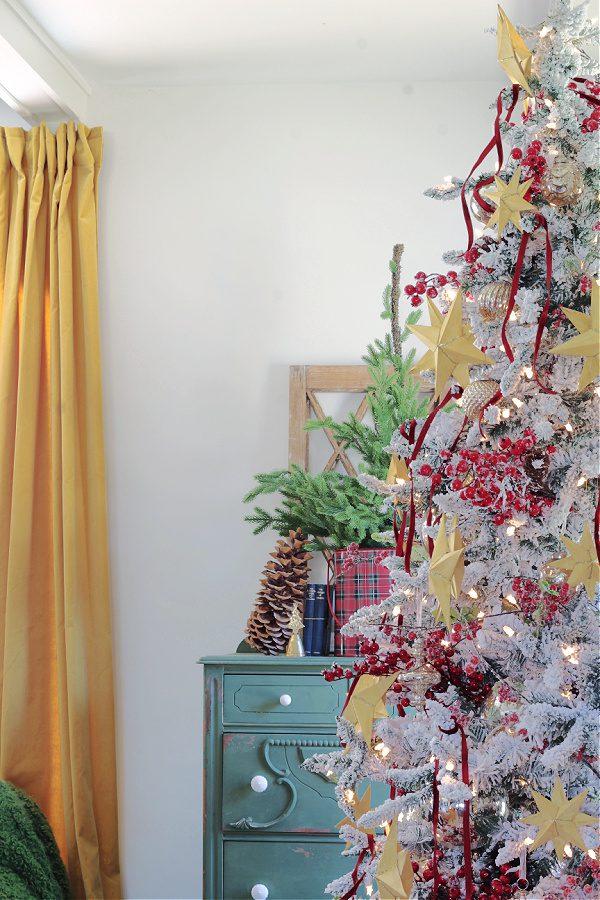 The Star Of the Tree
Did you notice the beautiful stars all over my tree ? These are handmade by myself and my mom. I worked on these beauties for a project with Miss Mustard Seed Milk Paint and there is a full tutorial on their site if you want to check it out! (JUST CLICK HERE )
I can't wait for you to check it out. MMS milk paint is my favorite and I feel so lucky to work with them. I picked the color Mustard Seed Yellow to go with our yellow velvet curtains from IKEA.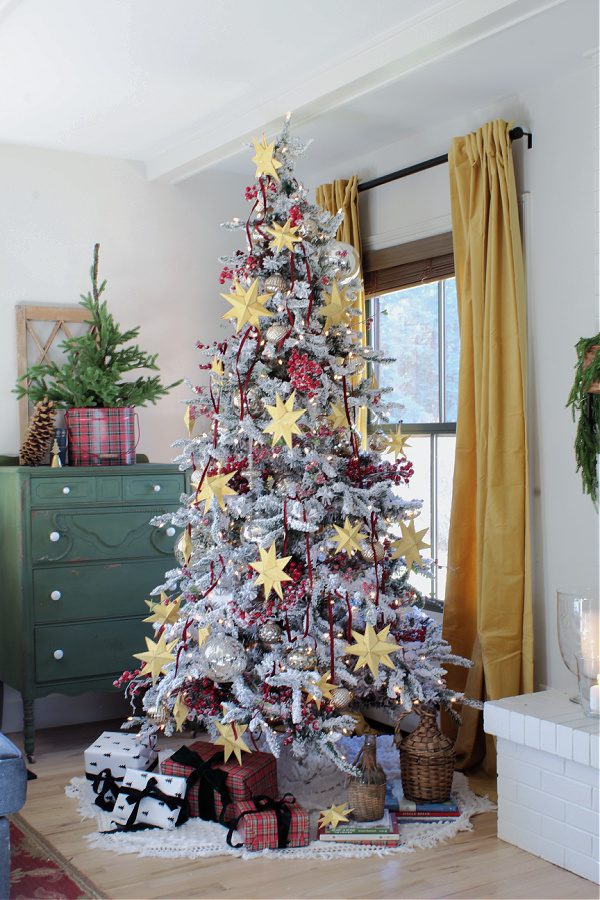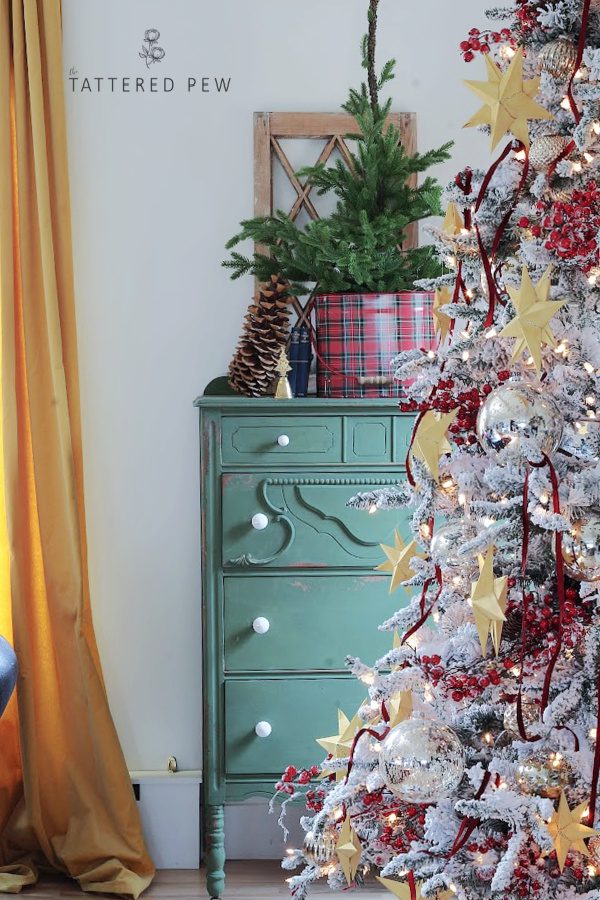 More Plaid Decor
Across the room from our tree is a table I covered with a plaid tablecloth and a fun assortment of books.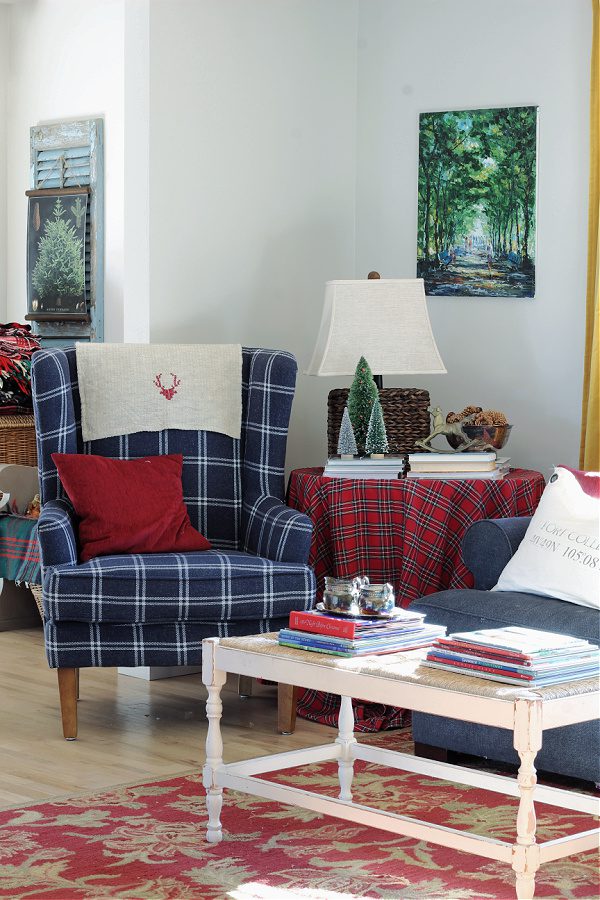 The deer head on the back of our blue plaid chair is actually a dish towel! I loved it so much I wanted to have it in a visible spot because it was so pretty. Weird or cool?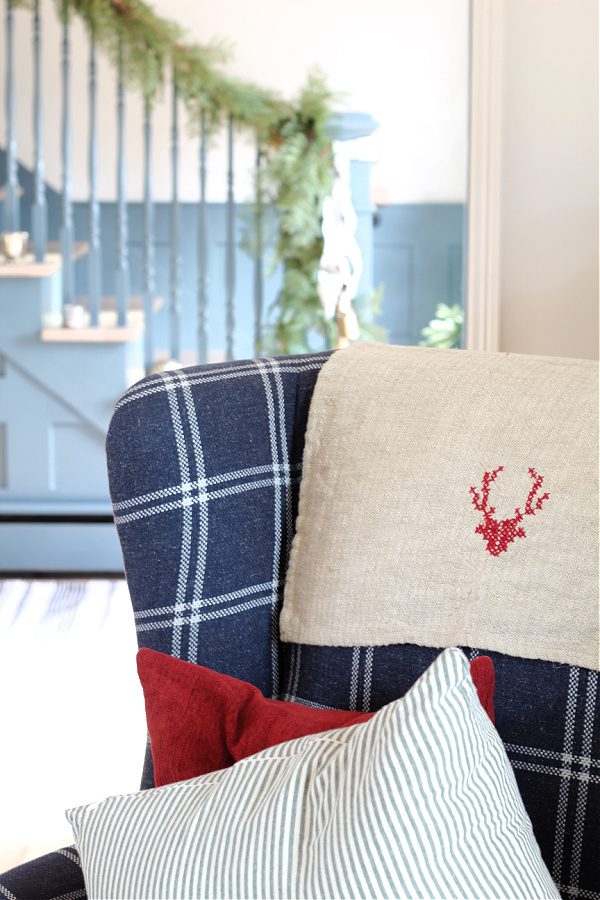 Our Office Decorated For Christmas
The final stop on our Christmas home tour is the office…or what we lovingly refer to it as the "moffice" or man office. I'm just sharing a peek in here today because we are still getting steeled in this space. I added my favorite Walmart wreaths to the two french doors that lead in. Plus I added my favorite 6 ft tree from Walmart as well!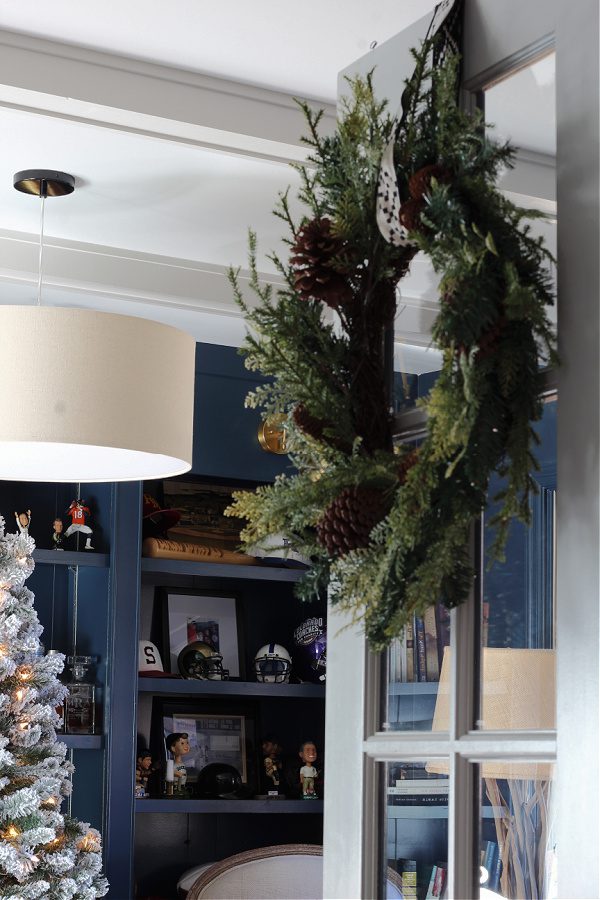 Aren't the blue built-ins just amazing?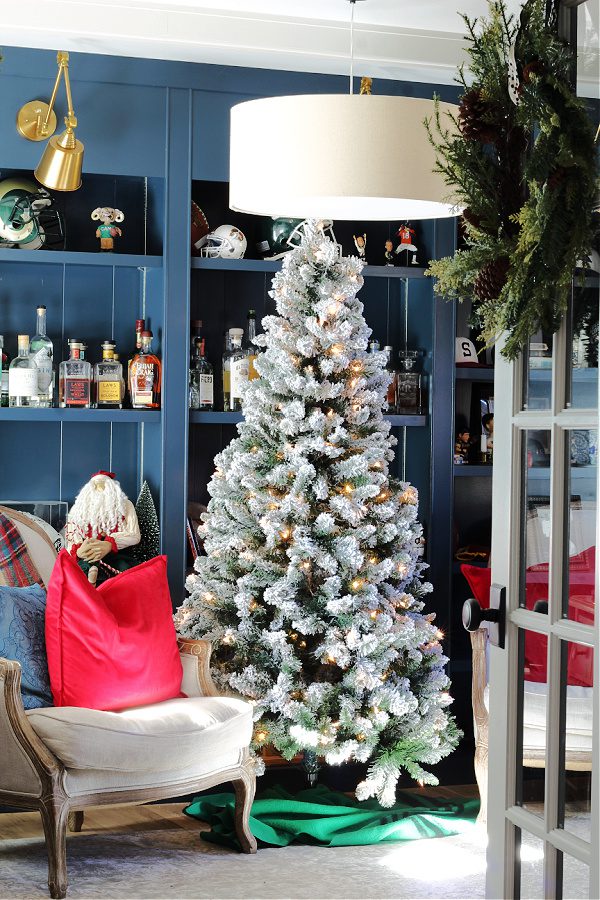 My husband loves to sit in here and watch sports. I like to curl up in the chair next to him and work on the blog. It's such a cozy space and the lights from the tree make it even cozier!
Shop Our Home

Christmas In Our New Home (Part 1)
Well friends that's it for the tour today. I hope you found some inspiration! Please stop by part 2 where I will share our kitchen, mudroom and master bedroom. If you have any questions or just want to chat, leave me a comment below! I wish you many blessings this Christmas season.
Now make sure to head over to Cecilia's blog, My Thrift Store Addiction for her vintage Christmas home tour! Then come back each day this week to see all the new tours added via the links below.
xoxo,
Kelly
Bloggers' Best Holiday Home Tours
This week my friends and I are sharing our homes all dressed up for the holidays. We hope you will have fun visiting each of the tours below!
Monday's Tours


Tuesday's Tours


Wednesday's Tours


Thursday's Tours


Friday's Tours


Lora Bloomquist Create and Ponder