5 Thrifty, Chic and Simple Spring DIY Projects
Whenever Spring rolls around I am always in the mood for some fun home décor projects! Here are 5 thrifty, chic and simple Spring DIY projects that you will want to give a try!
Thrifty Style Team Spring Edition
It's the first Friday of the month and that means it's time for another Thrifty Style Team post. Each month my blogging friends and I gather together to share our thrifty posts all in one spot. Julie from Redhead Can Decorate is our host and I have to say I look forward to all of these posts each month. Make sure to visit the other posts linked at the end of mine for fabulous Spring inspiration!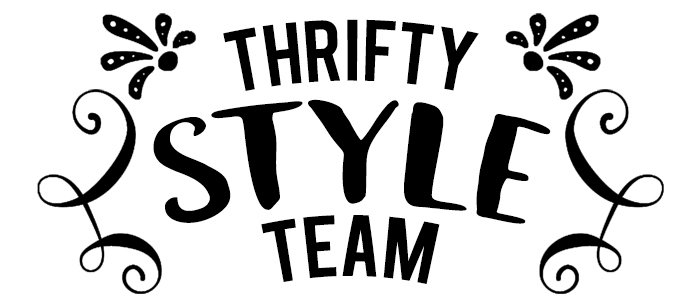 Now here are 5 of my personal favorite Spring projects!
If I could have a house and garden full of hydrangeas I would! Even when they are out of season I still seek them out to beautify my house in one way or another.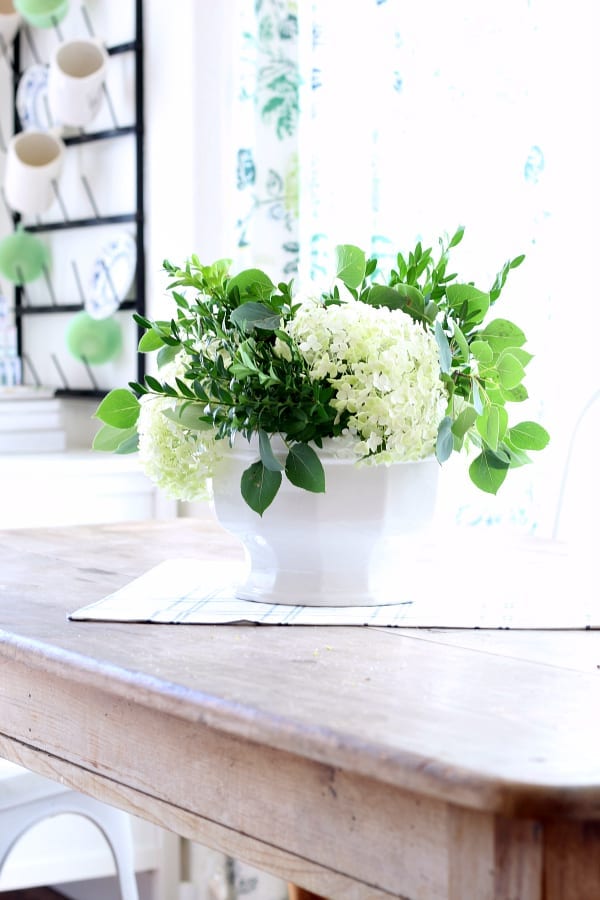 And one of my favorite ways is to use them is in flower arrangements. This is a simple Spring DIY that anyone can do if you have flowers, tape and a vessel. Come read my easy little trick for creating a low hydrangea centerpiece!
This is my ALL TIME favorite Spring DIY! Did you grow up delivering and making May Day baskets? I love that this tradition focuses on spreading kindness and joy to unsuspecting friends.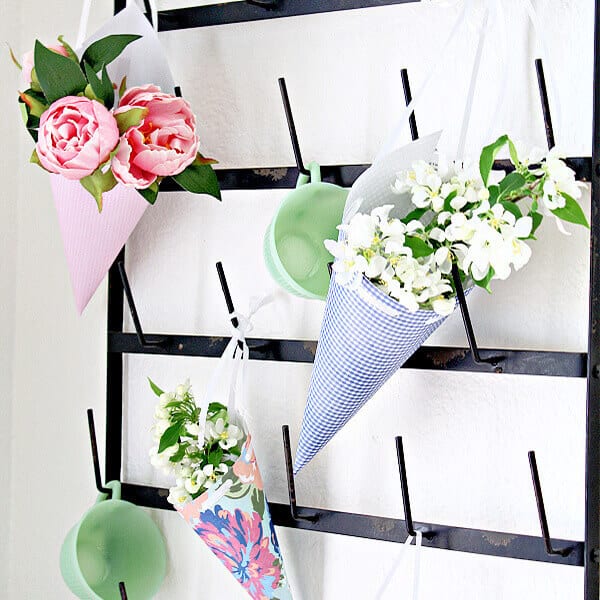 Last year I started the #Maydaymovement and I want to do it again this year. This DIY project is easy for any age and if you visit the post you will find a FREE printable to attach to your baskets. I hope you will love these DIY paper May Day baskets as much as I do!
As you read above I LOVE hydrangeas and I love keeping things budget friendly, so I am constantly trying to use and re-use items (including hydrangeas) in my décor. This helps keep thing thrifty!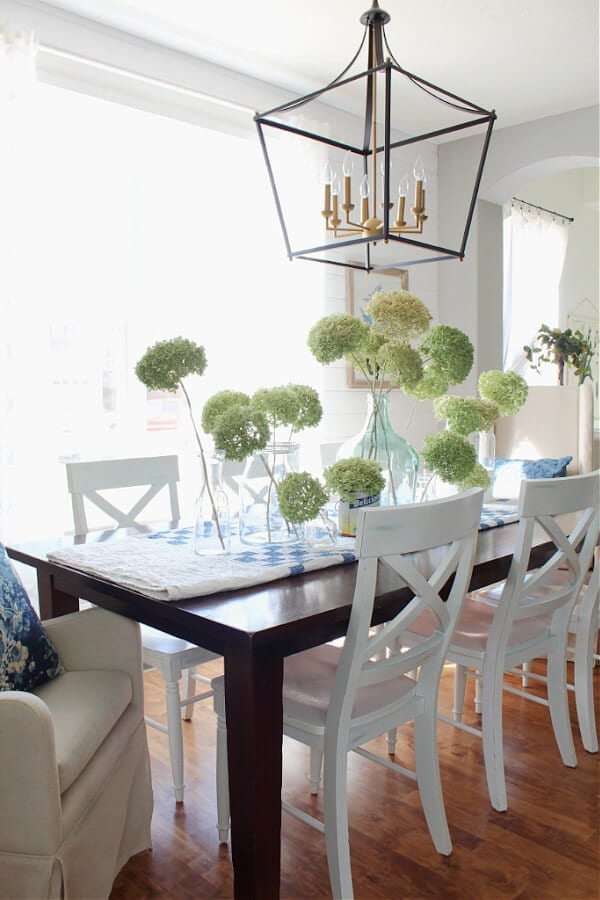 This flea market style Spring centerpiece was all about the dried hydrangeas. It was so simple and so fun to put together but made such an impact! And let's just say my vase/vessel hoarding tendencies came in handy. I think I may have to recreate this one again soon.
I decided to combine two things I enjoy, tea and topiaries. These tea cup topiaries turned out way cuter than I imagined and I love how chic they are!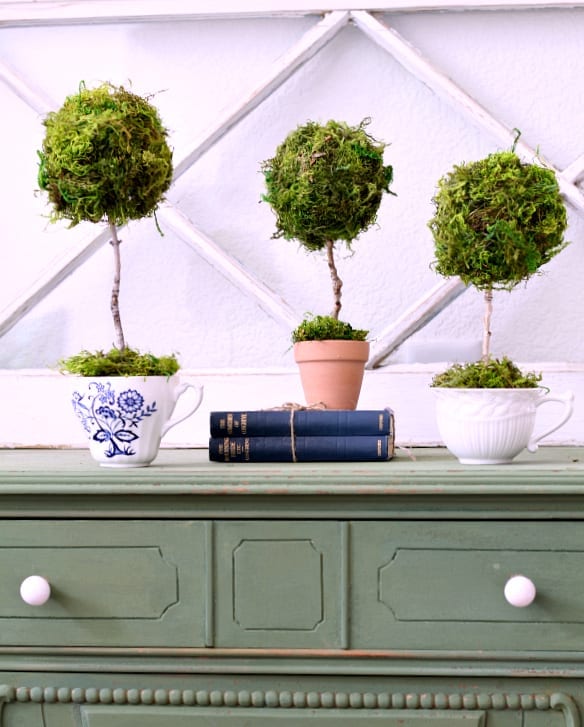 Would you believe that I found most of the supplies at the Dollar Store? Sure did! But they look high end in person and are a lot of fun to add to my Spring vignettes around the house. These mini tea cup topiaries took less than 10 minutes to whip up!
This final post is more of a Spring decorating project. But it incudes a fun DIY centerpiece with faux flowers that I am absolutely in love with! This post is all about how to set a pretty Easter table.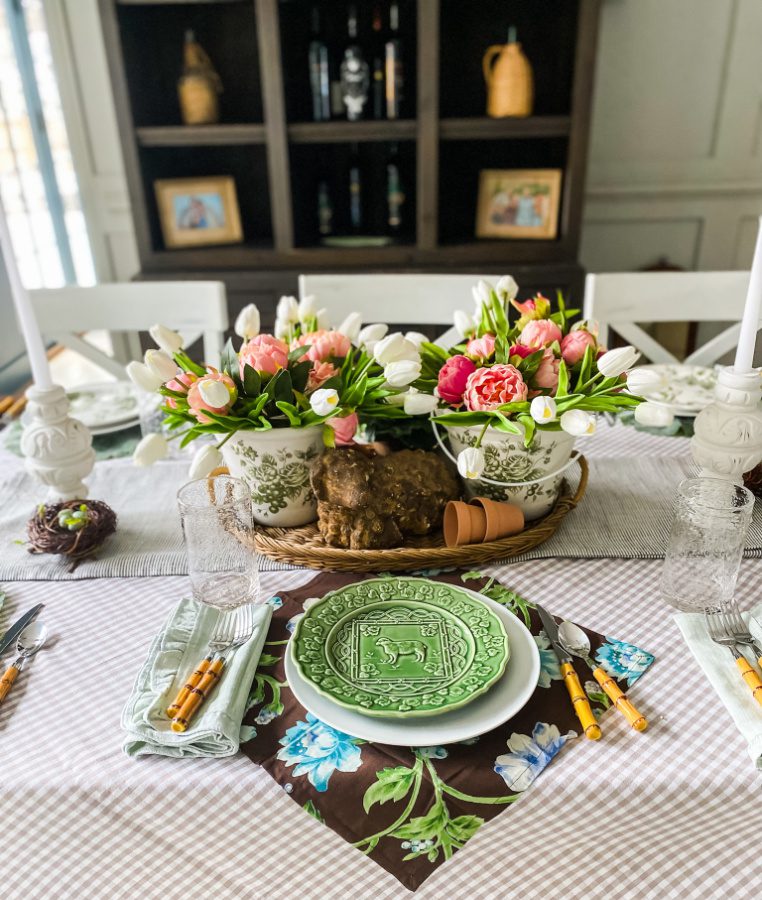 I can't wait to sit with my family at this beautiful table. Stop by to read how simple it was to create and how I kept it both chic and budget friendly.
Thrifty, Chic and Simple Spring DIY Projects
Are you ready to get your DIY on? I know I am! Spring is the perfect time for DIY projects and hopefully a few of the ones I shared above intrigued you! Which one was your favorite?
Now make sure to visit the posts linked below for even more Thrifty, chic and simple DIY Spring projects from my friends.
Thrifty Style Team
Redhead Can Decorate – 3 Simple No-Sew Home Decorating Ideas Using Fabric
Our Crafty Mom – Bumble Bee Craft Mason Jar
DIY Beautify – Salt Dough Rabbit Ornaments
2 Bees In A Pod – Stamped Eggs for Spring
The How To Home – Hand Stamped Napkins
Postcards From The Ridge – Paper Egg Ornaments
Vinyet Etc. – Thrifty Vintage Planters – Spring
Lora B. Create & Ponder – 7 Ideas for Decorating the Tops of Armoires, Bookcases (and any tall furniture)
The Tattered Pew – 5 Thrifty, Chic and Simple Spring DIY Projects
Cottage On Bunker Hill –Inspired Antique Brass Planter
Amy Sadler Designs –Easy DIY French Country Table Runner
Songbird – Easy Fresh Flower Spring Wreath
My Family Thyme – Easy Side Table Makeover with Fusion Mineral Paint
xoxo,
Kelly
Did you like this post? PIN it for later!