How to Set a Casual Coastal Tablescape
It's summer and for me summer means the beach or dreaming of the beach! Today, I'm excited to share with you the perfect way to bring a touch of coastal charm to your dining room with a laid-back and casual coastal tablescape. Whether you're hosting a family brunch or inviting friends over for a relaxing dinner, this setup will bring to mind the soothing ambiance of the beach, right in the comfort of your home. Come see just how simple it can be to set a casual coastal tablescape!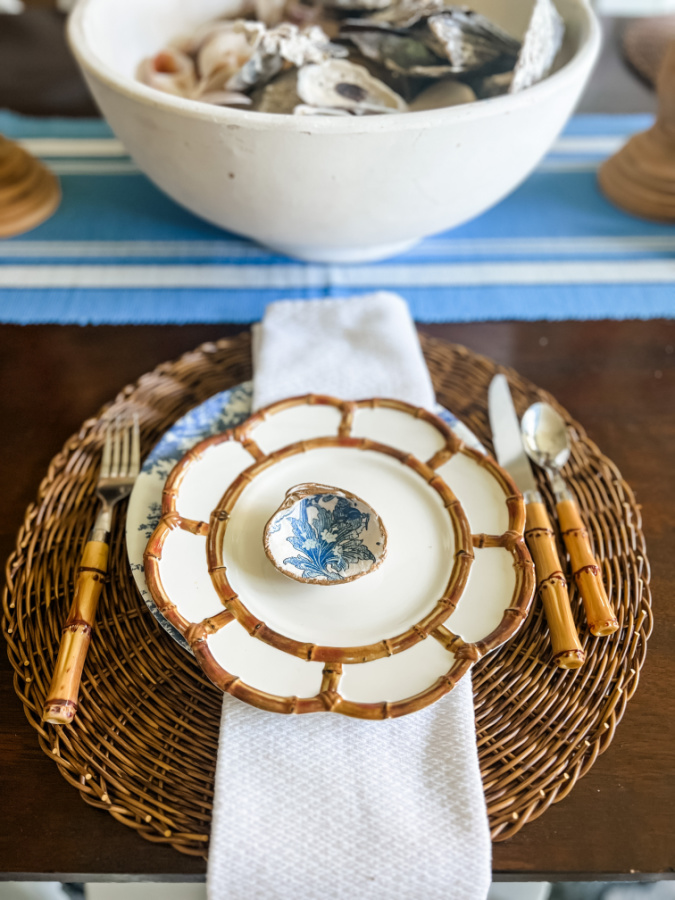 *As an Amazon Associate, I earn from qualifying purchases. This post contains other affiliate links too for your convenience. Click here to read my full disclosure policy.
The Cozy Creative Collaborative
Friends I am so excited to be joining some amazing fellow bloggers for our monthly blog series that we are calling the Cozy Creative Collaborative! This month our theme is anything coastal!
Let me introduce you to the ladies. Make sure to visit all of their posts linked at the end too!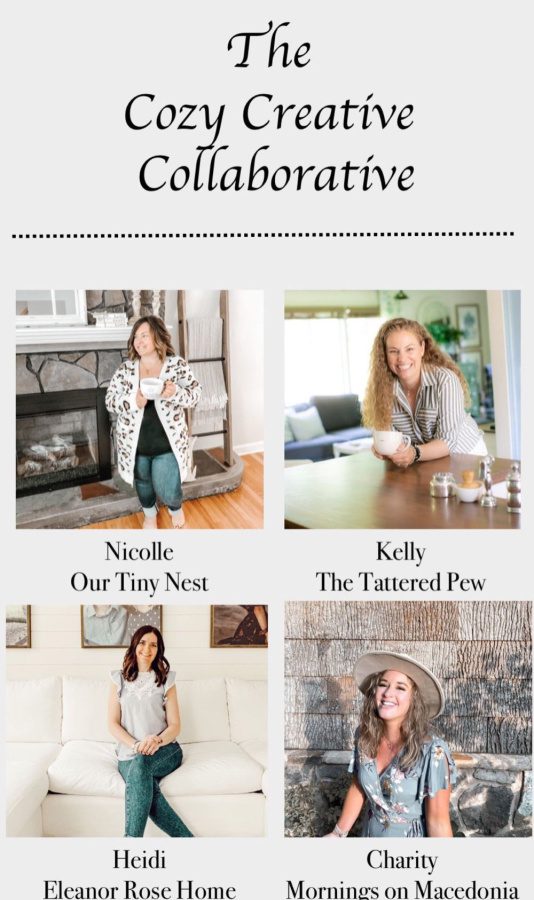 If you are popping over from Charity of Mornings on Macedonia and her post on DIY Seashell Decor welcome! Wasn't that just beautiful I am so inspired now to try this with my own shells?
How to Set a Casual Coastal Tablescape
We recently made a few changes in our dining room and by changes I mean I sold the large cabinet and white painted dresser. Now our space feels large and spacious where as before it felt cramped and very dark. This big change also inspired me to declutter the space and create afresh new tablescape and of course it turned in to a casual coastal tablescape.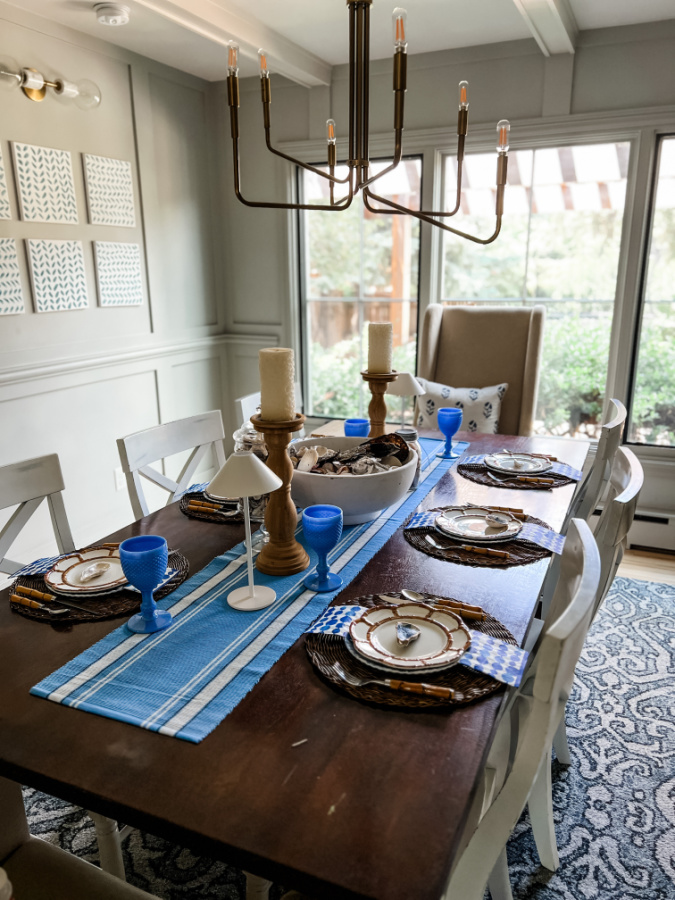 Let me walk you through some steps on how to set a casual coastal tablescape for yourself now!
Step 1: Choose Your Color Palette
The first step in creating a casual coastal tablescape is to select a soothing color palette reminiscent of the sea and sand.
For a relaxed vibe, stick to classic coastal colors like blues, whites, and browns. These colors bring a sense of calm and simplicity that will set the perfect tone for your table. The cool blues represent the ocean waves, while the warm browns reflect the sandy shores, creating a lovely balance.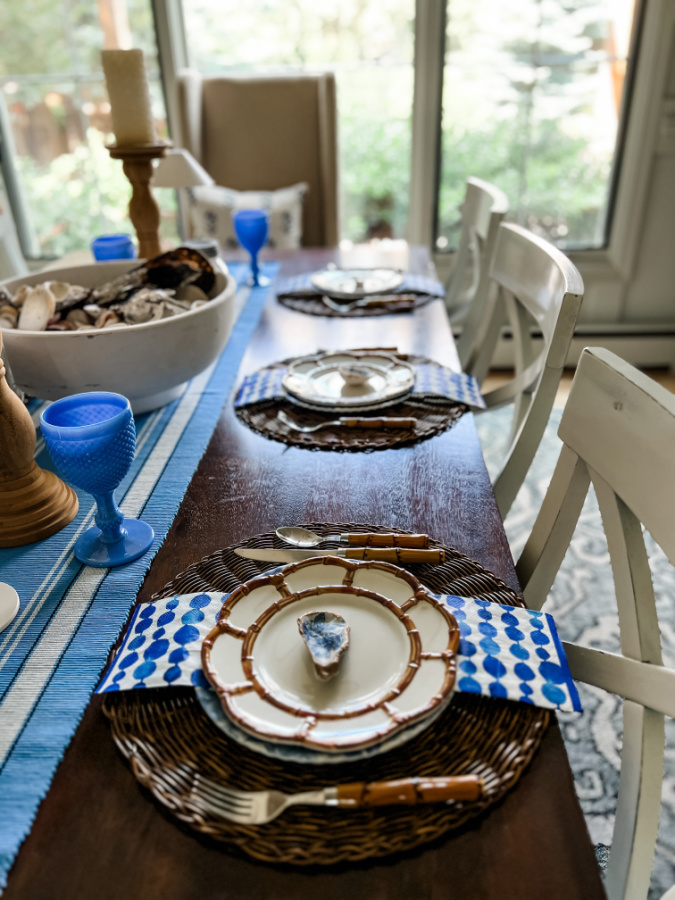 Step 2: Layer with Coastal Elements
Now that we have our color palette, let's start layering the table to create visual interest, which is essential for a casual coastal tablescape. Begin with a clean, crisp tablecloth that complements your chosen color scheme. Or you can opt for a table runner like I did.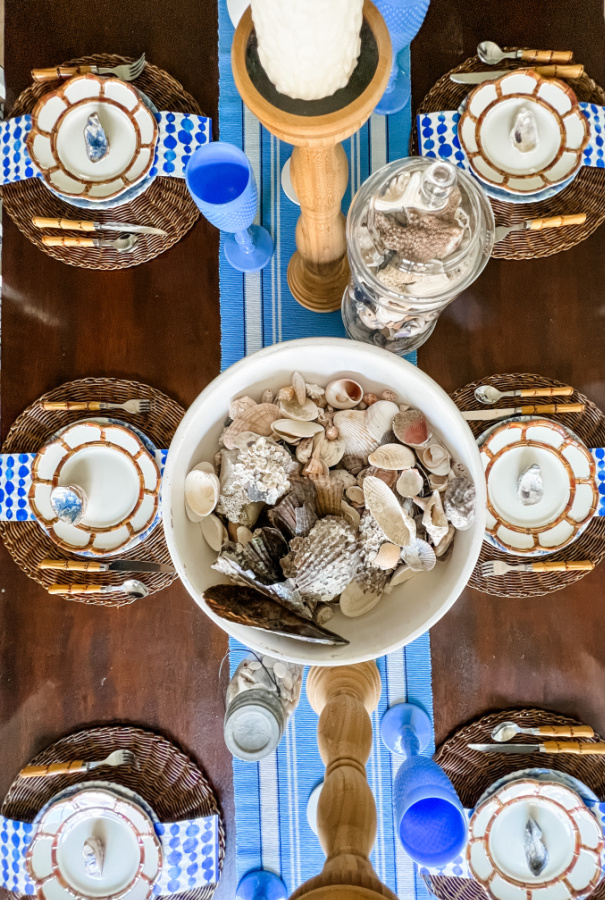 Next, place woven chargers or placemats underneath each setting. These natural textures add depth and warmth to the table, giving it that effortless coastal charm you're aiming for. The interwoven fibers of the chargers also echo the intricate patterns found in seashells, further connecting with the beach-inspired theme.
Step 3: Coastal-Inspired Dinnerware
To achieve that casual coastal tablescape look, choose dinnerware that mimics the natural elements found at the beach. Opt for bamboo-looking melamine plates that are not only eco-friendly but also perfect for indoor and outdoor dining.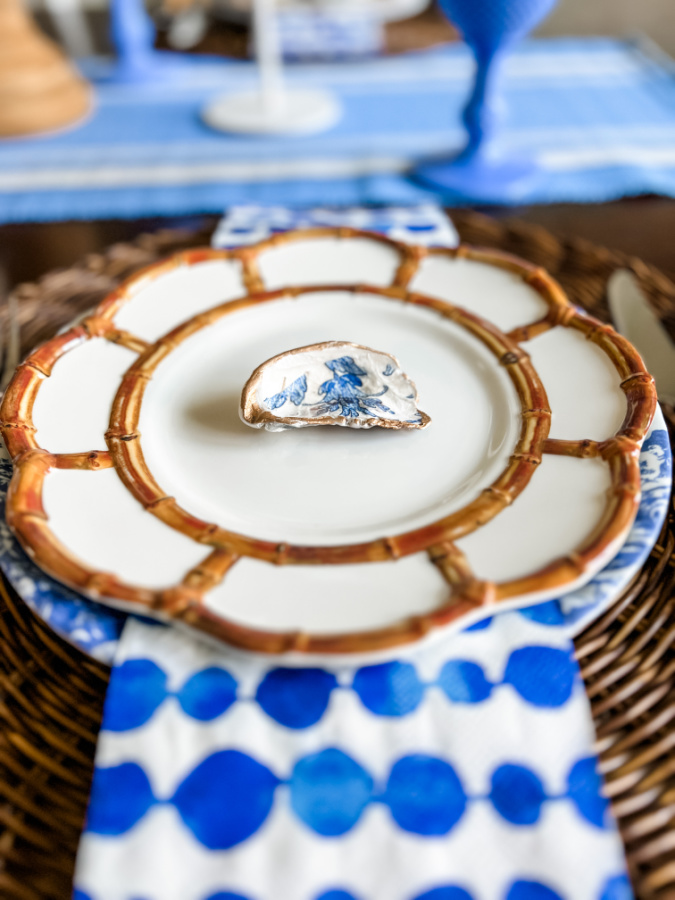 These plates bring an earthy element to your tablescape, elevating its coastal appeal. The lightweight nature of melamine ensures that even the littlest beachcombers at your table can handle their own plates with ease.
Step 4: Set the Table with Faux Bamboo Silverware
To further enhance the casual coastal tablescape aesthetic, swap out traditional silverware for faux bamboo silverware. The bamboo-inspired design adds a touch of organic beauty to your table setting, while the convenience of silverware ensures your guests can enjoy their meal with ease.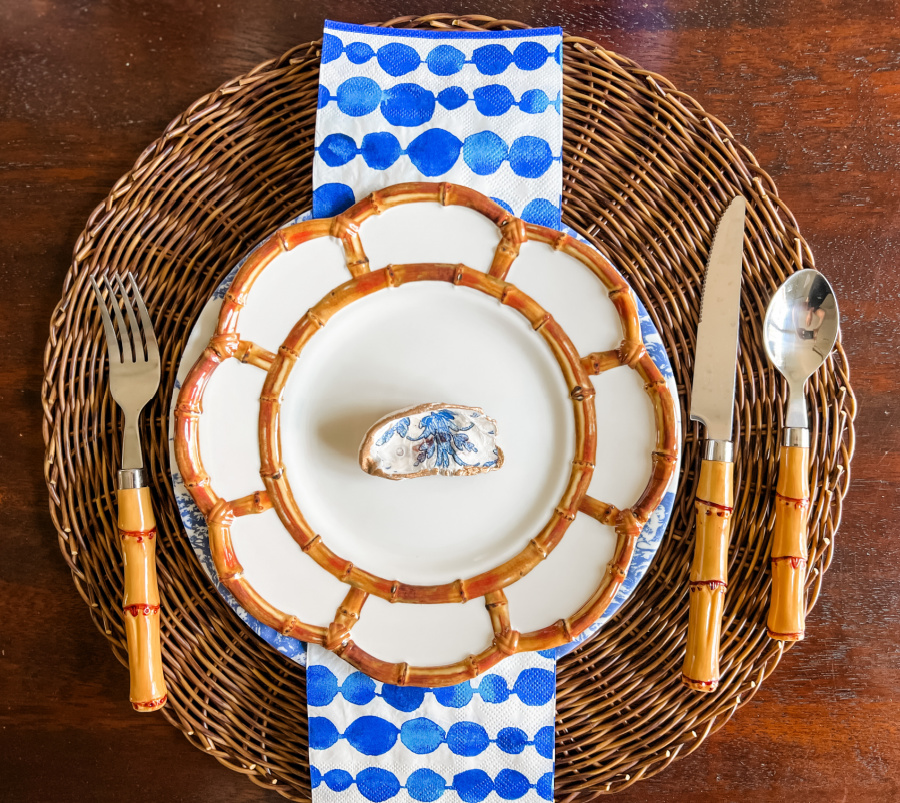 The subtle nod to bamboo also celebrates the coastal flora, making your dining experience feel like a refreshing escape to a tropical oasis.
Step 5: Centerpiece: A Seashell Collection
The centerpiece is the heart of your casual coastal tablescape, and what better way to add coastal charm than with a large white bowl filled with collected seashells from all your beach trips! This personal touch adds sentimental value to the setting while also serving as a lovely conversation starter. Encourage your guests to share their favorite seashell stories and the memories attached to these treasures.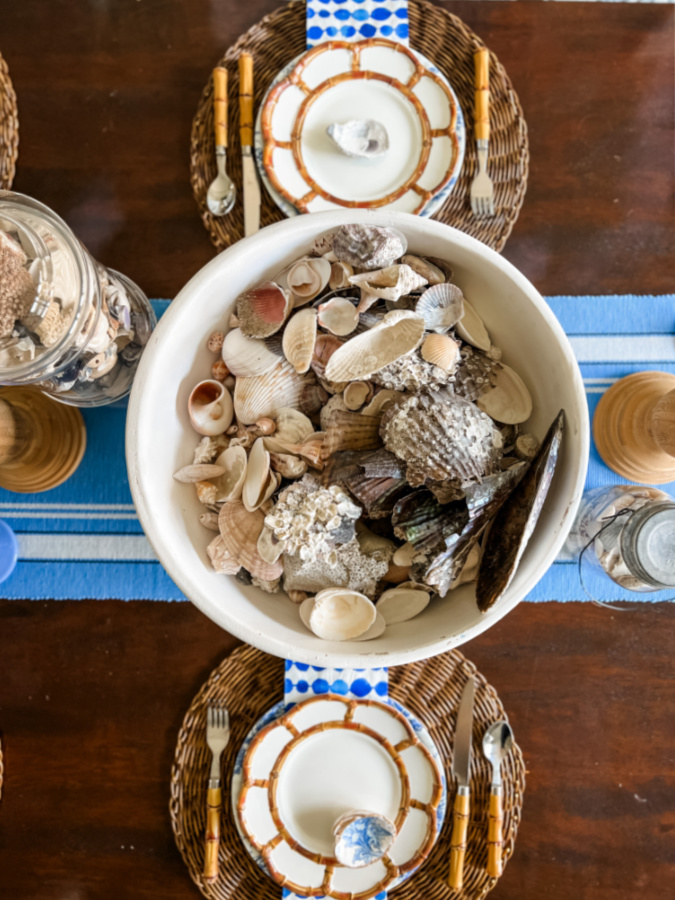 Step 6: Coastal Casual Drinkware – Mix, Match, and Vintage Charm
No coastal tablescape is complete without the perfect drinkware to complement the overall look. Embrace the relaxed vibes by opting for coastal casual drinkware that allows you to mix and match different pieces, adding a touch of eclectic charm. This approach not only reflects the laid-back nature of coastal living but also gives your table setting a unique and personalized feel.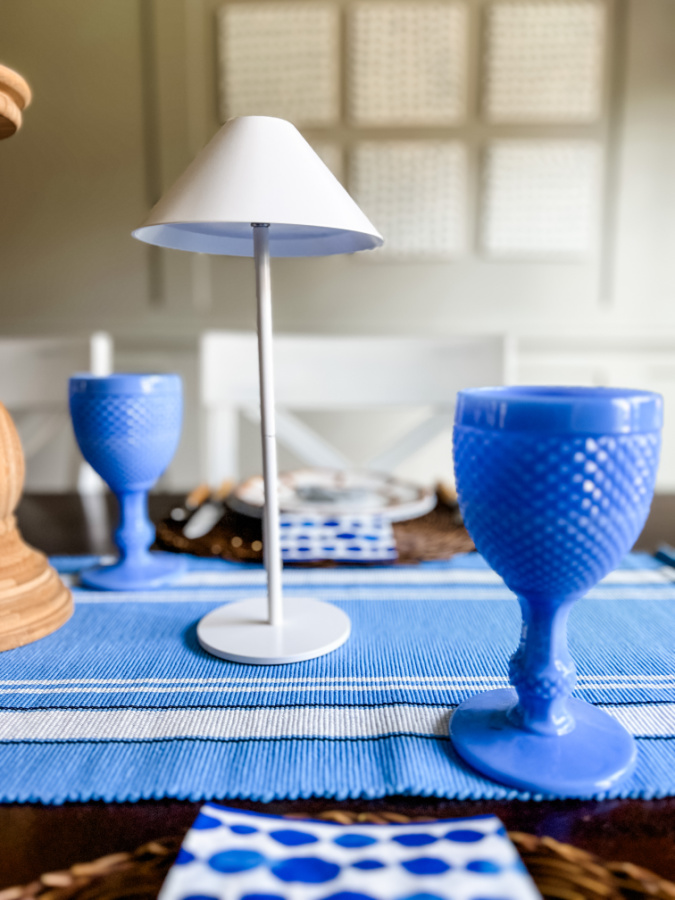 To infuse a vintage element into your casual coastal tablescape, consider incorporating blue milk glass goblets from a thrift store or flea market. These charming and nostalgic pieces will not only add a pop of coastal color to your table but also bring a sense of nostalgia for simpler times by the shore.
The mix of modern and vintage drinkware adds character and depth to your tablescape, making each sip feel like a cherished memory from summers past. So, raise a glass and toast to creating unforgettable moments around your casual coastal tablescape!
Step 7: The Simplicity of Coastal-Inspired Paper Napkins
When it comes to a casual coastal tablescape, simplicity is key, and that includes the use of coastal-inspired paper napkins. Opting for paper napkins in coastal patterns and colors not only adds a delightful touch of seaside charm to your table but also offers practicality and ease of cleanup.
Look for napkins featuring coastal motifs like seashells, starfish, watercolor designs or sailboats to effortlessly tie in with your theme. With the wide variety of designs available, you can easily find the perfect napkins to complement your color palette and table setting. My go to place for finding beautiful affordable paper napkins is always Home Goods!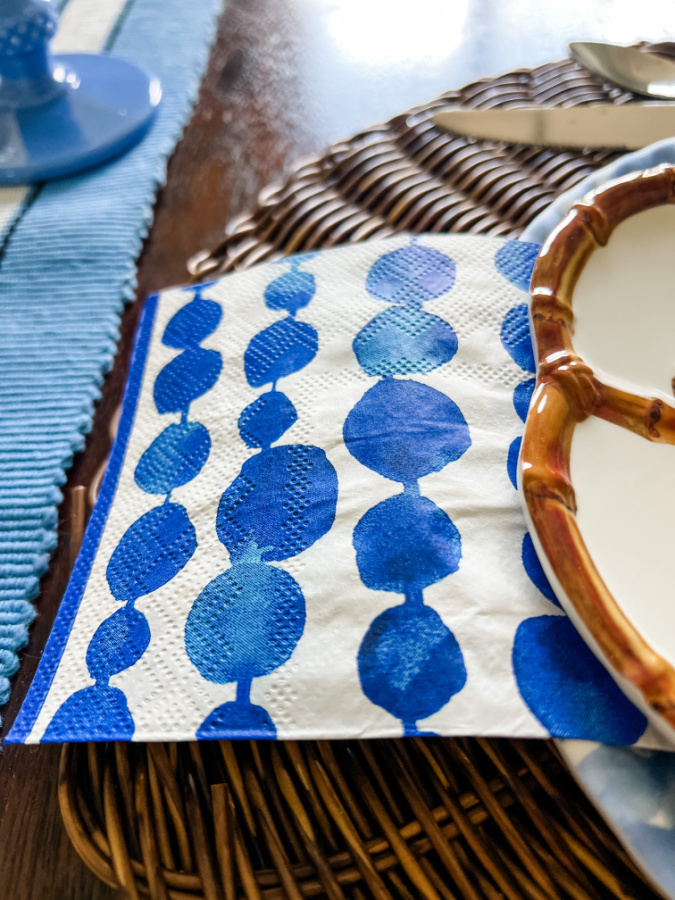 Using paper napkins allows you to spend more time enjoying the company of your loved ones and less time worrying about laundry, making it a convenient choice for casual gatherings and outdoor events. So, embrace the simplicity and beauty of coastal-inspired paper napkins as the perfect final touch to your coastal tablescape.
Step 8: Finishing Touches
For the finishing touches, consider adding some white candles in glass holders or on wood pedestals to create a soft and warm glow during evening gatherings. Lightly scented candles with a hint of the sea can also add to the ambiance, transporting everyone to the tranquil shores of a coastal paradise.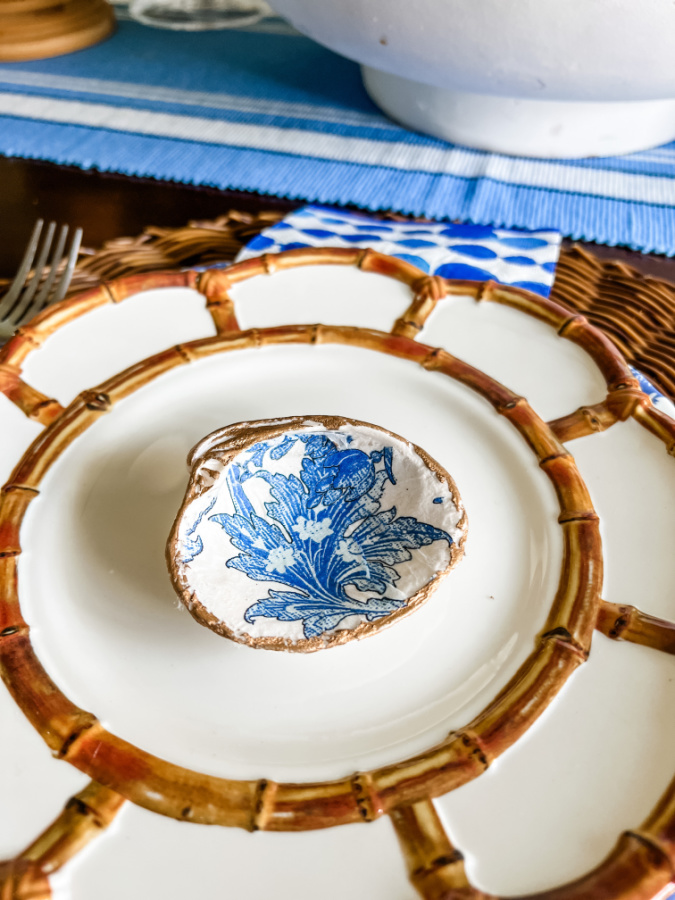 If you want to personalize each setting, consider placing a small seashell, decoupaged seashell or a coastal-themed place card for your guests. This thoughtful gesture will make them feel extra special and appreciated, elevating the overall experience of your casual coastal tablescape.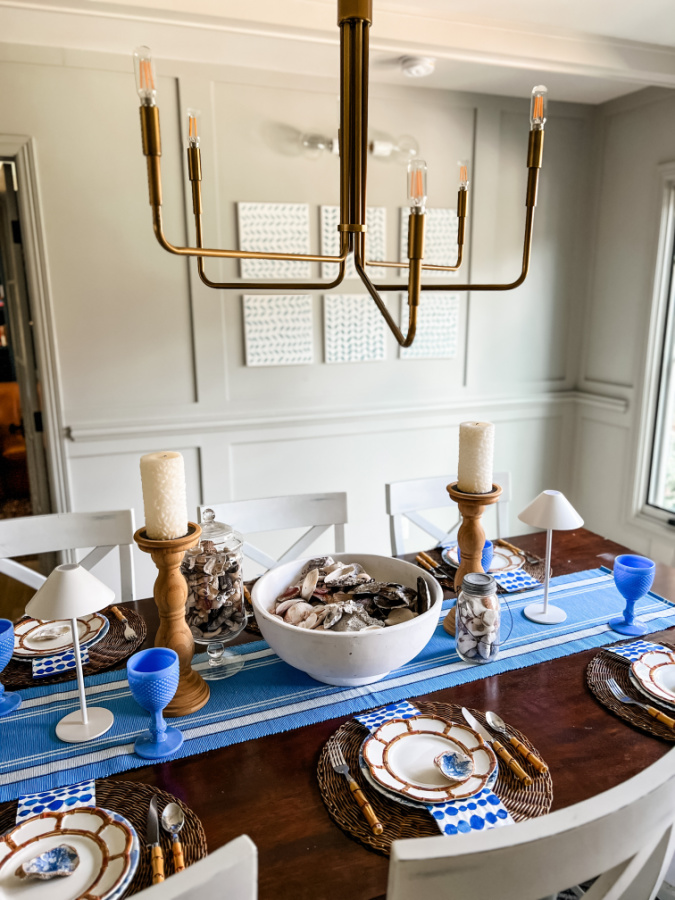 Shop this Casual Coastal Tablescape

How to Set a Casual Coastal Tablescape
By following these steps you can create a delightful and inviting dining space that infuses your home with the breezy vibes of the beach. Remember, simplicity is key, so keep the colors soothing and the decor minimal for that effortless coastal charm. Your guests will be impressed by the attention to detail and the warm, welcoming atmosphere you've curated.
I hope you enjoy setting up your casual coastal tablescape, and may it become a memorable part of your dining experiences for years to come. Happy hosting, and until next time, may your days be as serene as the ocean waves!
Now make sure to visit my dear friend Jennifer from Cottage on Bunker Hill as she is sharing her New England Lobster Cobb Salad: A Delicious and Easy Summer Recipe that would be perfect for a coastal tablescape! Then visit the other coastal inspired posts linked below.
Coastal Inspiration from The Cozy Creative Collaborative
DIY Beach Keepsake | Nicolle of Our Tiny Nest Blog
How to Make Homemade Candles in Scallop Seashells | Heidi of Eleanor Rose Home
DIY Seashell Wall Decor | Charity of Mornings on Macedonia
How to Set a Casual Coastal Table | Kelly of The Tattered Pew
New England Lobster Cobb Salad | Jennifer of Cottage on Bunkerhill
I'd love to have you hang out with me some more! Feel free to follow along with me on any of the platforms linked below.
LTK | Facebook | Instagram | Pinterest | Amazon
xoxo,
Kelly
Did you like this post? PIN it for later!