Pillow Inserts for In the Home: Top Choices and Expert Tips
I absolutely adore decorating my home with pillows, as they add so much warmth and coziness to the space. Pillows play a vital role in ensuring our comfort and relaxation, making a huge difference in the quality of rest we get. When it comes to pillow inserts specifically, there's an abundance of options to choose from and this can become overwhelming. It's important to familiarize ourselves with the various types of pillows and their unique benefits, especially when it comes to finding the perfect inserts for our home.
Let me help you with what I have found!
*As an Amazon Associate, I earn from qualifying purchases. This post contains other affiliate links too for your convenience. Click here to read my full disclosure policy.
Pillow Inserts for In the Home: Top Choices and Expert Tips
Pillow inserts are designed to provide structure, support, and comfort to our decorative and functional pillowcases. The right pillow insert can enhance the overall appearance, feel, and durability of your pillows, making your home cozier and more inviting. One popular choice for home use is synthetic-filled pillow inserts, which offer a range of benefits such as affordability, ease of care, and hypoallergenic properties.
When looking to purchase pillow inserts, some critical factors to consider include the type of filling used, the size and shape of the insert, and the loft and firmness. Selecting the appropriate material, such as down, feather, or synthetic fill, is essential to ensuring your pillow suits your preferences and provides the necessary support for your decor and relaxation needs.
My goal in this article is to help you navigate through the crazy world of pillow inserts, focusing on selecting the best options specifically for your home. I've thoroughly researched and tested a variety of pillow inserts to help make your decision-making process easier and more informed.
Best Pillow Inserts for Home
I know inserts can be a bit overwhelming (at least for me they have been in the past!) So I have carefully curated a list of the top pillow inserts for your home. These selections offer comfort, support, and durability to enhance your home. Let's get started!
I highly recommend the Fairfield Poly-Fil Premier Pillow Insert for those seeking a versatile and comfortable addition to their home decor.
Pros
Soft and supportive
High-quality polyester and cotton cover
Suitable for various applications
Cons
Only available in one size
Might be too plush for some users
Hand wash only
I recently tried the Fairfield Poly-Fil Premier Pillow Insert and was quite impressed with its look and feel. The ultra-plush design mimics the comfort of down, making it a top choice for crafters and home designers alike. The pillow features a high-quality cotton and polyester cover, ensuring durability and a luxurious appearance.
This pillow insert is perfect for adding a shape or coziness to your living space when used as an insert. I placed it in the corners of our couch, and it instantly enhanced the couch area while providing a comfortable resting spot. Its softness and support also made it ideal for a kid's room, window seat, or reading nook.
One of the standout qualities of this pillow insert is its versatility. We experimented with different outdoor fabrics to create a stylish look for our back yard firepit area with our adirondacks! The 16″ round design also works well for accenting other throw pillows and is ideal for Bohemian-style cushions.
One downside to the Fairfield Poly-Fil Premier Pillow Insert is that it is only available in one size. However, we still found it perfect for many decorative purposes throughout our home. The plushness might be a bit too much for those who prefer a firmer pillow, and the hand-wash-only care instructions could be a drawback for some.
Overall, the Fairfield Poly-Fil Premier Pillow Insert is an excellent addition to any home, with its softness, support, and versatile design. Just be prepared to hand wash the pillow and keep in mind that it may be too plush for some users.
I recommend this pillow insert for adding comfort and style to your home, thanks to its high-quality materials and thoughtful design.
Pros
Generously filled with feathers and down for a plush feel
Durable 100% cotton fabric with downproof stitching to prevent feathers from poking out
Vacuum-packed for easy shipping and insertion into pillow covers
Cons
May require ordering 2 sizes up for a fuller look
Needs shaking and fluffing upon arrival to regain shape
Some users reported a mild odor upon opening ( I did not have this issue)
This Basic Home 28×28 Euro Throw Pillow Insert is an excellent choice for filling decorative pillow covers in your living room or bedroom. I have several of these!
It is filled with a premium mix of feather and down, providing both support and softness. The pillow is encased in a 233-thread count, 100% cotton fabric for a smooth and comfortable feel.
Upon receiving the insert, I love that it came vacuum-packed, making it easy to fit the flat pillow into my pillow covers. After placing it inside the cover, I shook and hit it a bit to help the pillow fluff up and regain its shape. To my delight, the insert looked full and fit perfectly within the cover.
While this pillow insert proves to be an excellent choice for adding style and substance to your home, some users have reported a slight odor upon opening. I did not have this problem luckily but to remedy this, I suggest airing the insert out for a few hours before placing it into your pillow cover.
Overall, this Basic Home Euro Throw Pillow Insert offers comfort and durability without breaking the bank. Its high-quality materials and thoughtful design make it a great addition to any home.
Upgrade your home comfort with this versatile and soft Pillowflex Synthetic Down Pillow Insert, perfect for various pillow cover sizes.
Pros
Ultra-soft and smooth polyester fiber filling
Hypoallergenic, washable, and odorless
Made in the USA with sustainably sourced materials
Cons
May require larger insert for a fuller look
Not as firm as some may prefer
Slight variance in dimensions could affect fit
I also recently tried the Pillowflex Synthetic Down Pillow Insert and was quite impressed with the luxurious feel and versatility it offers. The pillow insert is filled with ultra-soft and smooth polyester fiber, which can easily mimic the texture of down while remaining allergy-free. Can I get a hallelujah?!
The hypoallergenic make up of this insert make it an excellent choice for those who are sensitive to allergens, and its washable feature ensures it remains clean and fresh.
This Pillowflex pillow insert is made in the USA with sustainably sourced materials, ensuring a high-quality and eco-friendly product. I appreciate the fact that it comes in 60+ sizes, making it suitable for a wide range of pillow covers – from accent, shams, and lumbar pillows to travel pillows and more. We used it with a 21″x35″ pillow cover, and it fit well; however, it's essential to measure your pillow covers to ensure a perfect fit. You can get my pillow insert guide here!
Though this pillow insert is wonderfully soft and fluffy, those who prefer a firmer feel might find it a bit too plush for their liking. Additionally, while it mostly fit well in our pillow cover, I did notice a slight variance in the dimensions, but this did not significantly affect the overall look and feel. As a tip, consider choosing a larger insert to achieve a fuller appearance.
In conclusion, the Pillowflex Synthetic Down Pillow Insert – 22×22 is an excellent choice for those looking to enhance their home décor with a comfortable, versatile, and eco-friendly alternative to traditional down pillows.
I definitely recommend these YSTHER pillow inserts for anyone looking for quality and comfort in their decorative cushions.
Pros
Hypoallergenic and eco-friendly
Soft yet supportive down feather filling
Durable cotton outer cover
Cons
May require fluffing after extended use
Limited size availability
May emit a mild odor upon unpackaging
YSTHER's Down Feather Throw Pillow Inserts have impressed me with their optimal blend of comfort and durability. The 14×22-inch cushions come in a set of two, making it easy to coordinate your home décor. I found the inserts to be plush and supportive, thanks to the combination of down feathers and a 233 thread count cotton cover.
I love to give my pillows a good karate chop and these inserts are perfect for that!
Upon using these pillow inserts, I noticed they are hypoallergenic and eco-friendly, providing a safe and breathable environment for people with allergies (which we have) and those who appreciate sustainable products. Given their cotton outer covers, YSTHER's inserts can be easily cared for through tumble drying, ensuring they remain soft and looking new.
While these inserts mainly meet our expectations, some minor drawbacks are worth noting. You may need to fluff them up now and then as they tend to lose their shape with extended use. Additionally, they are only available in the 14×22 size, limiting customization options for a range of throw pillow covers. Lastly, the inserts might emit a mild odor upon unpacking; however, it usually dissipates after airing them out for a short period.
These Fairfield pillow inserts are a versatile and affordable choice for a variety of home décor and crafting projects.
Pros
Easy to customize for various projects
Hypoallergenic with no added chemicals
Firm texture to maintain shape
Cons
May require additional filling for personal preference
Smaller than advertised dimensions
Heavier than expected
I recently used the Fairfield Poly-Fil Basic Decorative Throw Pillows Inserts (2 Pack) and was impressed with their versatility. These 100% polyester inserts are hypoallergenic and free from chemicals or flame retardants, making them a safe choice for your home.
The firm texture of these pillow inserts helps them retain their shape, perfect for heavier upholstery fabrics or heirloom pieces. However, if you prefer a fluffier feel, you may need to add more poly fiber filling yourself to achieve the desired softness.
What really sets these pillow inserts apart is their potential for customization. Whether you're using them to refresh the look of a room or as seasonal décor, you can easily personalize the pillows with fabric, faux fur, needlepoint, or even a monogram. They're also a great option for arts and crafts projects, both in the classroom and at home.
One downside we encountered was that the pillows were smaller than the advertised 14″x14″ dimensions, so you might want to opt for a pillow cover an inch shorter to ensure a snug fit. Additionally, these pillow inserts are relatively heavy, which may be a drawback for some users.
In summary, the Fairfield Poly-Fil Basic Decorative Throw Pillows Inserts are an affordable and versatile addition to any home or crafting project. While they may require slight modification to achieve the desired softness and size, their customization potential and hypoallergenic properties make them a valuable choice.
Choose the Fairfield Down Alternative Eco Pillow for an eco-friendly, hypoallergenic option that offers lasting comfort and support.
Pros
Made from recycled PET bottles
Hypoallergenic and anti-microbial
Machine washable for easy care
Cons
A bit firmer than expected
May flatten over time
Noisier fabric than anticipated
The Fairfield by Marriott Down Alternative Eco Pillow is a sustainable and comfortable choice for those in search of a new pillow. I was impressed with its eco-friendly construction, made from 100% recycled PET bottles crafted into cozy polyester fibers. This feature not only provides a sense of eco-consciousness but also results in a soft, plush pillow.
One of the key advantages of this pillow is its hypoallergenic and anti-microbial properties. These features make it an excellent option for those who suffer from allergies or sensitivities to down. Plus, the pillow is machine washable, making it easy to maintain and care for. I loved this!
However, I found the pillow to be slightly firmer than expected. Some users may prefer a more cushioned support, while others might appreciate the firmness for added neck support. Over time, the filling may flatten, requiring a bit more effort in fluffing up the pillow to maintain its original shape.
Overall, the Fairfield by Marriott Down Alternative Eco Pillow is a comfortable, eco-friendly pillow with hypoallergenic properties, making it ideal for allergy sufferers. While it may have a few minor drawbacks, it still offers a durable and sustainable option for your home.
Pillow & Insert Masterclass
I have a Pillow & Insert Masterclass that you can watch at your leisure where I share most of the pillows I have reviewed above. Take a peek if you are more on the visual side and need to see your inserts before you buy them. Watch by clicking HERE!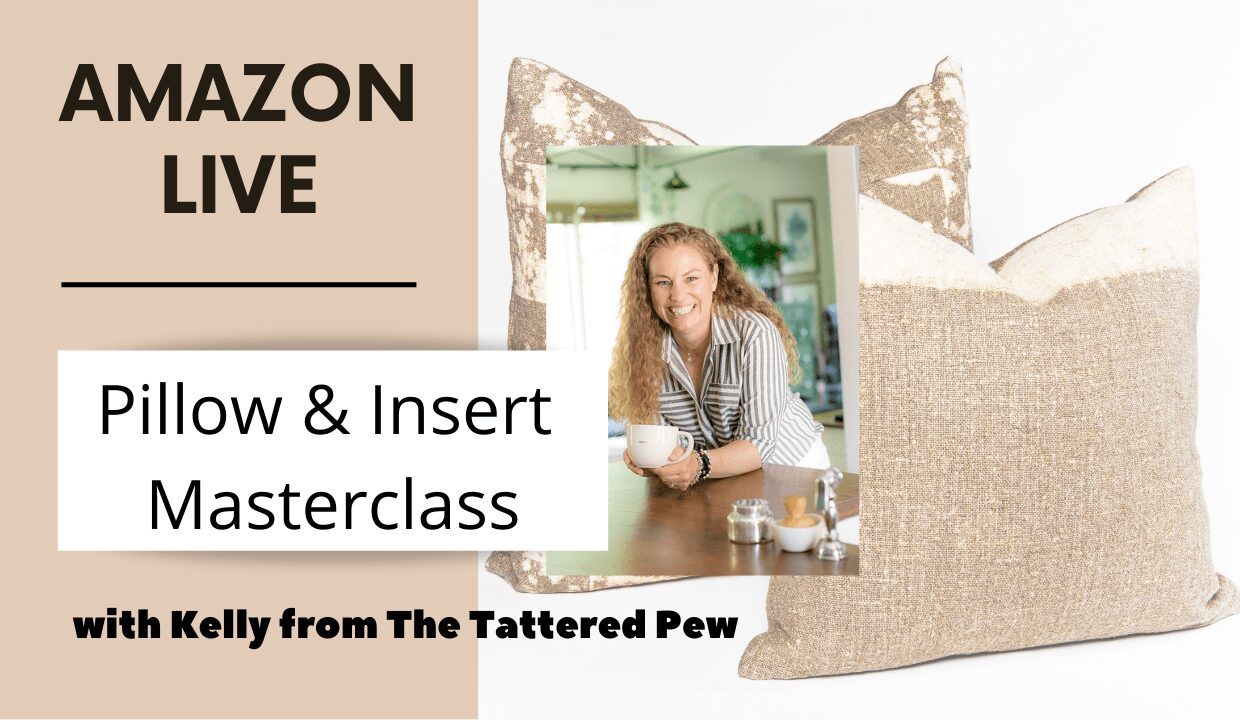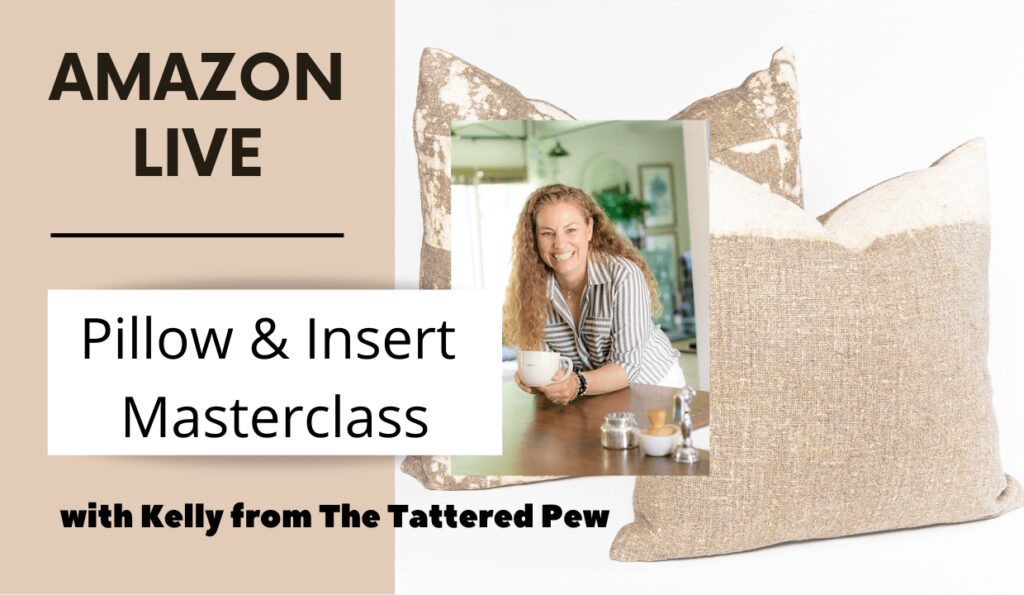 Buying Guide
When looking for pillow inserts, it's essential to consider a few key factors to ensure you choose the best product for your needs. In this buying guide, we'll discuss some of the essential features and considerations to keep in mind while shopping for pillow inserts.
First and foremost, let's discuss the size of the pillow insert. It's crucial to choose an insert that matches the dimensions of your pillow cover or sham. Measure your pillow cover carefully and be sure to choose an insert that corresponds with those dimensions.
Next, the fill material is an important factor to consider. There are various fill materials available, such as down, feather, polyester, and memory foam. Here's a brief overview of the advantages and disadvantages of each type:
Fill Materials
Down: Natural, soft, and lightweight. Good insulation properties; however, it may cause allergies for some people.
Feather: Also a natural fill, feathers are firmer than down and provide excellent support. They are more budget-friendly than down, but may also trigger allergies.
Polyester: A synthetic fill, polyester is hypoallergenic, affordable, and easy to maintain. It may become lumpy over time and does not have the same luxurious feel as down or feather.
Memory Foam: Provides excellent support and is ideal for those with neck or back pain. It tends to hold its shape well and is hypoallergenic. However, it may be warmer than other fill materials and may have an initial odor.
The fill power is another critical consideration, especially if you are opting for down or feather-filled pillow inserts. Fill power refers to the volume of down or feathers in the insert. A higher fill power indicates a higher volume, providing a plusher, more luxurious feel. Consider your personal preferences for firmness and support when choosing the fill power.
Finally, take note of the shell material of the pillow insert. A high-quality shell material will ensure that the fill material stays inside and that the pillow insert lasts for a long time. Common materials include cotton, polyester, and blends of both. A tighter weave will provide better protection against the fill material escaping and will also feel smoother to the touch.
By being mindful of these essential factors, you'll be well on your way to choosing the perfect pillow insert for your home.
Shop Inserts

Frequently Asked Questions
What are the best materials for pillow inserts?
There are various materials used for pillow inserts, but some of the best include down, down-alternative, memory foam, and polyester. Each material has its own advantages and disadvantages depending on individual preferences and needs.
My personal preference is down or feather when it comes to pillows for home decor! I love the look they offer when fluffed up and chopped.
How often should pillow inserts be replaced?
Typically, pillow inserts should be replaced every 1-2 years for synthetic materials, and every 3-5 years for down and down-alternative fills. However, this can vary based on factors such as usage, quality, and individual comfort levels. A good indication that your pillow insert needs to be replaced is when it doesn't provide adequate support anymore.
Are there eco-friendly options for pillow inserts?
Yes, there are eco-friendly pillow insert options available. Materials like organic cotton, bamboo, and kapok fibers can be both sustainable and comfortable. They aim to reduce environmental impact while still offering a cozy, supportive pillow.
How to choose the right size insert for your pillow cover?
It's important to select a pillow insert that's slightly larger than your pillow cover to ensure a full, well-stuffed appearance. Generally, I recommend choosing an insert that is 1-2 inches larger than the size of your pillow cover. This will prevent the corners from appearing empty and create a plush, luxurious look.
You can download my pillow insert guide here!
What are the benefits of using pillow inserts?
Pillow inserts provide several benefits. They offer customization options, as you can easily switch out pillow covers for a fresh look. ( My favorite way to change out décor regularly) Additionally, they extend the life of your pillow covers by providing proper support and protection. Inserts can also enhance the overall comfort and appearance of your pillows.
How to properly clean and maintain pillow inserts?
To keep your pillow inserts fresh and hygienic, it's important to follow proper cleaning and maintenance guidelines. For down and synthetic fills, we recommend machine washing on a gentle cycle using mild detergent. Memory foam inserts should be spot cleaned with mild soap and water. Always follow the care instructions on the label for the best results. Allow your pillow inserts to dry completely before reusing or storing them.
Pillow Inserts for In the Home: Top Choices and Expert Tips
In conclusion, finding the perfect pillow inserts for your home is an essential step in creating a cozy and inviting space. The right inserts can enhance the comfort, style, and durability of your decorative pillows, making a significant difference in the overall ambiance of your home. By considering factors such as fill material, size, firmness, and shell quality, you can make informed choices that cater to your specific preferences and needs. Whether you opt for synthetic-filled inserts, down and feather blends, or eco-friendly alternatives, there are plenty of options available to suit your taste and budget. So go ahead and explore the world of pillow inserts, knowing that you have the knowledge and insights to make the best decisions for your home decor. Rest assured, with the perfect pillow inserts, you'll create a warm and cozy atmosphere that you and your loved ones can enjoy every day.
Let me know if you have any questions!
I'd love to have you hang out with me some more! Feel free to follow along with me on any of the platforms linked below.
LTK | Facebook | Instagram | Pinterest | Amazon
xoxo,
Kelly