Monday Must Haves : Faith Finds
Welcome to this week's Monday Must Haves, where I share a collection of things that have caught my eye lately. Everything from home to beauty to clothing. Plus, each week I will be featuring a small shop for you to check out. Nothing is off limits. This week is all about some of my favorite faith finds!
*As an Amazon Associate, I earn from qualifying purchases. This post contains other affiliate links too for your convenience. Click here to read my full disclosure policy.
1 // 2 // 3 // 4 // 5 // 6
Monday Must Haves : Faith Finds
This first faith find I am is sharing is the Illuminated Bible and my current favorite Bible for many reasons. I got this Bible as a gift a few years ago and instantly fell in love with it. Not only is is beautiful outside but it is beautiful inside. It has hand lettered gold ink illustrations, great for coloring and wide margins for notes. It is the English standard version and labeled as an art journaling Bible. So if you are in the market for a new Bible I can't recommend this one enough.
2. How fun are these no-bleed Bible highlighters? Ok I have to be honest with how I found these cuties. I was watching Tik Tok over the break and this darling little girl popped into my feed and was sharing her favorite Bible and Bible journaling accessories and she shared these! She showed how she uses them in her Bible and they were awesome. I clicked over to her Amazon link and instantly added them to my cart. Love that they are no bleed and that there are several color options. Such a fun find and I can't wait to use them in my current Bible Study Fellowship!
3. I got this AMAZING book from my best friend Laura for my birthday and I can't get enough of it! Have you heard of the Every Moment Holy book? It is the perfect gift for any occasion as it is full of liturgies, prayers and reading for every day moments and occasions. She got me the small pocket version that has a flexible cover. This book is intended to highlight that fact that even the smallest moments in your life have purpose. I have found this book to be refreshing and it has made me slow down to recognize the smallest moments in my day. Some of my favorite include a liturgy for laundering, wedding celebration, morning of a yard sale, the marking of a birthday and so many more! I can't wait to gift it to friends myself. So thankful for this book and my dear friend Laura too!
4. I just ordered this Hope is Alive 2023 desk calendar for my "work in progress" office. I adore this small shop Cleerly Stated and found her over on Instagram. I ordered her Christmas Advent set and really enjoyed reading it each day. It sat on our counter and was so well written and applicable each day. I first found her on Instagram and look forward to her posts and share many of them. This s one way I can support fer while also growing in my faith and relationship with the Lord and encouraging my family too as well. Her shop id full of many items and I suggest you check them all out to see what speaks to you. The gorgeous colors and florals of her calendar spoke to me. And now maybe it will motivate me to get my office set up for all this blogging I do!
5. This sign from Altar'd State titled On the Journey God Will, caught my eye when I was looking for meaningful art for our youngest daughter's room refresh. I always want my girls to be surrounded by His truth and this art speaks truth with specific Bible verses! I'm not sure the color of the frame will match her room but I could always add some rub n buff to make it have more of a vintage vibe. You can see the art I chose for our oldest daughters room here!
6. SMALL SHOP SPOTLIGHT: This week I want to share the small shop She Pens Truth from my friend Maggie. I have shared her shop before and you all loved it and so I thought no better time to share it again then when she is starting her Word of The Year study!
Have you ever declared a word of the year? I am looking forward to going through this study to help me prayerfully choose a word and verse for the year. You can buy the study book HERE or you can purchase the study and download  HERE. She started walking through it over on her Instagram yesterday but this can be self paced and is only a 7 day study. I usually take my time and it lasts a bit longer than a week. Either way I would love for you to join us. If you have any questions please let me know by leaving a comment below or emailing me.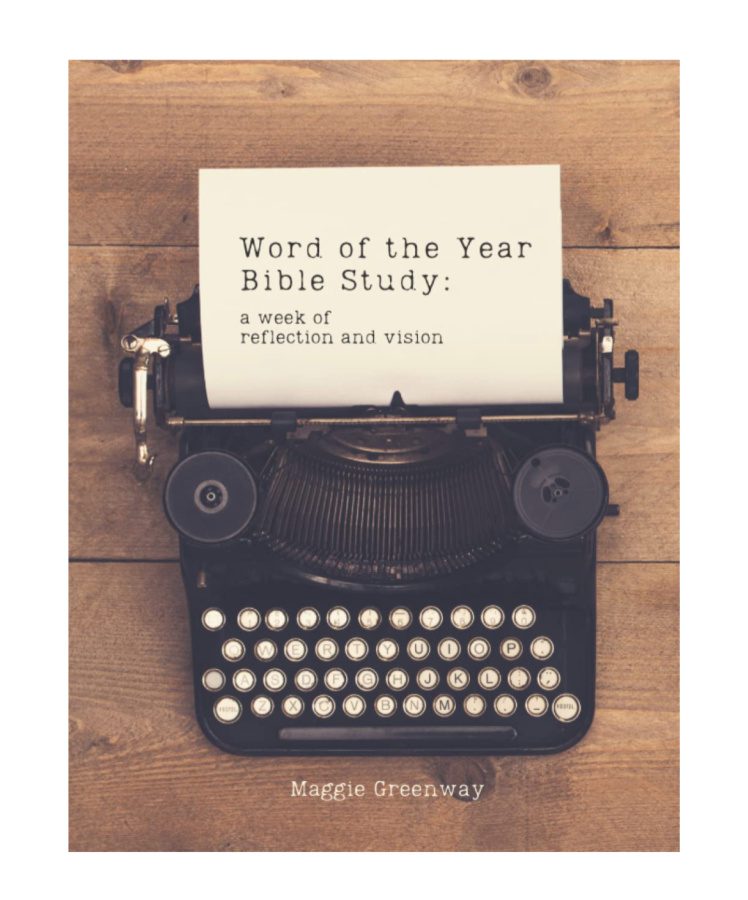 You can see all previous Monday Must Haves here!
I'd love to have you hang out with me some more. Feel free to follow along with me on any of the platforms linked below.
LTK | Facebook | Instagram | Pinterest | Amazon
xoxo,
Kelly