How To Transition Your Decor from Christmas to Winter
Hello friends! I hope you all had a wonderful Christmas. I had fun celebrating with my family and friends and now I feel refreshed and ready to tackle some projects. The first project being transitioning my decor from Christmas to Winter.
Now I know there are two camps when it comes to "un-decorating after Christmas"…the first one being those who leave Christmas up until after the New Year/Epiphany and the second being the group that takes it down immediately. I'd like to think of myself as somewhere in the middle. This year I started taking down most of my Christmas decor the day after Christmas! This was a first for me and for some reason I had the itch to switch. However, I have decided to leave my trees up and my porch decorated until sometime in January right before I head back to my classroom. 
How to Transition Your Decor from Christmas to Winter
Really transitioning your decor from Christmas to winter is quite easy. I did most of mine in one day and bought absolutely nothing. Below are the steps I used:
Remove All the Red!
This wasn't too hard for me since I used a lot of blue this year but the touches of red I did have were easy to pack away. I decided to stick with winter whites, blues and greens and natural wood tones. So anything in this color scheme I left out!

Keep out all the Cozy Pillows and Blankets.
Our family LOVES blankets and pillows and so does our Wheaten Terrier, Kona! I put away the red ones and kept out the navy, fur blankets and gray ones. The snowflake pillow and fur throw are both from JOANN!
Keep Using Greenery and "Winter" Trees.
Most of us aren't ready to put our trees away and I say leave some out! The greenery brings some color and warmth to a room! A bare tree is winter decor in my book. 
Candles Make it Cozy!
I love candles. You will find them all over my home. They bring instant warmth and a beautiful glow. I group them on trays, bedside tables and my kitchen counter. Basically anywhere I can!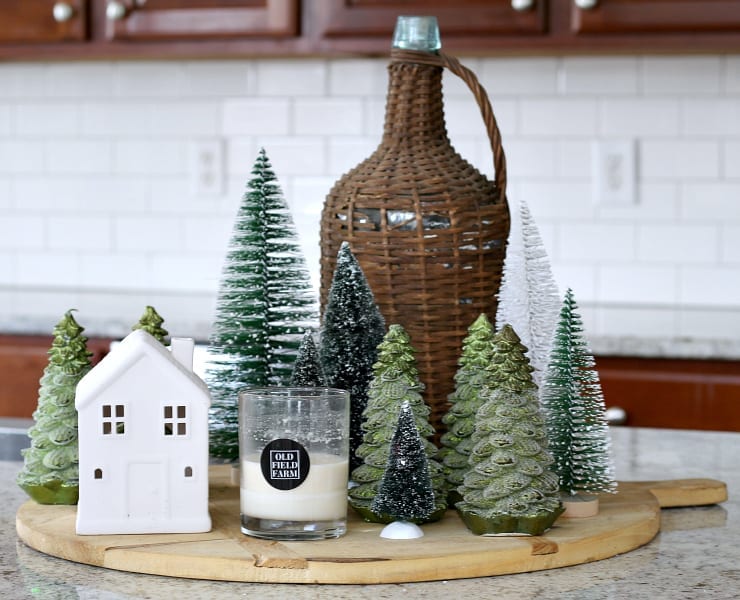 The Old Field Farm candle above has been my all time favorite, and as you can see I've almost burned it down all the way! It is the Tree Farm scent and smells amazing! It's from a small shop and I love supporting small businesses! You can see their website HERE. 
I hope you found this helpful when the time comes for you to transition your Christmas decor to winter. My other hope is that you will find some time this week to slow down, cozy up with a loved one, sip a warm drink from a Christmas mug if you still have them out, cuddle in a soft blanket and just relax and prepare your heart for the New Year ahead. That's my plan and my wish for you.
XOXO,
Kelly
Shop My Post 
*I have found similar products to those in my post for you. You can click on the pictures below. These are affiliate links and I will make a small commission at no extra charge to you. You can read my full disclosure here.