How To Transition Your Decor from Christmas to Winter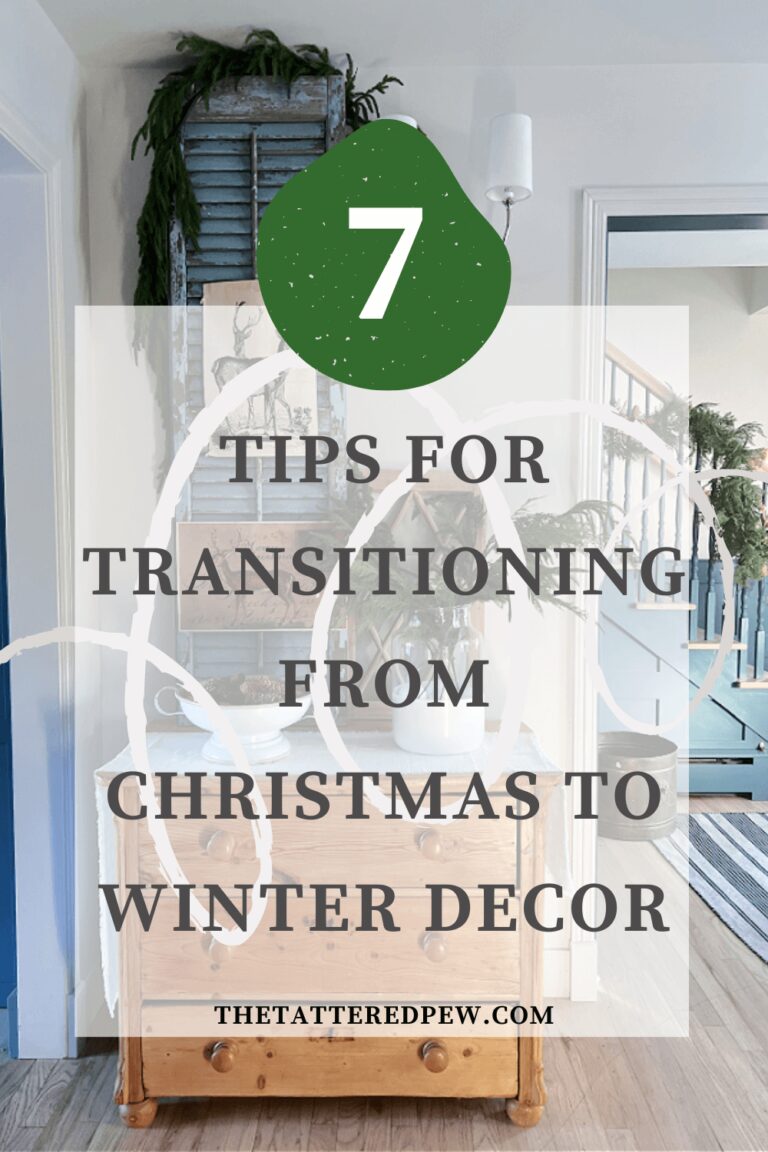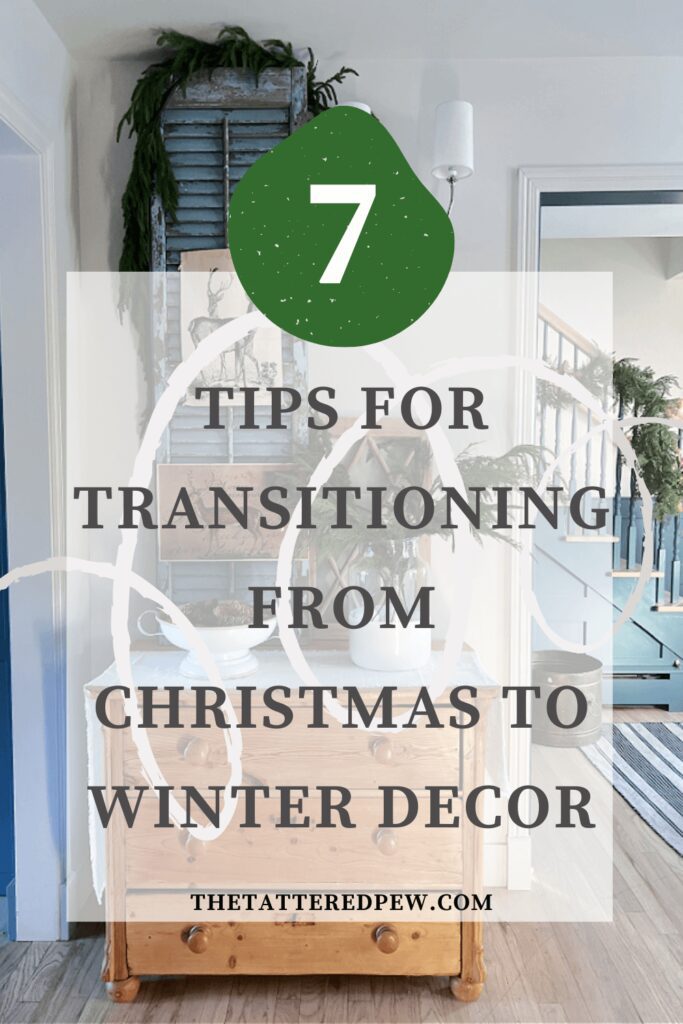 Hello friends! I hope you all had a wonderful Christmas. I had fun celebrating with my family and friends and now I feel refreshed and ready to tackle some projects. The first project being transitioning my decor from Christmas to Winter. Do you struggle with winter decor after Christmas? If so read on for my best tips!
Now I know there are two camps when it comes to "un-decorating after Christmas"…the first one being those who leave Christmas up until after the New Year/Epiphany and the second being the group that takes it down immediately. I'd like to think of myself as somewhere in the middle.
This year I started taking down most of my Christmas decor the first of January! This was a first for me and for some reason I had the itch to switch. However, I have decided to leave my trees up and my steps decorated until sometime in January.
How to Transition Your Decor from Christmas to Winter
Really transitioning your decor from Christmas to winter is quite easy. I did most of mine in one day and bought absolutely nothing. Below are the steps I used:
1.Remove All the Red
The first step to removing any signs of Christmas is to remove all the red, all the signs that say Christmas and anything that feels Christmasssey.
I went around my house and took down the red bows and berries that were previously all on my garland. But I left up the greenery stems and garland.
Come February I will remove it.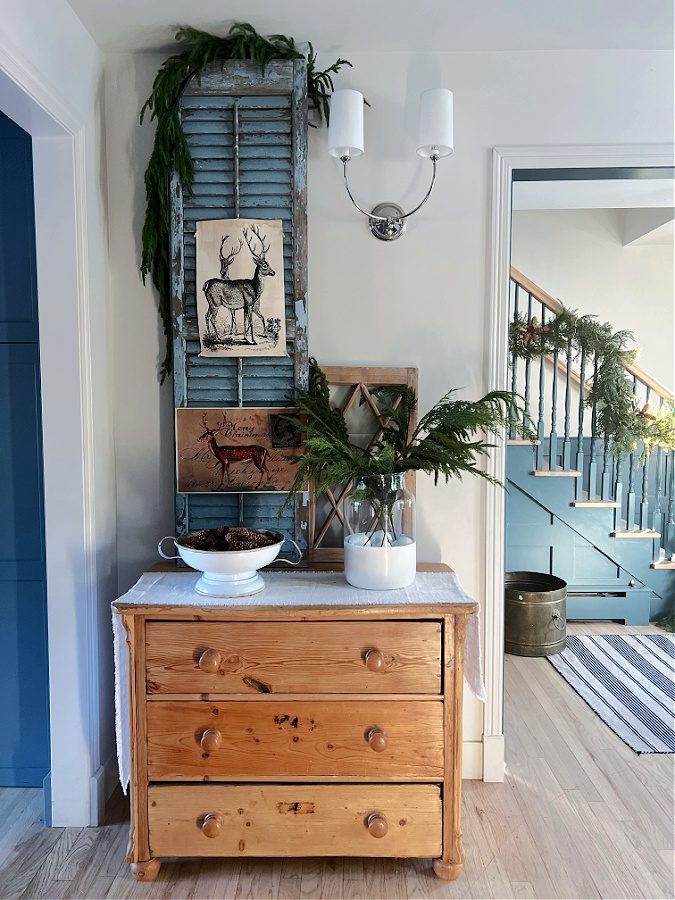 This wasn't too hard for me since I tend to use a lot of blue and green, but the touches of red I did have were easy to pack away. I decided to stick with winter whites, blues and greens and natural wood tones. So anything in this color scheme I left out!
2. Non Christmas Winter Decor
Winter decorating in January doesn't have to mean leaving up your Christmas decorations until spring. There are plenty of non Christmas winter decor ideas that will make your home cozy and inviting while still being entirely seasonally appropriate.
If you find the traditional holiday colors a bit overwhelming this time of year, consider going for more muted shades, such as whites and greys with accents of light blue and green. Bring the outdoors in by adding touches of natural elements like branches, feathers, or stones within centerpieces and garlands to hang on walls or doorways.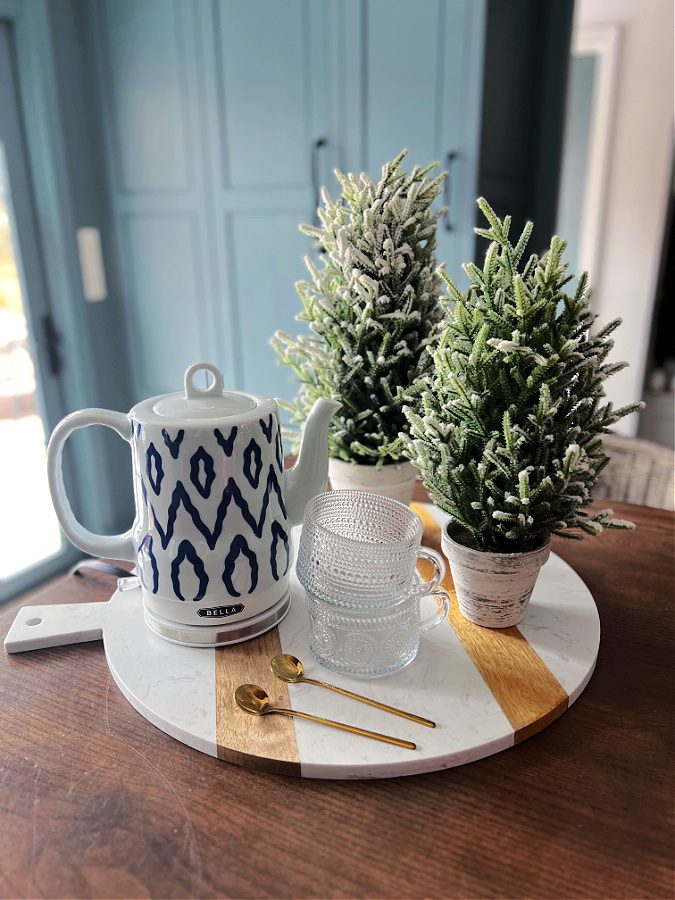 Keeping it light with subtle textures like wire or twine can give any room a festive touch without screaming "Christmas".
Finally, throw in a few flameless candles for an added luminous touch that captures the spirit of winter. With these non Christmas winter decor ideas, you are sure to find a way to make your home feel fresh yet inspiring this January!
3. January Decorating Ideas
January can be an excellent time to give your home a cozy winter transformation. After taking down the Christmas decorations, January is the perfect time to embrace winter decorating ideas.

Adding winter-inspired elements like cozy blankets, furry textiles or a scent of pine can create an inviting atmosphere for you to enjoy during the long January months.
January decorating doesn't need to be just about cool tones though – consider adding life and texture with some greenery like evergreen wreaths, branches and natural materials like fir cones and twigs. Whatever January decorating ideas you use in your home, make sure it reflects your own personal style!
4.Keep out all the Cozy Pillows and Blankets
Our family LOVES blankets and pillows and so does our Wheaten Terrier, Kona! I put away the red ones and kept out the navy, fur blankets and gray ones. The snowflake pillow and fur throw are both from JOANN!
I have all of my winter favorites saved HERE over on my Amazon Storefront if you want to take a peek!
5. Keep Using Greenery and "Winter" Trees
Just so you know all three of my indoors trees are still up! I plan to leave them until February unless I get the itch to take them down sooner. I adore the glow of their lights and how they make our home feel cozy on cold Colorado nights.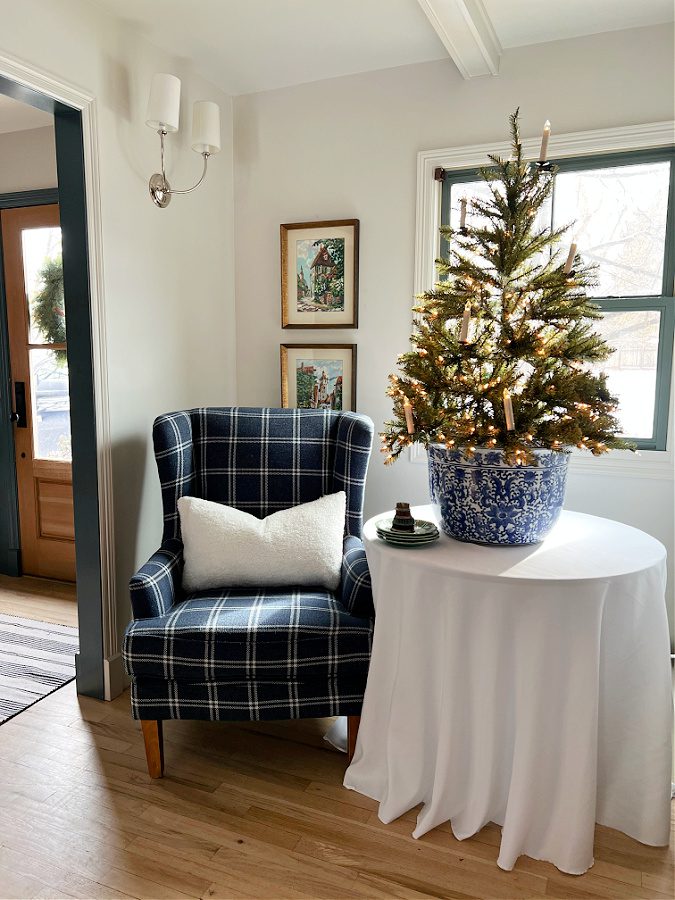 Plus, most of us aren't ready to put our trees away and I say leave some out! The greenery brings some color and warmth to a room! A bare tree is winter decor in my book. 
I have read some research that lighted trees help keep away those winter and post holiday blues. I am all about keeping those type of blues away and brining joy where ever I can. Plus, if it makes you happy I say do it. It's your house and there really aren't any rules when it comes to making it feel like YOUR home!
6. Candles Make it Cozy
I love candles. You will find them all over my home. They bring instant warmth and a beautiful glow. I group them on trays, bedside tables and my kitchen counter. Basically anywhere I can!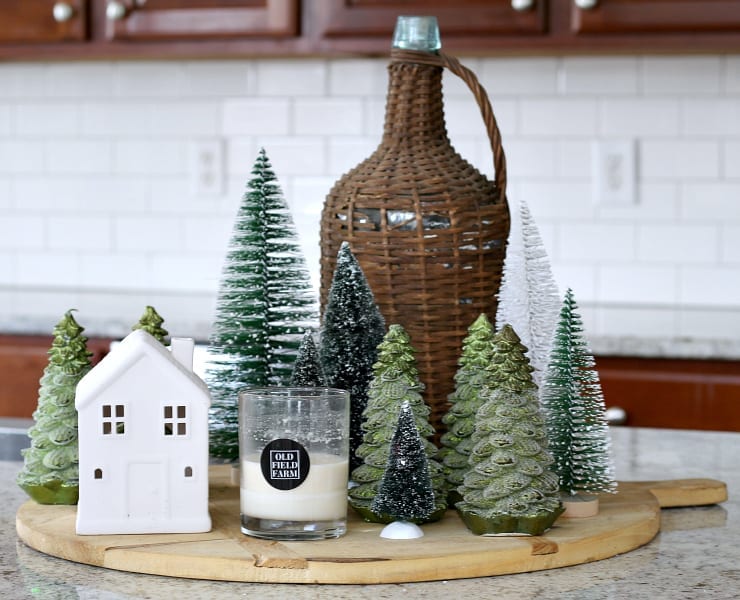 The Old Field Farm candle above has been my all time favorite, and as you can see I've almost burned it down all the way! It is the Tree Farm scent and smells amazing! It's from a small shop and I love supporting small businesses! You can see their website HERE.
7. Use Natural Decor and Accents
Looking for non-Christmas winter decor this season? Avoid the traditional holiday themed decorations and opt for a fresh twist on winter decorating.
Natural materials, like pinecones and greenery, are perfect for creating an aesthetically pleasing yet natural look in your home.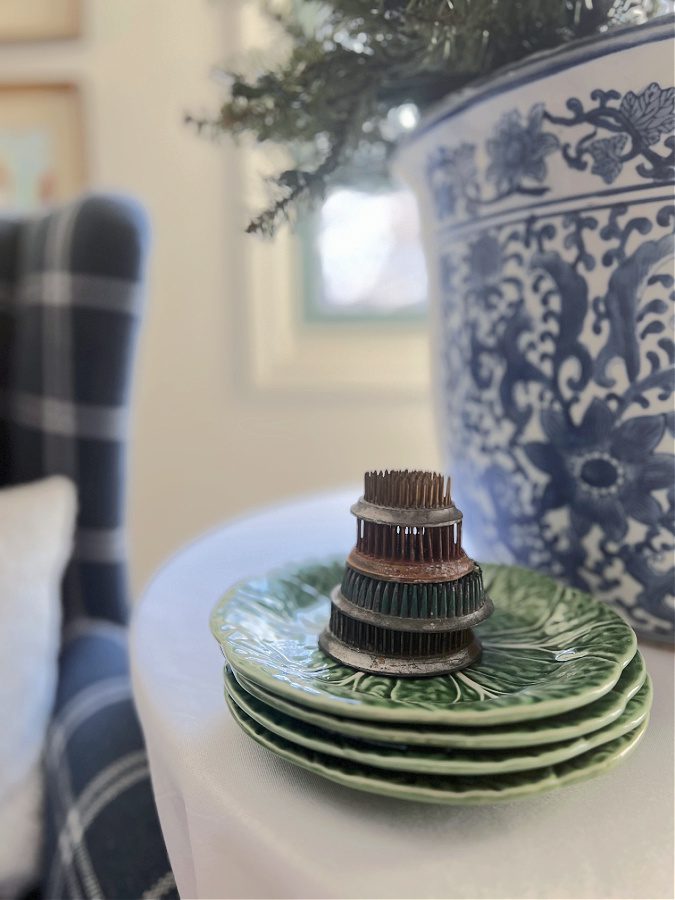 Not sure where to begin with January decorating? Just add some decorative branches to a large vase for a simple yet stylish centerpiece, scatter some smaller pinecones around candle-holders or wrap garlands of evergreen leaves around doorways and windows!
Natural winter decor will make your home feel cozy while keeping it seasonally focused.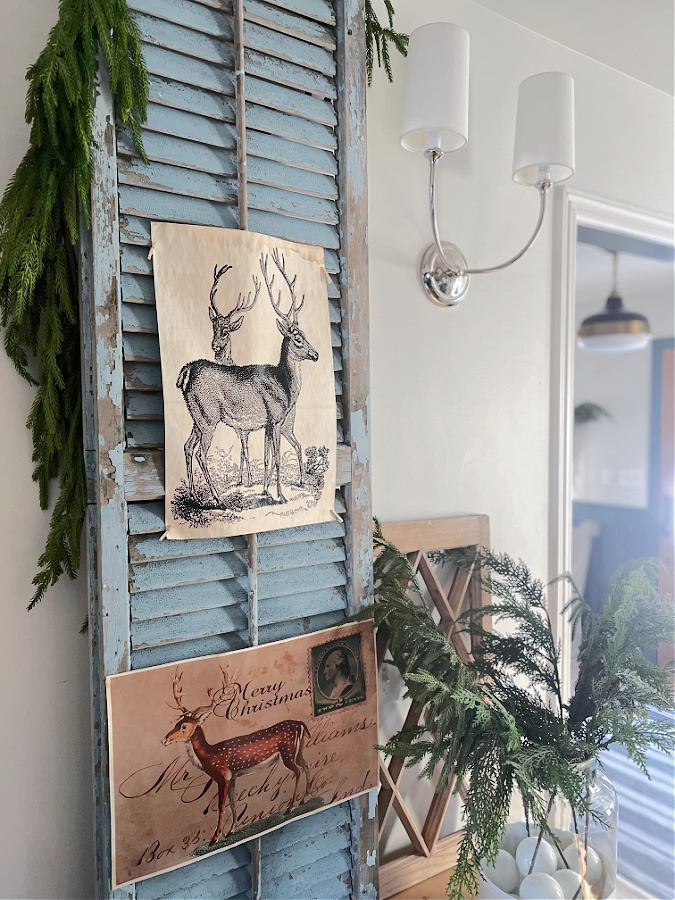 Bring the outdoors in with a variety of pinecones and greenery. Frosty accents such as white berries will add sparkle to any room, and snowflakes made from paper or wood will bring an icy feeling indoors.
If you find yourself stuck in January with little inspiration, look to areas like mantles, tables, or bare walls. With the right ingredients, even a simple arrangement can create a beautiful seasonal masterpiece. Natural decorations are an evergreen way to dress up any space without breaking the bank this winter season!
Shop My Post
*I have found similar products to those in my post for you. You can click on the pictures below. These are affiliate links and I will make a small commission at no extra charge to you. You can read my full disclosure here.

Winter Decor After Christmas
I hope you found this helpful when the time comes for you to transition your Christmas decor to winter. My other hope is that you will find some time this week to slow down, cozy up with a loved one, sip a warm drink from a Christmas mug if you still have them out, cuddle in a soft blanket and just relax and prepare your heart for the New Year ahead. That's my plan and my wish for you.
I'd love to have you hang out with me some more! Feel free to follow along with me on any of the platforms linked below.
LTK | Facebook | Instagram | Pinterest | Amazon
xoxo,
Kelly