How to Seamlessly Mix Vintage, Thrifted and New Decor In Your Home
Decorating and furnishing our homes can be one of the most intimidating, challenging, time consuming and expensive things we do. But, I'm here to tell you it can also be one of the most fun and rewarding things we can do to our home. The number one question people ask me is how I put it all together. Today I am sharing some of my favorite tips on how to seamlessly mix vintage, thrifted and new decor in your home…while staying on a budget!
How to Seamlessly Mix Vintage, Thrifted and New Decor In Your Home
*This post contains some affiliate links for your convenience. Click here to read my full disclosure policy.
Where I Learned To Mix Old and New Decor
I can remember shopping with my mom for home decor for my bedroom when I was a little girl. We rarely started at the big box stores and on-line shopping wasn't a thing in the 80's. My mom was always great at finding things at garage sales, flea markets, Craig's List, from friends or things on sale. We would paint furniture or recover or re-purpose items all while staying on a budget! We single-handedly furnished my college townhouse with flea market furniture and decor!
So of course when I moved to New York City after college to teach and had no money to furnish my apartment, what do you think I did? I channeled my inner Tracy (my mom's name) and searched for curbside finds, thrift stores, sales and flea markets. And guess what, I scored some great things without having to spend a lot of money!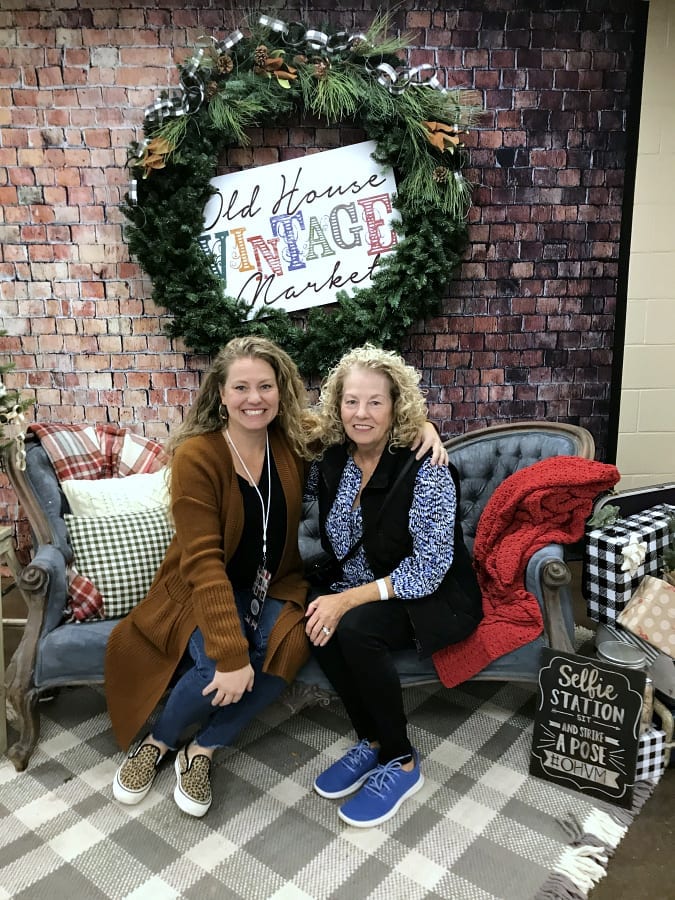 You Can Learn To Mix Old and New Decor Too
So what I'm trying to say is it can be learned! It can be done. It just might take some work, searching and time. But you too can learn to seamlessly mix vintage, thrifted and new decor into your home! The best part is that thrifted and vintage decor is reasonably priced. So beauty on a budget can truly be a thing!
Room by room my mom curated our beautiful home, and a few of mine on a budget, and I have learned some incredible tricks from her along the way. And the thing is, she did it so gracefully that most people had no idea that most items in our home were not brand new!
Everything I know I have learned from her.
Here are just a few of those secrets she has taught me on how to seamlessly mix vintage, thrifted and new decor in your home!! And remember, it's ok to start small! Maybe just add in one or two vintage pieces to start with!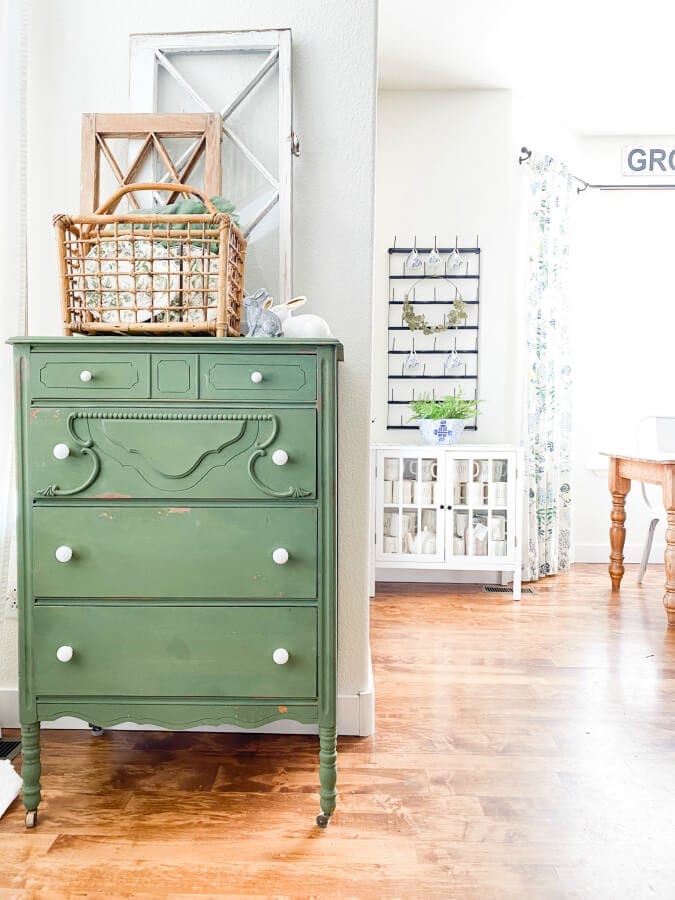 First Step: Stay Up On Trends and What You Love
Do you know what style or styles you enjoy or love? Do you have some colors that speak to you or that you find yourself gravitating towards? Sometimes this can be the hardest part for people when they decorate their homes. But it doesn't have to be! Here are a few things I do to help me hone in on what I love, trends, and things that speak to me.
Magazines-I scour magazines for inspiration and tear out the pages to keep in a file of pictures that I love. If you don't have magazines head to a local grocery store and look through the magazines there. Buy the one or ones that you gravitate towards and get to work browsing.
Pinterest– I LOVE Pinterest! It's no secret that I am a visual learner. It has been so helpful to me as I figure out my own style. On Pinterest I have created boards for inspiration for each room of our home. I scroll through all of the pictures and save them to my specific boards. It helps to have your search narrowed down because Pinterest can be overwhelming. So for instance…if you are looking at remodeling your kitchen then search for just kitchen inspiration and then narrow it down from there. Then start collecting and adding to your boards. You will notice that a theme will start to form! You can see my Pinterest here.
Instagram– When I first joined the Instagram app it was with my personal account. Once on there I discovered an incredible home decor community of like minded men and women like me! People who liked to decorate and share their homes. The best part was that they were willing to to share their tips, the places where they found their furniture and decor, and were willing to chat and help me! I found SO much visual inspiration on this little app and I loved that I could interact with people. You can see my Instagram account here.
Model Homes– One of my favorite things to do is to visit model homes. I take pictures with my camera of furniture I like, furniture arrangements and even things like kitchen fixtures and light fixtures. Seeing them in person is so helpful and can give you a jumping off point when looking for certain things.Plus it's fun to dream of designing your own home, right?!
Family and Friends Homes– When you find yourself visiting a family or friend's home do you like their style? Do you feel comfortable in their home? Are you drawn to their style? Try to narrow down what you like and then talk to them about it. Most people love sharing about their homes because usually it is a reflection of them and their style. Everyone love a good compliment and admiring their style is a huge complement!
Inspiration/Mood Board– I really love creating mood boards. They give me visual clarity and help me stick to a plan when decorating a room. (You can peek at my Coastal Cottage Mast Bedroom Mood Board here) Sometimes I even use my magazine clippings, fabric samples, tile samples, pictures, etc. to create a hands on visual board of types. Miss Mustard Seed has an amazing post all about her gorgeous board pictured below! These are great for bigger projects like kitchens or bathrooms. Soon I will be doing a blog post on how to create your own mood board, so stay tuned!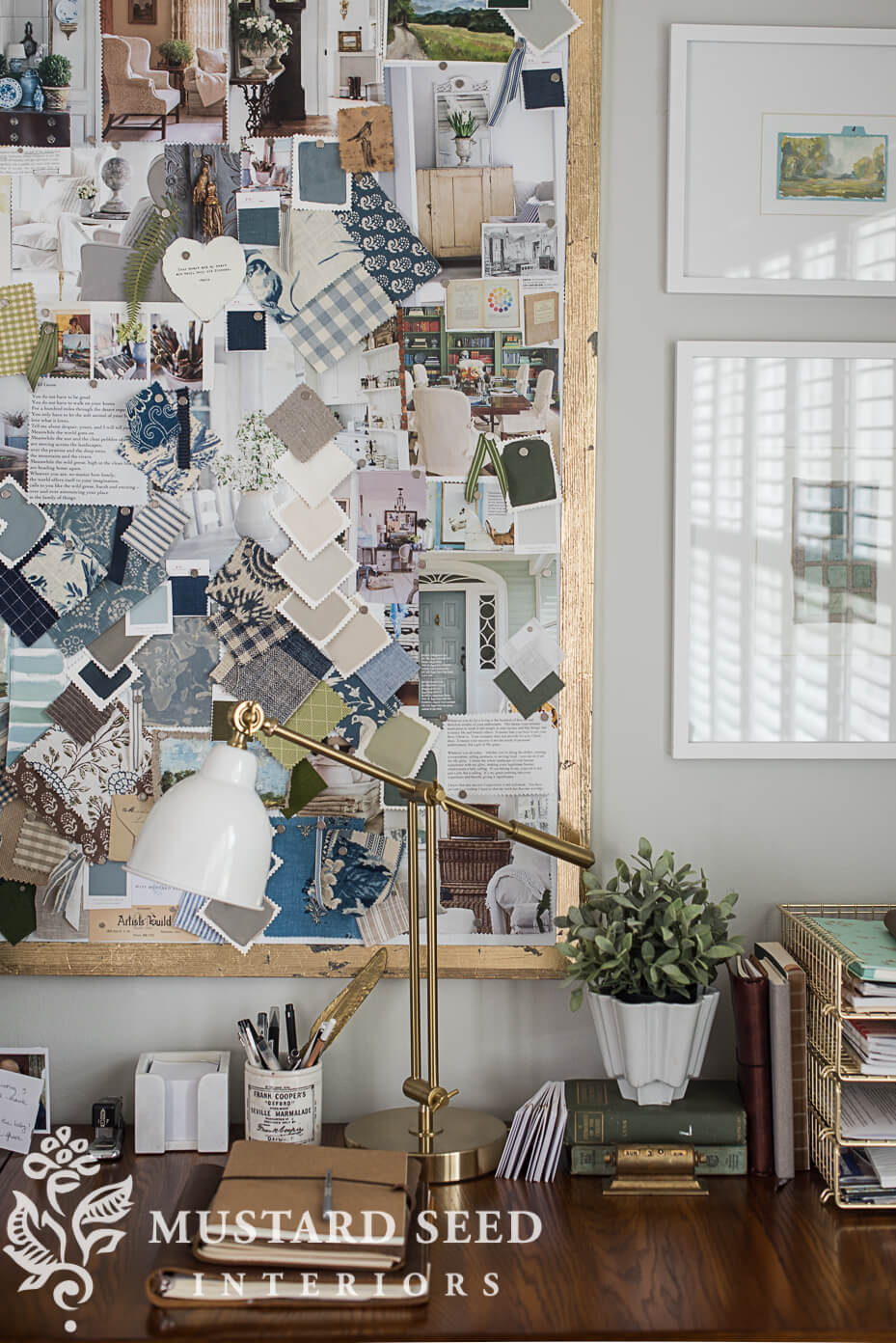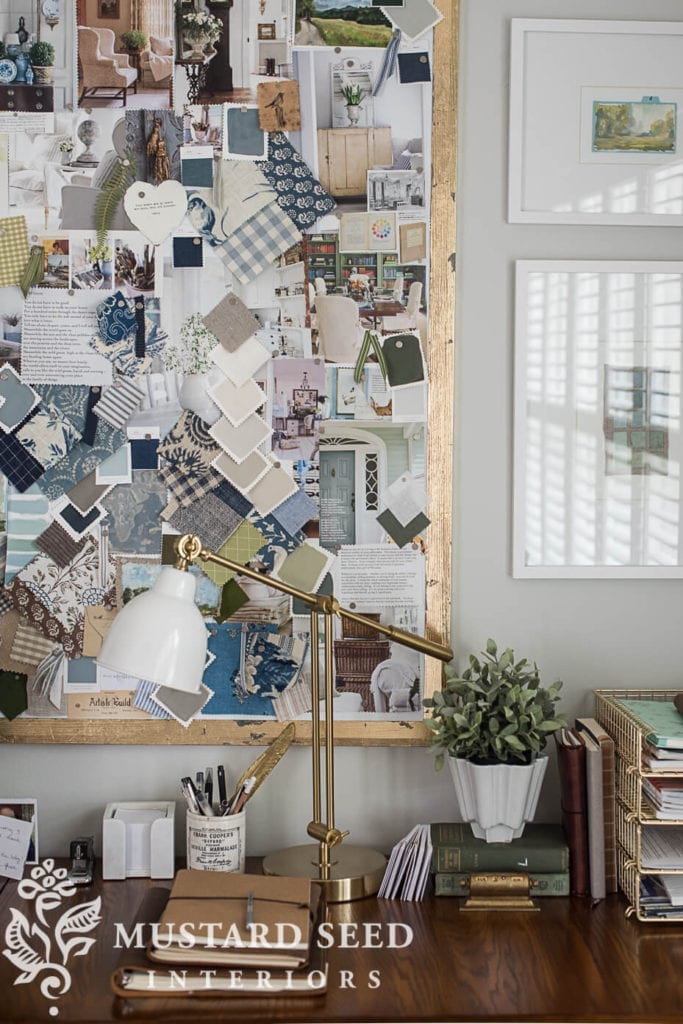 Second Step: Don't Be Afraid To Shop Vintage
Now that you have a sense of your style and how to gather inspiration it's time to shop! When it comes to vintage decor this term can mean so many different things. It can be antiques, salvaged architectural pieces, thrifted finds,or even family heirlooms. Being able to think outside of the box will take you far when it comes to decorating your home. Don't be afraid to look for old items to mix with your new items. It may seems strange at first but once you slowly add vintage decor you will notice your home starts to tell a story.
My number one rule of thumb when looking for vintage decor and furniture is…does it speak to you? Do you get that feeling that this is a "special piece" when you see it? Do you think about it after you leave the store? These are all signs that it is a memorable and special piece. By the way, please tell me I'm no the only one who does this ! 🙂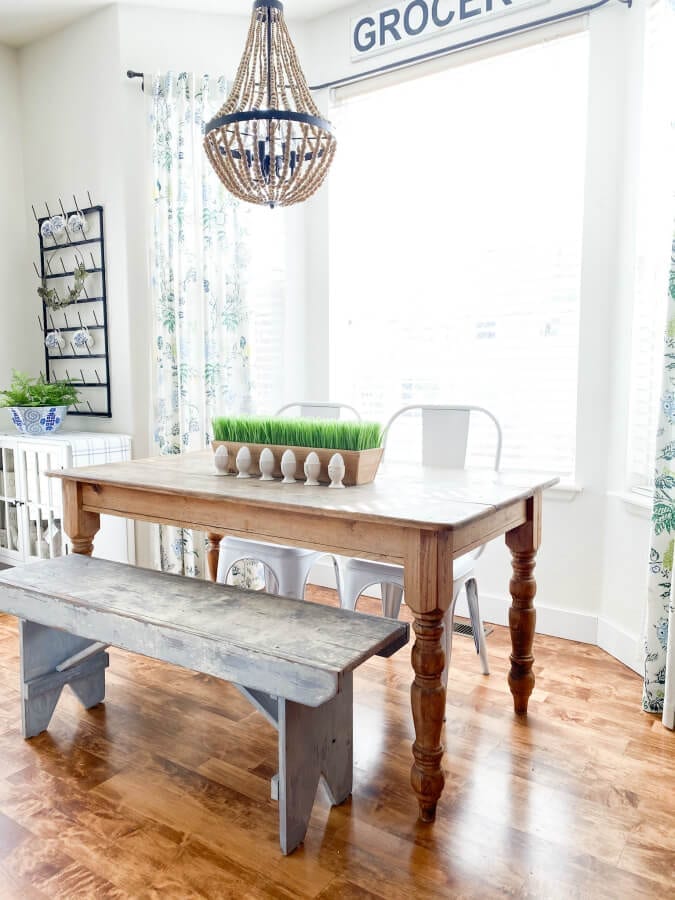 You can honestly find vintage decor in so many different places that I will share below.
Third Step: Where I Shop For Vintage, Thrifted, and New Decor
It all starts with shopping! Can I get an amen? Below you can find a new list of shops that will help you seamlessly mix vintage, thrifted and new decor in your home. And most of them are budget friendly! I am a huge fan of shopping at many different types of stores to find those special pieces that make up a home. Here is a list of my go to places! * I also plan to have dedicated blog posts for a few of these listed below so you have more in depth posts on why and how I shop at these places.
Consignment shops (My local faves are Curate Consignments & Furniture Consignments by Kristynn)
Facebook Marketplace (I have found some true gems here!)
Flea Markets (My local favorite is A & J Antiques)
Antique Stores
Goodwill
Habitat Restore
Homegoods, TJ Maxx, Tuesday Morning (They might know be by name…jk!)
Local Shops (Brooklyn Finds Design Co. & Cozy Cottage are my local faves)
garage sales
side of the road free finds!
Etsy
Pottery Barn (only when they have huge sales!)
Fourth Step: Shopping Tips and Tricks
I always like to look for pieces with what I like to call "good bones' or potential! When searching for vintage or thrifted pieces here are a few small things I always keep an eye out for. Old books,jadeite, shutters, windows, plates, drink ware, vases, art (paint by numbers), and baskets. * Obviously these are specific to me!
Here are a few larger items I also keep an eye out for. Unique tables (usually with wicker or caning), pews, chairs, cabinets, dressers. I have a certain affinity for old pine pieces too so I always keep my eyes open for pine furniture. I always ask myself, will it look better painted or stripped and do I have a spot for it in my home? Will it serve a purpose? The cute green table below is currently holding a doll house in our playroom!
For newer items I like to search for pieces that are similar to the designer ones but cheaper! For instance, the beaded chandelier in our kitchen is from World Market and was affordable (plus I used a coupon) compared to the outrageously expensive one sold at Pottery Barn. Searching and comparing prices can take time but definitely save you money without having to lose the look you love! See the two side by side below.

A very important tip is to search for items with the same colors to create a theme. In our home we have a mix of whites, greens, blues and textured items. So when I am out shopping I have these colors in mind and this helps me narrow down my focus. This came in helpful recently when I was at Curate Consignments and spied the beautiful blue wallpaper that is now in our master bedroom! If it had been yellow I would have known to keep walking.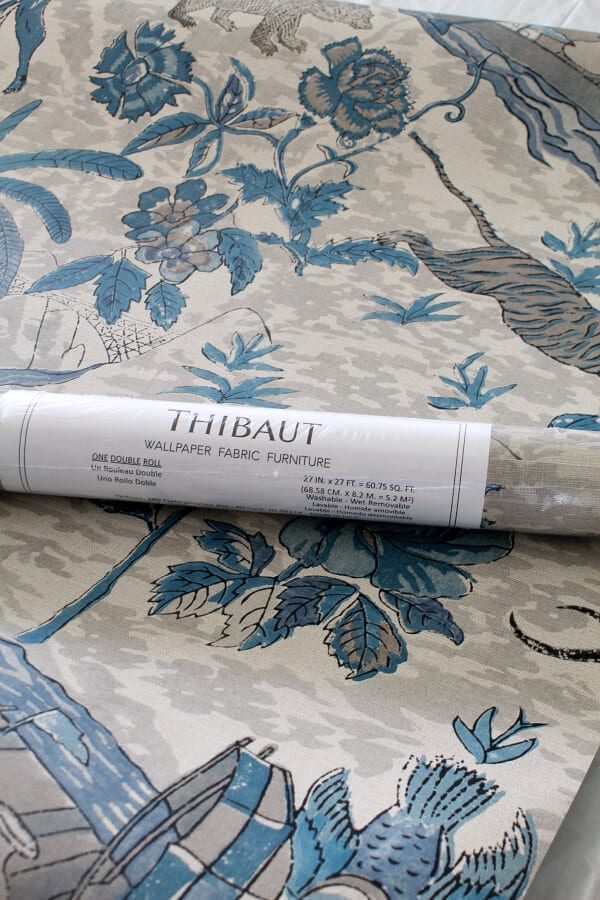 *I will be breaking down all of my shopping secrets over the next few weeks in a new series that will include tips for shopping successfully on Facebook Marketplace, at consignment shops, and flea markets!
Fifth Step: How To Shop For New Furniture or Decor
If you have seen our home lately you know I have a few newer items. For instance, our Pottery Barn sofa in our family room, the new Wayfair dresser in our master bedroom, and some gorgeous wicker bar stools in our kitchen also from Wayfair. These are what I like to call my staple pieces. These are new pieces of furniture that lay the foundation for each of these rooms. They are items that will stand the test of time and that I know will be in our home for the long haul. For you your new pieces may look different, and that's ok. Just decide what's important to you.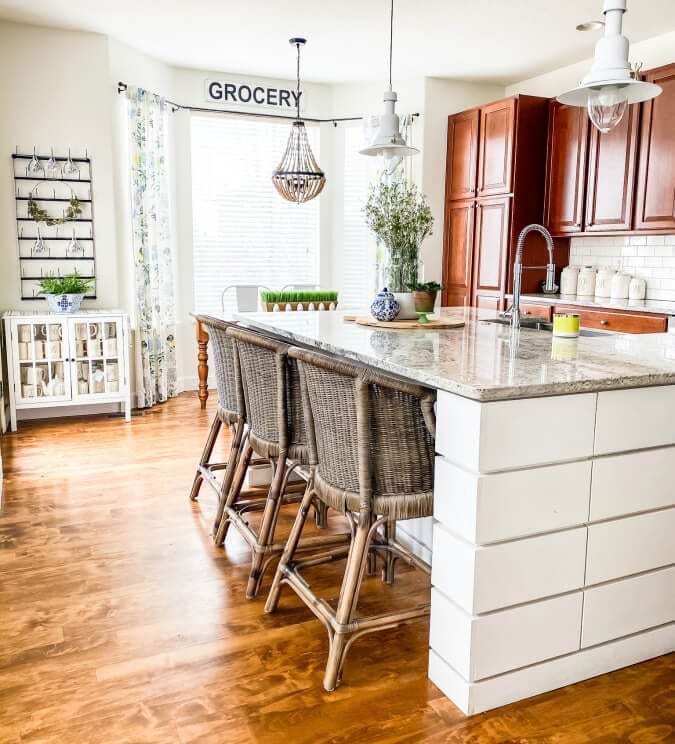 I also like to buy my pillows new (usually at Homegoods) and curtains new. But I will say, my curtains do tend to move around from room to room and I usually buy them at IKEA or on Amazon like our new blue ones in our family room that I am obsessed with!
Sometimes you need to be willing to spend a bit more fully knowing that you will have it for 20 plus years! My favorite part is surrounding the new items with vintage pieces that compliment them and tell a story.
Sixth Step: How To Seamlessly Mix Your Shopping Finds Into Your Home
Now that you know where to shop and hopefully have found a few vintage pieces that you love, it is time to add them to your home! When it comes to vintage pieces I tend to use them mostly as accents pieces while my larger furniture pieces are generally new items like I talked about earlier. I will share three examples from our home with you below.
Let's take at peek at this picture of our family room. Don't be afraid to mix flea market tables like the one in the picture below with a new Pottery Barn sofa. Also, do you see that green dresser? It was a $40 Facebook Marketplace find that I painted! I saw it had potential and decided to take a risk. The windows you see layered on top of the dresser are vintage market finds. And here are my favorite blue curtains and curtain rods from Target. The perfect mix of old and new and they all compliment each other. I could go on but you get the point!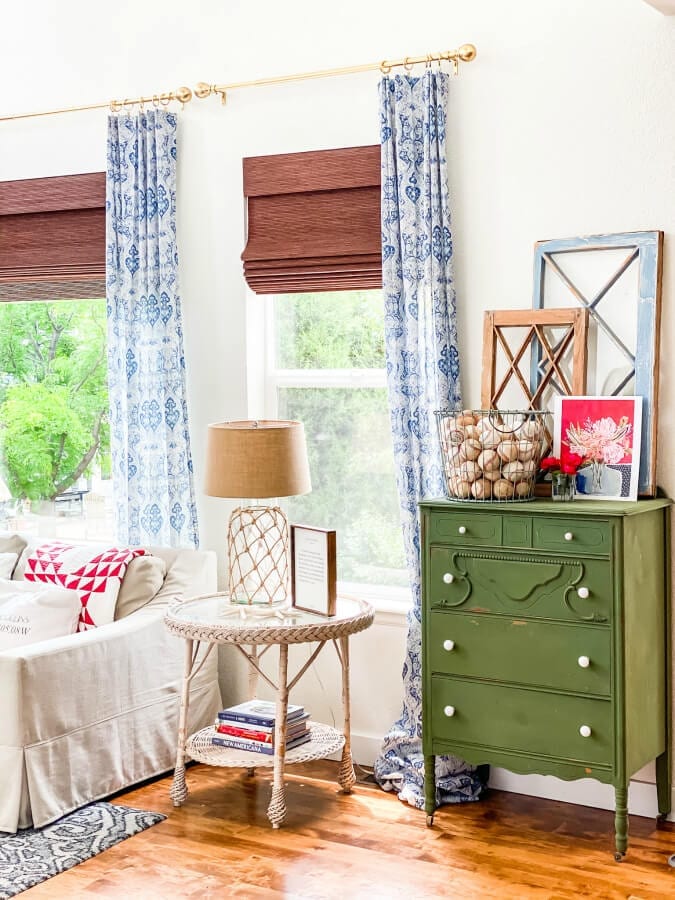 My master bedroom is another great example. The bed as a Facebook Marketplace find and so was the antique pine dresser on the left and the under bed storage boxes! The curtains were formally in our family room and are from IKEA. The dresser is new and so is the bedding. The wallpaper was found at a consignment shop and most of the accessories are from Homegoods or Target. A fun mix that gives off a comfortable and collected feel.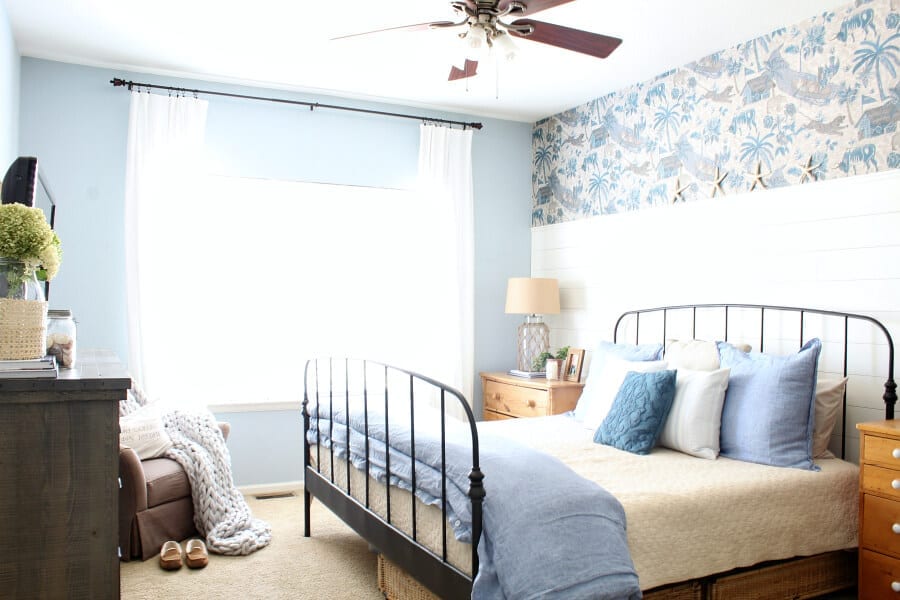 Come in to our entryway! The first thing you probably notice is our sweet little pew. My husband found this for me at a flea market and I gave it a driftwood paint makeover. Read more about this sweet pew's story here! The grain sack was a 40th birthday gift from my parents and sister and was found on Etsy. The faux fiddle fig tree and decorative pieces are all new and from Homegoods! Beneath the pew is a vintage basket and chenille throw both found at flea markets. A seamless mix of vintage, thrifted and new decor.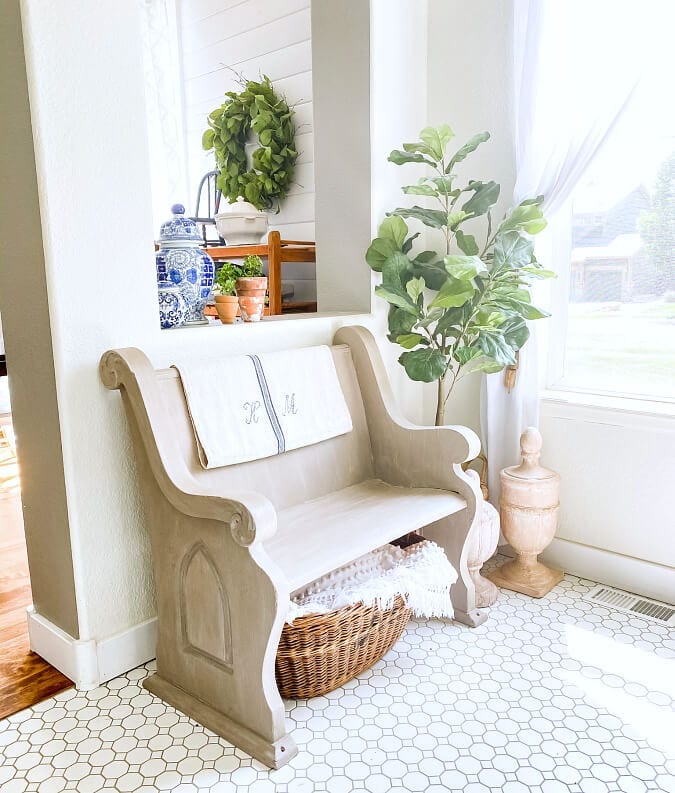 The Final Step: Taking a Risk & Believing In Yourself
Basically I want you to know that what you see in our home, is something that you too can achieve! Does it take time? Yes! Does it take money? Yes! But can you do it staying on a budget? Of course! You just have to be willing to start and to take a risk. Will it be perfect right away? Nope. Our house has taken 14 years to get to this point. It's definitely a journey and one that I am enjoying every step of the way.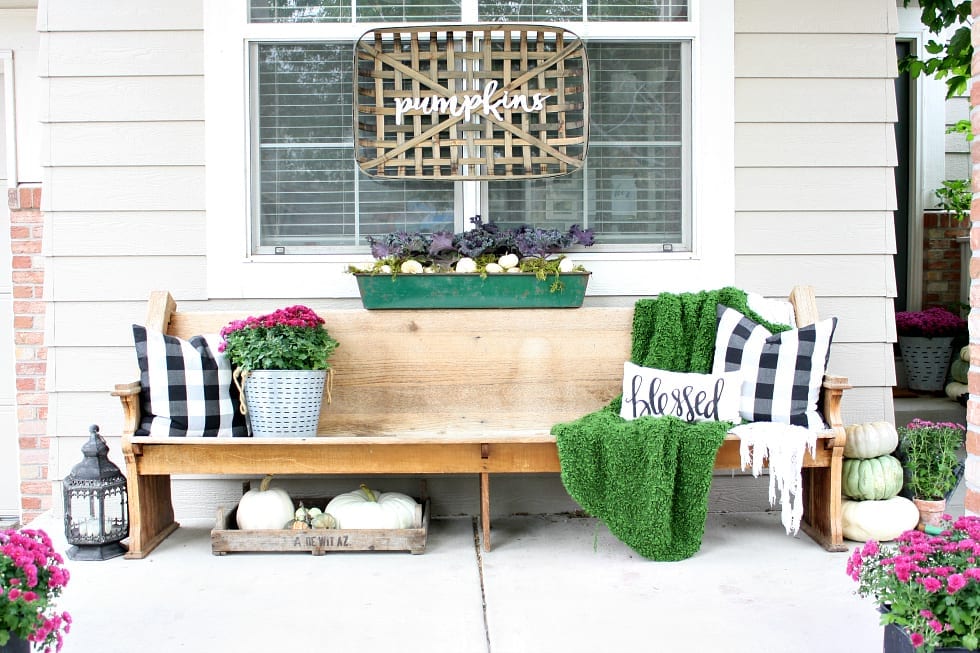 How to Seamlessly Mix Vintage, Thrifted and New Decor In Your Home
I hope this post gave you some good tips and starting points to get you started on seamlessly mixing vintage, thrifted and new decor in your home and on a budget! Just remember you can do it. If it brings you joy, go for it! And don't be afraid to ask for help along the way.
How do you decorate with vintage, thrifted or new items in your home? Tell me about a favorite find that you just knew was meant to be yours!
XOXO,
Kelly
Did you like this post? PIN it for later!