Spooktacular DIY Halloween Wreaths to Haunt Your Doorstep
As the crisp autumn air settles in and leaves begin to paint the landscape in shades of red and gold, it's time to usher in the spirit of Halloween. What better way to welcome this enchanting season than by adorning your doorstep with some bewitching DIY Halloween wreaths?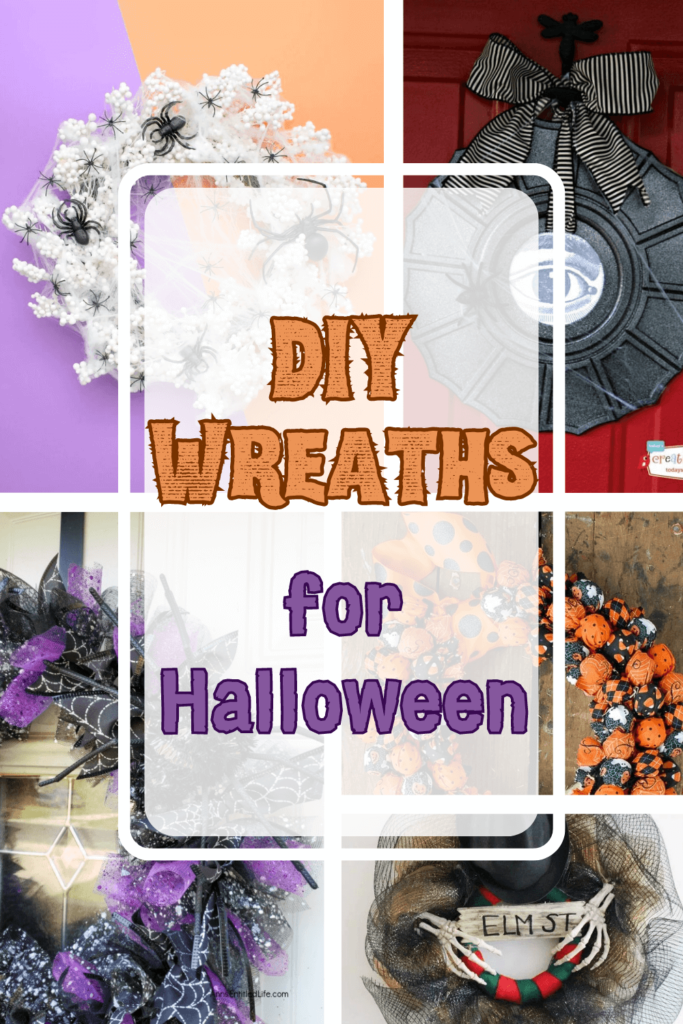 When it comes to decorating for Halloween I tend to keep things fun and minimal. But goodness gracious am I sucker for a fun Halloween wreath! Below are a few of my fun Halloween posts before we get started:
DIY Halloween Wreaths
These creative wreath ideas not only showcase your crafty prowess but also set the perfect mood for this eerie holiday. From whimsical pumpkins to creepy spiders, these wreaths cover the entire spectrum of Halloween decorations, ensuring there's something for every style and taste.
So, grab your foam wreath form, glue gun, and a touch of imagination, and get ready to create as we delve into a parade of spooktacular DIY Halloween wreath ideas.
Burlap Pumpkin Wreath
Burlap Pumpkin Wreath by Crafts by Amanda
This burlap pumpkin wreath will look perfect on your door all fall. It adds an inviting touch to your home that won't frighten trick-or-treaters.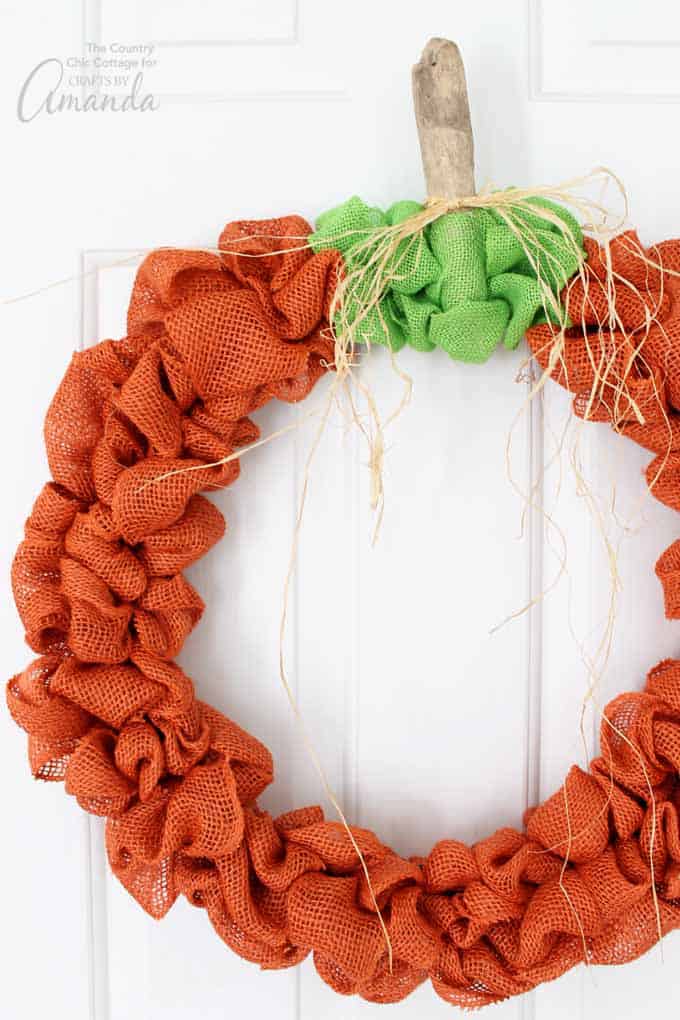 Spider Wreath
Spider Wreath by Dream a Little Bigger
This wreath looks like a spider web for a creepy effect for Halloween! Make this to add just the right touch to your space with so many extra spider legs! A fun DIY Halloween wreath for sure.
Colorful Pumpkin Wreath
Colorful Pumpkin Wreath by Lovely Indeed
This colorful pumpkin wreath will add a friendly touch to your front door. Use your favorite colors or the traditional Halloween hues. Either way, the results will be lovely!
Boo Wreath
Boo Wreath by Simply Designing
This wreath is simple yet stunning and just the cutest of all the DIY Halloween wreaths. Use black, orange, and purple to make a statement that welcomes visitors of both human and monster variety on Halloween night.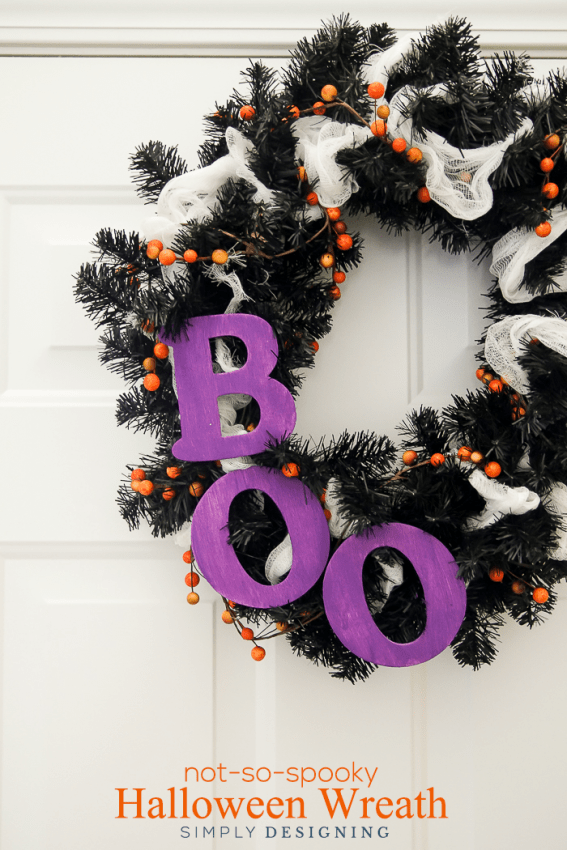 Dollar Tree Witch Wreath
Dollar Tree Witch Wreath by Making Frugal Fun
Head to the dollar store and grab a few supplies. This wreath is cute, easy to make, and will look perfect on your door.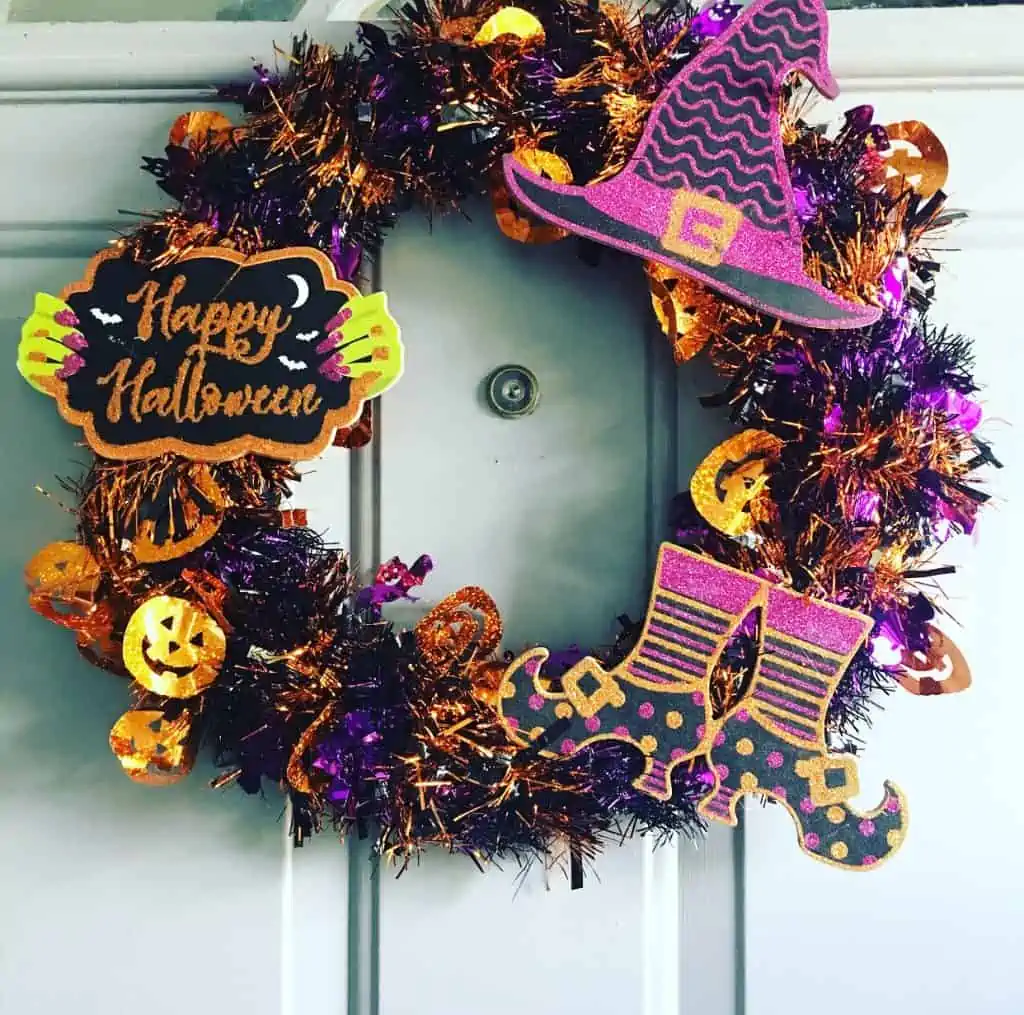 Embroidery Hoop Pumpkin Wreath
Embroidery Hoop Pumpkin Wreath by Creatively Beth
If you want to add a festive yet friendly touch to your door, grab an embroidery hoop and some felt to make this pumpkin. You can change out the decorations to use this for fall, Halloween, and even Thanksgiving if you like.
Ceiling Tile Medallion Wreath
Ceiling Tile Medallion Wreath by Today's Creative Life
This wreath starts with a ceiling tile medallion and turns into a creepy decoration. Hang this on any door you need to keep an eye on.
Mesh Spider Wreath
Mesh Spider Wreath by Ann's Entitled Life
This mesh and ribbon wreath brings an elegant look to your door with a little spooky fun. You can get everything you need at the dollar store for $10 to recreate this festive wreath.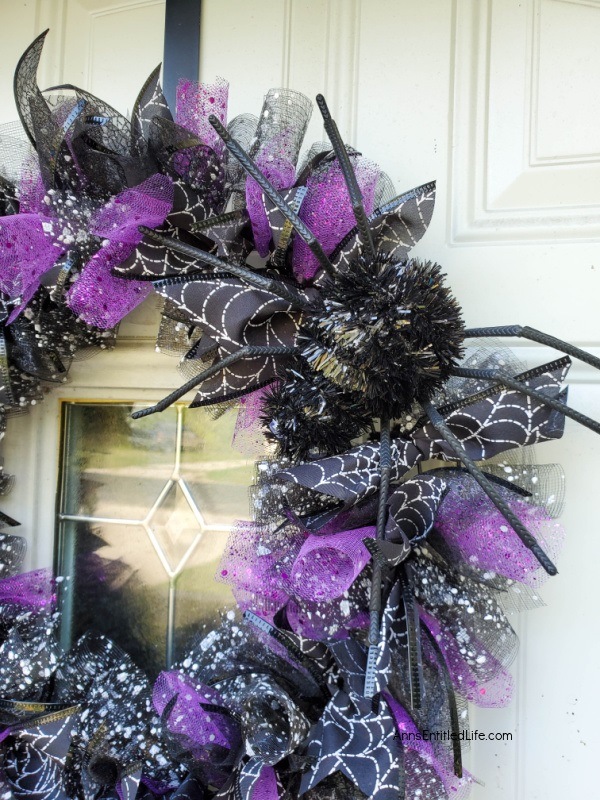 Skeleton Wreath
Skeleton Wreath by Pink Fortitude
This easy wreath is just the thing to make. No bones about it! Find the supplies to recreate this at the dollar store or in your craft supplies. Use Halloween-printed ribbons or simple black and white ribbons. Either way, it will look fabulous at your door.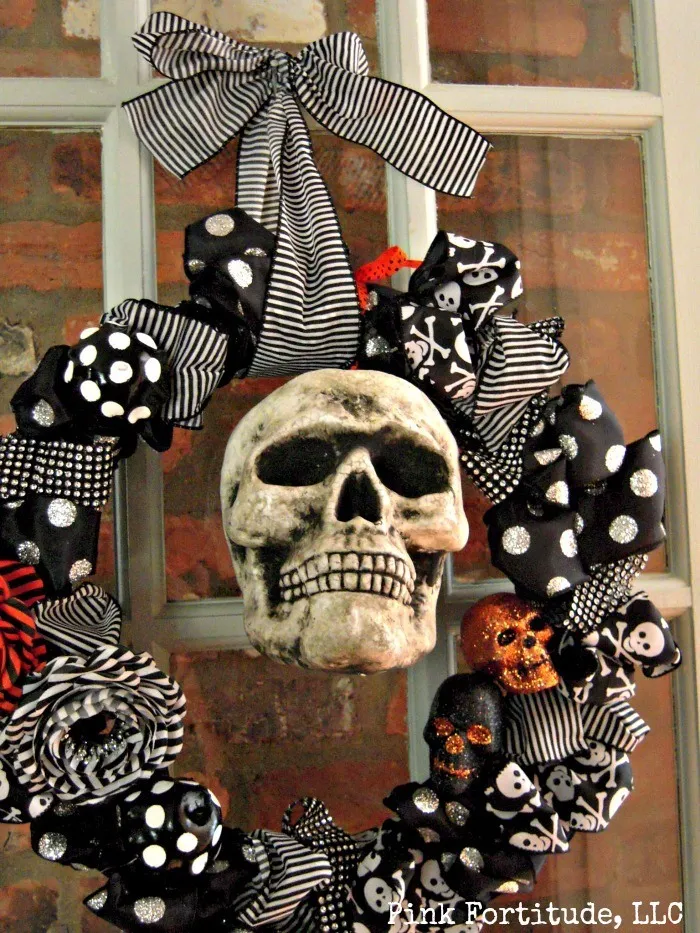 Trick or Treat Wreath
Trick or Treat Wreath by Boulder Locavore
This wreath is perfect for Halloween! Your trick-or-treaters can help themselves to a sucker while you add a touch of decor to your door.
Spider Web Wreath
Spider Web Wreath by Chicken Scratch NY
This easy wreath is simple yet stunning. Stitch a web across the wreath to let your guests know they should enter with caution.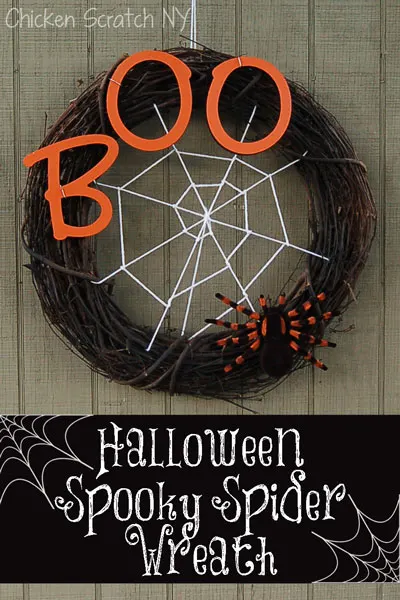 Freddy Krueger Wreath
Freddy Krueger Wreath by Our Crafty Mom
Horror movie fans are going to want to make this Nightmare on Elm Street Wreath for their door. The wreath looks high-end, but you can grab everything needed at the Dollar Store.
Yarn Wrapped Monster Wreath
Yarn Wrapped Monster Wreath by Jennifer Perkins
Grab some yarn and a wreath form to get this monster started! Your wreath will turn out to be friendly and fun, so it won't give the little ones a fright on trick-or-treat night.
Bleeding Flower Wreath
Bleeding Flower Wreath by Chicken Scratch NY
Add a simple yet stunning addition to your door with this idea. At first glance, it looks harmless, but with closer inspection, you will note that the flowers are bleeding for a freaky effect.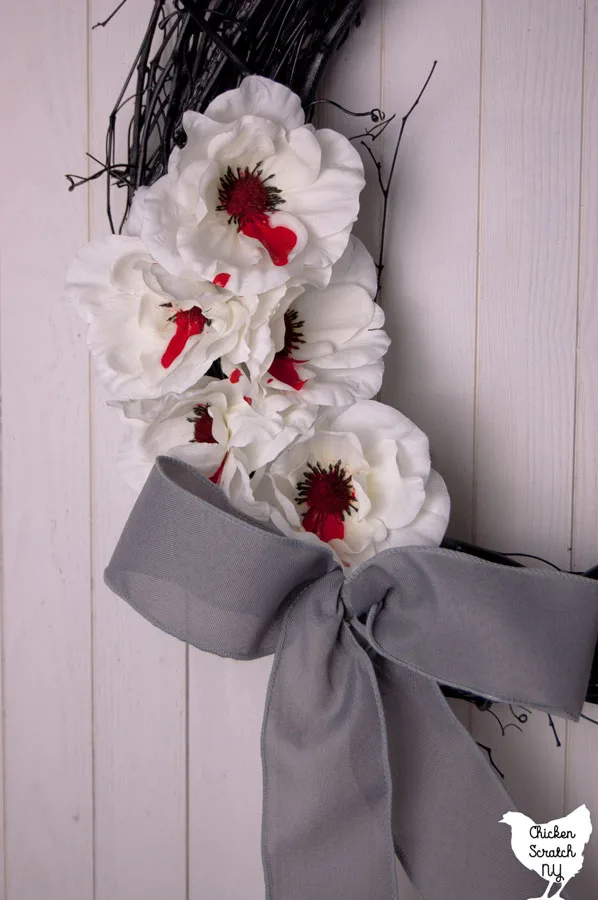 Mesh Witch Hat Wreath
Mesh Witch Hat Wreath by DIY Candy
Grab some mesh and get ready to make the cutest wreath ever. This looks high-end for Halloween but is made of affordable mesh for a decoration you will want to display year after year.
Spooktacular DIY Halloween Wreaths to Haunt Your Doorstep
As you embark on your Halloween crafting journey, these DIY wreaths stand ready to transform your doorstep into a haunted haven. Whether you opt for the simplicity of the burlap pumpkin wreath or the spine-tingling spider web wreath, each creation promises to bewitch passersby and inspire awe.
The beauty of these wreaths lies not only in their ease of creation but in the personal touch you infuse into each one. So, this Halloween season, let your creative spirit run wild and craft a wreath that will enchant, amuse, or even frighten – all in good Halloween fun. Happy crafting, and may your Halloween be filled with spooktacular delight!
I'd love to have you hang out with me some more! Feel free to follow along with me on any of the platforms linked below.
LTK | Facebook | Instagram | Pinterest | Amazon
xoxo,
Kelly
Did you like this post? PIN it for later!