10 Meaningful and Fun Easter Ideas For Families
It's March and that means Easter is just around the corner! Now more than ever our families need to keep and embrace holiday traditions that bring our kids that sense of normalcy they are craving during these uncertain times. I have rounded up 10 meaningful and fun Easter ideas for families that I thought you might enjoy.
I am sharing a mix of activities, decorating ideas and small shops to support. Also, today I have joined the Easter's On It's Way blog hop hosted by Amber of Follow the Yellow Brick Home. You can find over 20 different bloggers' Easter posts at the end of mine. So you should be covered for your Easter inspiration today!
If you are visiting here from my friend CoCo of The Crowned Goat, welcome! Wasn't her spring porch so inviting and pretty?
*This post contains some affiliate links for your convenience. Click here to read my full disclosure policy.
10 Meaningful and Fun Easter Ideas For Families
For our family Easter is a very important time. It's more than just Easter eggs and baskets. It all about Jesus and as a mom I take it very seriously. I am always looking for ways to make it meaningful and fun for our family.
Come see 10 of my favorite ideas!
This is a fun and meaningful activity that we have done in our home for as long as I can remember! You probably have all of the supplies on hand already! You can read all about it here!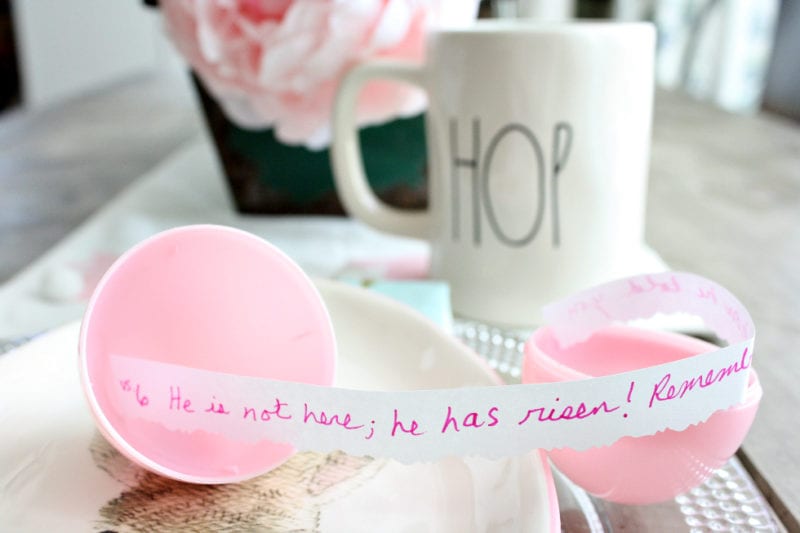 This year I found that I had some extra time on my hands and decided that I wanted to create a kid friendly Easter table for my own kids. I found items around my house that I already had and ended up coming up with a Peter Rabbit themed table. Creating tables for kids can be fun and easy…they usually have all the supplies you need. Think stuffed animals, books, paper plates, special dishes, and maybe even decor from their rooms! You can see the full table here!
This is a great family activity if you have younger children. I have followed Crew + Co over on Instagram for awhile now and every year I mean to order their beautiful Easter cards and every year I always forget.
So this year I finally ordered, late but it payed off because they are currently on sale! So I bought two sets and plan to give one to my sister. I love how these cards follow a 14 day countdown to Easter while including daily readings from the Jesus Storybook Bible! Perfect for little hearts and hands. Order them by March 21st to be in time for Easter this year.
I also love these Along With Jesus Lent Activity Cards from my friend Maggie over at She Pens Truth! These are beautiful cards to enjoy with your family and you can print them at home. They go along with her Easter Devotional that I have enjoyed these past couple of years.
This year many of us will finally be heading out for Easter to our friends or family's homes this year and this idea is one you can use any Easter. Why not bring your host or hostess a gift basket ? Just think about what they love and enjoy and add a few of those things. It doesn't have to be expensive to be thoughtful! Find some more details as well as the full post here.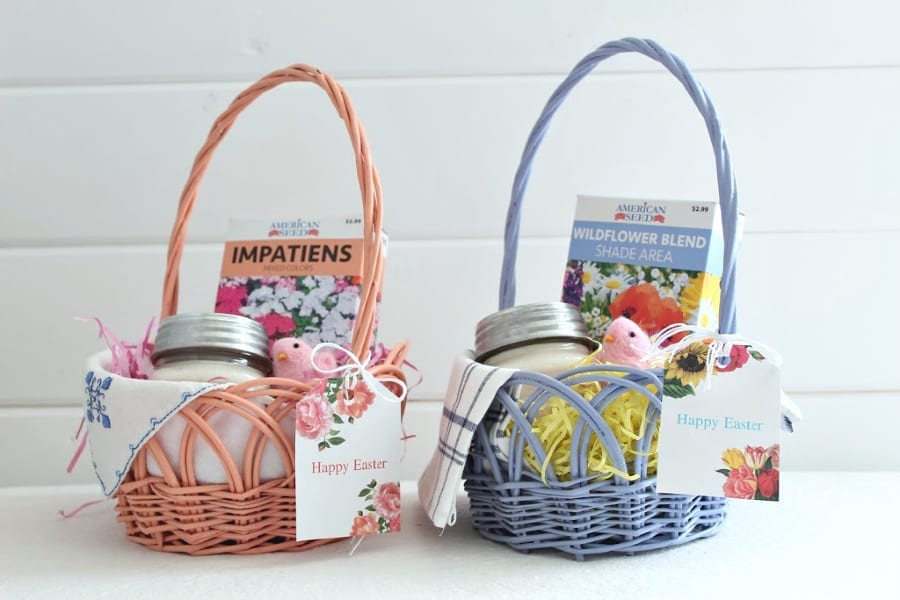 And here are some more fun ideas for your own home or to bring to a friend!
I love all things jadeite and I still love Rae Dunn! So I decided to combine two of my loves to create a very fun and casual Easter tablescape. Do you go fancy or casual for your Easter table? Come take a peek at my table!
This is a tradition close to my heart. We have these same eggs and we use them every year! I love listening to my kids open each egg and read the Easter story about Jesus and his resurrection. This kid friendly tradition is not only fun and meaningful, but one I highly recommend! You can find them here!
I shared these beautiful Easter tags on the blog last year in collaboration with my talented friend Katie of Create&Capture! She created not one, but two different sets of editable floral gift tags that you can grab in my printables library if you are a subscriber! I put my password at the bottom of every email I send out if you need it. If you aren't a subscriber and would love to have access to these floral gift tags you can SUBSCRIBE HERE!
This next activity definitely falls in the fun category. We tried this alternative to dying Easter eggs and had so much fun! It was great being together as a family, laughing and making memories and yes, they were messy, but boy did they turn out beautiful! You can find all the details over at the Passion for Savings blog.
These personalized wooden Easter tags might just be one of my all time favorite Etsy purchases! Seriously though, the makers at Two Daughters Heirlooms shop made these and they are gorgeous! I love them, my girls love and I know you will love them too. You can shop their tags by visiting here!
You can shop my Tween and Teen Easter Basket Ideas as well as my Easter basket Ideas For Young Girls for fun ideas to fill up your Easter baskets this year.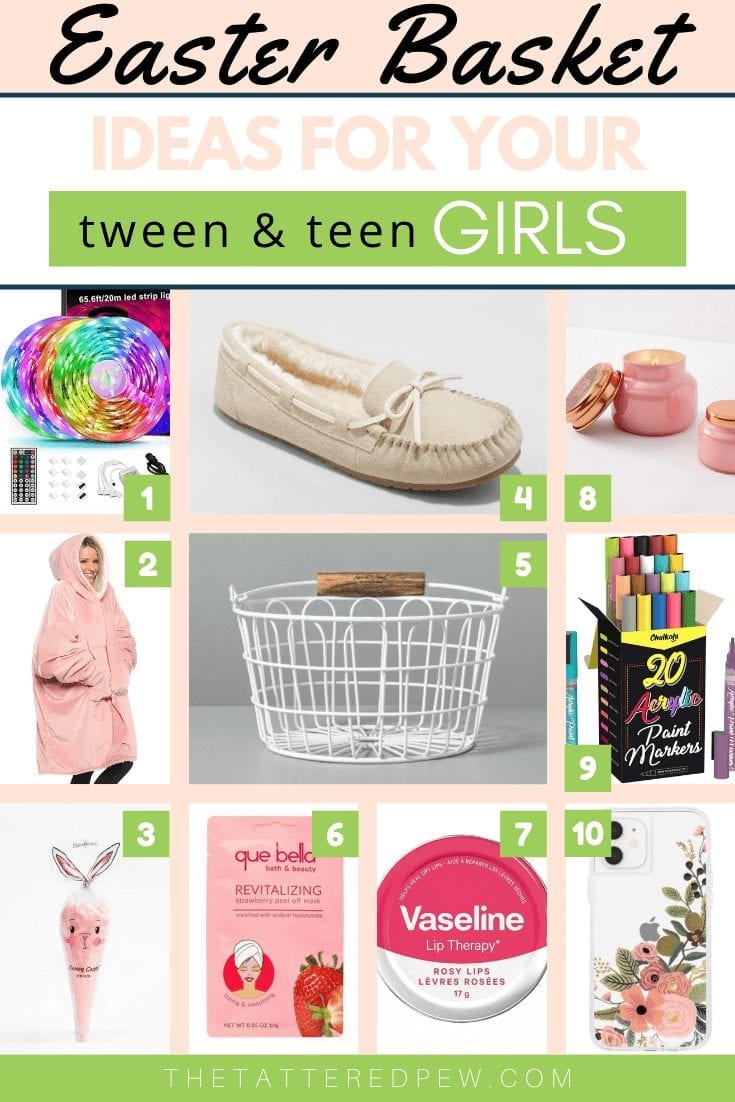 This one is for my local friends! One of my favorite local cookie companies, Sugar Mill Treats, is offering Easter Cookie Decorating Kits and paint your own sugar cookie kits. I think both of these are fun ideas for families this Easter.
She also has several other darling options for Easter as well as custom order spots. We have loved her cookies on many different occasions and can't rave about them enough. The best part is she is offering porch pick up. So convenient! I love supporting small businesses and this one is no exception!
*If you aren't local this is a darling Easter cookie kit too!
Meaningful and Fun Easter Ideas For Families
My hope is that something from my post today has resonated with you and that you have found some new fun and meaningful Easter ideas for you and your family. I know that Easter this year might start to look a bit more normal and I know one things that has not changed, my Redeemer lives! Easter blessings to you all!
Next, on the blog hop is Angelina of Petite Haus. I hope you will make time to join her for some beautiful french country Easter table inspiration.
xoxo,
Kelly
Make sure to visit my friends below who are also sharing their fabulous Easter ideas!
The Tattered Pew