Colorado Colonial Spring Home Tour
Yesterday was the first day of Spring! Are you as excited about it as me? We had 60 degree temps here and then of course today it is supposed to snow. You just never know in Colorado. But that hasn't stopped me from bringing out all things Spring inside and today I am sharing our Colorado Colonial Spring home tour!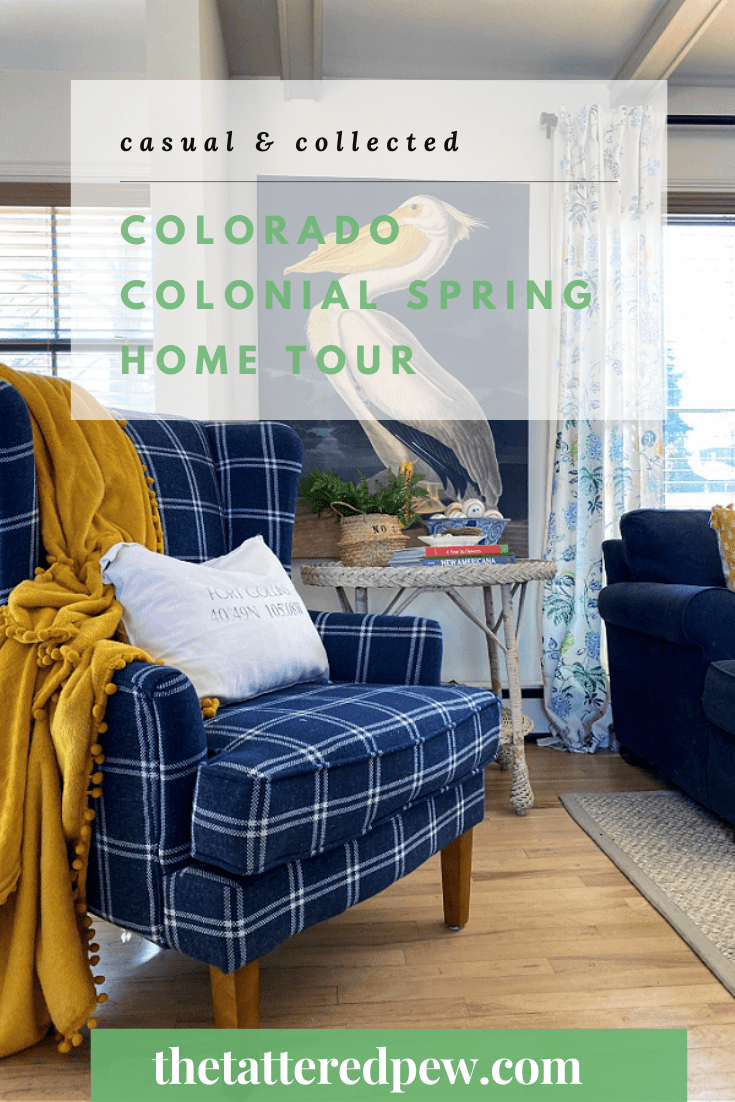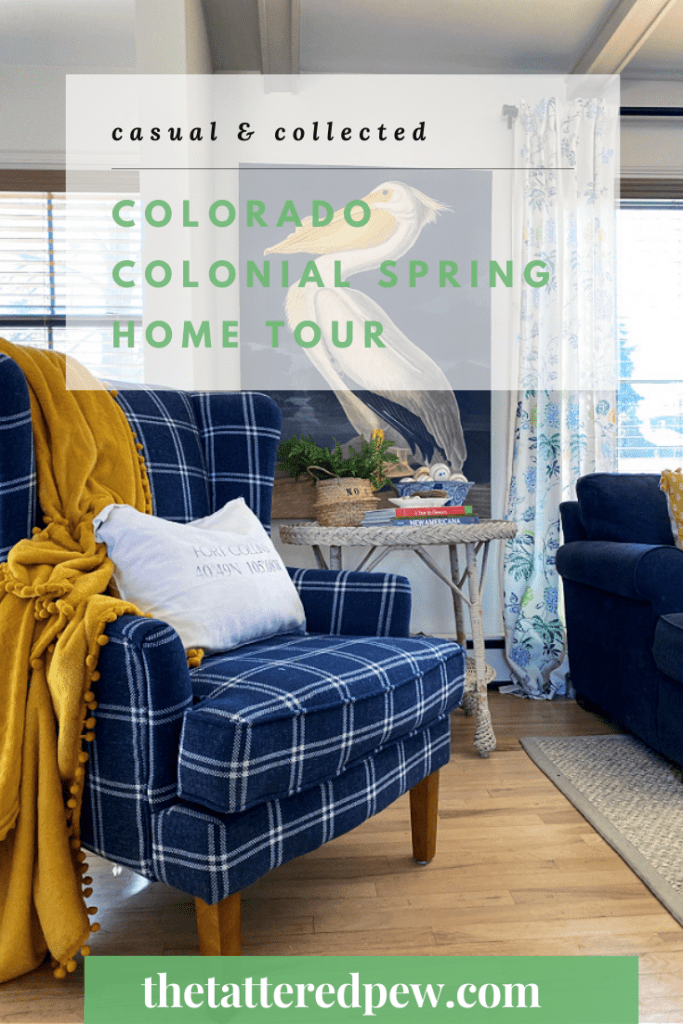 This post contains some affiliate links for your convenience. Click here to read my full disclosure policy.
Bloggers' Best Spring Home Tours 2022
Today I am honored to be hosting the Bloggers' Best Spring Home Tours! There are 29 amazing bloggers who are all opening their beautiful homes to you this week. Each day, Monday through Friday, 5-6 different bloggers will be sharing their individual tours and Spring styles with you.
It's a blogger house party!
You can visit all of the links each day this week at the bottom of my post.
If you are coming over from Jennifer of Cottage on Bunker Hill's tour , welcome! I'm Kelly and I live in beautiful Colorado with my family and two sweet pups.
I like to joke that I'm a kindergarten teacher by day and decorating diva by night! Decorating brings me joy and I love all things blue and green. But really, I'm just a hot mess mama who needs Jesus and coffee on a daily basis!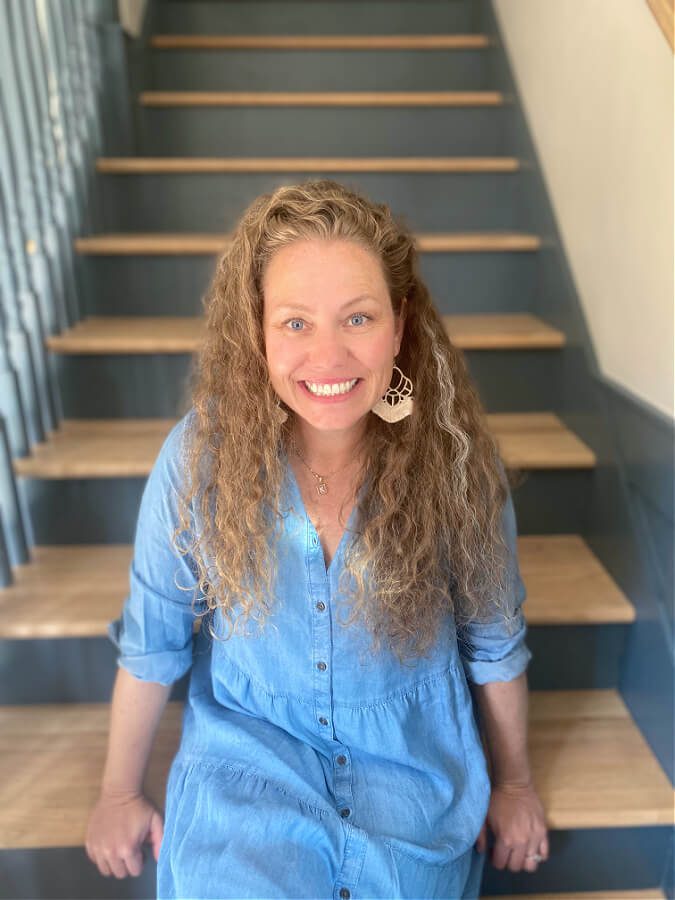 Colorado Colonial Spring Home Tour
Come on in! Prepare yourself because I took A LOT of pictures!!! Also, if I don't mention or answer anything you are wondering about in my post, please don't hesitate to reach out and ask me! You can always email me or leave a comment blow.
Each year I do a new Spring home tour and you can see last year's Spring tour here. But this year is special because this is our first Spring in our new home! If you are curious about the journey we took to get here you can check out these posts:
Let's start in our entry and work our way to the kitchen.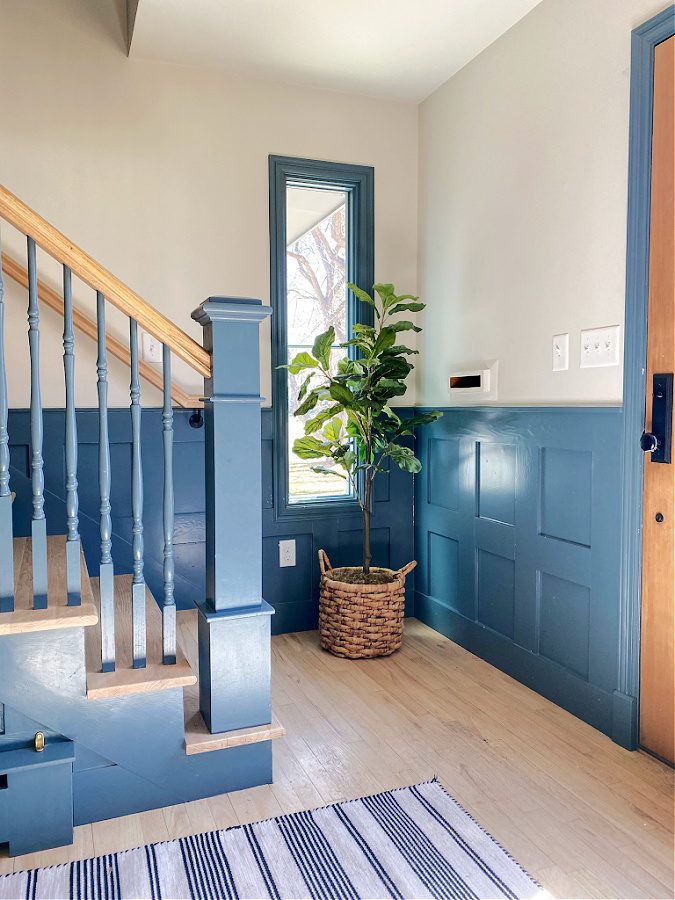 The blue paint and wood work in this home sold us from day one. Ok and so did the floors, the front door and goodness I could go on and on!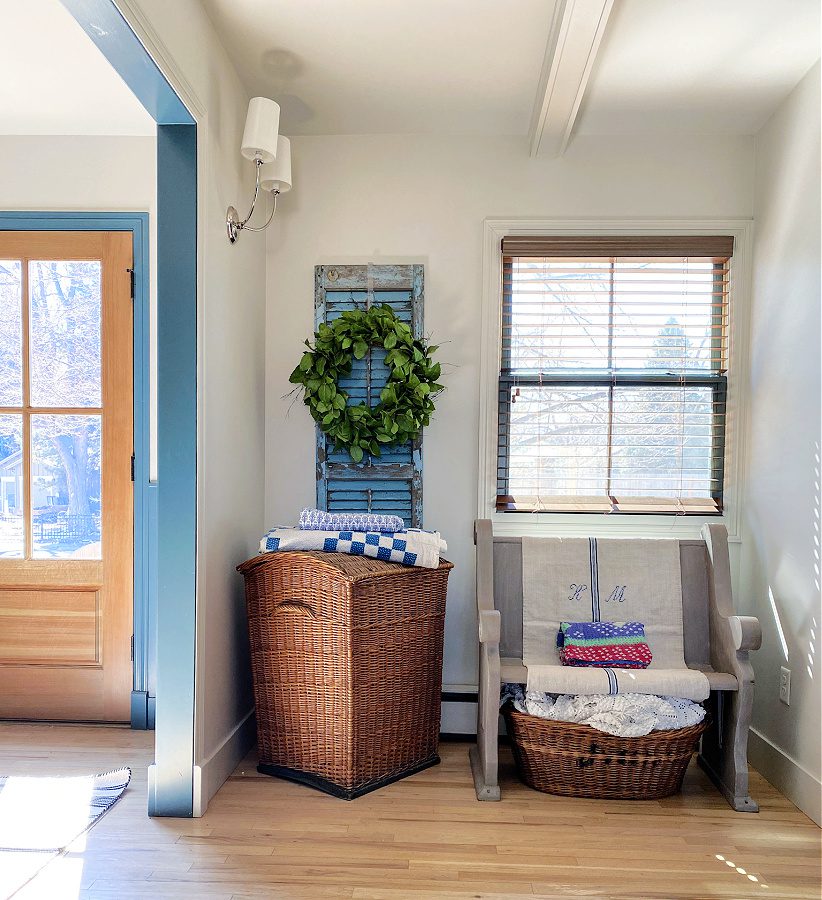 Just around the corner sits my favorite little pew! It's like this space was made for her. If you want to read more about the story behind her you can find that post HERE. You will also notice that I love to decorate with baskets. Whenever I go out hunting our thrifting the first question my husband asks when I get home is did you get another basket?
Who me?
And the answer is usually yes! Ha!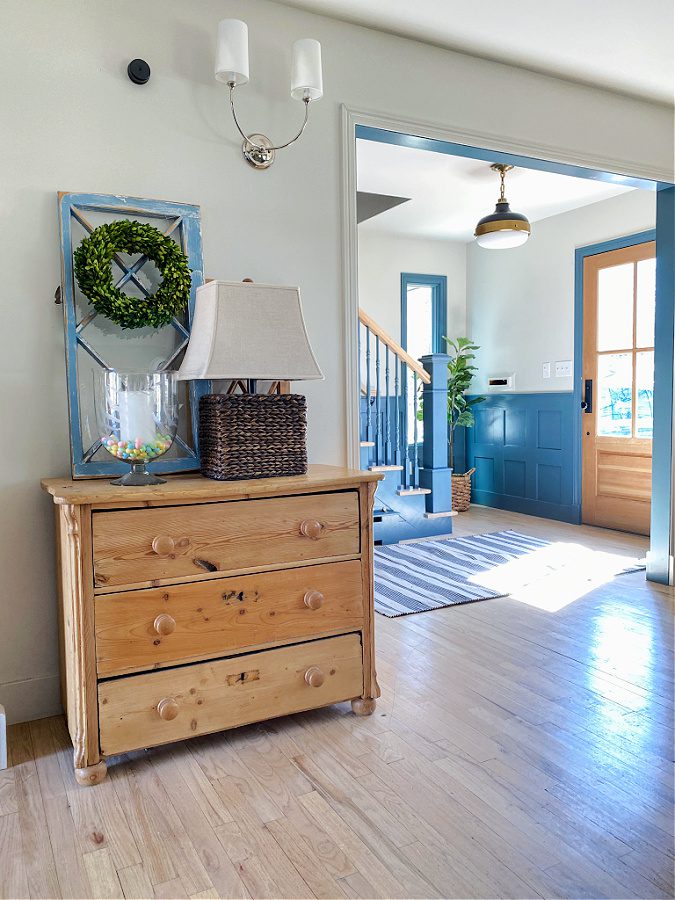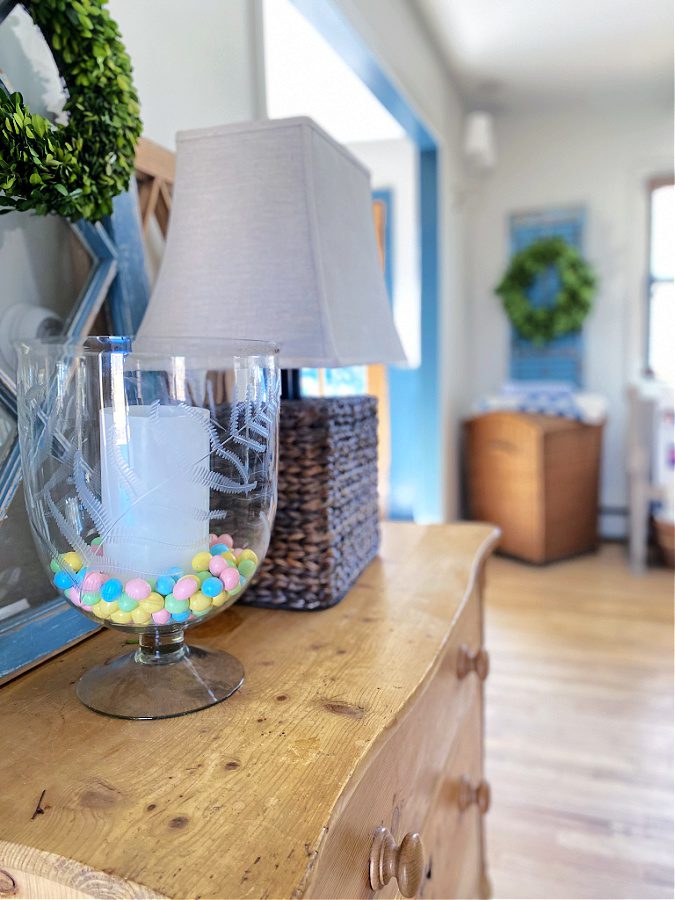 As you walk further in to our home you will see my favorite pine dresser I found on FB Marketplace. I dressed her up a bit with some yummy chocolate Easter candy.
Sadly most of it is gone now.
I wonder who ate it all? 🙂
Our Spring Kitchen
If you love blue then you will LOVE our kitchen!
The color is Distance by Sherwin Williams and it is the perfect blue.
The previous owners did an amazing job designing this kitchen. Some of my favorite things they included were the panel ready appliances, monochromatic color scheme and the tri-fold doors that lead to our backyard. (If you are curious about the outside you can see our front yard here.)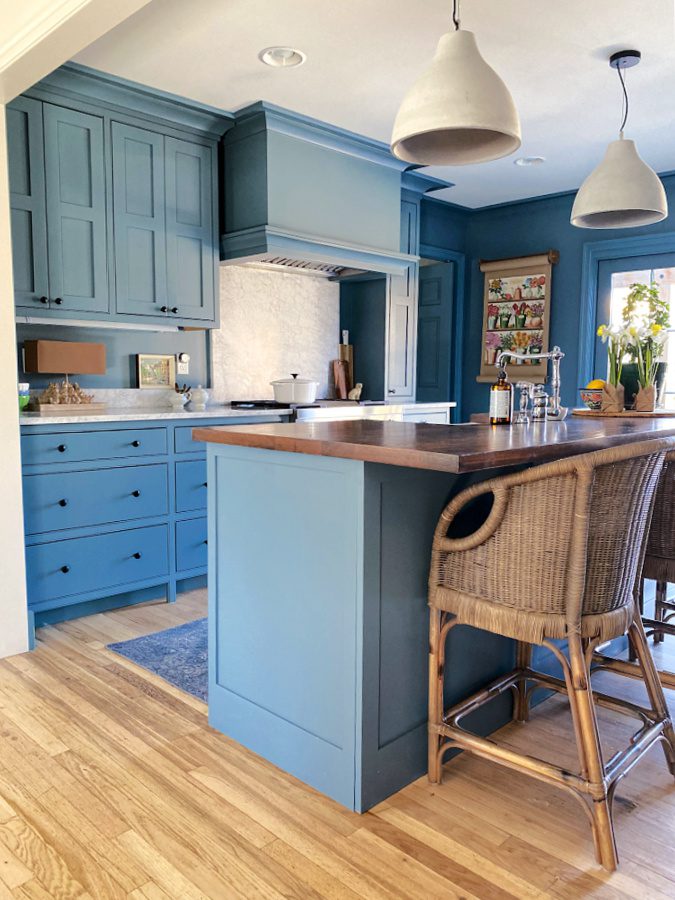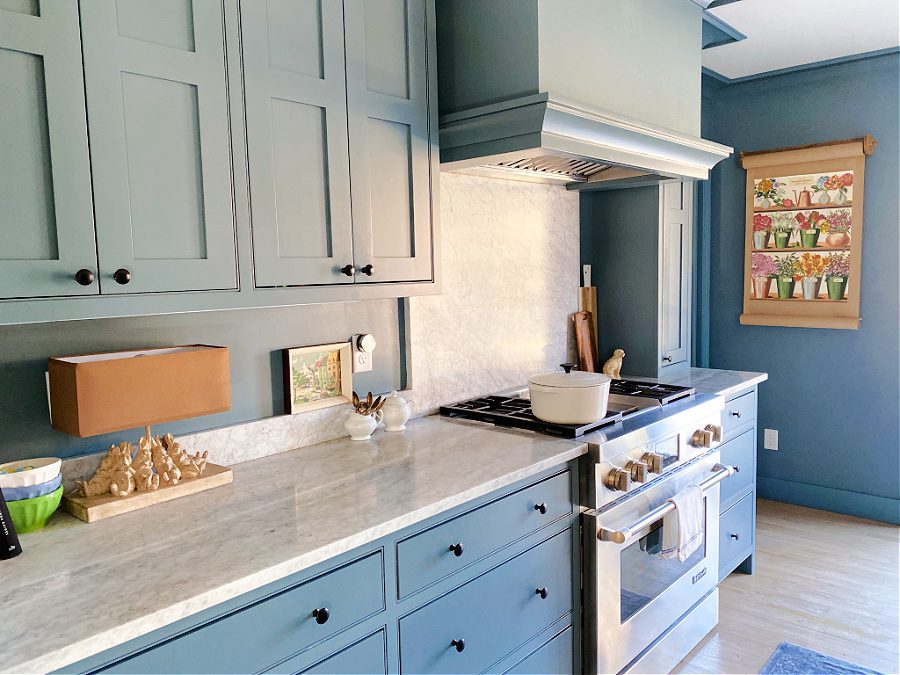 I kept the Spring décor minimal in the kitchen except for my new favorite bunny lamp! I'm not usually a huge bunny fan but…
Isn't she the cutest? I scored her on Amazon and love how she fits on our kitchen counter. I'm thinking I might leave her out year round. What do you think?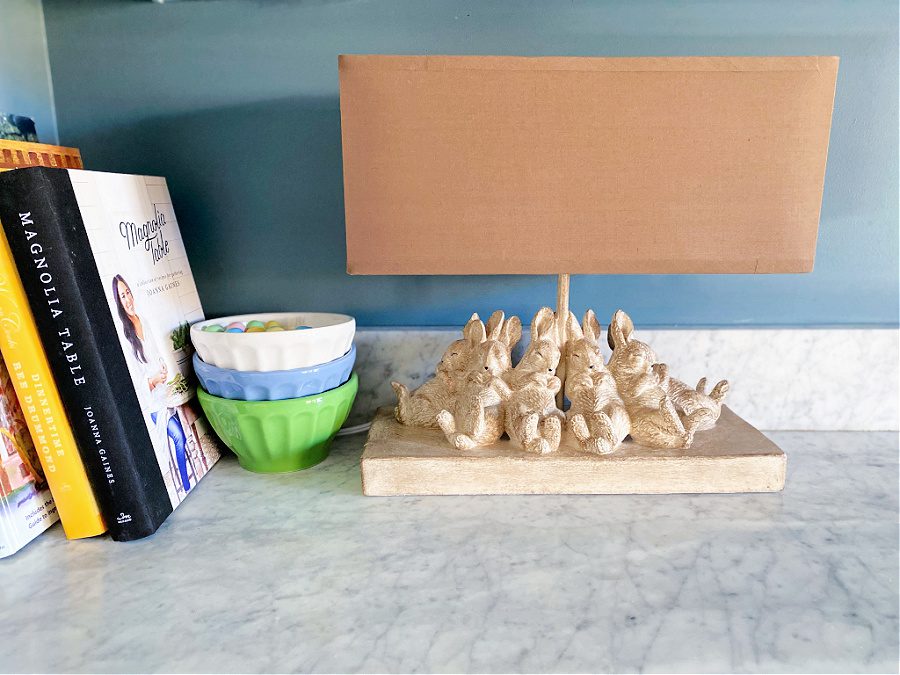 Over on the far kitchen wall is this craft paper scroll that was left here by the previous owners. I simply added some paper art (basically a poster) I found at a local nursery in town. I love how the colors pop.
The open door leads into our dining room… you can get a peek of our dining room in my recent post about how to set a pretty Easter table.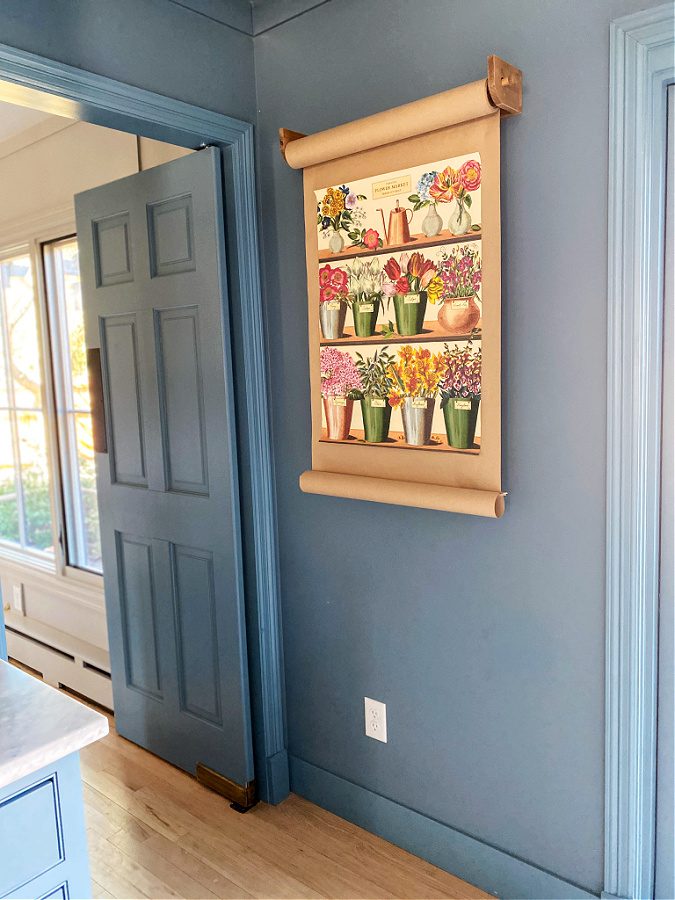 Over on our butcher block counters you see my DIY ivy topiary and sweet Spring vignette. And can you see that sunshine outside? Spring is here!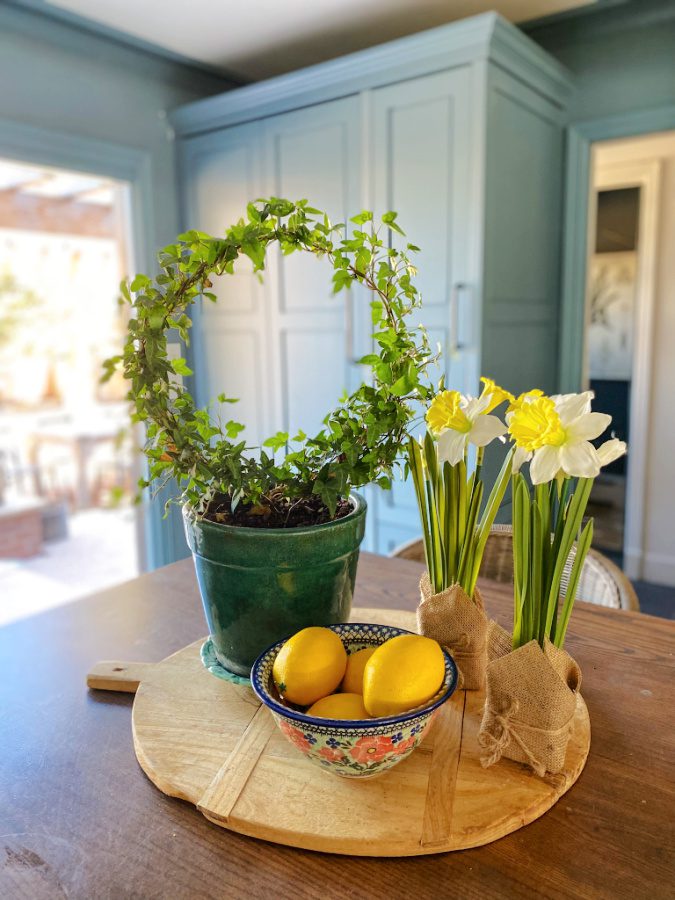 Shop Our Kitchen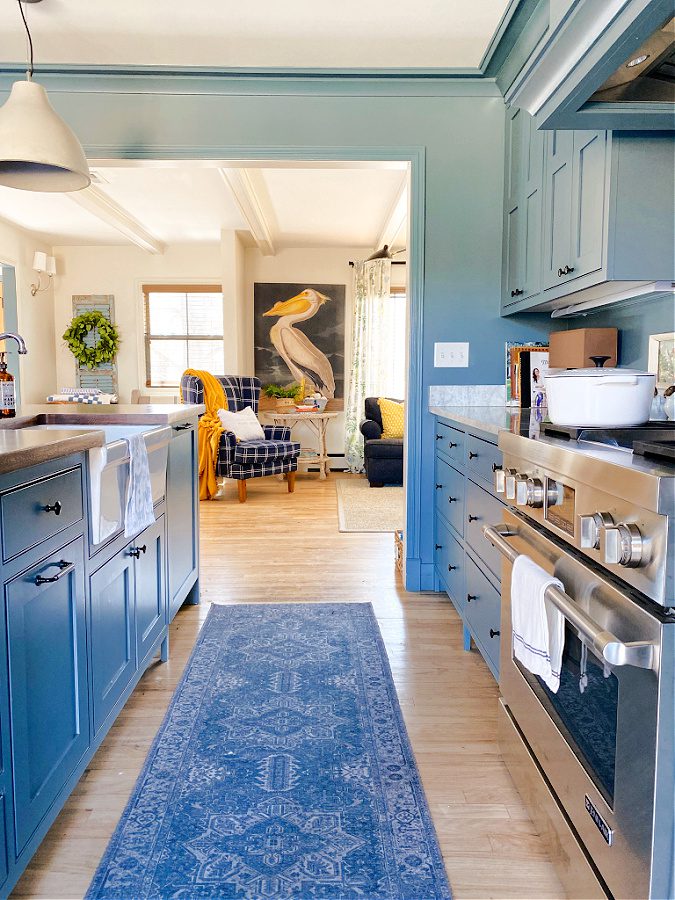 Our Pantry
Just off of our kitchen is our mudroom, a half bath and the cutest little pantry! It's really hard to take pictures in this space but I just had to show it to you.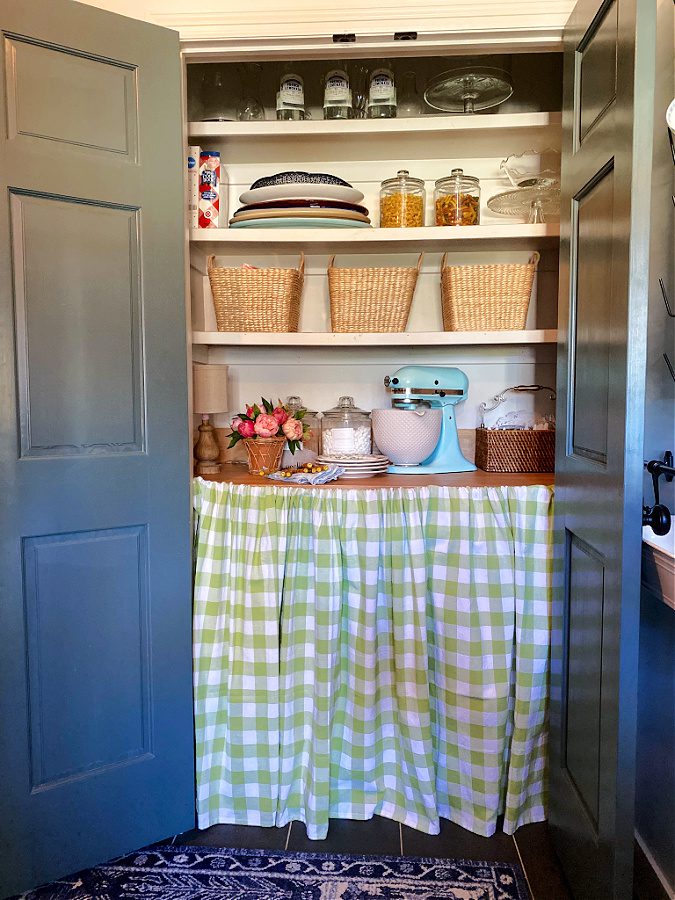 Do you see the buffalo check curtain? You will never guess what I used to hang it. Check out THIS POST for my no sew curtain hack. I promise you will thank me later!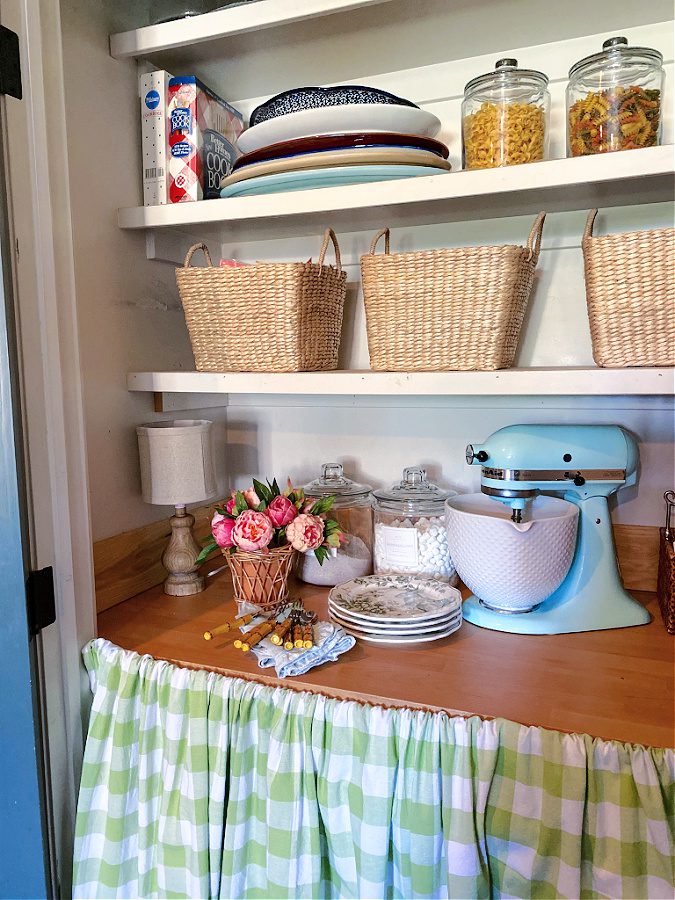 Let's head in to our family room just off of the kitchen.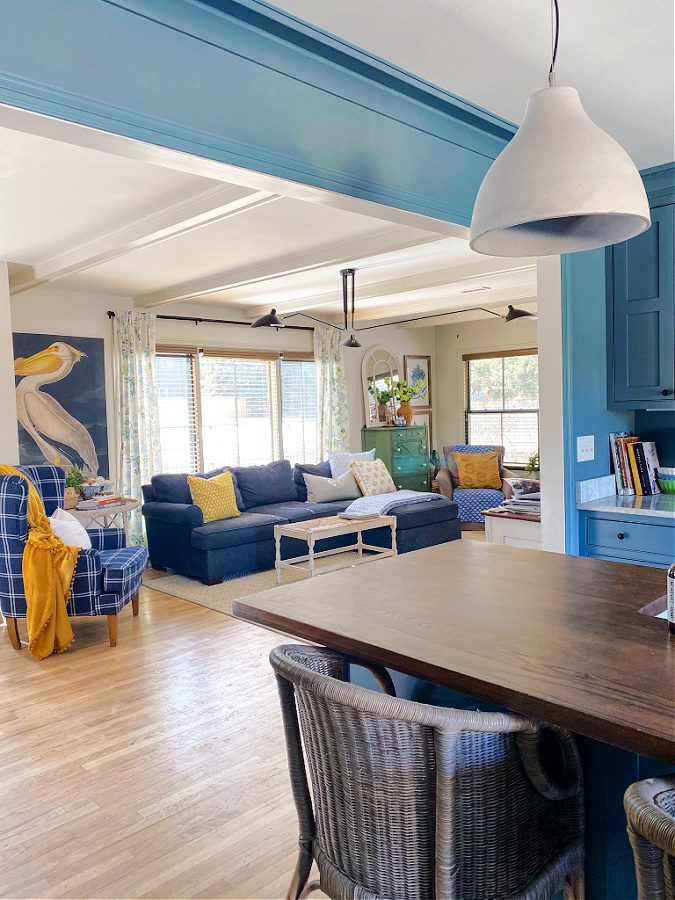 The Family Room
Did you notice the huge new piece of art in our family room? This tour is listed as Colorado Colonial but if you know me I always find a way to add some coastal flare!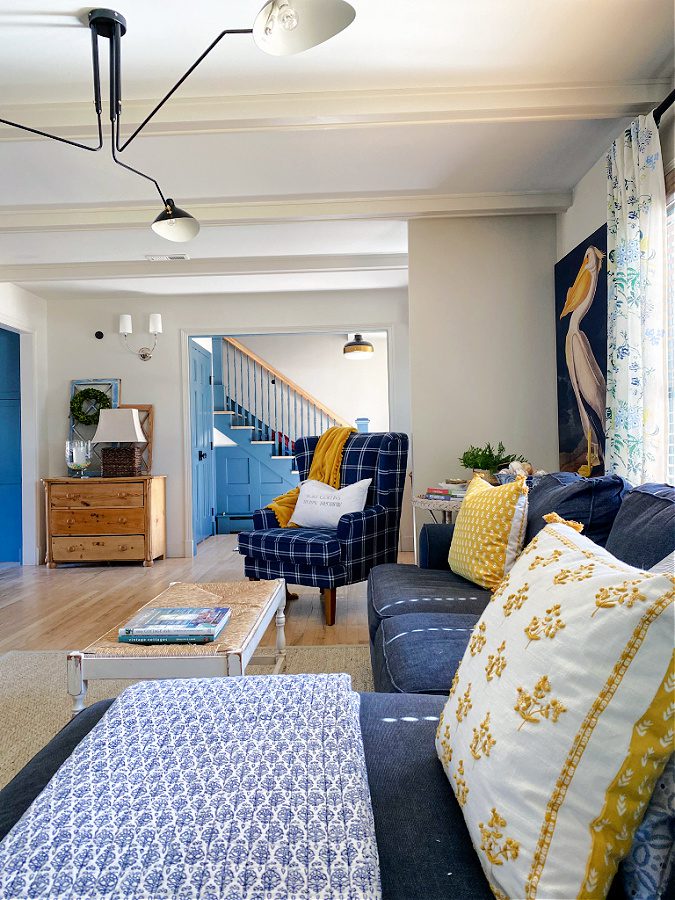 Well, I found it a couple of weeks ago at Home Goods when I was shopping with my mom. I wasn't going to get it at first but my mom convinced me to at least buy it so see if it worked in my space. With every intention of returning it, I brought this massive beauty home and fell in love with it! I also brought home these beautiful yellow and white pillows and the block print throw on the sofa.
It was a good shopping day indeed!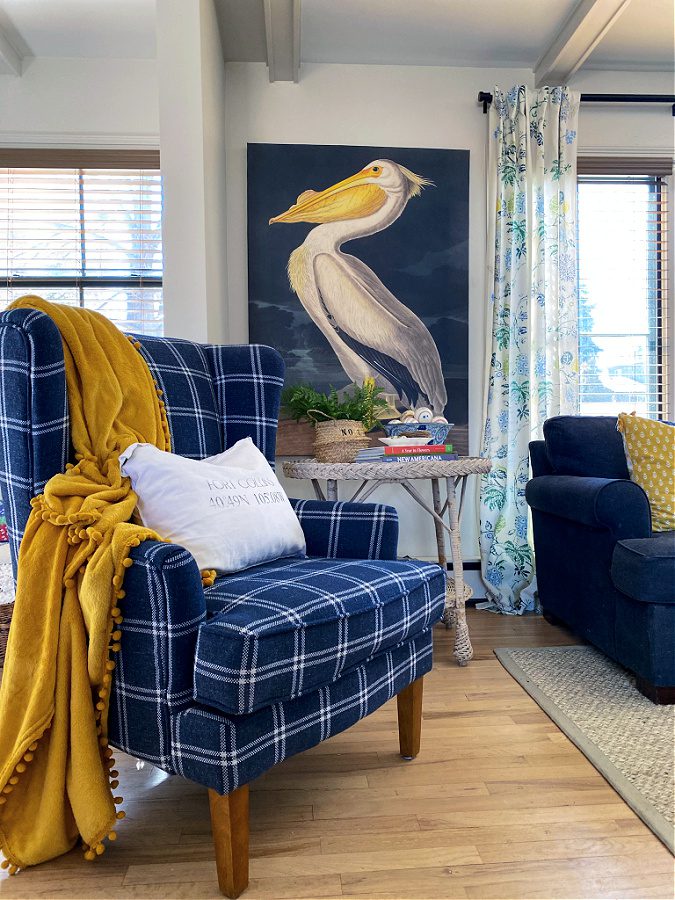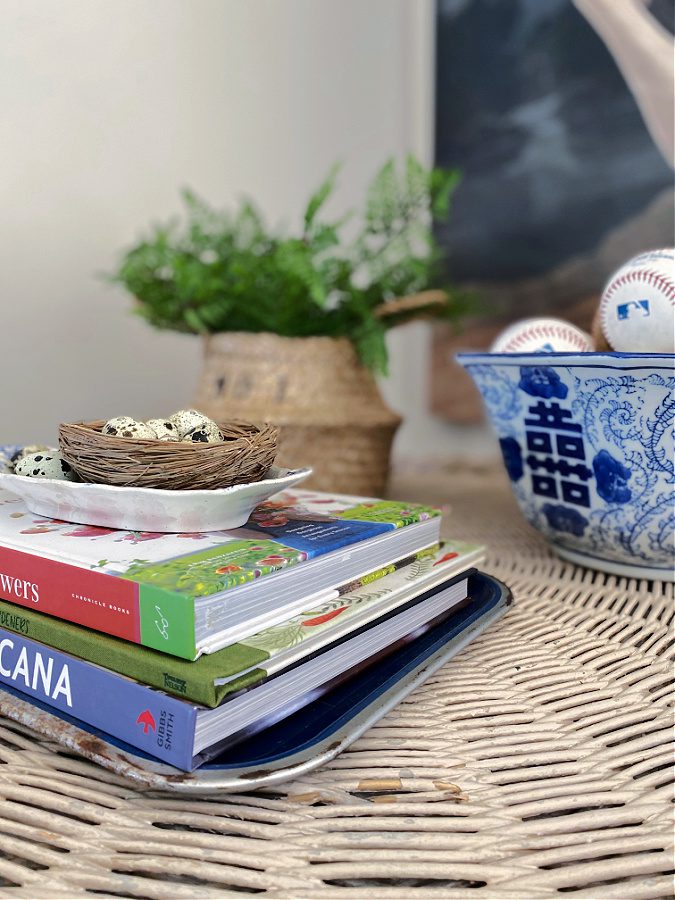 Once again my mom was right.
And once it was hung (it's a light weight piece of fabric wrapped like a canvas) everything in this space just made sense. the pops of yellow, the moody blues and the mix of patterns. I love how art can instantly change a space. I found it over on Amazon HERE but it's not this big.
Good news, I found a second print, same size just a different print, and I have it currently upstairs. I can't wait to show you what I do with it!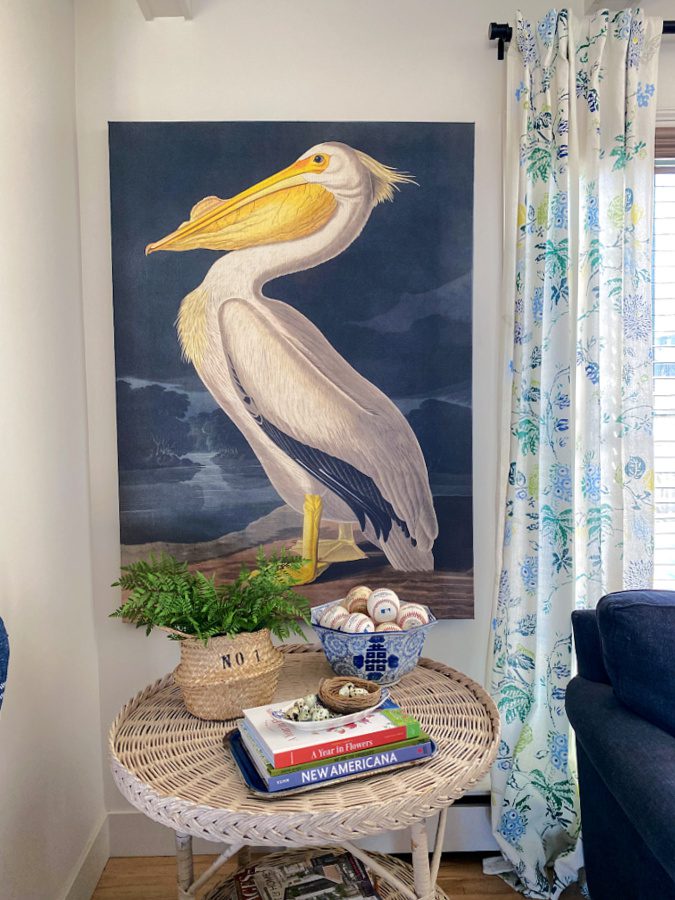 Shop Our Family Room

Across the room at the end of our sofa is my favorite Boxwood green dresser! I had fun styling her for Spring.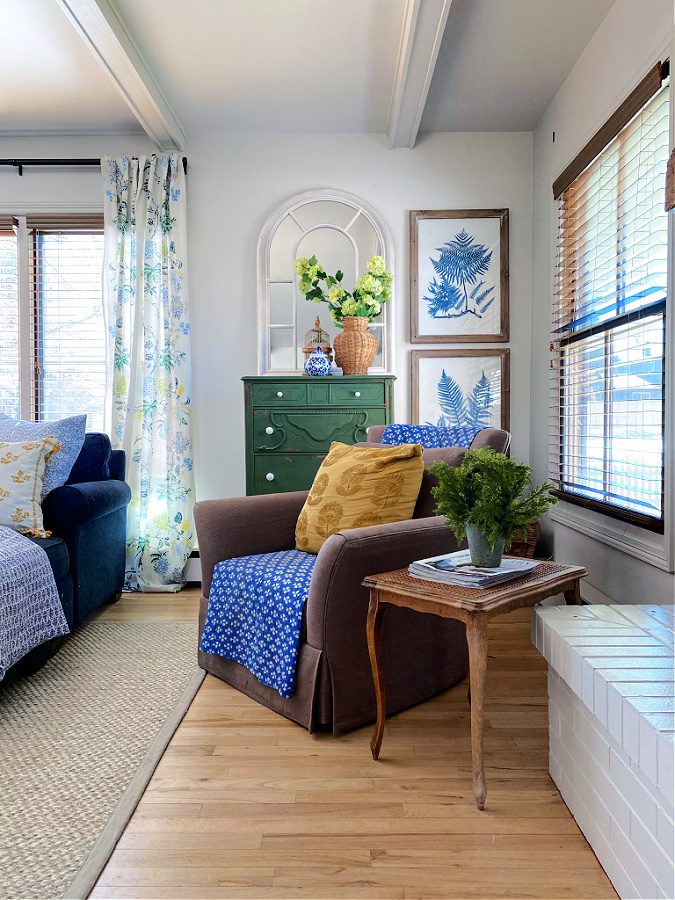 She gave me a little bit more trouble than usual mostly because I had a hard time balancing her in this space. But once I added the art to her right it all made sense.
Curtains and pillows are never safe in our home. I swapped out the yellow velvet IKEA curtains I had up at Christmas and added these floral ones again. I love how it brightened up the space instantly.
No fear, the yellow velvet IKEA curtains made their way back into our office! Have you noticed that yellow is now becoming one of my go to colors along with blue and green? Who would have thought!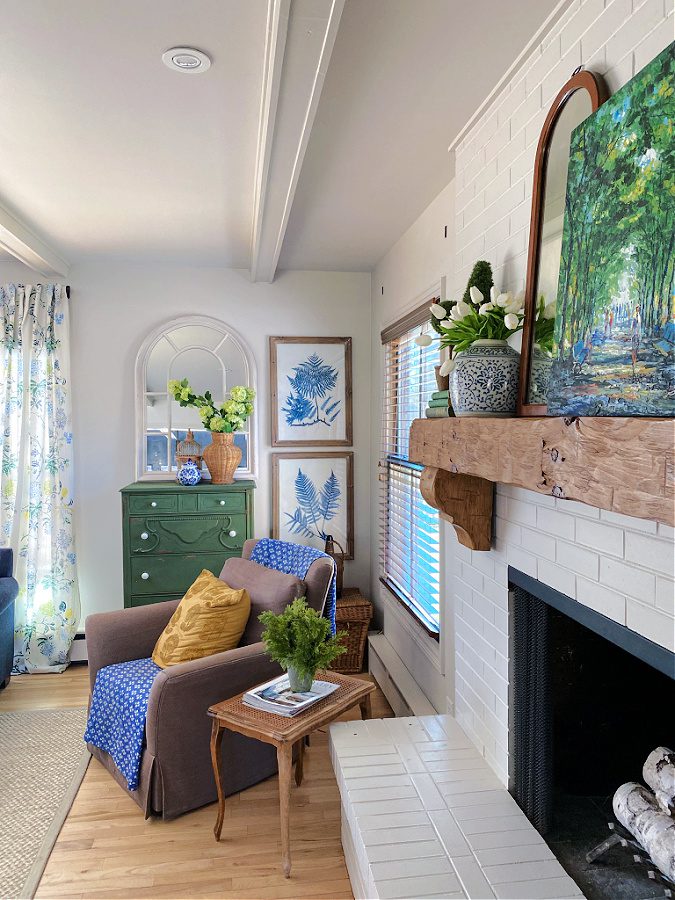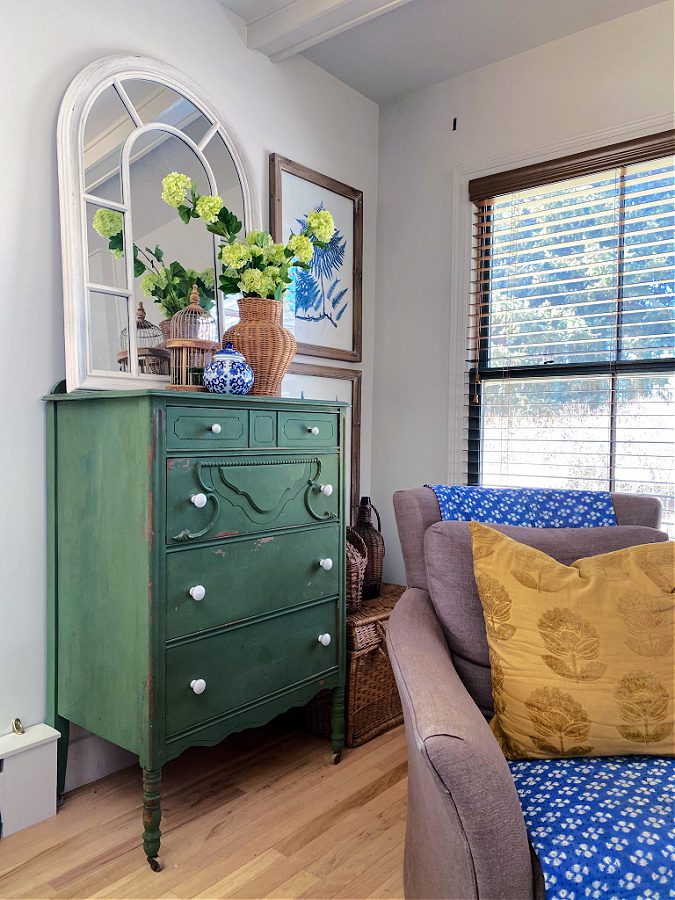 I shared a post all about how to decorate a Spring mantel with blues and greens. It shows are mantel in more detail and was the first area I decorated for Spring this year.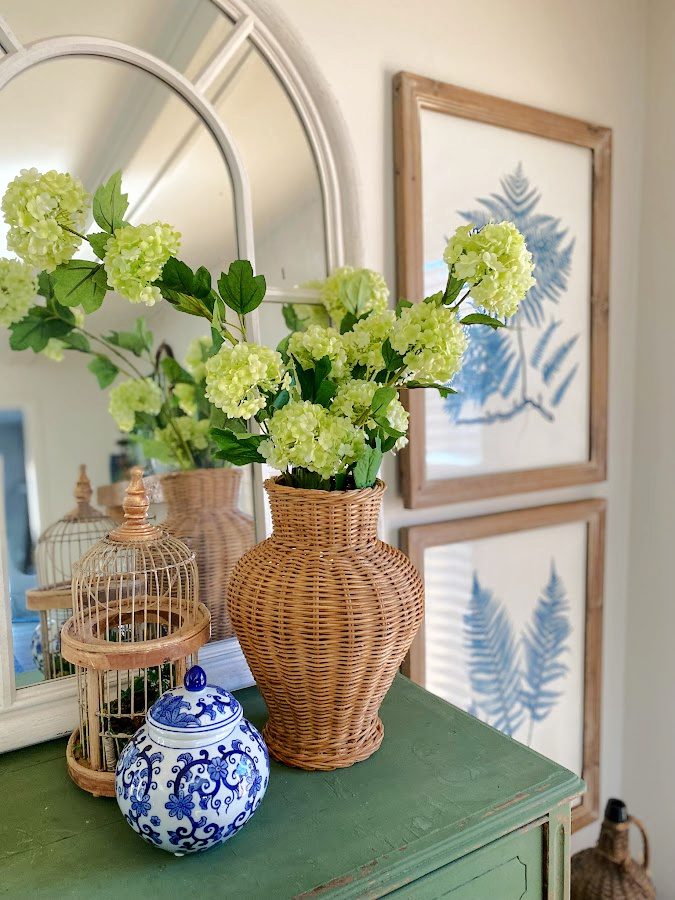 The Blue Office
If you hung with me this far you are the best! The final stop today on our Colorado Colonial Spring home tour ends in a very special place, our blue office.
I like to refer to this as the "moffice" aka man office. This special space is dedicated to my husband but of course has some of my feminine touches too.
Can you spot them? 🙂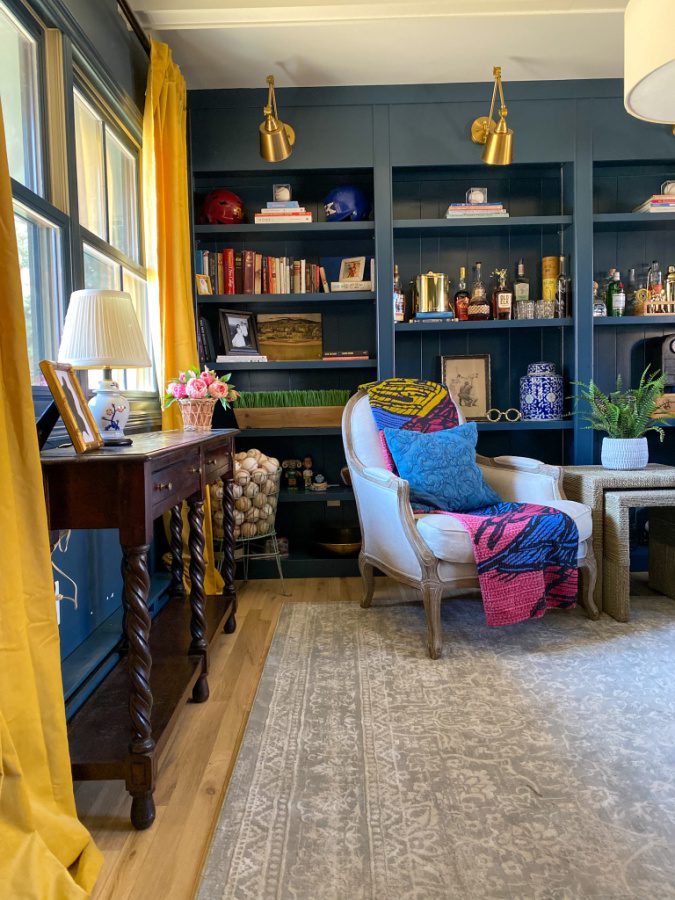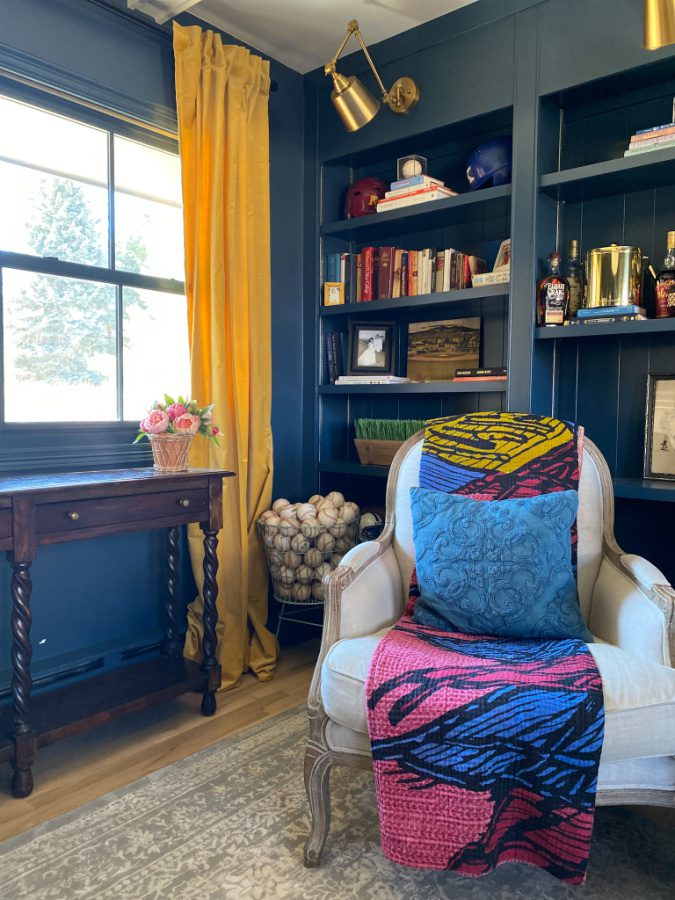 He is a good man and let's me add my touch wherever I want. If you look closely you will see a few of his baseball helmets from high school and college.
Thanks For Stopping By Our Colorado Colonial Spring Home Tour
Well friends that's it…thanks for stopping by our Colorado Colonial Spring home tour! I would love for you to hang out with me some more. You can find me over on Pinterest, Instagram and Facebook too! Plus, you can subscribe to my blog at the bottom of this post and never miss a thing. Next up will be a tour of our bedrooms. And I promise the floors will be a lot cleaner than the ones in the picture below. Ha!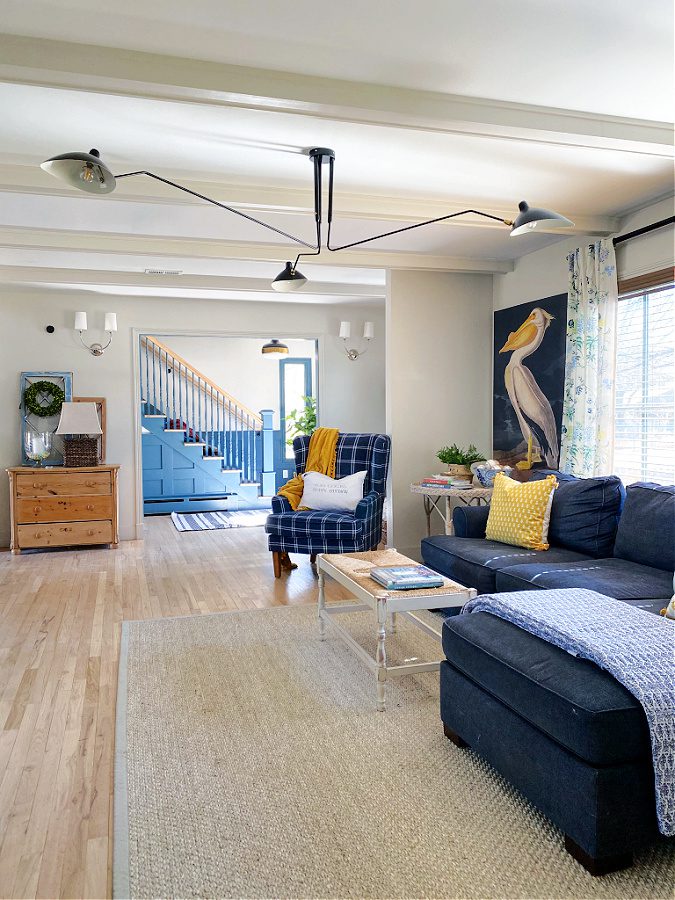 Now make sure to head over and visit Cecilia of My Thrift Store Addiction for her Spring home tour. Then make sure to visit the rest of the bloggers listed below as they each share the rest of this week!
Bloggers' Best Spring Home Tours
Monday's Tours

The Tattered Pew / My Thrift Store Addiction / Bricks n' Blooms
Shiplap and Shells / Cottage In The Mitten / Cottage On Bunker Hill
Tuesday's Tours

Midwest Life and Style / Open Doors Open Hearts / Cloches and Lavender
Amy Sadler Designs / Up To Date Interiors
Wednesday's Tours

Simply2Moms / Sand Dollar Lane / DIY Beautify
The Ponds Farmhouse / Pasha Is Home / Lantern Lane Designs
Thursday's Tours

StoneGable / My Wee Abode / County Road 407
She Gave It A Go / Aratari At Home / Willow Bloom Home
Friday's Tours

Lora Bloomquist Create and Ponder / White Arrows Home / Follow The Yellow Brick Home