Fall In Our New Home (Part 2)
It's day one of the Bloggers' Best Fall Home Tour and I am SO excited to be hosting 29 lovely ladies opening up their fall homes to you this entire week! You can find each of them linked at the end of my post.
But now, I can hardly wait to show you Fall in our new home, part 2!
This post contains some affiliate links for your convenience. Click here to read my full disclosure policy.
Fall In Our New Home
If you missed Part 1 last week you can peek at it here to see our entry and family room all decorated for Fall. And if you want to catch up and see out empty home tour (we just moved in!) then click here! Today I will be sharing our kitchen, dining room and master bedroom.
If you are popping over from Shawna of Willow Bloom Home Blog, welcome! Wasn't her nature inspired Fall home tour beautiful? Whether you are new to my blog or an old friend, I am so glad you stopped by. I have so much to show you today. There are a TON of pictures and I really had fun decorating for Fall for the first time in our new home. I kept it very simple as I am trying to figure out each new space.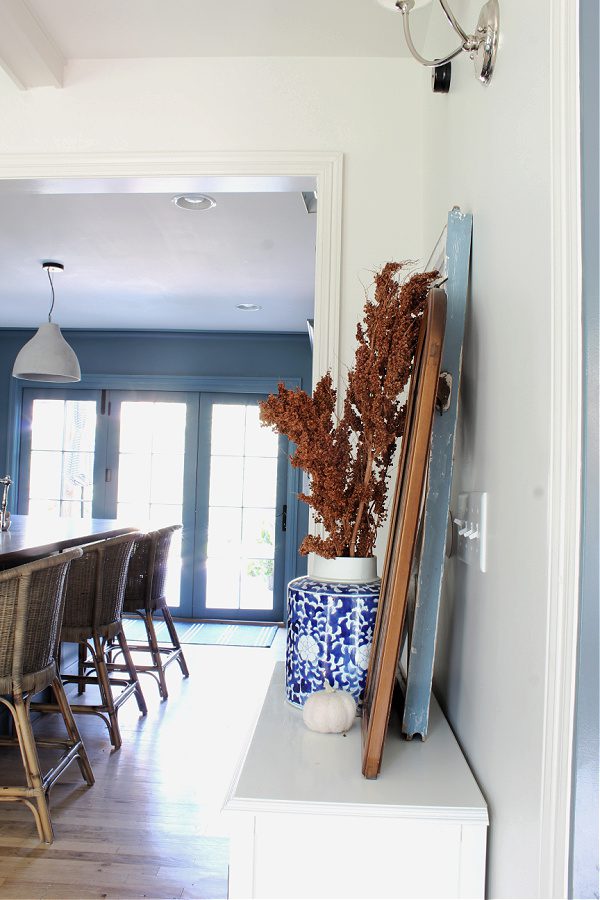 Fall In Our Kitchen
I have mentioned this before but the moment I walked in and saw the blue kitchen in this home I was sold! The picture below shows you the view from our entry.
Pretty amazing, right?
Blue is my favorite color and the entire kitchen is blue. It's like it was made just for me! The color is Distance by Sherwin Williams. It looks a bit different depending o the lighting and time of day. But it's a blue gray and I love it!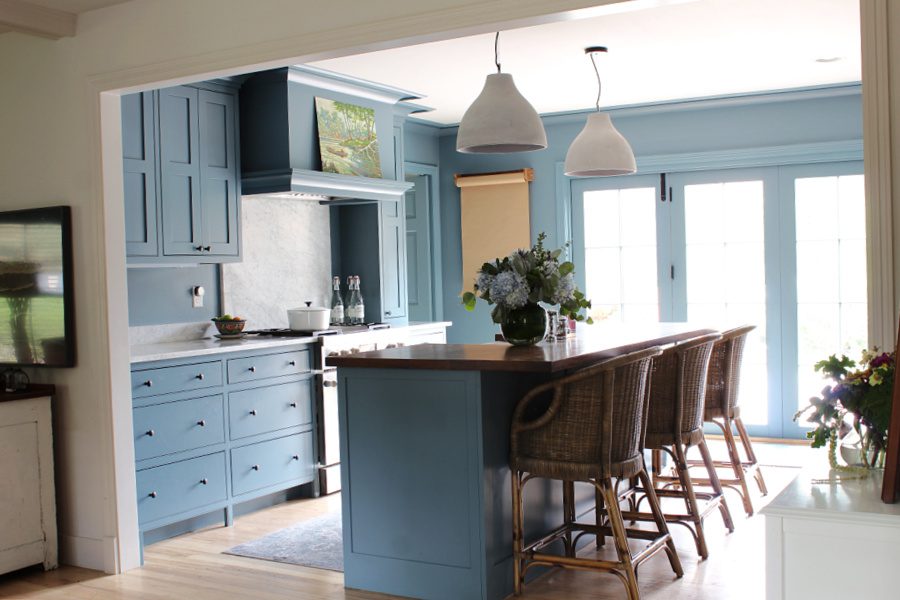 The counters on our island are butcher block counters. I love the farm sink and faucet! Luckily our same stools from the old house fit on the new island.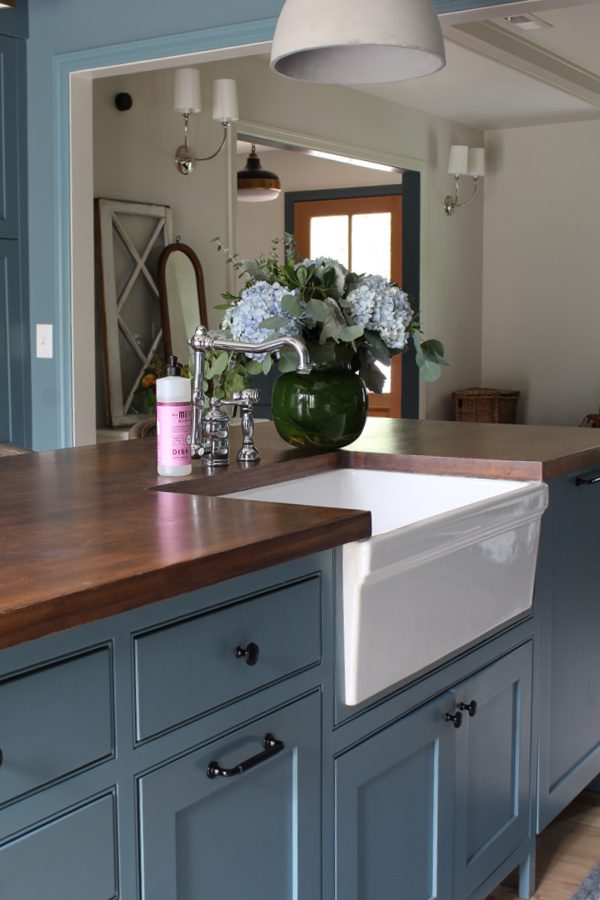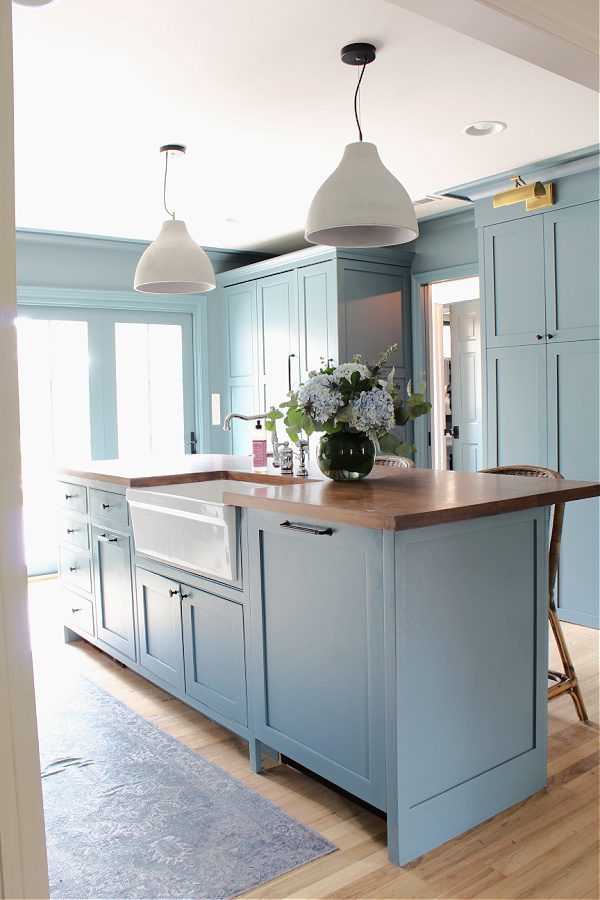 Even our fridge looks like a cabinet! The kids thought this was the coolest part of the house. Ha!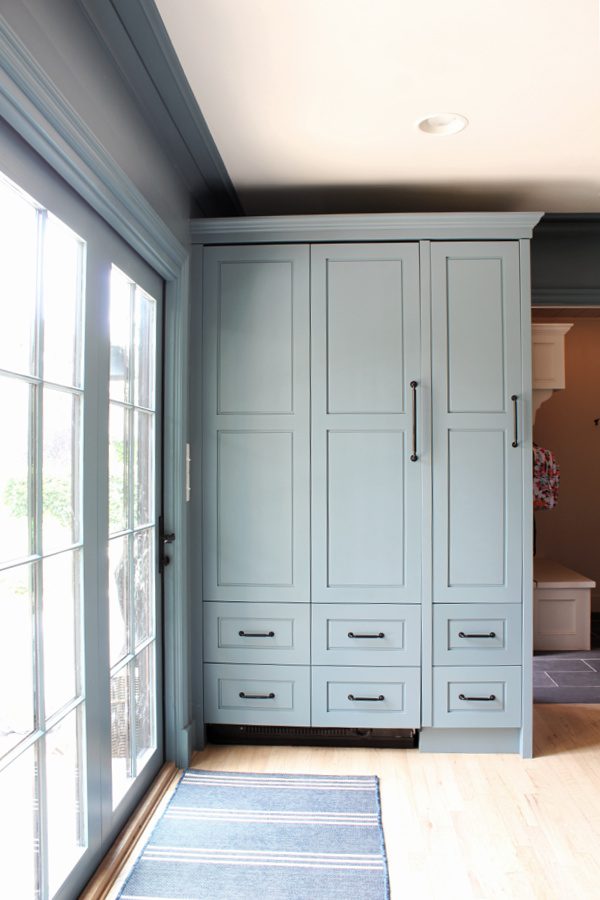 Touches of Fall
I didn't add too many fall details in here this year as I was going for a simpler look. Just a few dried hydrangeas and faux pumpkins on the back counter. I love their fall colors!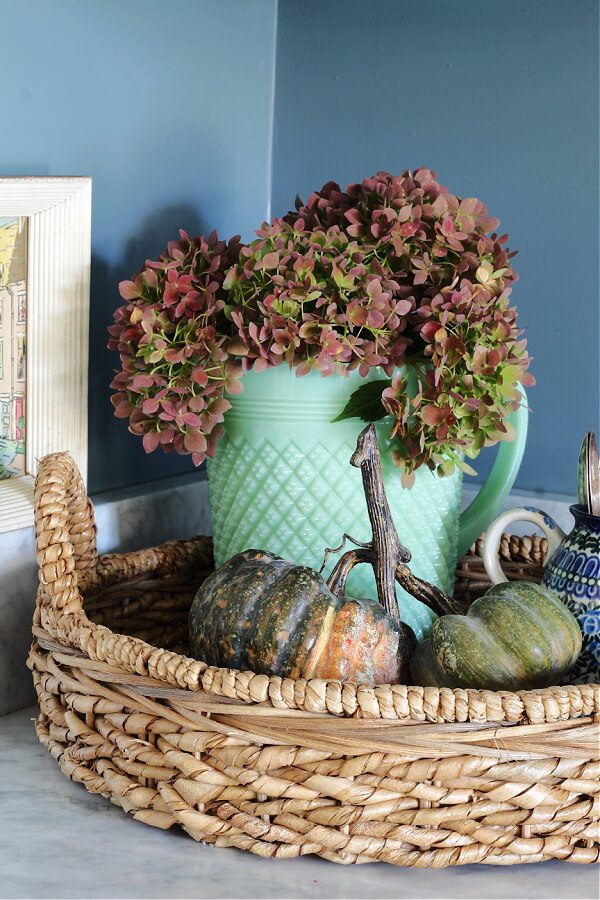 The counters on this other side are marble and just stunning, but the oven hood is what caught my eye. The oven hood is so dreamy! I have always wanted an oven hood…I know I'm such a dork, right?!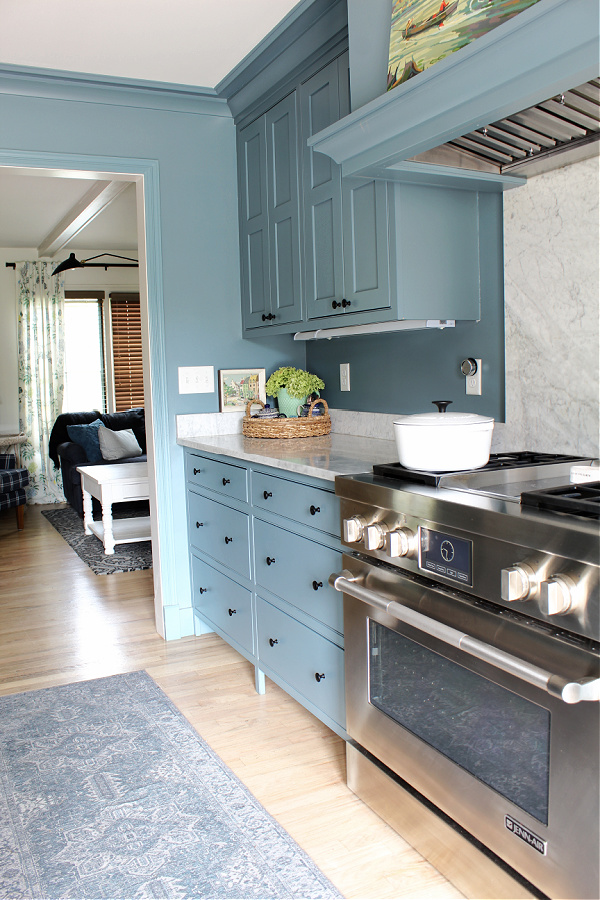 Of course I had to set one of my paint by numbers on it. For Christmas I am envisioning some garland or maybe a wreath?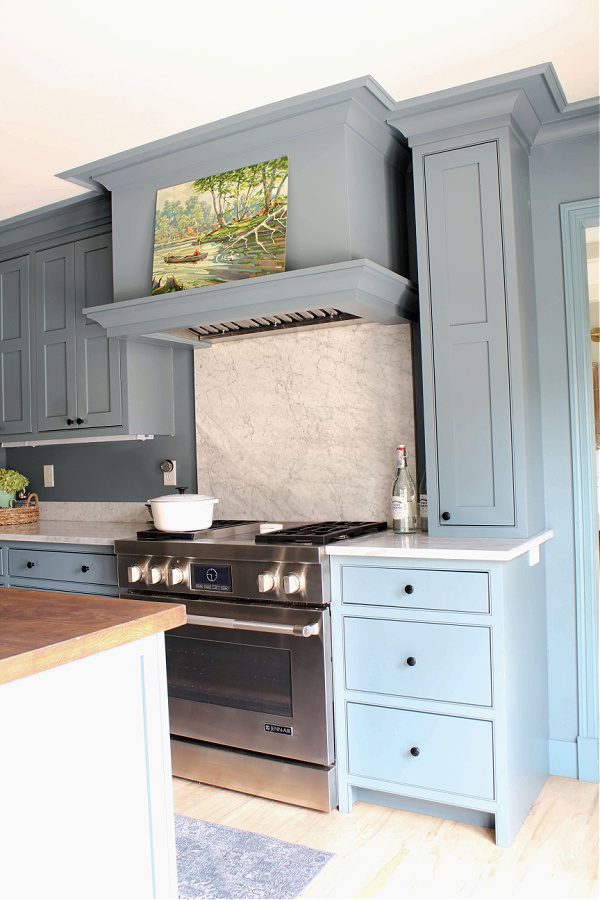 But the coolest part is that there is a trifold door that opens the kitchen up to our backyard! This is what sold my husband on the house (well and the yard too). Even Kona our Wheaten loves it! You can see more of our backyard here!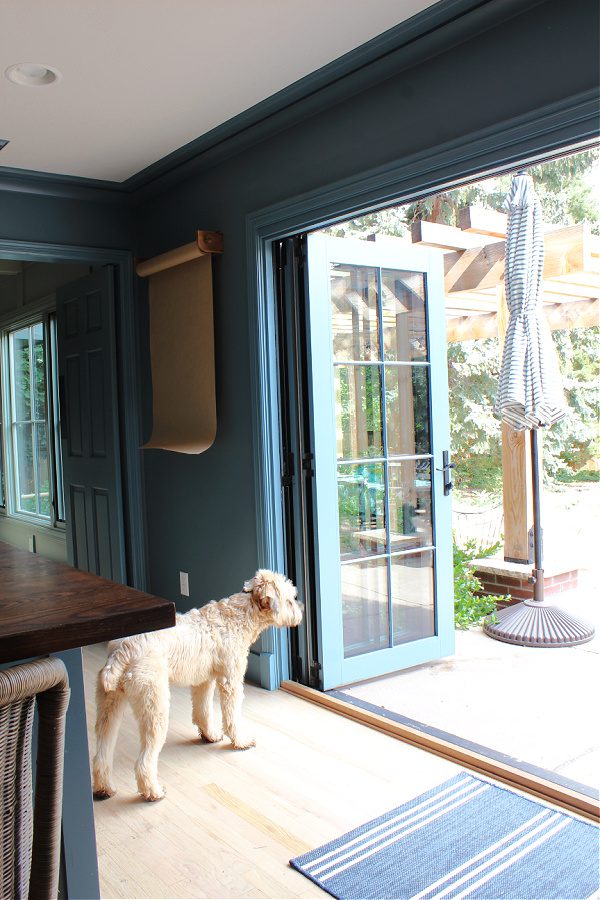 Fall In Our Dining Room
Now walk through our kitchen to our dining room! Make sure to check out the wood work and painted trim as you peek through. I love the detail work of this house.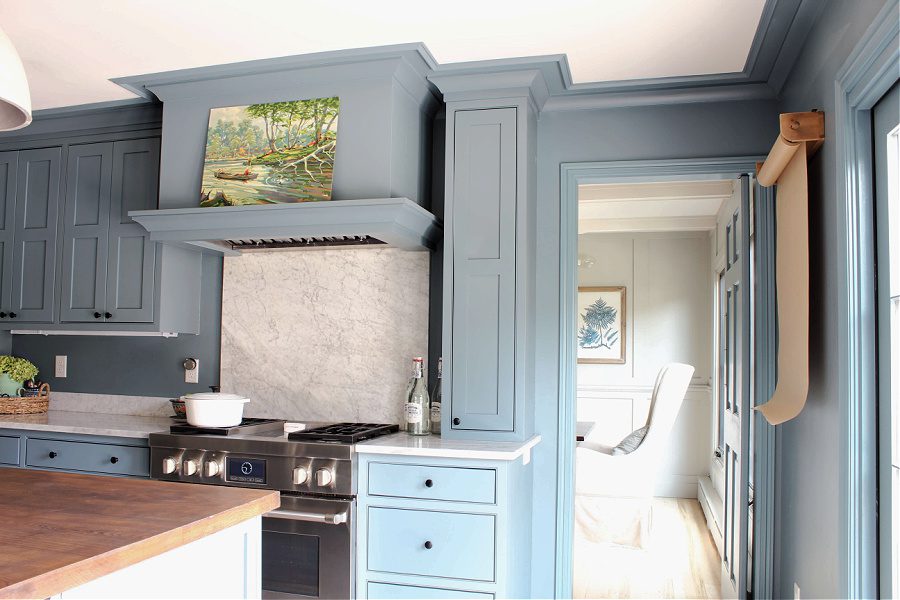 Our dining room is painted a very light gray. I don't know the exact color but I will find out. We kept our same dining room table and chairs from our previous house. We also were able to squeeze in our printers cabinet…just barely! The beams are a bit low but oh so fun!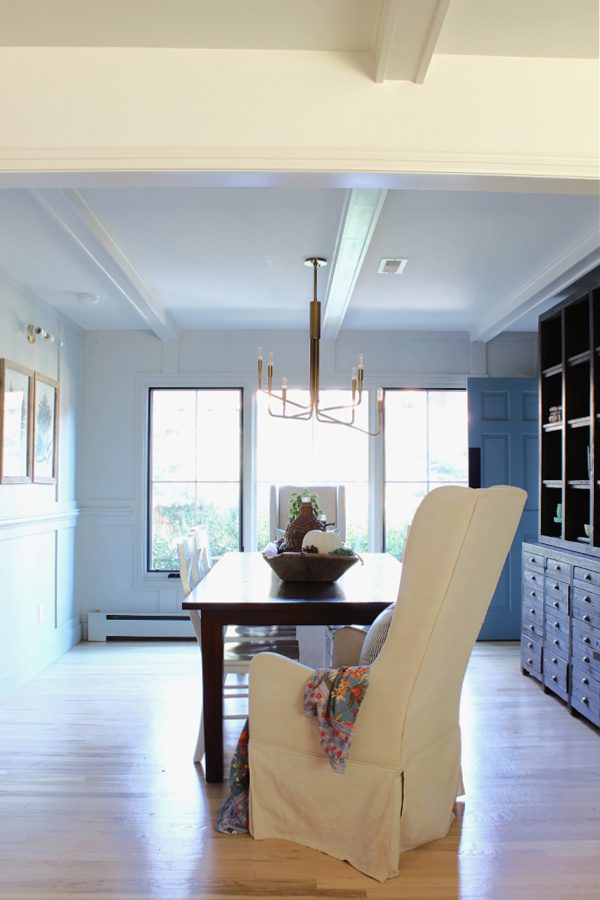 These high wingback chairs I found almost two years ago on Facebook Marketplace and I still love them! I tossed a Fall themed tablecloth over the arm of the one on this end for a pop of color.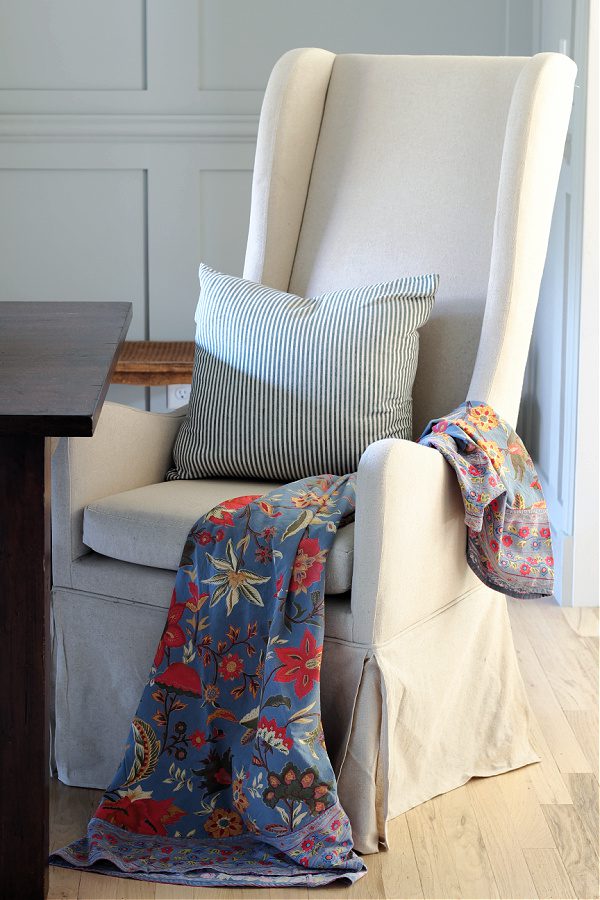 To add some touches of Fall I filled our dough bowl with pinecones from our yard, faux pumpkins, hydrangeas, books and rattan demi johns. It turned out to be the perfect centerpiece and liteally took me 5 minutes!
What do you think about this light fixture? It leans towards more of a modern feel which is not normally my style, but I like how it adds an elegant feel to the dining room.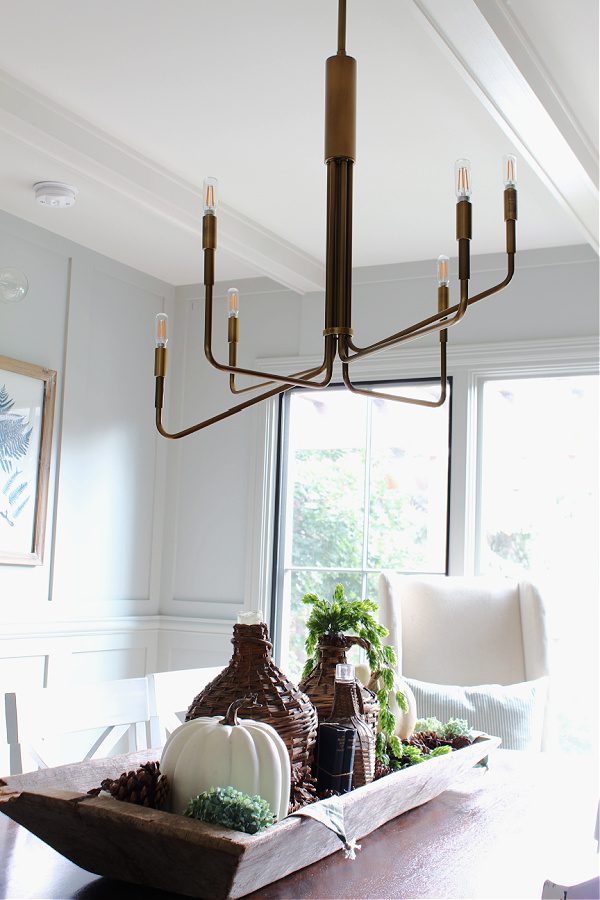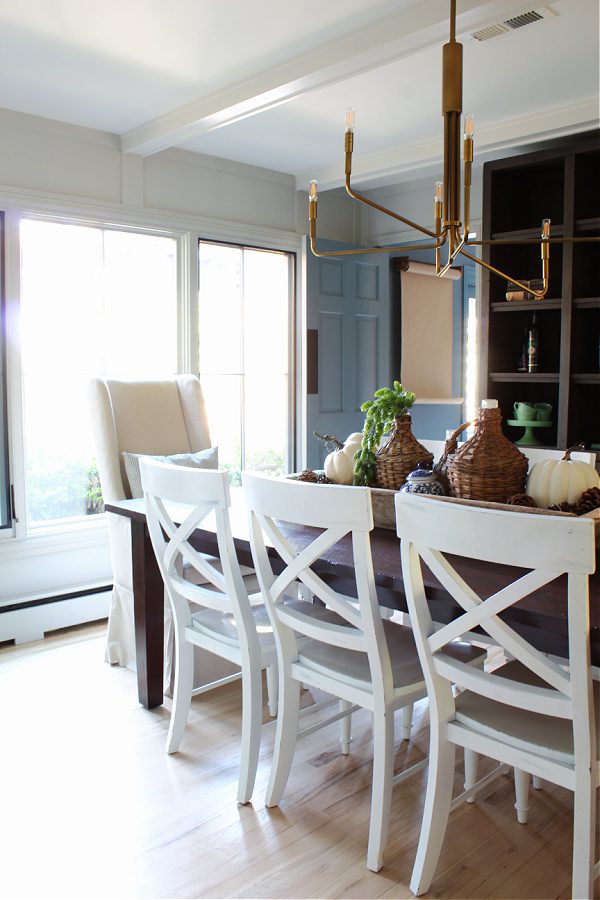 We don't currently have a rug under our dining room table but we want one. I'm just taking my time searching for the perfect one. We want one that will add texture, warmth and color!
Shop Our Kitchen & Dining Room

Fall In Our Master Bedroom
Ok, let's head up to our master bedroom. I have to admit that this has been my favorite space to decorate so far in our entire house! When we moved in it was a blank canvas except for the rattan shades and curtains that were left by the previous owners. The curtains are linen and from Bed Bath and Beyond and the bamboo roman blinds are from Home Depot.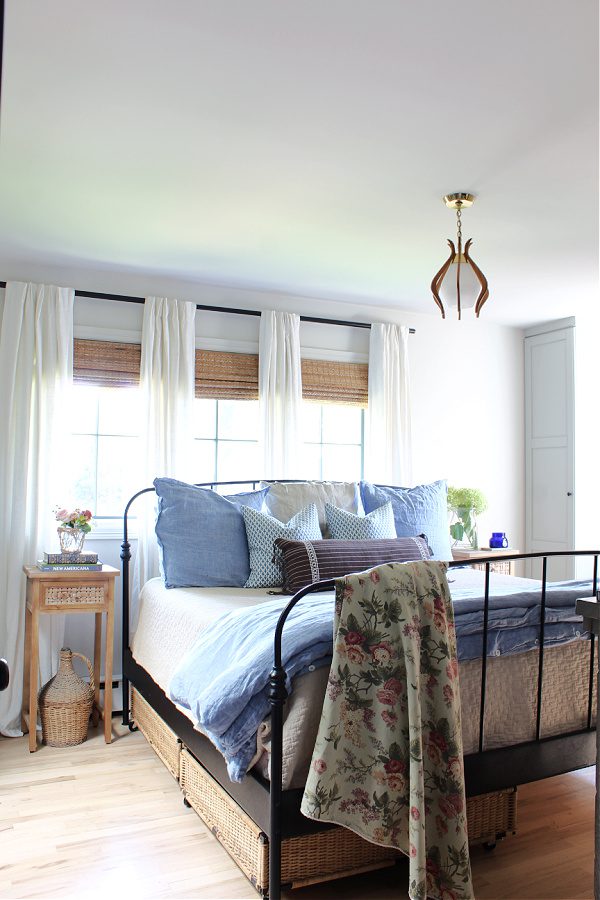 More and more I find myself leaning toward a European Cottage feel and I want that to be reflected in our room. I'm not quite there but I have started to add in floral touches, like the $3 tablecloth I recently found at Magpies, as well as other elements. I love that your style can change and evolve over time, and moving to a new house has given me a whole new look at what style I want for this home!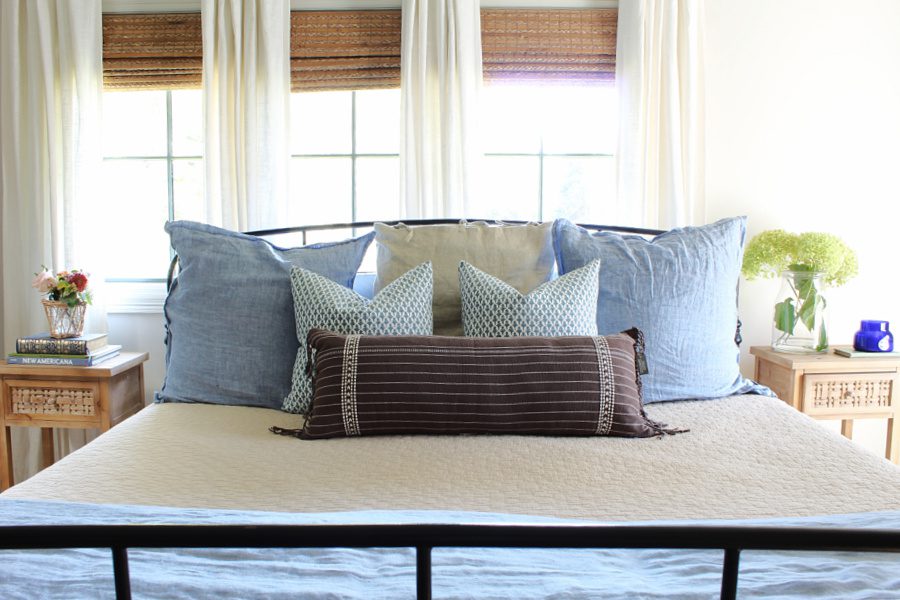 I kept things very simple in here as far as Fall decor goes. That seems to be my motto this year, less is more. My nod to Fall can be found in the brown pillow and dried hydrangeas. I picked this pillow up at Target and instantly knew it would look good against my new blue patterned pillows from Laura at Linen and Oak!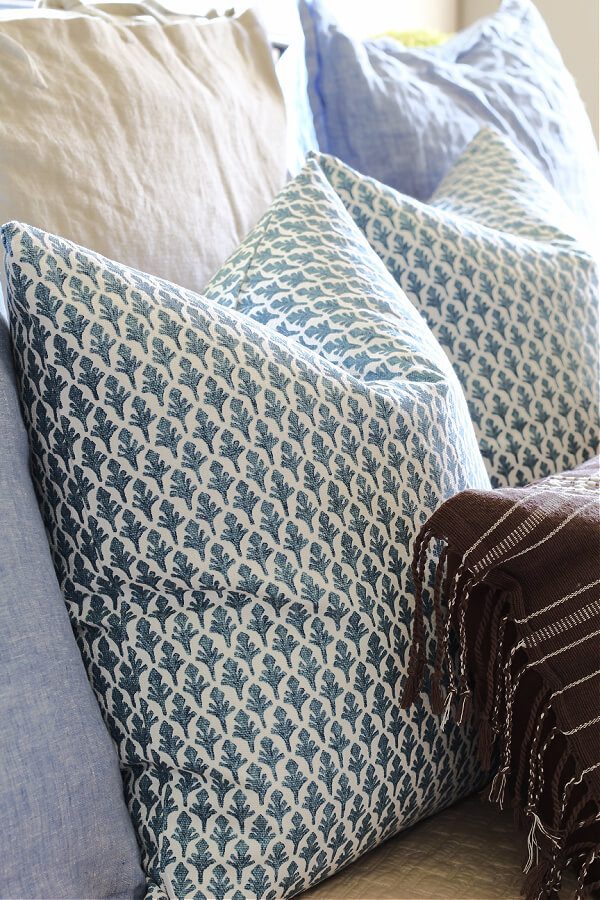 Nightstands
My monthly flower delivery my husband got me arrived from Blooming Betties and I knew that they needed to go in my bedroom. I put them on my side of the bed. They are a ray of sunshine!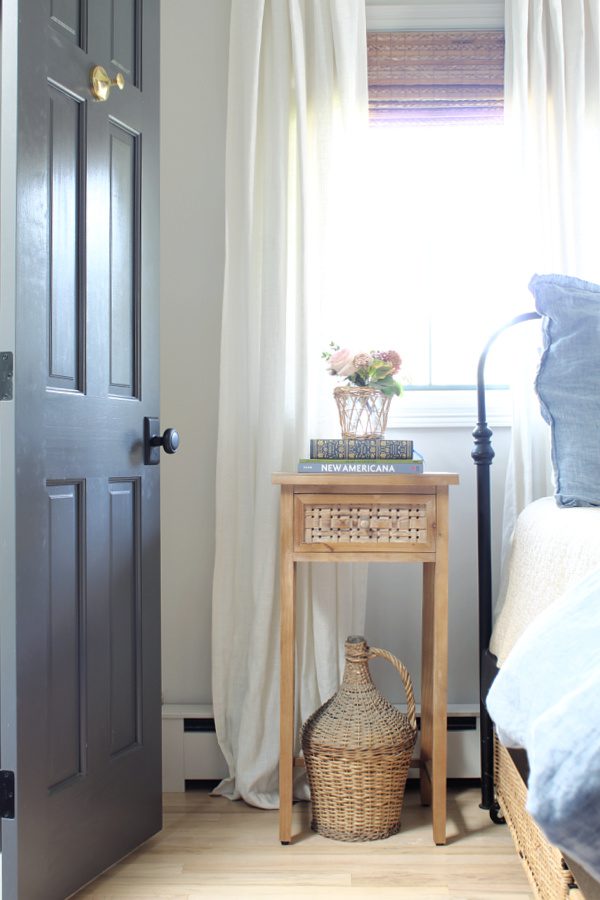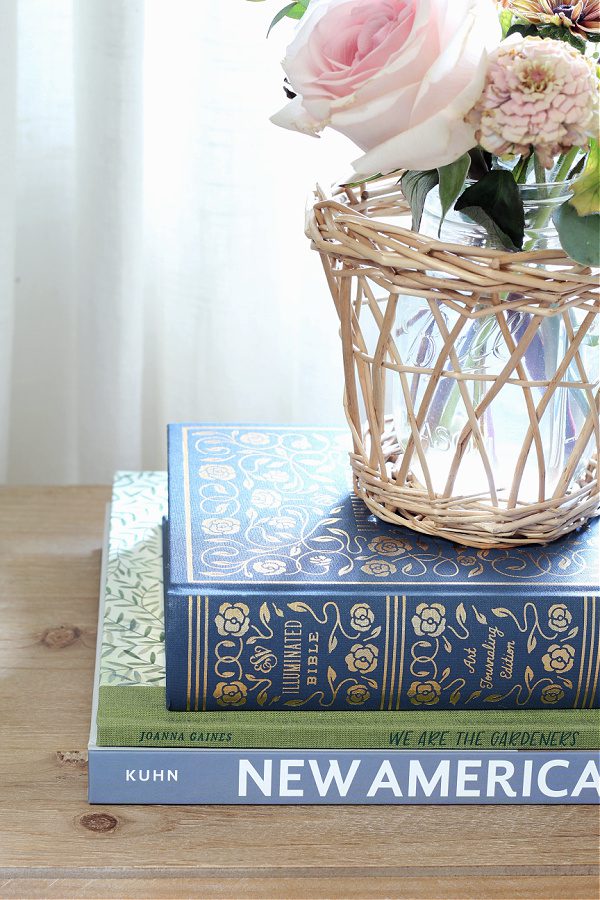 Don't they look stunning on our new nightstands from the At Home Store? I could spend hours in there…it's like home decor heaven! We needed tall skinny nightstands that would fit our small space and they had a huge selection. These were the eventual winners!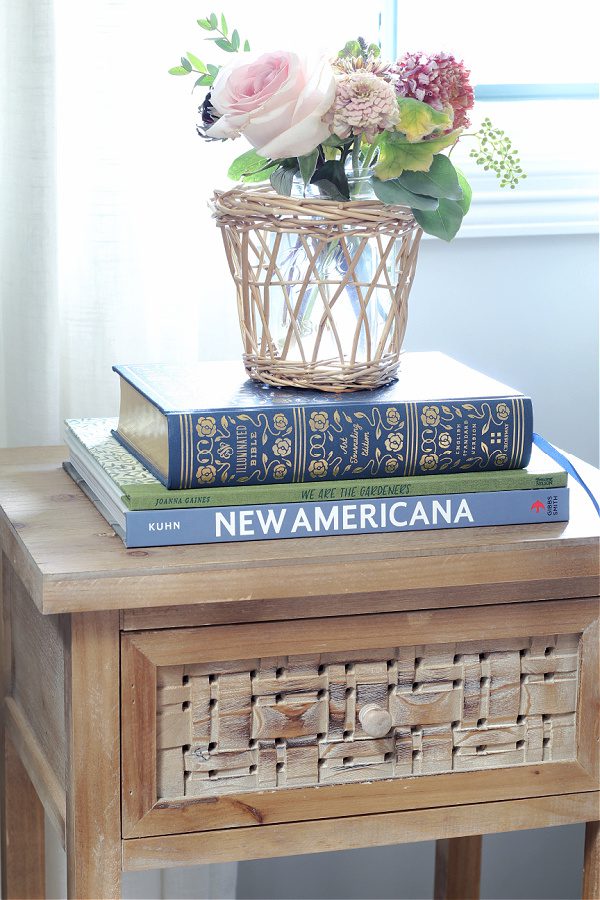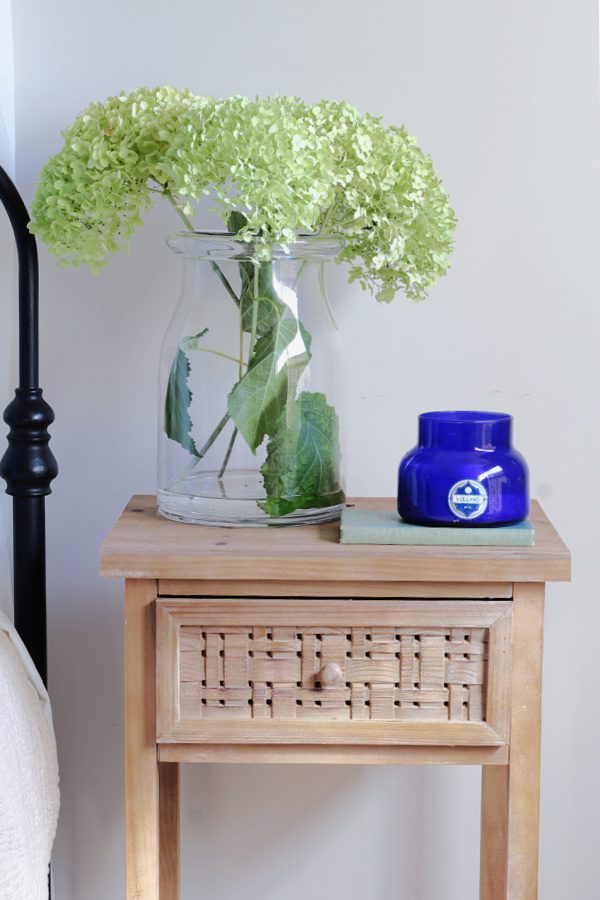 On the other side of our bed there is a sweet little built in window seat. I found a block print quilt at Nordstrom Rack on sale and used it as our cushion. So fun right? It even lifts up for storage!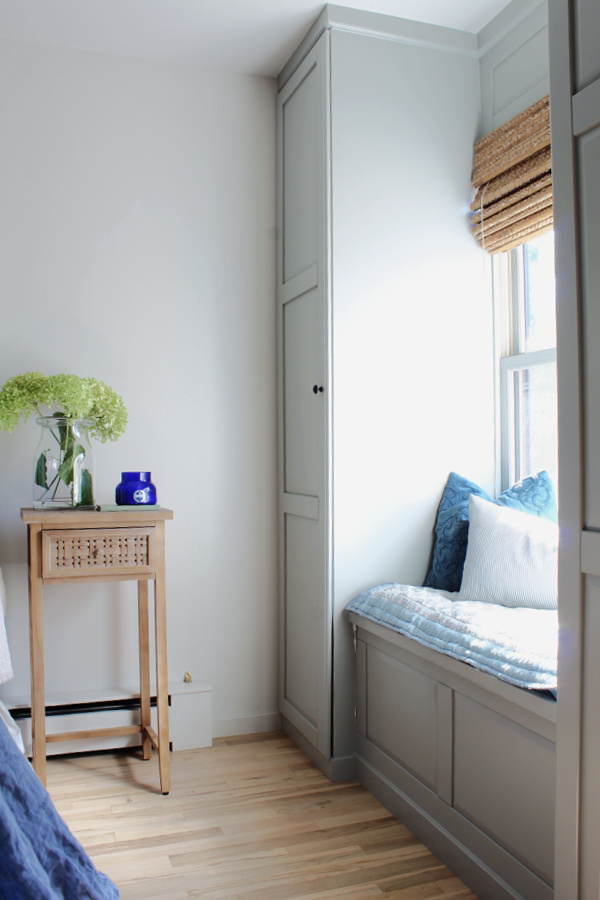 Furniture
Looking back across our bed you can see into our bathroom. I will share that another time!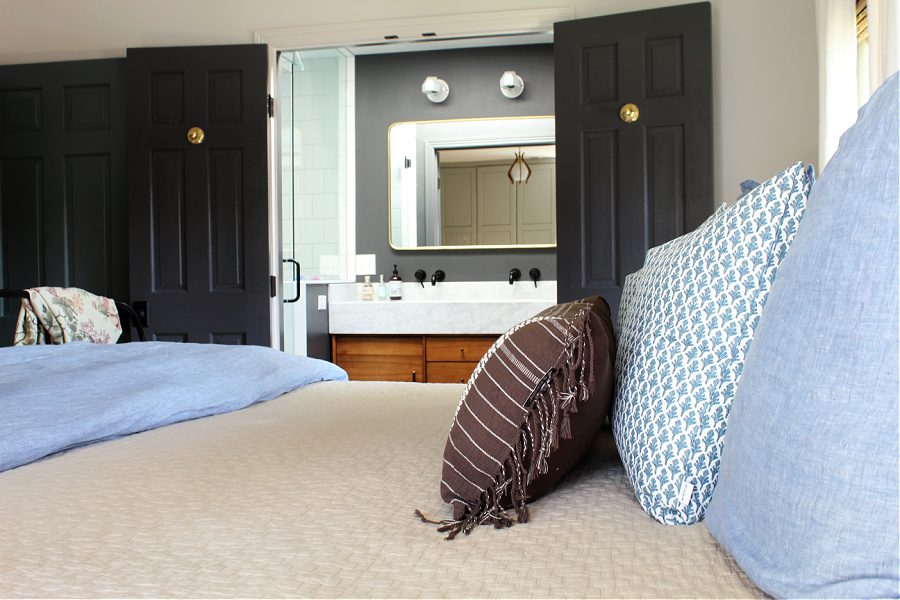 And finally at the foot of our bed is the dresser I purchased last year when we made over our bedroom in our old home. I was so happy it fit here too! Overall it's a cozy space that I love and all of the colors make me so joyful! I'm sure your not surprised to see my two favorite colors, blue and green, in here!
Oh and did you notice the built ins along the other wall too? That is extra closet space! We still have our under bed storage (FB marketplace find originally from IKEA) as well as a small walk in closet. For an older home I feel like we have plenty of space.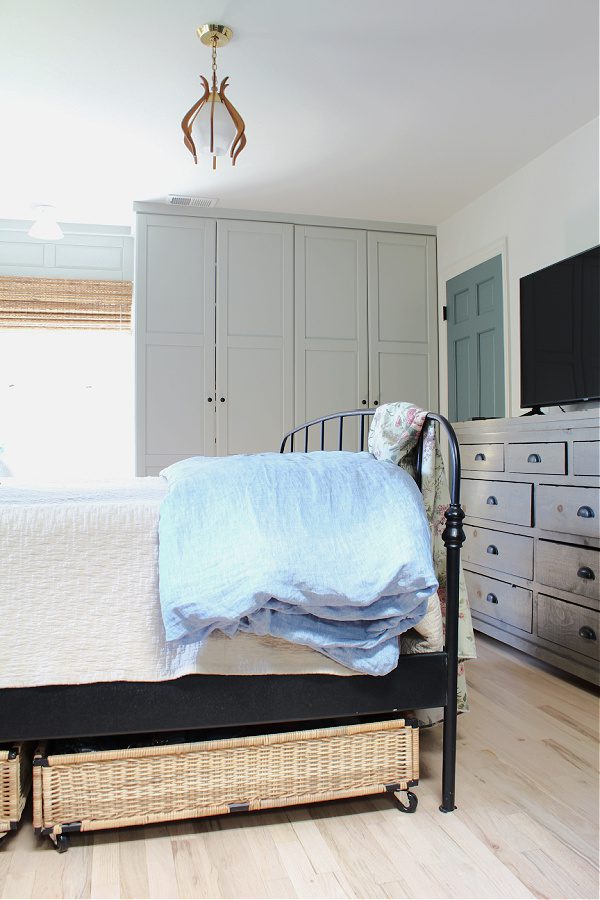 Shop Our Master Bedroom

Fall In Our New Home
Well friends that's the end of our tour and Fall in our new home! I hope you enjoyed part 2 just as much as part 1. I have loved showing you around. Please let me know if you have any questions!
Now make sure to head over to my dear friend Jen of Midwest Life and Style to check out her simple and rustic cottage Fall home tour! Then scroll down to see who else is sharing this week!
Bloggers' Best Fall Home Tours
This week I'm joining my blogging friends for the Bloggers' Best Fall Home Tours! All week long we are welcoming you into our homes. You can visit each Fall home tour by clicking the links below.
Monday's Tours


The Tattered Pew / Midwest Life and Style / Bricks 'n Blooms
My Thrift Store Addiction / Pasha Is Home / Willow Bloom Home Blog
Tuesday's Tours


Open Doors Open Hearts / White Arrows Home / Cottage On Bunker Hill
Simply2Moms / Cottage In The Mitten / Fiddle Leaf Blog
Wednesday's Tours


Sweet Pea / County Road 407 / Lora Bloomquist Create and Ponder
Thistle Key Lane / Cloches and Lavender / A Life Unfolding
Thursday's Tours


First Day of Home / The Old Barn / Tatertots and Jello
The Ponds Farmhouse / StoneGable / Noting Grace
Friday's Tours


Dabbling and Decorating / She Gave It A Go / Sand Dollar Lane
Robyn's French Nest / My Family Thyme / Shiplap and Shells
Did you like this post? PIN it for later!