Our Red and Green Christmas Home Tour
It's the Bloggers' Best Holiday home tour week! This week is one of my favorites and features 35 different bloggers who are opening up their homes to show you how they have decorated for them Christmas this year. I am hosting and starting off the tour sharing our red and green Christmas home tour!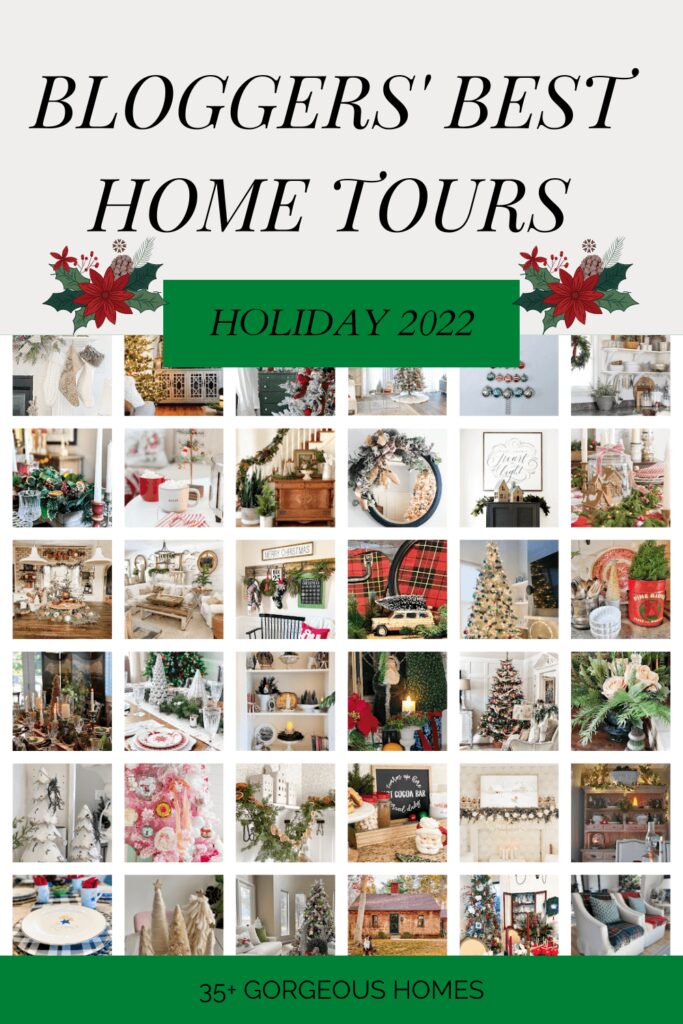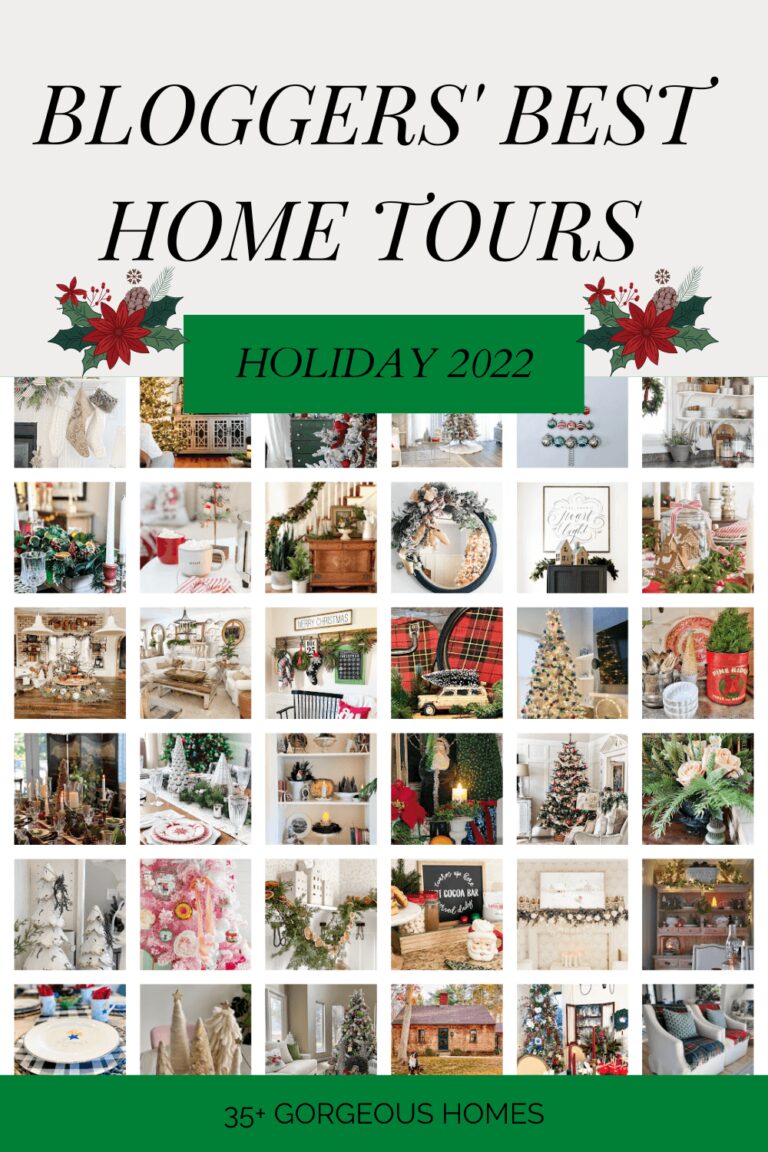 *As an Amazon Associate, I earn from qualifying purchases. This post contains other affiliate links too for your convenience. Click here to read my full disclosure policy.
Bloggers' Best Holiday Home Tours 2022
If you love peeking at how others have decorated their homes for Christmas then you will love this week! Not just one, but 35 total bloggers, are sharing their homes each day this week all decked out for the holidays.
There is sure to be something for everyone! Once you have visited my tour make sure to scroll to the bottom and visit the rest of the ladies sharing today and then come back every day until Friday to see the remaining homes!
If you are coming over from my friend Cecilia of My Thrift Store Addiction, welcome! Wasn't her vintage Christmas decor so beautiful?
Our Red and Green Christmas Home Tour
Now I want to welcome you into our home!
I'm Kelly the voice and face behind The Tattered Pew. I have been blogging for almost 6 years now and just left teaching after 20 years to pursue this full time! I love in Colorado with my family and you can often find me hitting up the local flea markets and hanging out with my mom! (for those of you that are new, she has a monthly series here on the blog called Tuesdays With Tracy!) She helped me get our home decorated this year and I couldn't have done it without her!
You can see last year's Christmas tour here that she also helped me with!
I LOVE all things Christmas! I love that it is all about Jesus and I love that I get to share my birthday month with him! Mine is 3 days before Christmas.
Ok here we go! Grab something warm to drink and get ready to enjoy a ton of Christmas decor. I took WAY too many pictures but I wanted to show you everything!!!
Our Entry
This is the first space you see as you enter our home. Our banister and trim is painted Slate Tile by Sherwin Williams. It's such a pretty blue gray!
My very first little pew greets you along with this tiny vintage Santa blow mold. How cute is he lit up?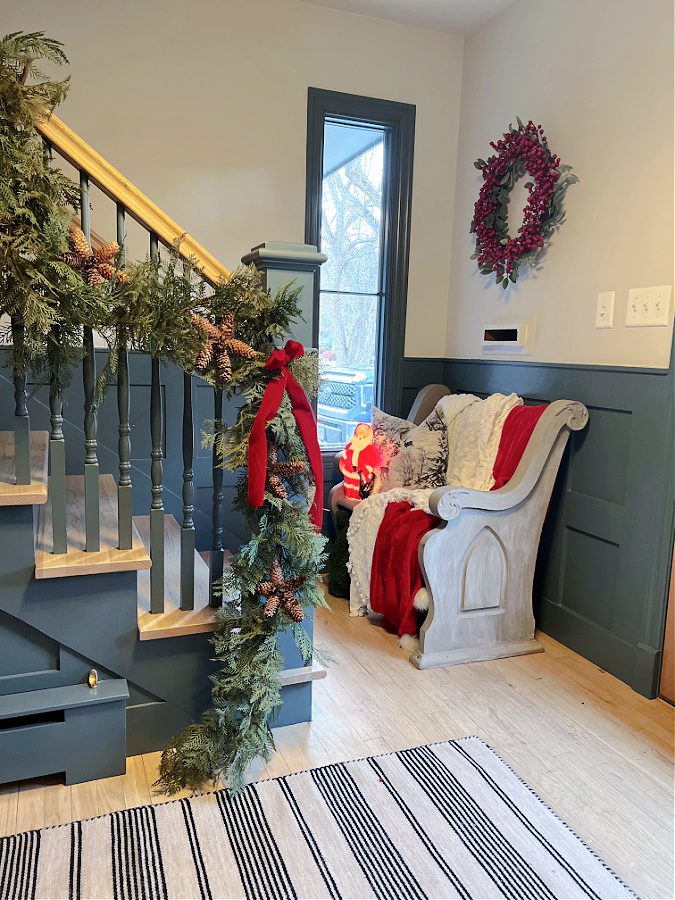 This old brass bucket holds some fresh poinsettias in bright red! I have never had these before so I hope I can keep them alive. If you have any tips feel free to leave them in the comments below!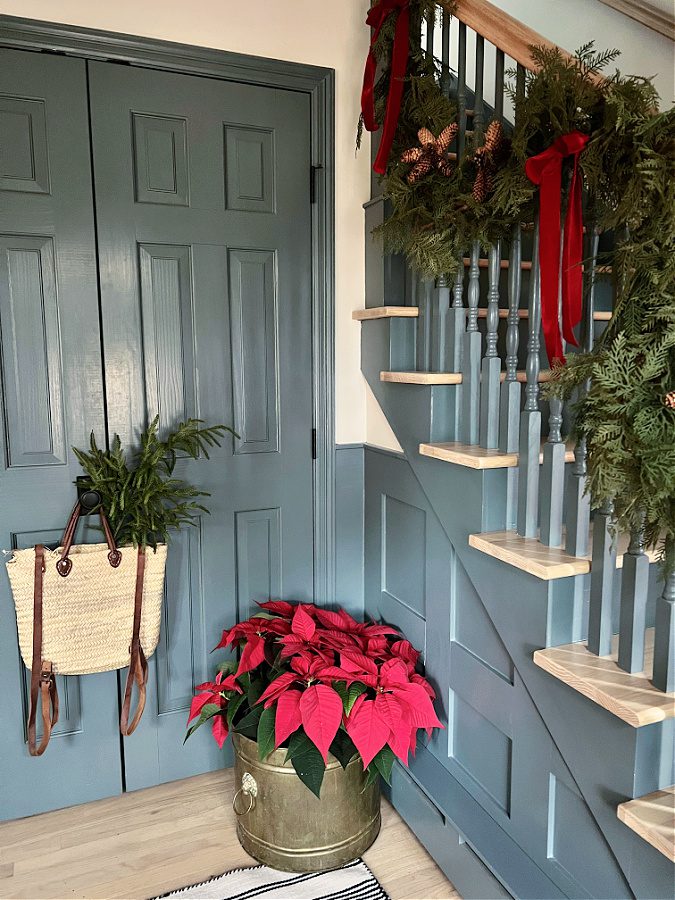 Do you see the pine cone stars in the garland on our banister? I made those from pine cones in our yard! They were so easy to nestle in the garland and I popped in some bright red ribbon bows too!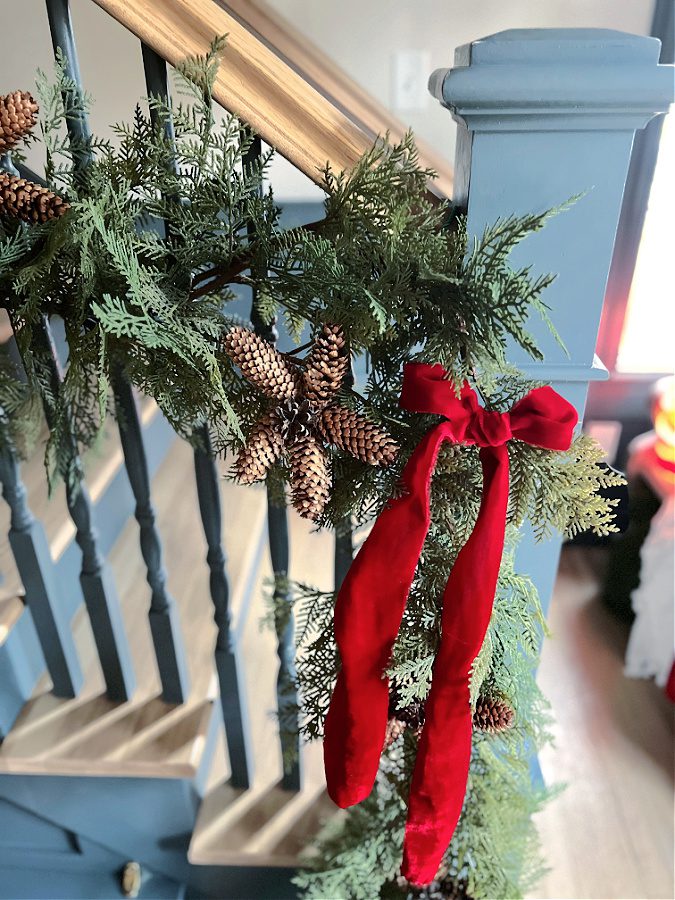 Do you have any awkward spaces in your home?
This little space across from our banister is an odd one for sure. The previous owners had a piano here but we don't have one or play.
So instead I moved our chair over here and added a round table (that folds). It fits perfectly and of course needed its own Christmas tree! This 4.5 tabletop tree is new to us this year and I can't get enough of it!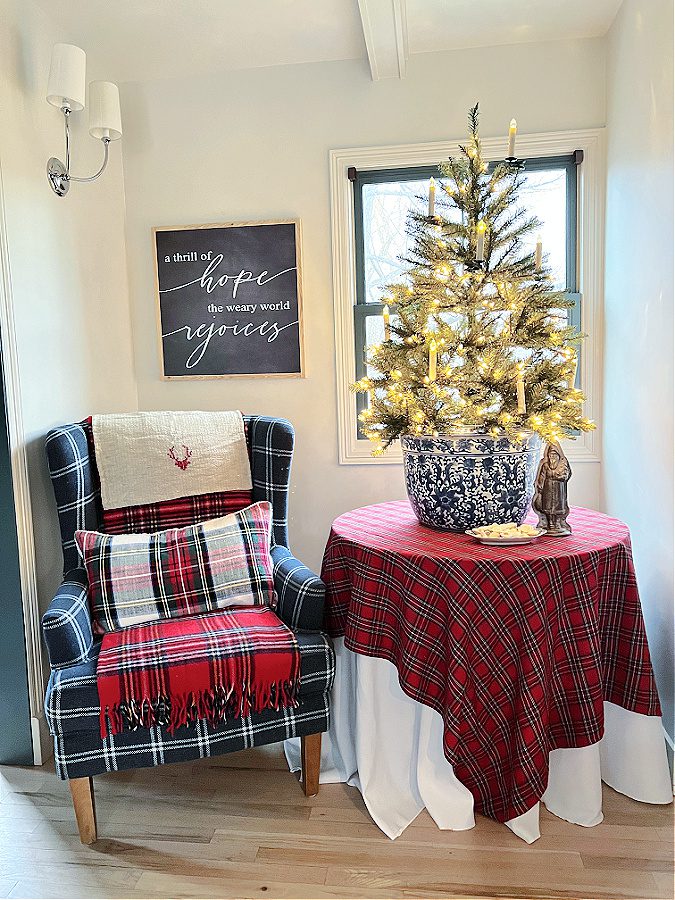 I plopped it in this large blue and white porcelain planted a friend gave me and got so excited that it fit!
Love at first sight!
Just when I didn't think it could get any better I added these clip on battery operated candles!
Love at first sight…again!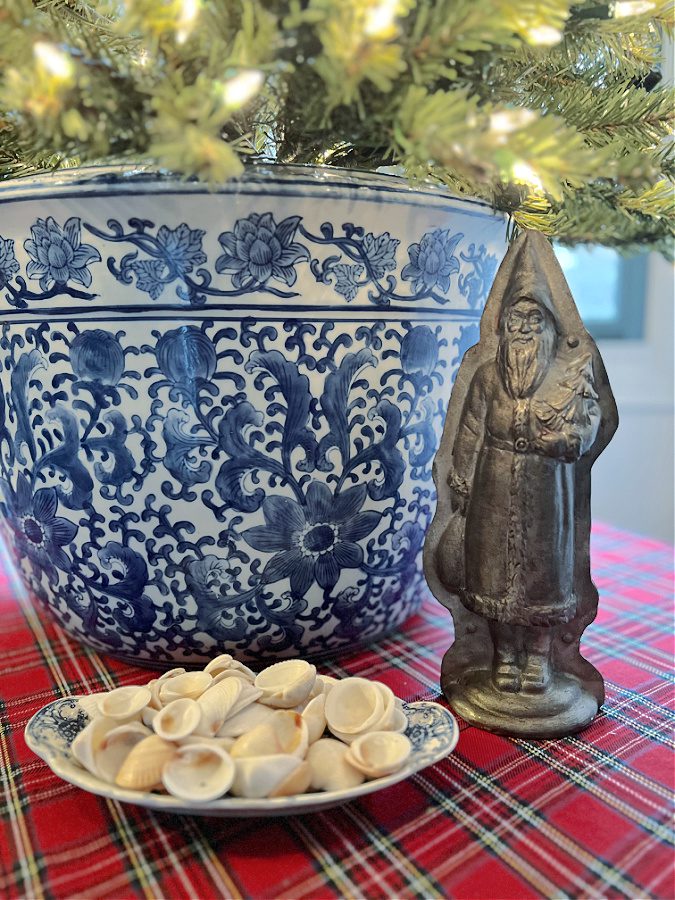 Now I love this little corner. Of course I also had to bring back the thrill of hope the weary world rejoices sign from Between You and Me Signs!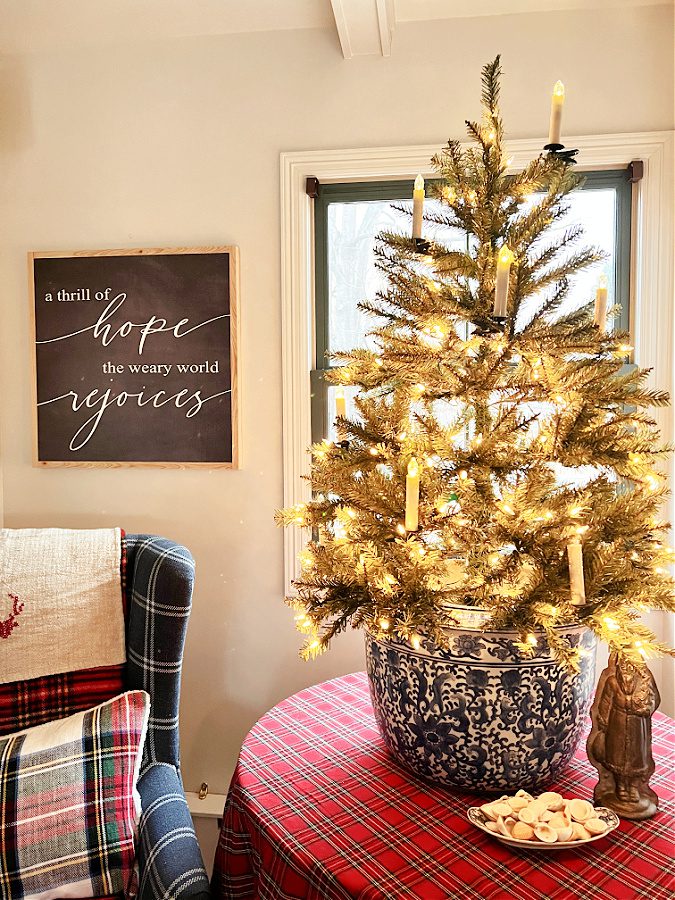 Shop Our Entry

Our Dining Room and Kitchen
A few weeks ago I shared a post dedicated to our dining room and kitchen and you can see that here.
But of course I wanted to give you a taste today as well!
Our dining room really shows off the red and green Christmas themes I was going for. If you love this space and want to see it live, I will be sharing all about it over on my Amazon Live on Thursday.
This will be my second live for Amazon and I am SO excited to get on again! I would love to have you join me. I would love to also have you follow me there as well! It is so simple just jump here, hit the follow button and the bell to get reminded!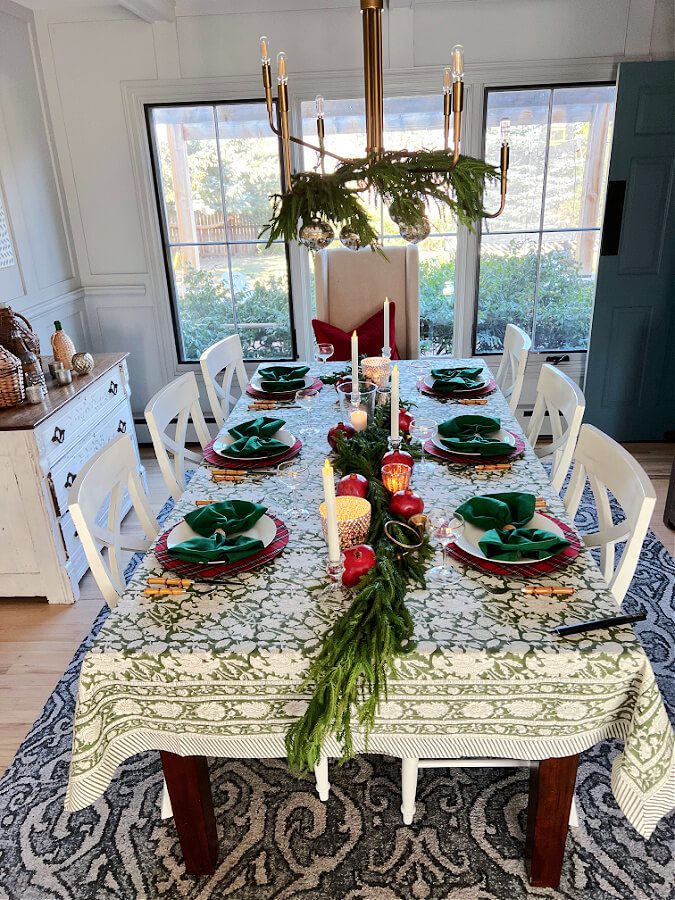 This is a peek into our kitchen from the family room. Yep, it's all blue! I adore having a blue kitchen. It's the color Blustery Sky by Sherwin Williams. You can see it decorated for Christmas here in this post.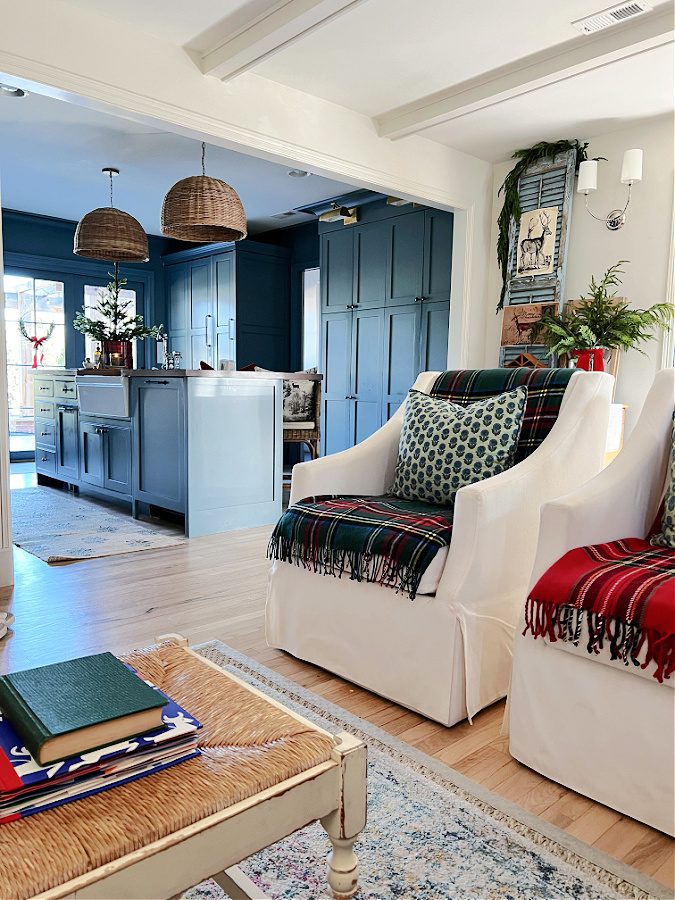 Shop Our Dining Room & Kitchen

Our Family Room
Let's continue on, shall we?
This space is technically in our entry, kind of , but it also connects to the family room. Another slightly awkward space that I had fun decorating. I leaned this large blue shutter on top of my pine dresser and clipped on some deer prints I found at a local shopped called Magpies.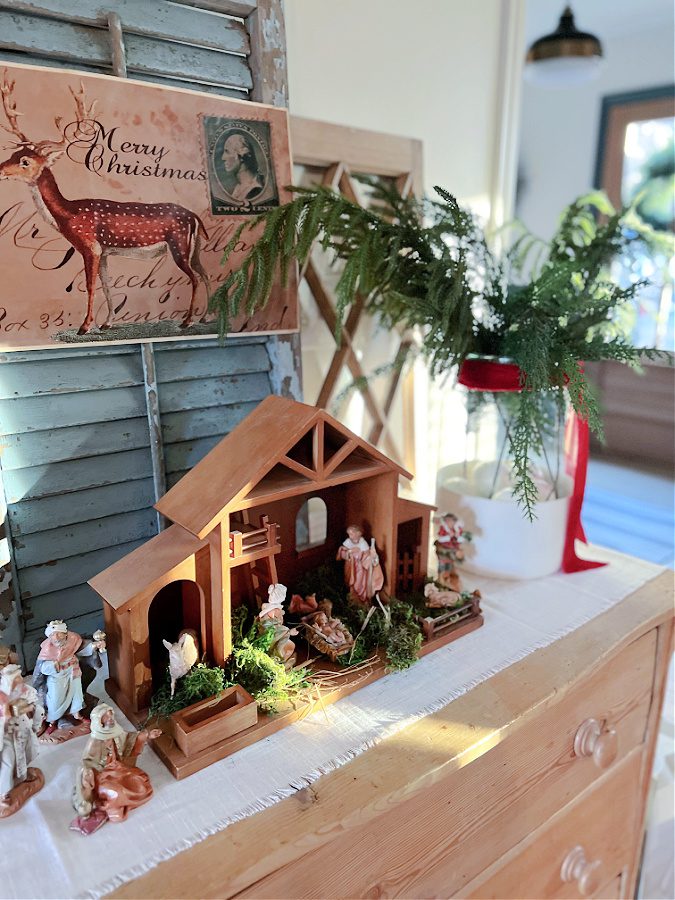 Then I added the garland and below it my nativity set. Of course more greenery in the vase and more of the pretty red velvet ribbon you might remember from the banister and will soon see on the tree!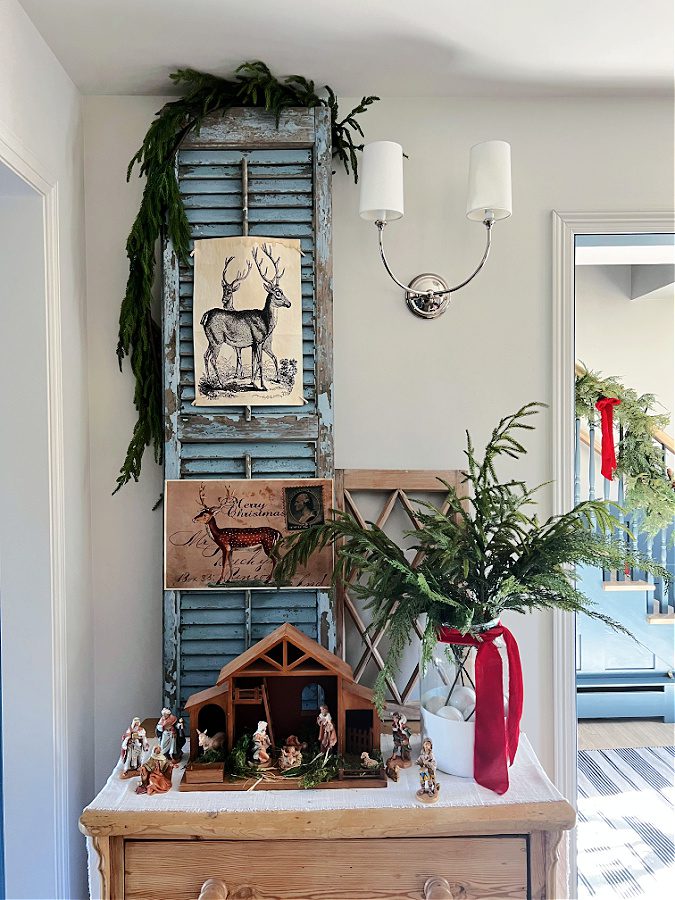 Don't these look old and vintage? They totally aren't and they were only 6 dollars each!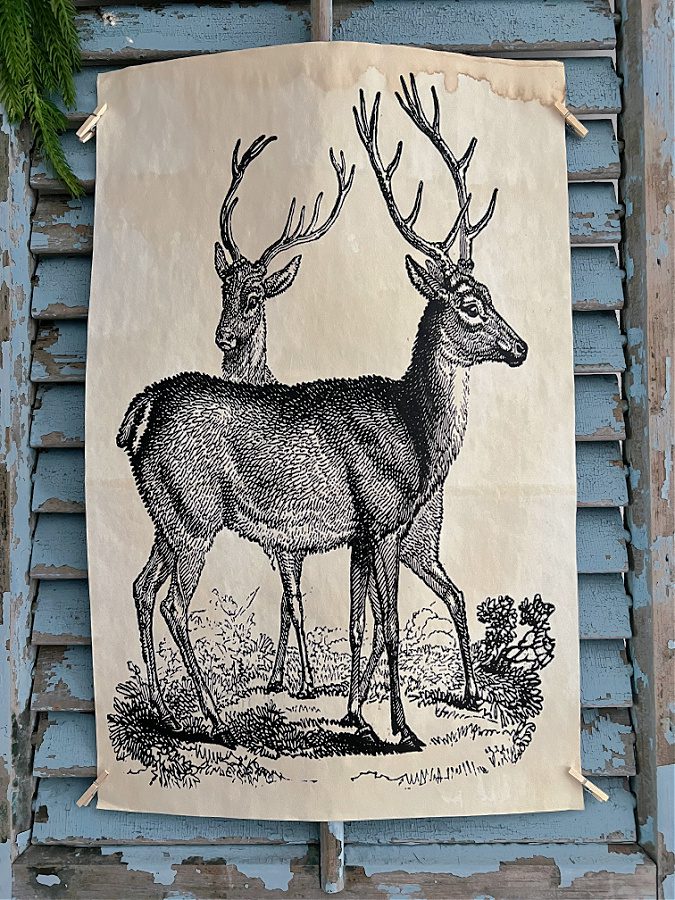 This is the view if you were to turn around from looking at the blue shutter. A full view of our family room! This is our main living space and I love it!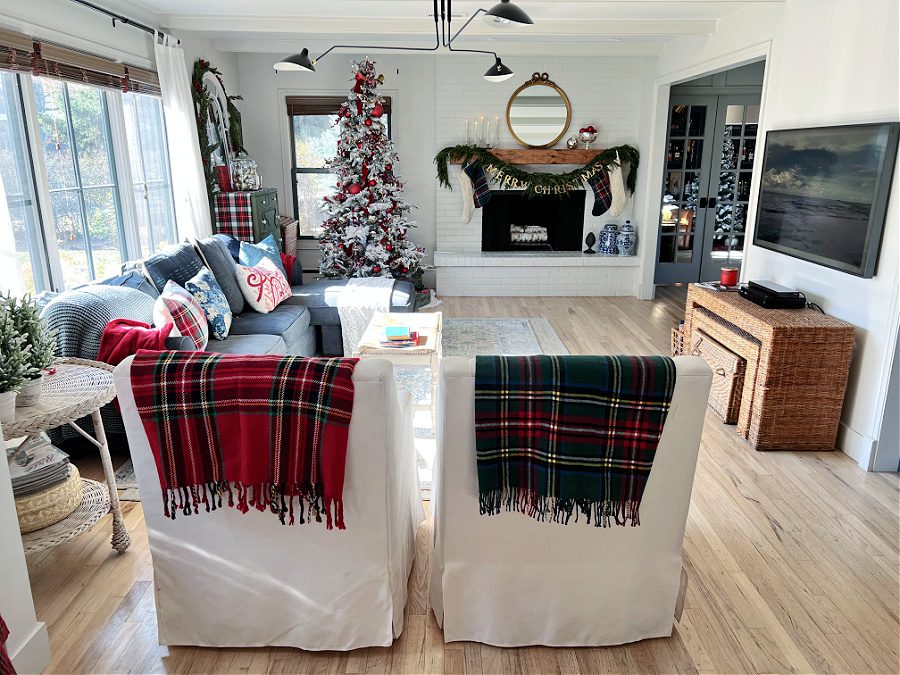 Most of our furniture is from Facebook Marketplace or consignment shops or flea markets. I love mixing pieces together to bring a unique feel to the space.
FOr Christmas I added a ton of plaid accents along with red and green.
I'm almost embarrassed to admit how many plaid blankets I have. It may or may not be in the double digits. Maybe I should start considering them something I collect! ha!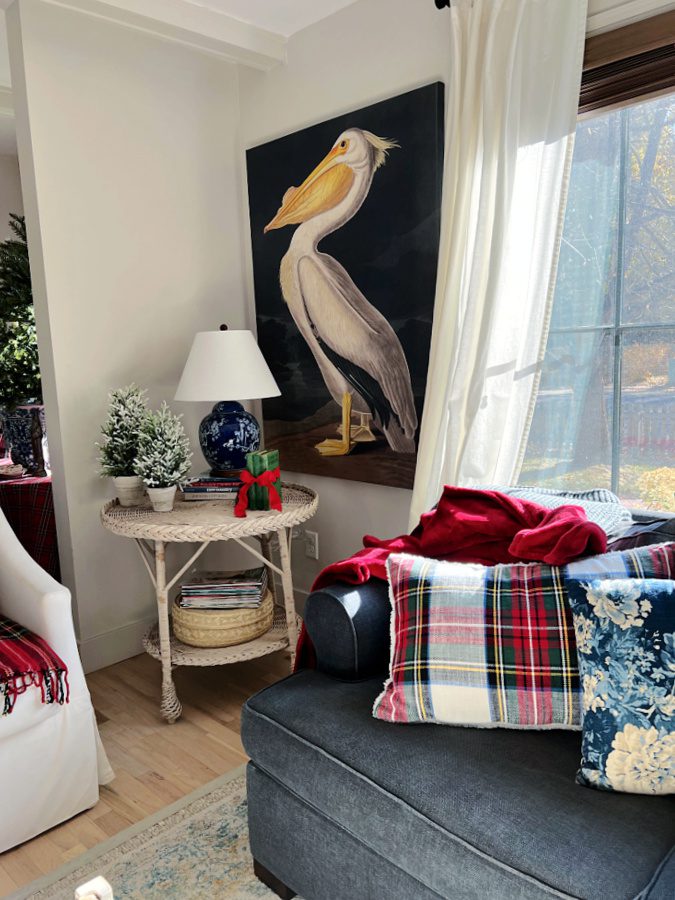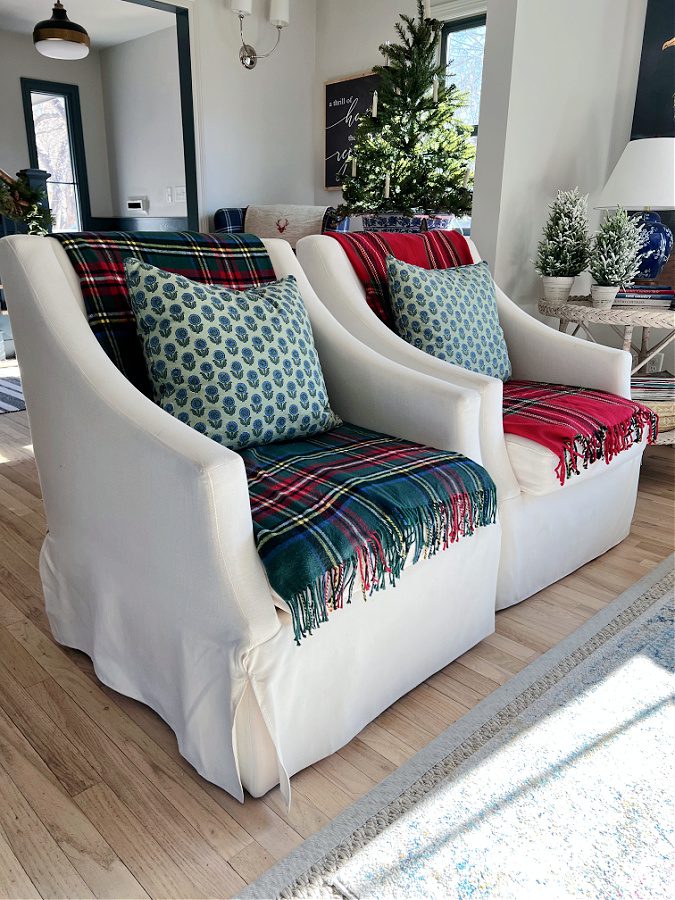 Our sofa is from Curate Consignments and is originally from Pottery Barn. Itcaught my eye since it was blue. Doesn't it look pretty with pops of red for Christmas?
Confession time.. those wood blinds above the sofa drive me crazy. They darken the space and I want to change them. I just haven't found the right replacement yet. That is on my list for 2023. But pulling them up does the trick for letting more light in.
And don't worry, I'll share more about my green dresser below!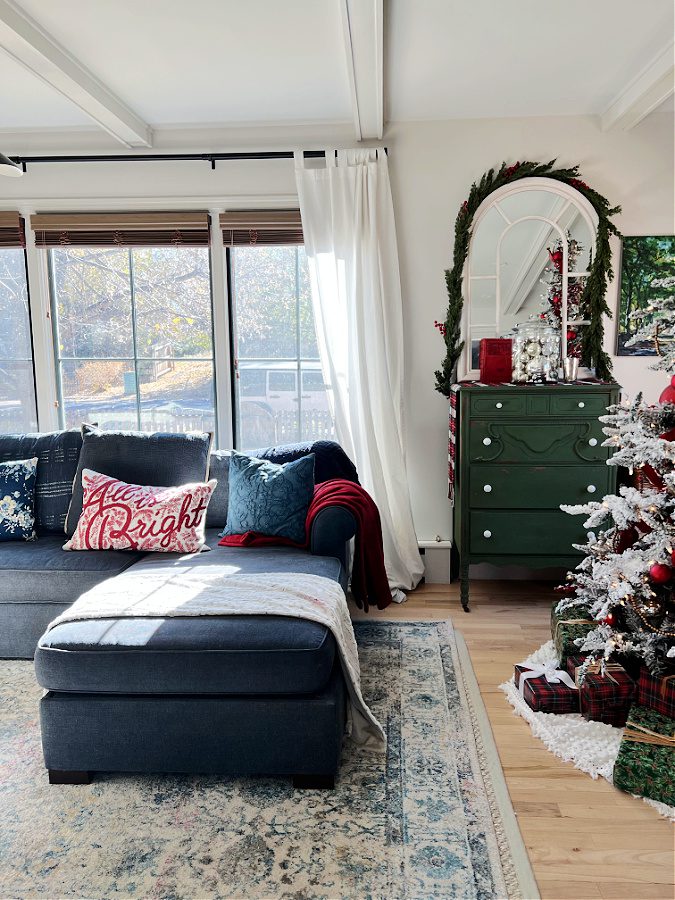 Shop Our Family Room

Our Christmas Tree
Our tree is flocked and I have to say that I love it! When I decided to go all read mainly on the tree I wasn't sure how it would turn out, but goodness gracious it turned out so fun!
I love this year's tree so much! Even though our tree from last year was featured in Country Sampler's Farmhouse Style Christmas edition this year, I think I might like this one better! Shhh, don't tell!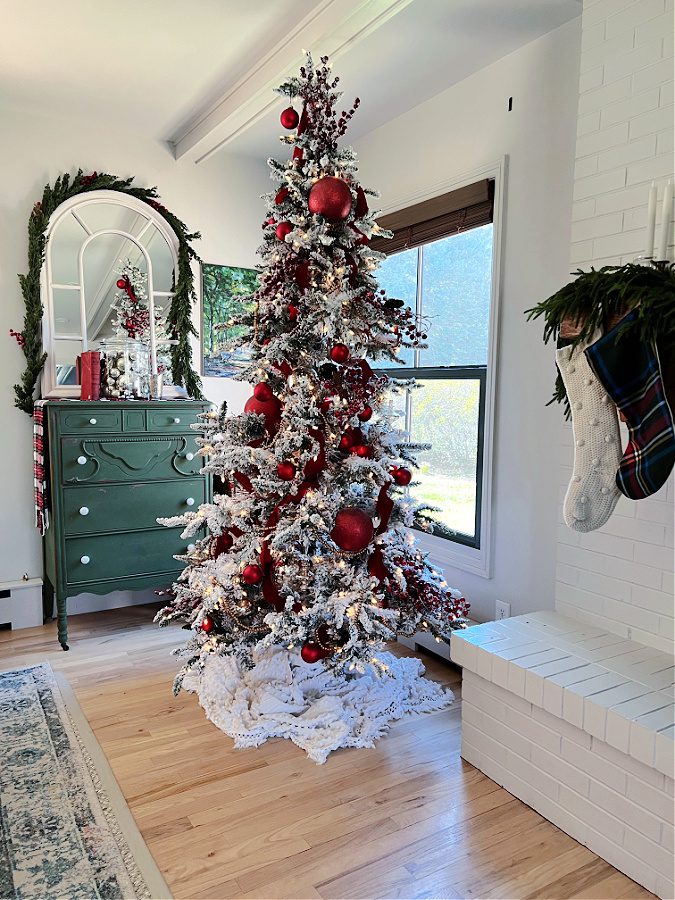 Doesn't the tree look so pretty against my favorite boxwood green dresser? I swear this dresser was made for Christmas!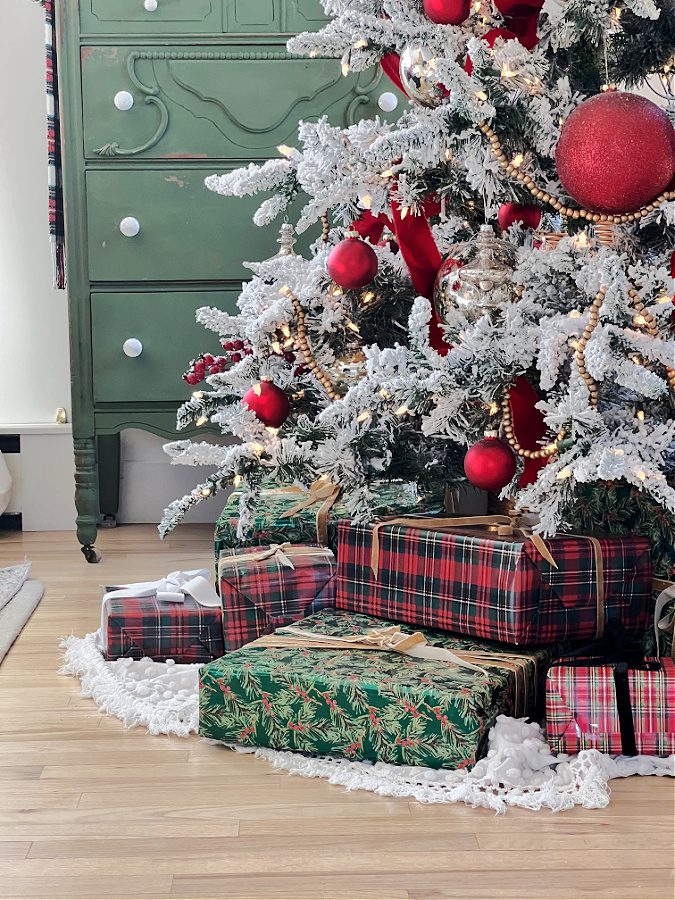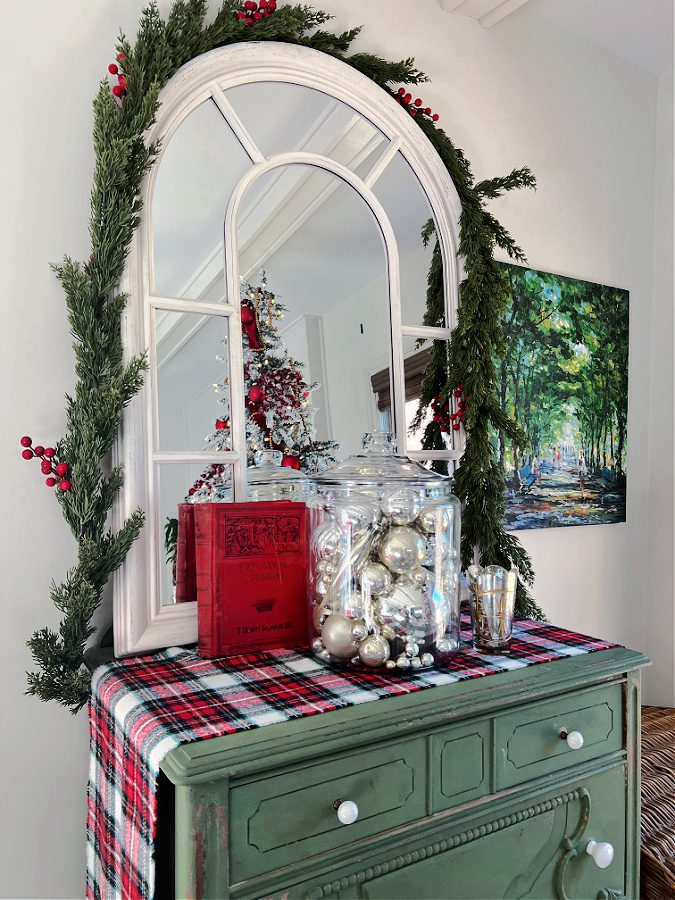 On top of the dresser painted in Boxwood by Miss Mustard Seed milk paint, I kept things simple. A jar full of vintage ornaments, a plaid scarf turned runner, a vintage red book and a votive. The mirror reflects the tree so beautifully too, right?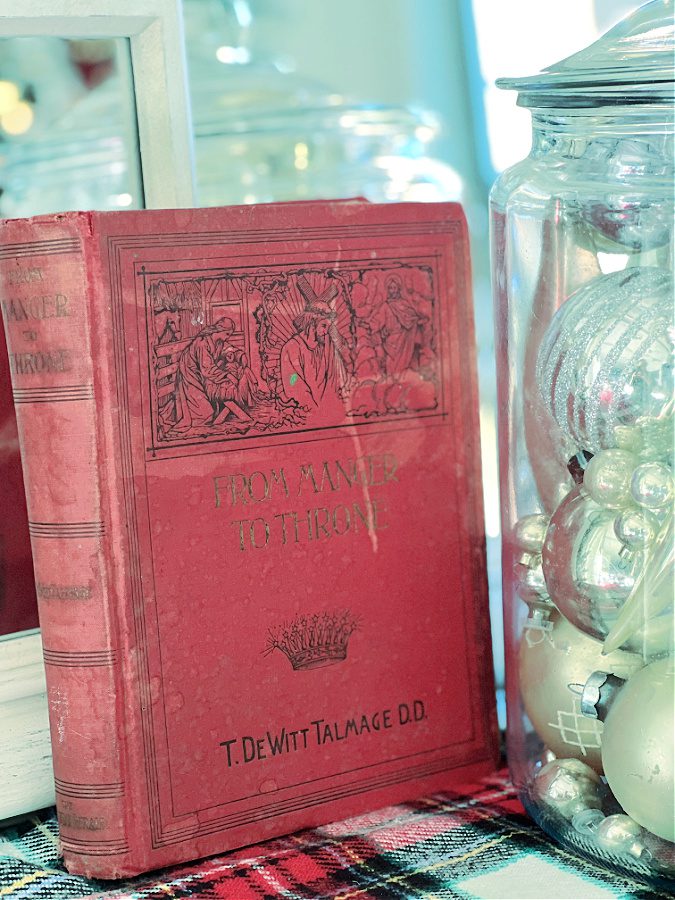 Can you read the title on this book? From Manger to Throne is a book I saw at my friend Brook's booth (before she had her shop) that I fell in love with. It's perfect for Christmas!!!!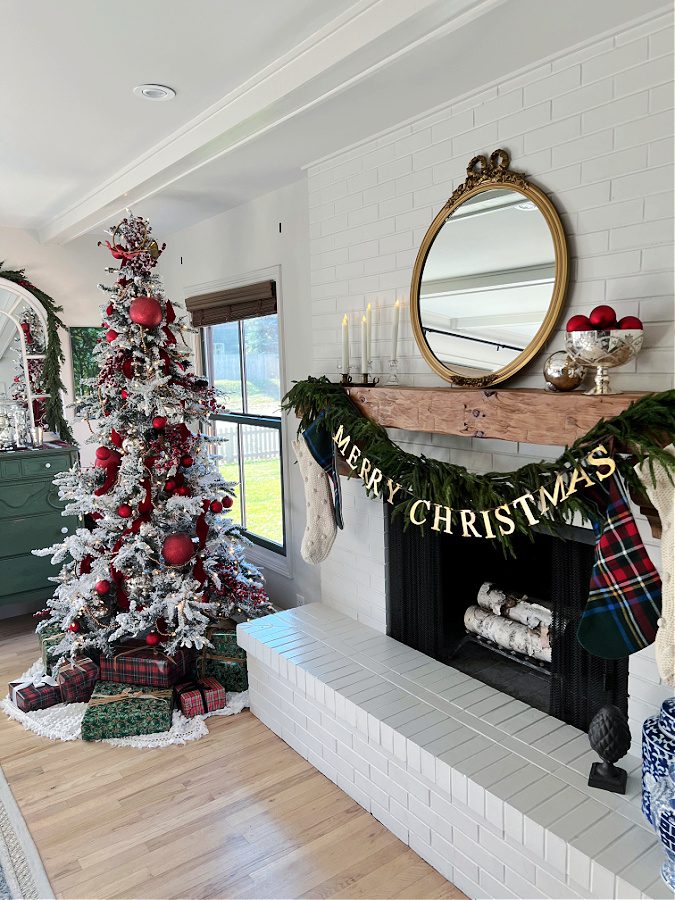 A few more fun views of our tree.. I sued a vintage horn for the topper to echo our dining room centerpiece and layered on gold wood beads and more red velvet ribbon. Then added red ornaments and mercury glass ornaments in an assortments of sizes. The final touch were the red berry picks. So simple yet so stunning!
Our Mantel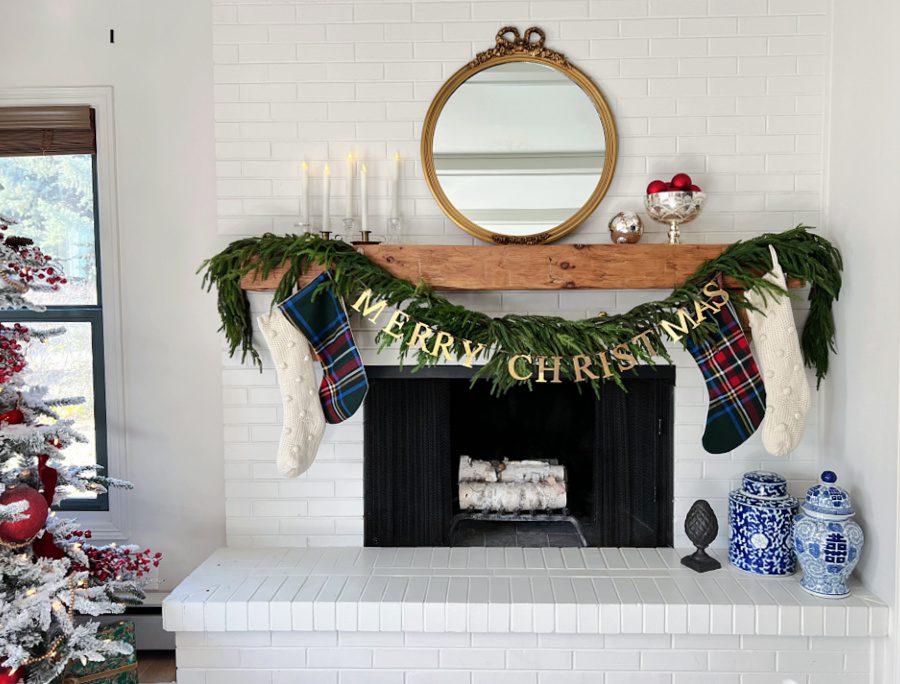 Now how about we peek at the mantel? Sweet and simple.
My sweet mom let me borrow her round mirror with the darling bow on top and I love it against the white brick!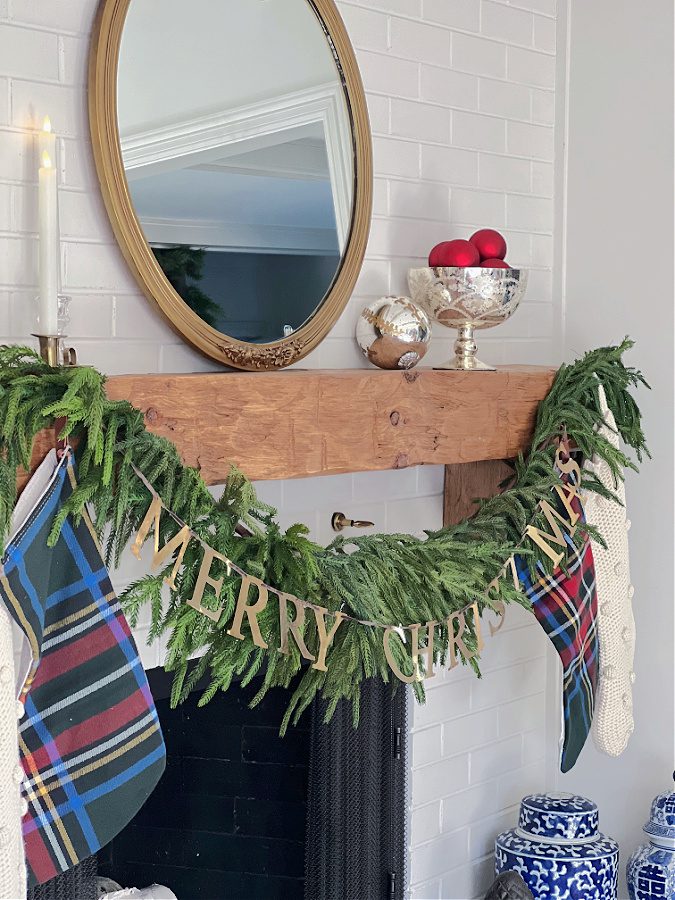 She also helped me layer on the garland (held on by command hooks) and stockings. The white ones are from the Studio McGee line at Target this year and the plaid ones are from last year. I got them at Shop with Lavender and Grace.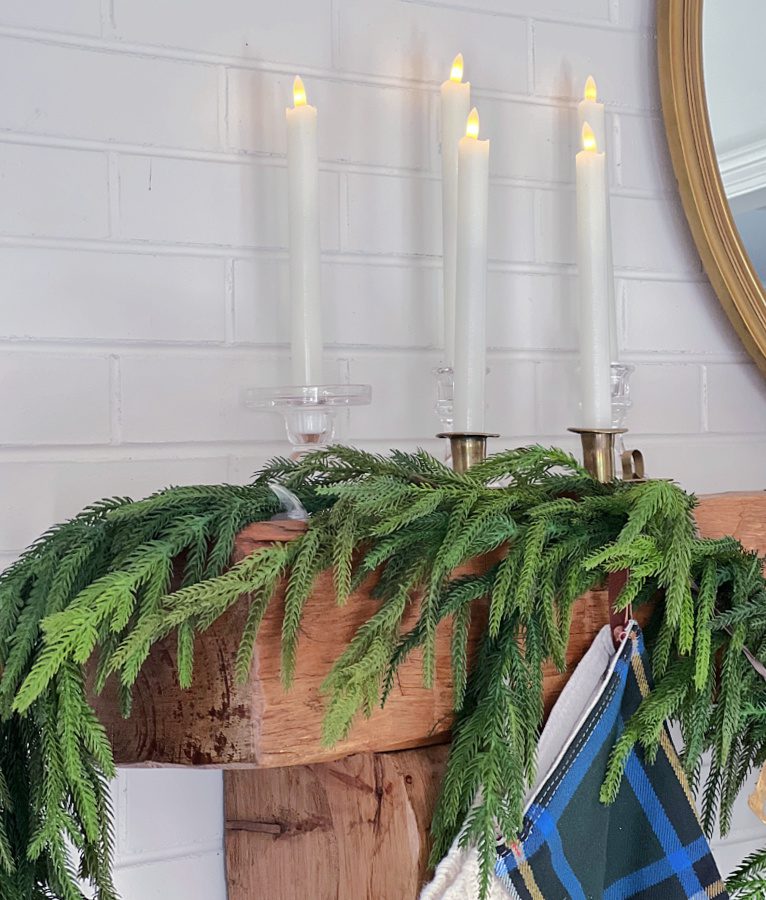 Pretty much obsessed with the battery operated light on the left side of the mantel. Did you even know they were fake?
Remember my love for pedestal bowls? Well I found this one in my basement that I had forgotten all about. Isn't she cute with red ornaments in her? The blue ginger jars were found at the flea market and Home Goods awhile ago.
And the metal Merry Christmas banner? Well I got it at a local shop here in fort Collins called Cozy Cottage. But I did also see it online at Studio McGee, but unfortunately it was sold out.
Shop Our Tree & Mantel

Our Office
Finally, lets make a quick stop in and see Mike's office! This beautiful blue room is painted in the color Sea Serpent by Sherwin Williams.
I kept it simple in here this year with this tree we have had from Walmart for years now and 4 gorgeous wreaths from Laura of Round Wreath.
I picked out the Forever Green wreath and had her add blue velvet ribbon. Aren't they so charming around the lights? I love the mix of greens and the blue berries!
If you love a beautiful wreath too you must check out Laura's selection over at roundwreath.com! You can also use code THETATTEREDPEW15 for a 15% off discount!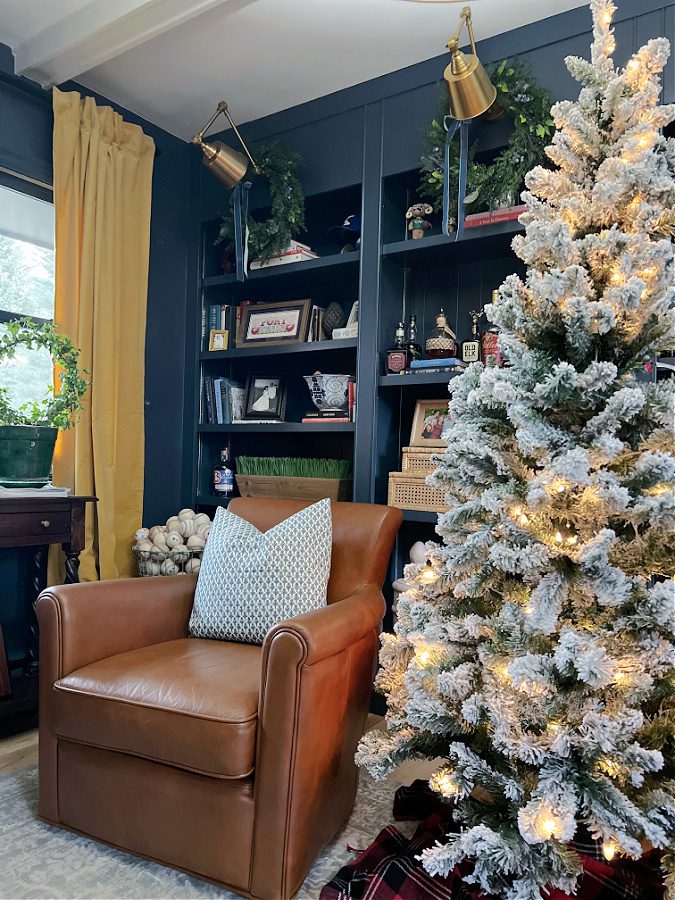 The plan is to add our family ornaments to this tree real soon!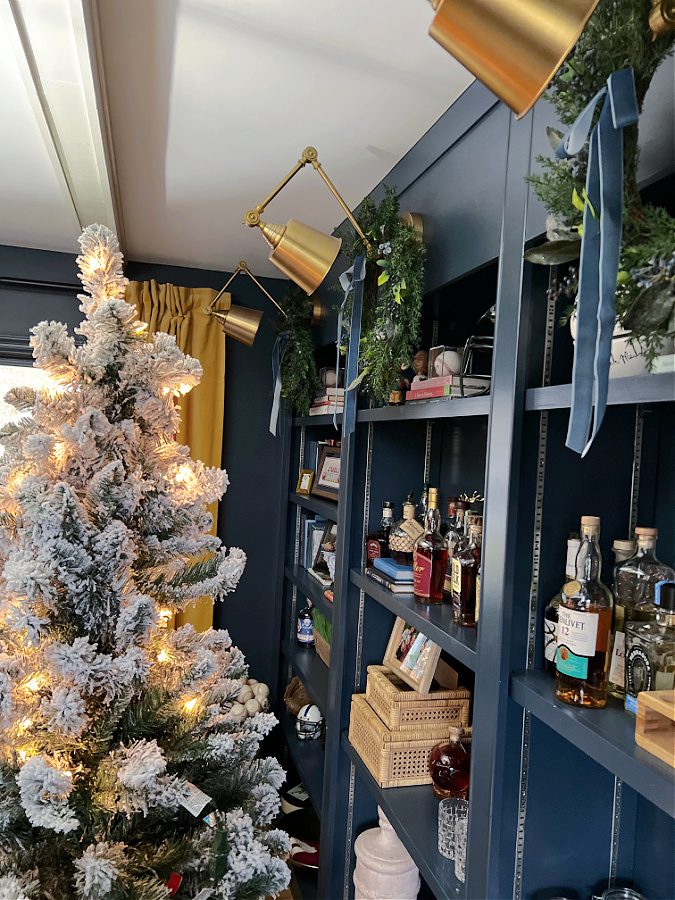 Shop Our Office

Our Red and Green Christmas Home Tour
Wooo, that was a long one! I really appreciate you stopping by our red and green Christmas home tour today! I loved showing you around and hope you enjoyed it as well! Let me know if you have any questions!
Now make sure to head on over to Jennifer from Cottage On Bunker Hill's tour where she is sharing how she decorates with warm neutrals!
Bloggers' Best Holiday Home Tours
Like I mentioned above this week I am joining some of my blogging friends for the Bloggers' Best Holiday Home Tours 2022. Thirty-five talented and creative women will be opening their homes up for you to tour all week long. You can visit each Christmas home tour by clicking the links below.
Monday's Tours


The Tattered Pew // Cottage On Bunker Hill // StoneGable // My Wee Abode
Open Doors Open Hearts // Cottage In The Mitten // My Thrift Store Addiction
Tuesday's Tours


Midwest Life & Style // She Gave It a Go // Sand Dollar Lane // Bricks n' Blooms
Pasha Is Home // Robyn's French Nest // The Ponds Farmhouse
Wednesday's Tours


Shiplap and Shells // White Arrows Home // This Is Simplicite // White Lilac Farmhouse
Peacock Ridge Farm // Cloches and Lavender // Simply2Moms
Thursday's Tours


County Road 407 // Country Peony // Eleanor Rose Home // Le Cultivateur
Thistle Key Lane // My Family Thyme // Follow The Yellow Brick Home
Friday's Tours


Southern Crush At Home // A Life Unfolding // Southern Home and Hospitality // WM Design House
Dabbling and Decorating // Lora Bloomquist // Vintage and Grace Living
I'd love to have you hang out with me some more! Feel free to follow along with me on any of the platforms linked below.
LTK | Facebook | Instagram | Pinterest | Amazon
xoxo,
Kelly
Did you like this post? PIN it for later!