Today I would love to show you around our backyard summer tour! Come take a peek at one of our all-time favorite places to be together with family and friends.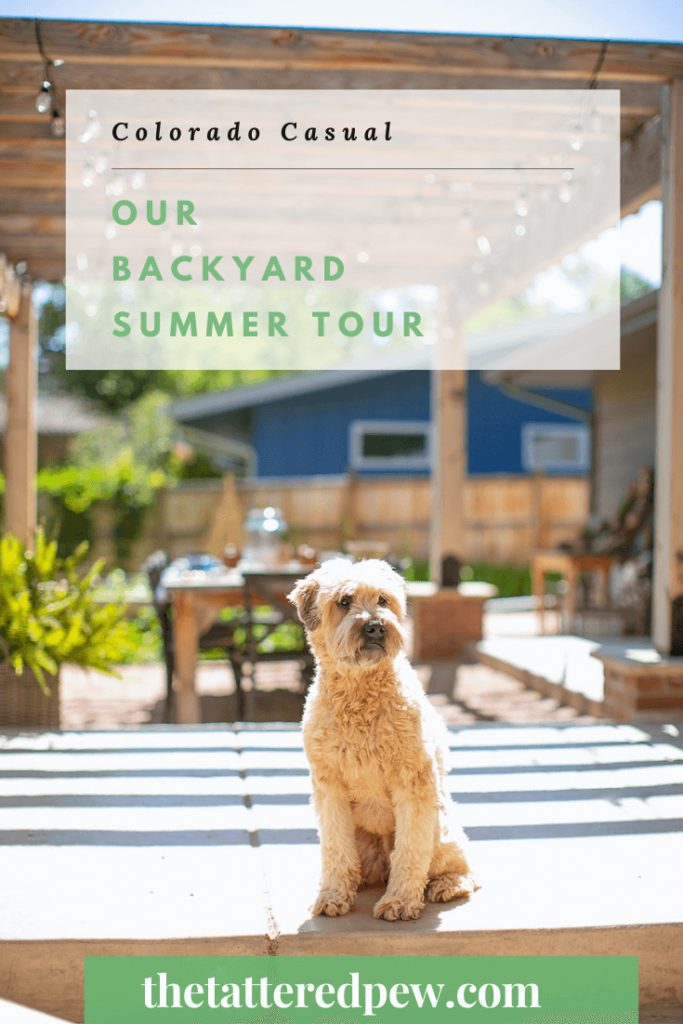 *As an Amazon Associate, I earn from qualifying purchases. This post contains other affiliate links too for your convenience. Click here to read my full disclosure policy.
Our Backyard Summer Tour
Hi, I'm Kelly and my family and I live in beautiful Colorado and last summer we bought this dreamy home unexpectedly. You can read all about that story here and a bit about our adventure. It's pretty crazy how it all happened…so fast. This is our first spring and summer here so being able to share this space with you all is so exciting for me.
Today I am joining an outdoor blog hop hosted by Krista of The Happy Housie. Make sure to visit her beautiful deck space as well as the others linked at the end of our post.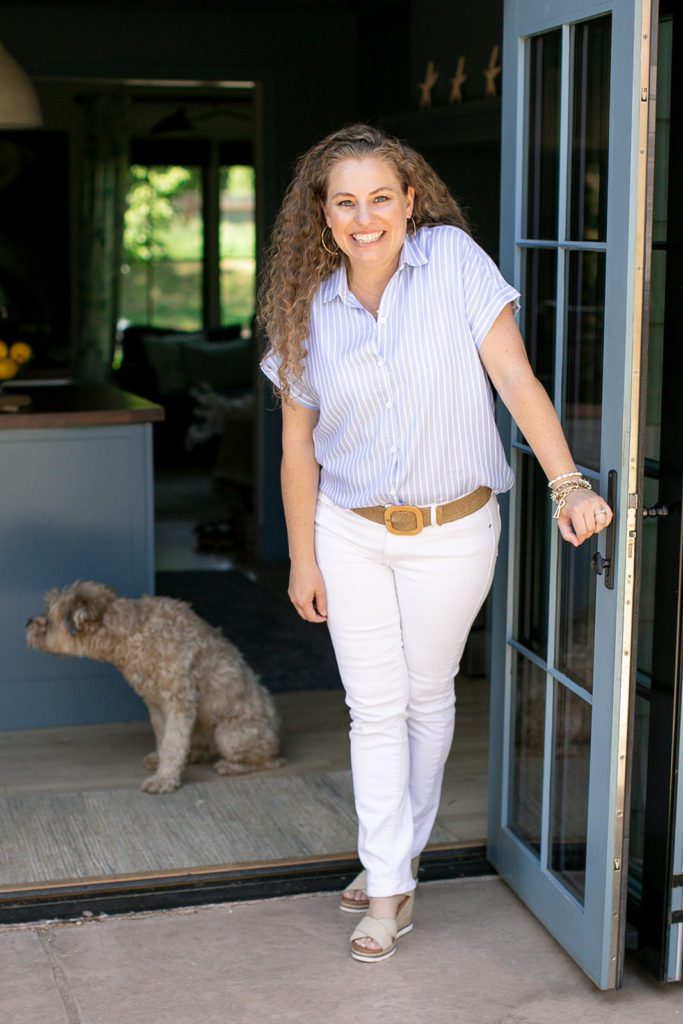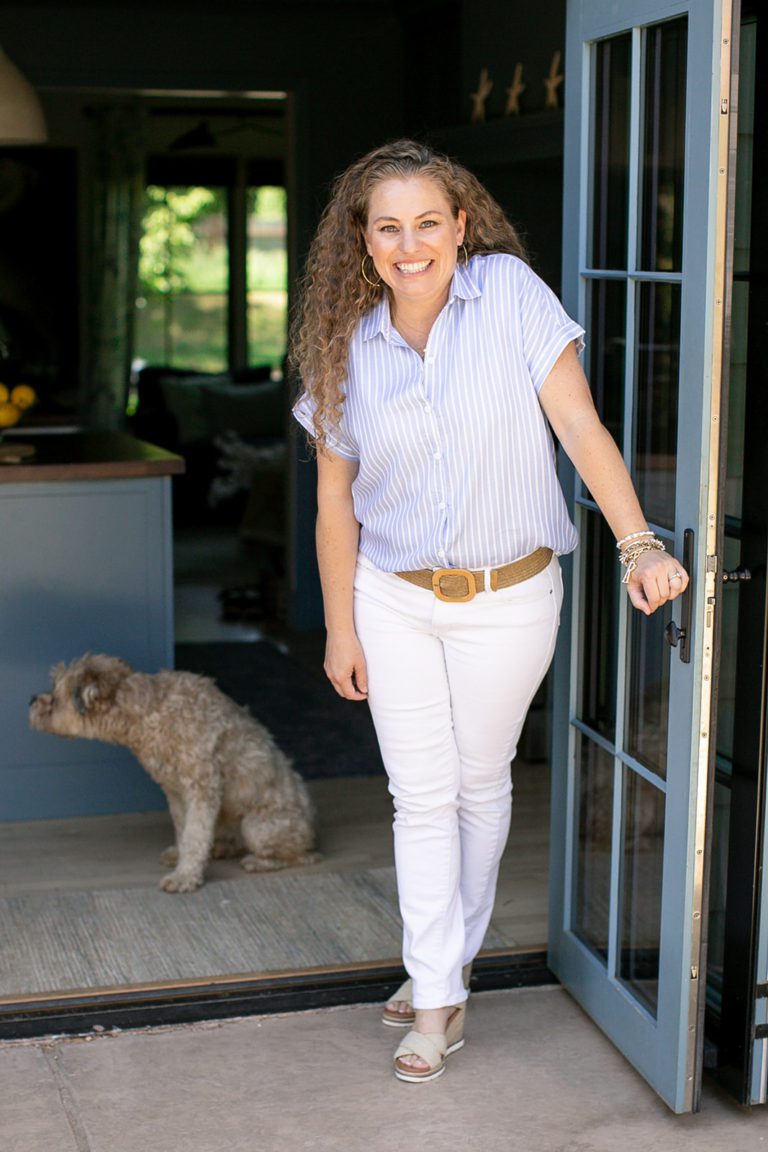 Come on out back! We have a huge backyard that we fully enjoy. There are two entertaining spaces and I love the symmetry they bring to the space. To the right is the outdoor dining table and to the left is a seating area with a firepit.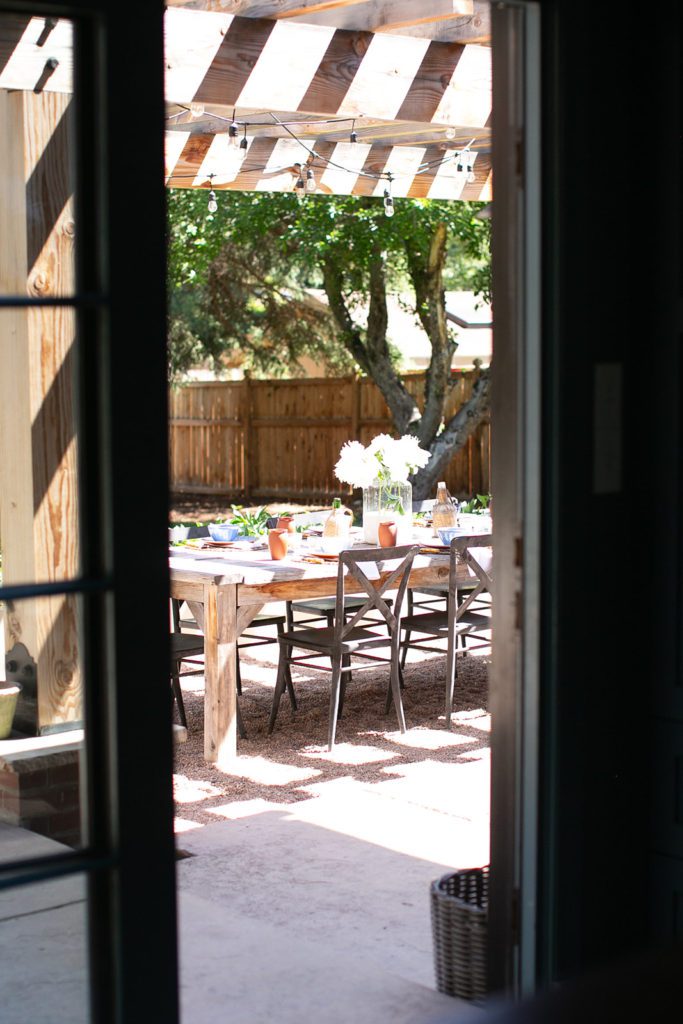 The doors you see here open up as trifold doors and create an amazing indoor-outdoor space opening our kitchen to the back patio. You can see the most recent pictures of our all-blue kitchen in my summer home tour that I shared last week.
A Space We Fully Enjoy
When we looked at this house, we knew we wanted a great outdoor space we could fully enjoy, and goodness did we find it! Our last yard was very small compared to this one and the difference in space has been lovely.
We even had room to add a trampoline for the kids. Thye are also asking for a half basketball court…I'm not so sure!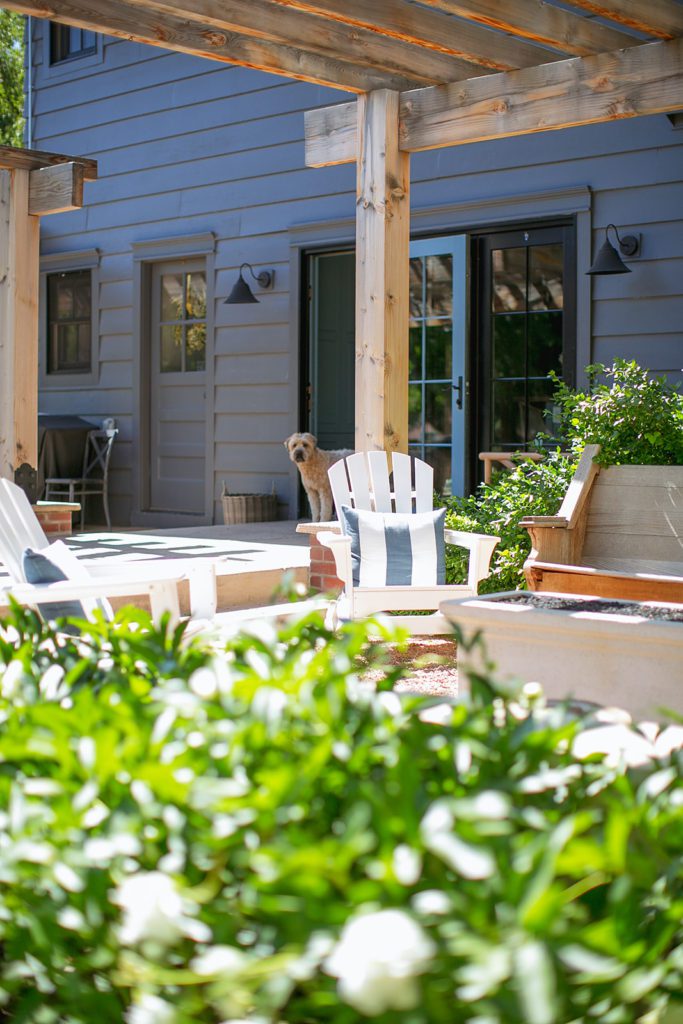 If you were to look out from the steps you would see our house backs to a church parking lot. It is SO nice to not have anyone behind us. But I will say we miss our old neighbors terribly. So thankful we still get to see them! You can see a different view of our yard in this post.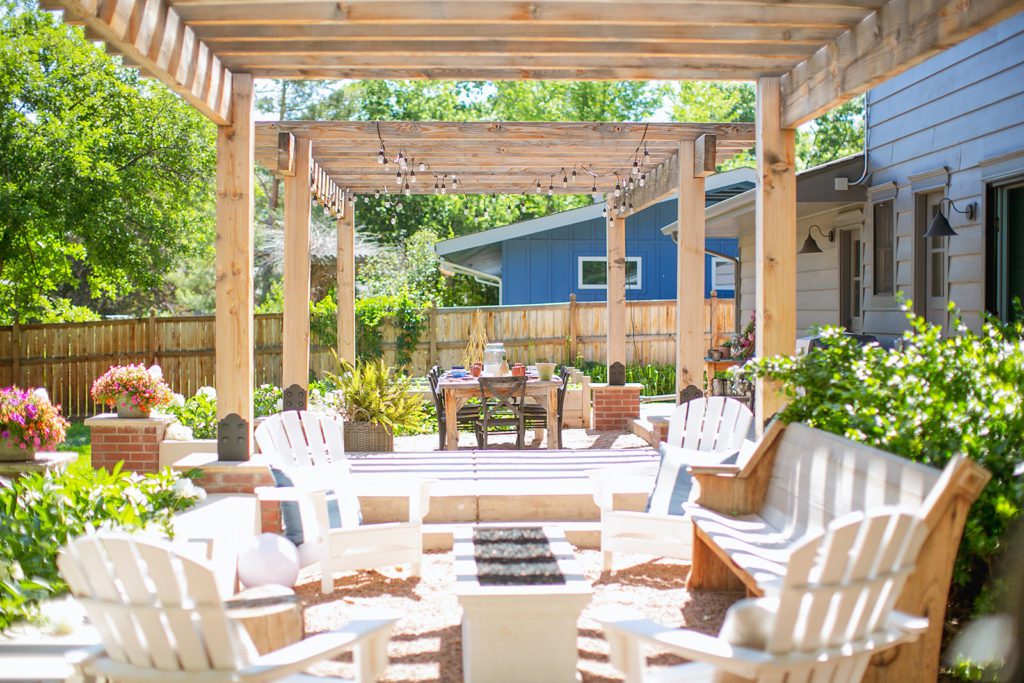 Casual Backyard Seating
Now on to the tour. Our seating area down by the firepit is very casual. We kept our favorite polywood adirondack chairs and added my beloved pew here as well.
Our family loves to do smores here and I love to have quiet time and coffee here in the mornings. In the evenings Mike spoils me and brings me tasty cocktails out here as well!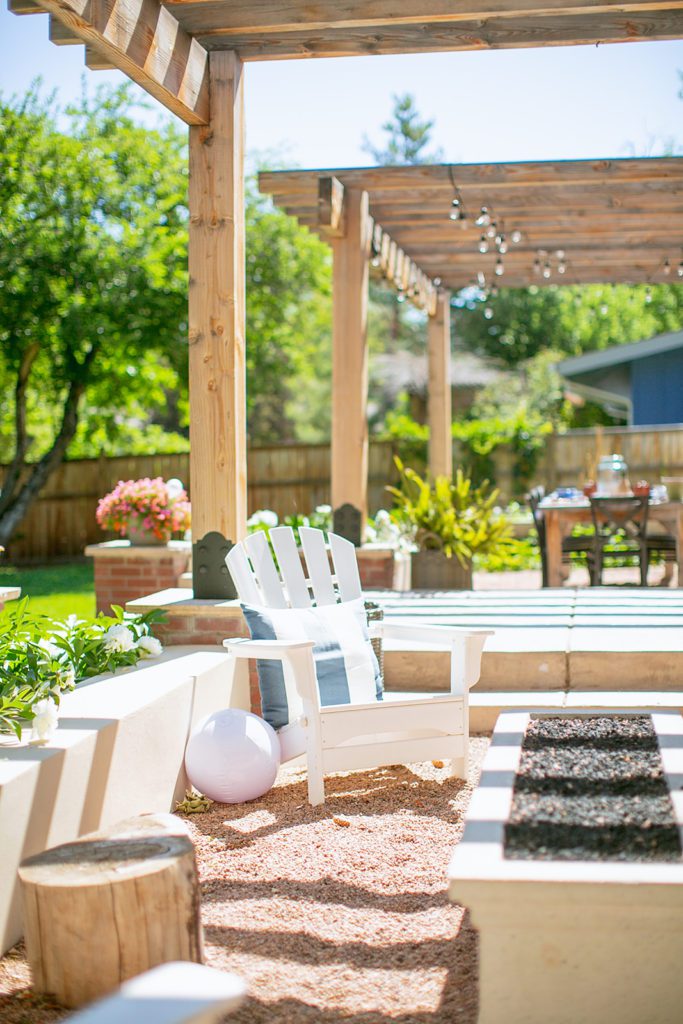 This is our pup Kona, she loves sitting out here. W have another little sweetie named Zoey and she isn't as fond of the camera as Kona is. They love our backyard too and their favorite thing to do is chase the crazy squirrels.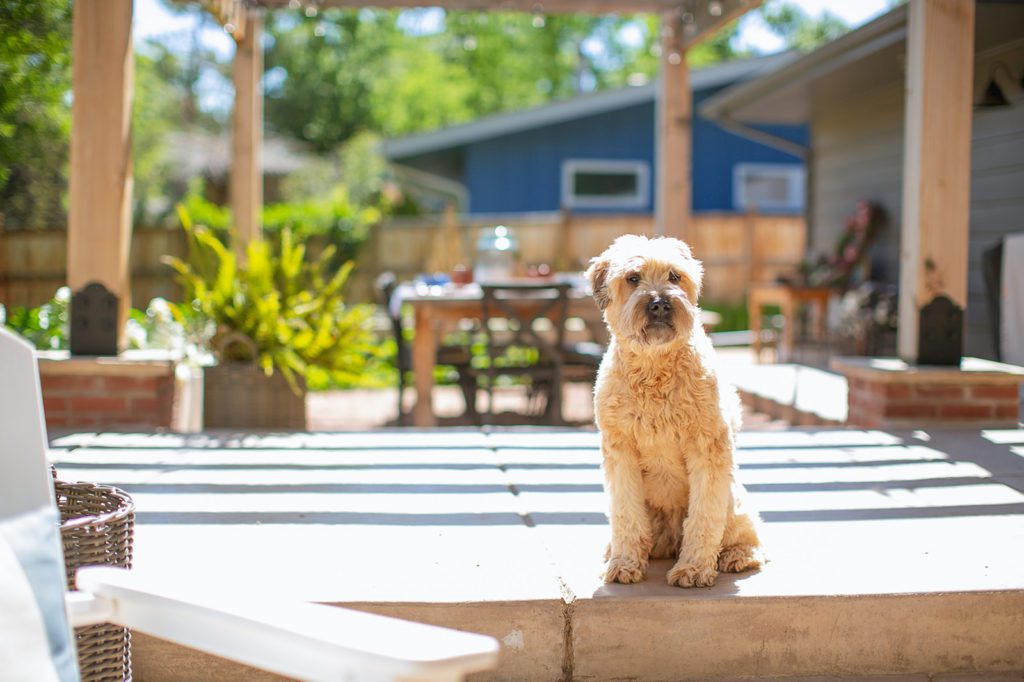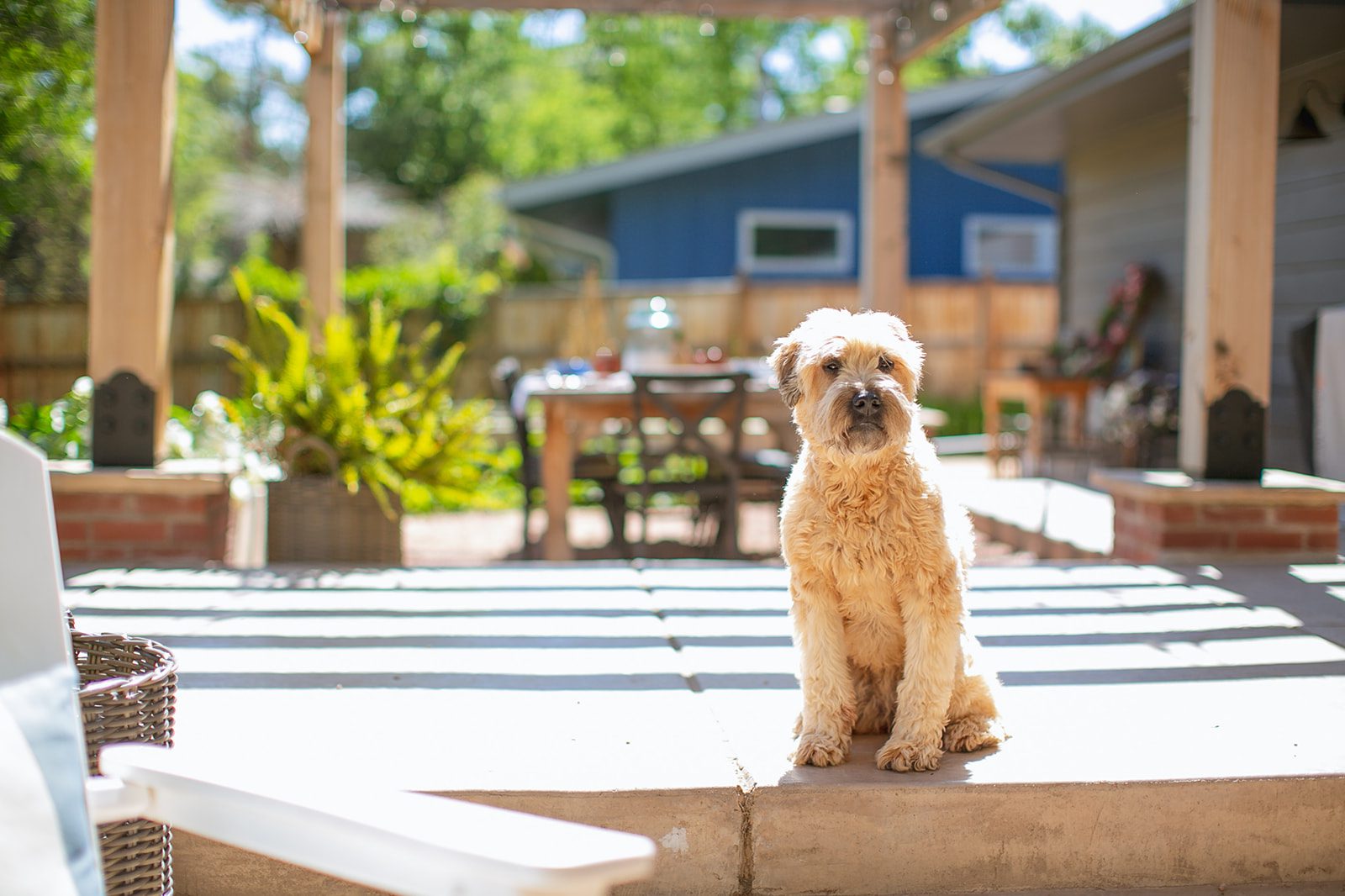 My Tattered Pew
On the other side of the firepit was the perfect spot to place my tattered pew that was on our porch at our last house. I love it out here because we actually use it a lot! I often get asked if it is sealed for weather and the answer is yes! But I did it so many years ago that I should probably do it again. The first time I used this but I just used this on our potting table and loved it!
The lovely Tori Aaker came over and took pictures of me and I had to have one on my pew. I love how it turned out.
Our Backyard Outdoor Table
This space in our yard might get used the most! Our outdoor table has been bringing me so much joy. I just shared yesterday how I set it using blues and terracotta and last week I used pinks and greens!
Our white peonies right behind the table make everything pretty and they smell SO good! Sadly, after about two weeks they are starting to fade and drop their petals.
But don't worry, I took full advantage of them while they were blooming though for sure! I love that we have two packed full planters of all white peonies. They mirror the symmetry of the pergolas and add to the beauty of the space.
Here is a peek at the peonies from the other side. Aren't they just so lovely? I had them in the center of the table for both weeks non-stop!
If you love peonies too you might enjoy my post all about the best tips and trick for peonies!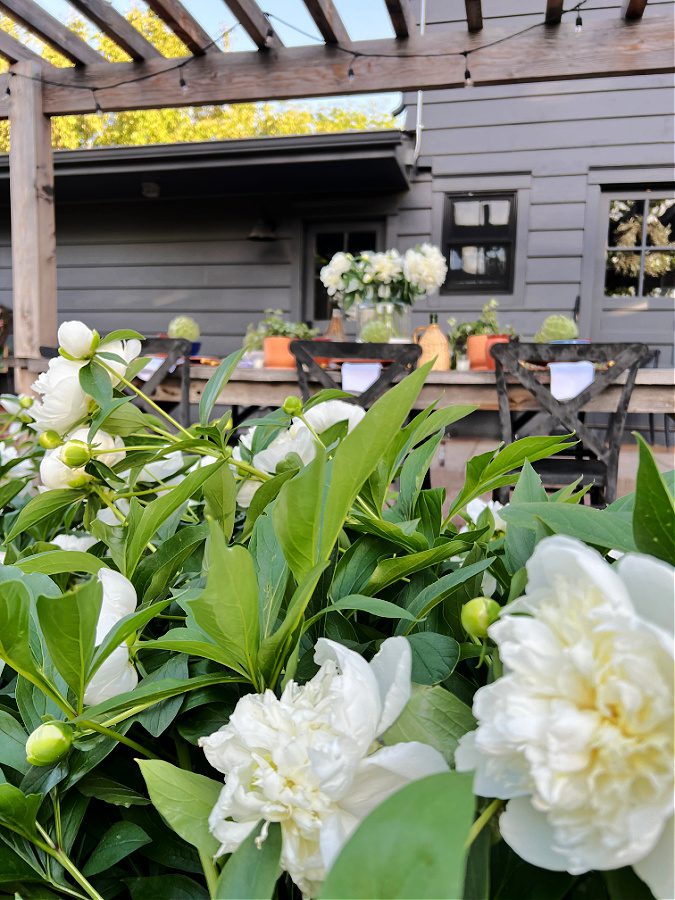 The Potting Table & Raised Beds
This is the last area I have for you today. Just to the left of the dining space you can find our two raised garden beds. I have never had raised garden beds before and I am loving them!
I have added all zinnias to both beds, and they are so close to blooming! On the bamboo trellis you will find some sweet peas growing as well. I am working on a post all about a cut flower garden, but you will giggle when you hear what I plan to call it…let's just say that Lazy Girl might be in the title. Ha!
UPDATE: See my raised beds full of gorgeous zinnias here!!!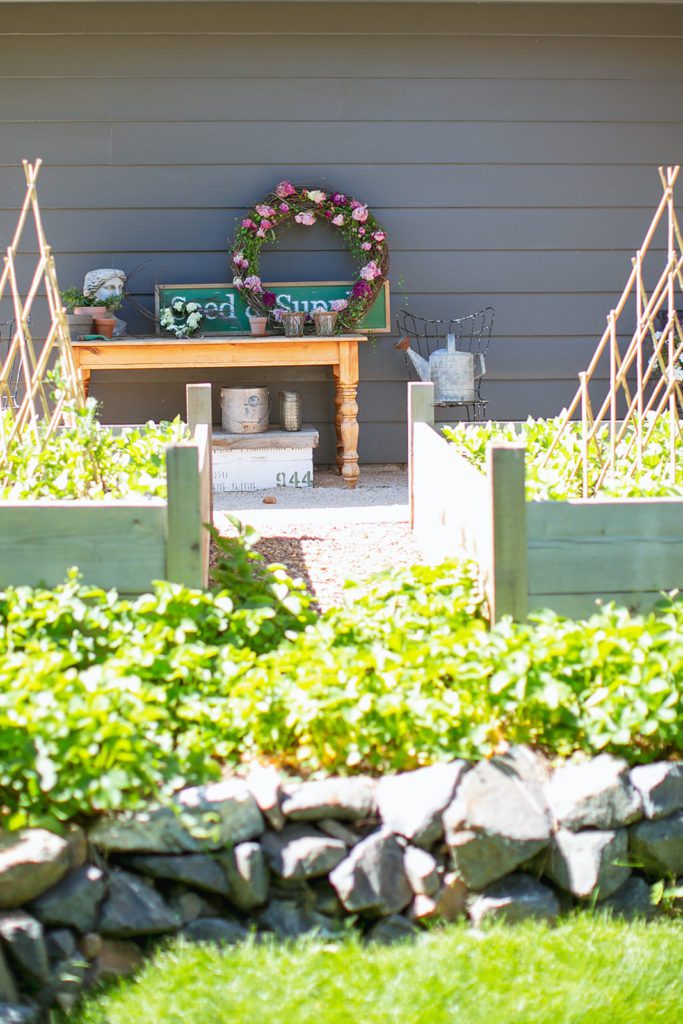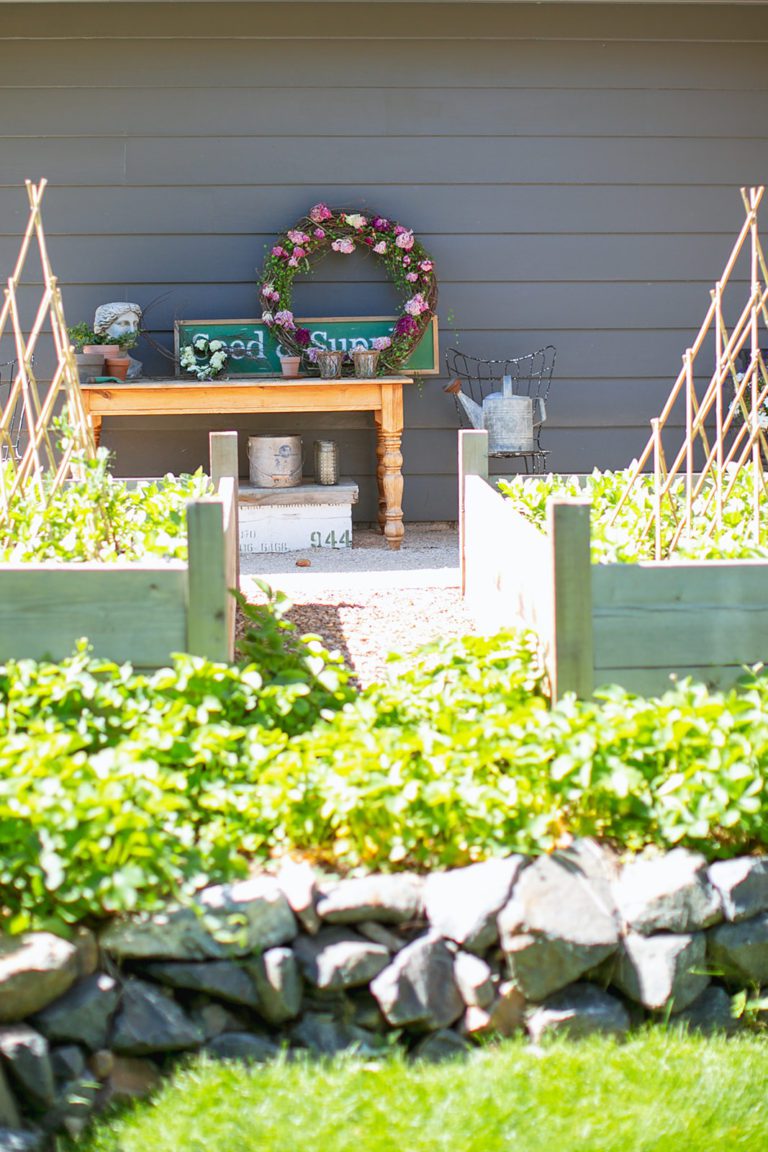 Just in front of the raised beds we have strawberries growing! The girls love to pick them if they can get to them before the darn squirrels do.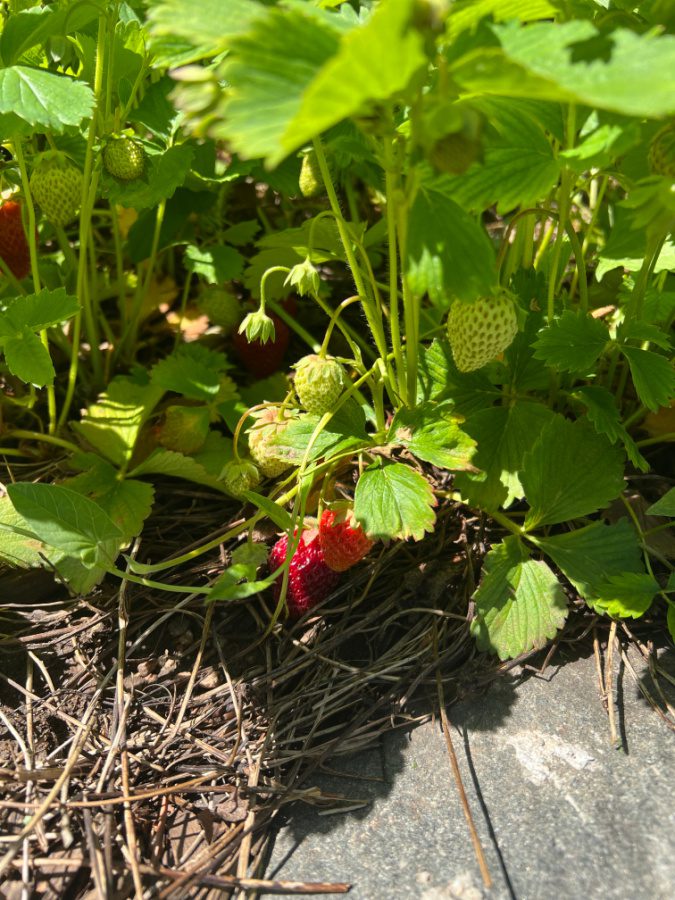 Do you see that large wreath on the potting table? It's made from dried peonies! I shared how easy it was to make and put together just last week!
I quickly learned this spot needed a space for me to work so I created a potting table using our old kitchen table. It has been perfect and already gotten so much use. I sealed it for the outdoors, ( a must in Colorado!) and you can read all about how I did that here!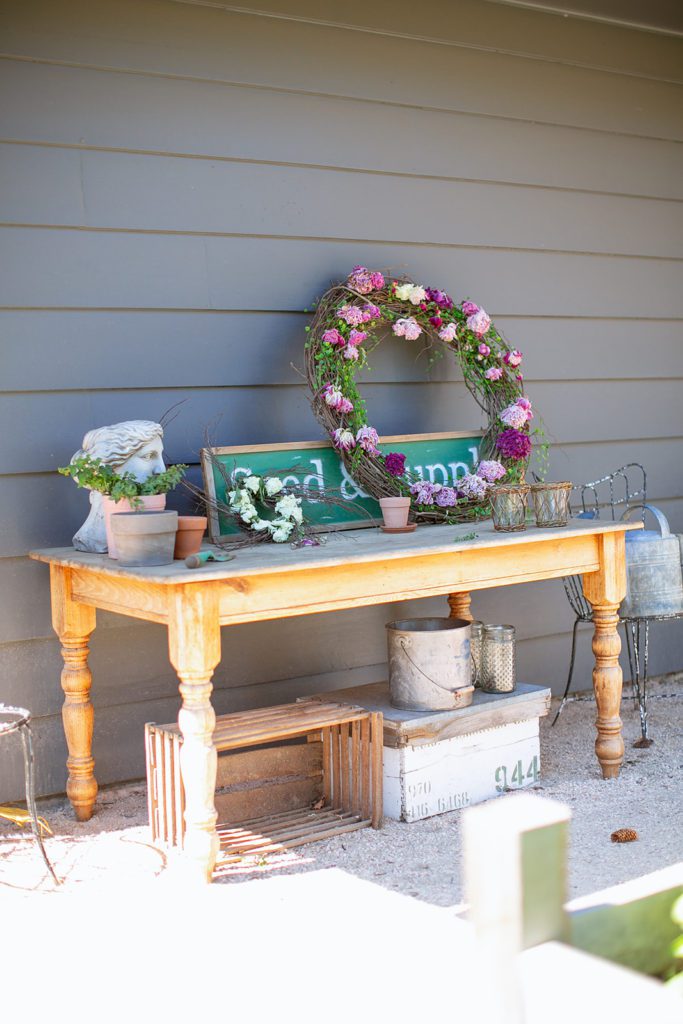 Our Backyard Summer Tour
Thank you so much for stopping by our backyard summer tour. I wish you could pop over for some tea or lemonade and chat. Maybe sometime soon?
I'll leave you with this last full look back at our house. I'm sure you can see why we are crazy in love with this space! Very blessed indeed.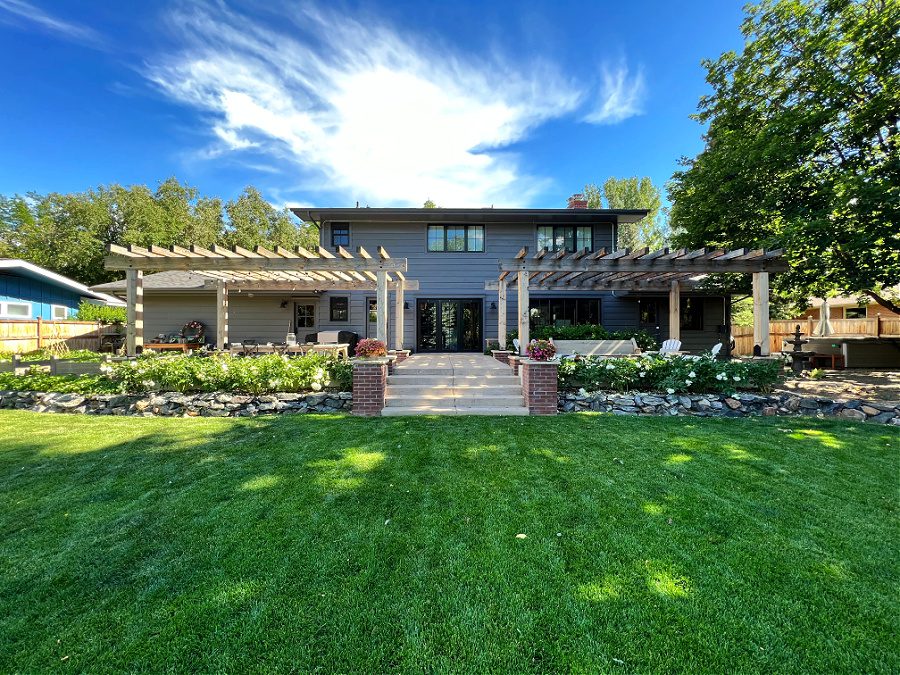 I really appreciate you stopping by today. I hope you enjoyed it and I would love for you to hang out with me some more. You can follow me over on Instagram, Pinterest, Facebook and here on the blog. Don't forget to scroll down and visit the other outdoor spaces my friends are sharing.
xoxo,
Kelly
Today some of my friends have joined me to share their summer outdoor spaces with you.
You can visit their full article by clicking on the links below the images.
Did you like this post? PIN it for later!