It's summer home tour day and I am SO excited to be hosting 30 lovely ladies opening up their summer homes to you this week! This year my tour is appropriately called a casual summer home tour. You will find that I kept it very simple, full of flowers and of course several patriotic pops of color.
If you are coming over from Ann at Dabbling and Decorating's gorgeous summer home tour, welcome! Her vintage, coastal and collected style always has me swooning! After you tour my home make sure to visit the other tours linked at the end of my post. Six new homes will be added each day this week! I don't know about you but I love peeking into other peoples' homes!
This post contains some affiliate links for your convenience. Click here to read my full disclosure policy.
Our Casual Summer Home Tour
Now come take a peek into our casual summer home tour. My name is Kelly and I live in Colorado with my husband, 4 kids and our two dogs. We have lived in our home for 14 years and have had a blast updating it as our time and budget allows. We recently had the roof replaced and the exterior painted thanks to an awful hail storm. (If you live in Colorado you know!) We went with Hale Navy and LOVE it!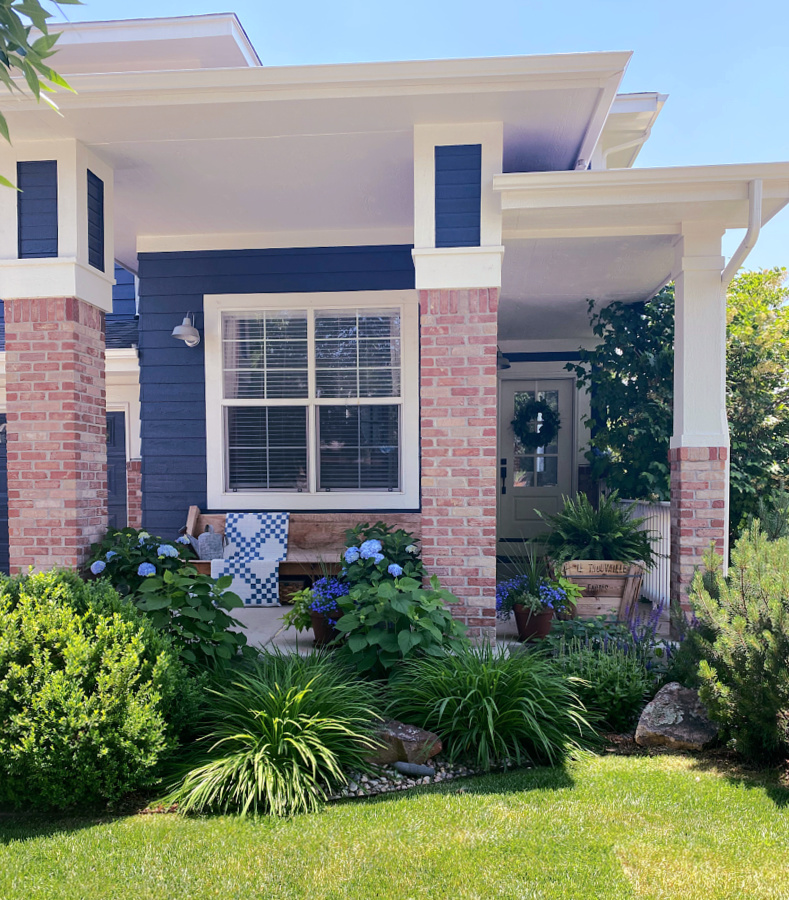 I plan to share an outdoor tour very soon…so I hope you will stick around. My blue Endless Summer hydrangeas are currently blooming and my Annabelle hydrangeas are next!
And I thought I would share a picture of me welcoming you into our home. You can see I'm pretty casual too and honestly I just love to share my heart and home with you all. So come on in!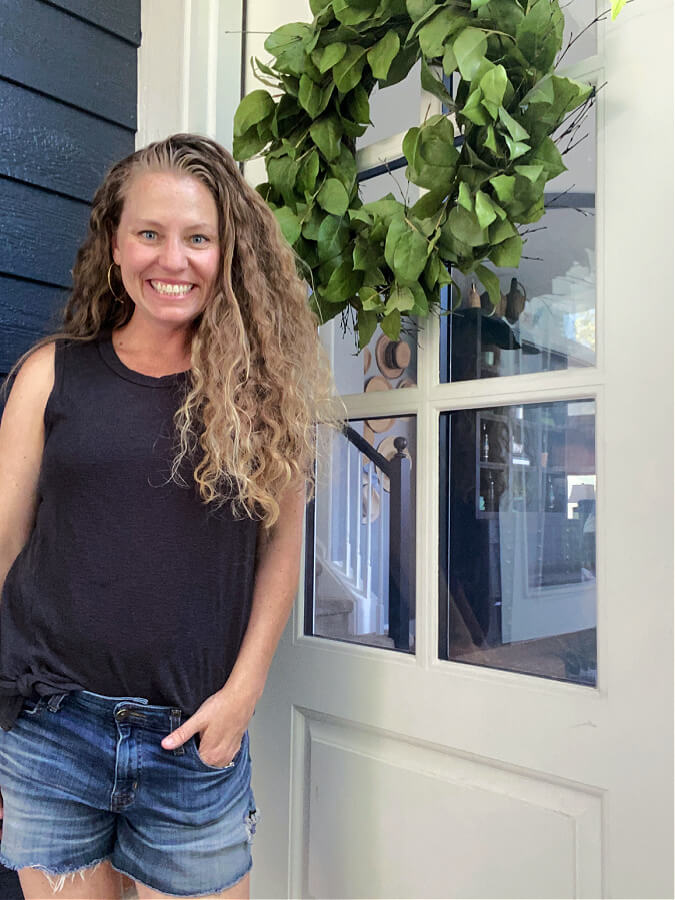 Our Casual Entry
Our casual entry is one of my absolute favorite spots in our home. A few years ago I was blessed to work with Jeffrey Court and use their beautiful tile to create a tiled doormat that says home. It's a special addition to our home that I adore. It sets the tone and lets visitors feel at home!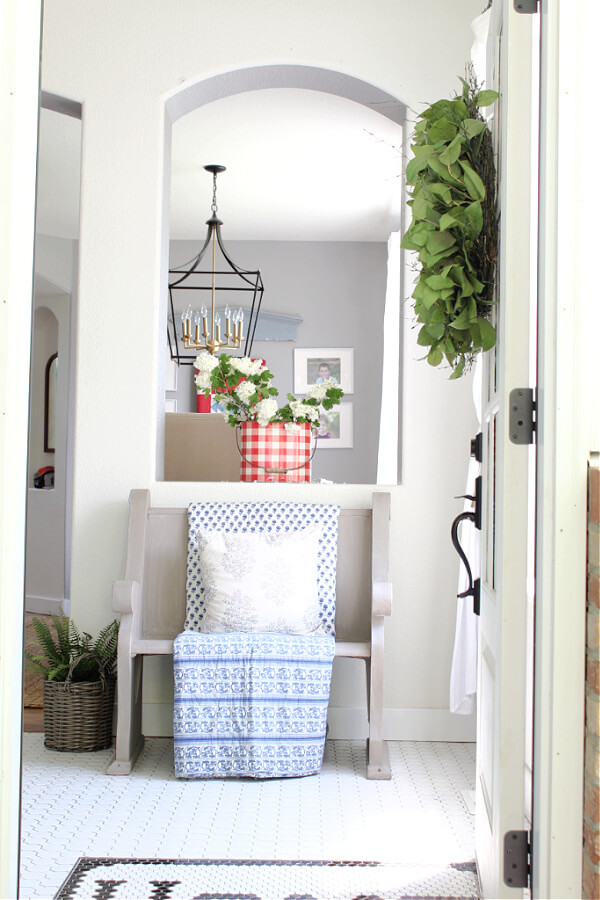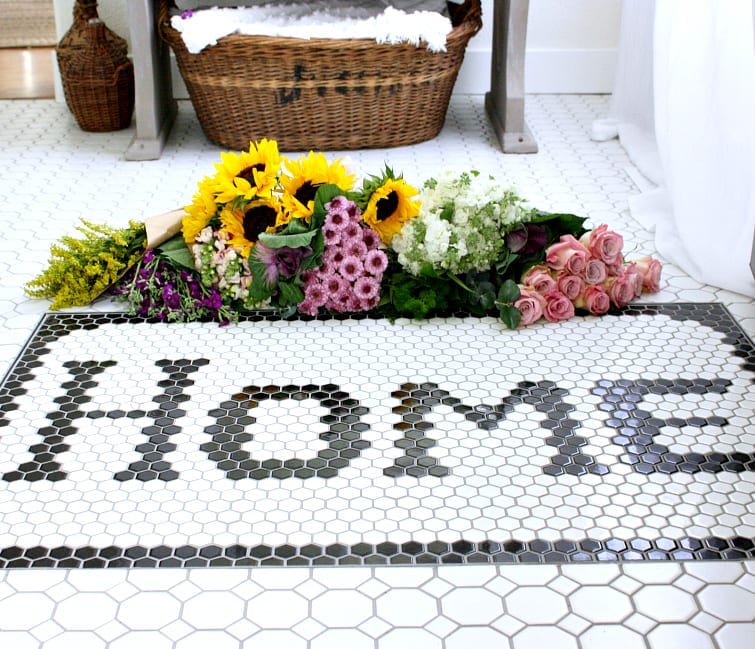 Our entry is home to one of my sweet pews and I love to show her off. This summer I used viburnum snowballs from our yard throughout my tour and I love the fresh pop of white and green that they add.
Don't you just love this red and white checked metal tin I set some it? It's my mom's and she let me borrow it just like she did for my Christmas Home Tour too! I have searched high and low for another one but can't seem to get my hands on one.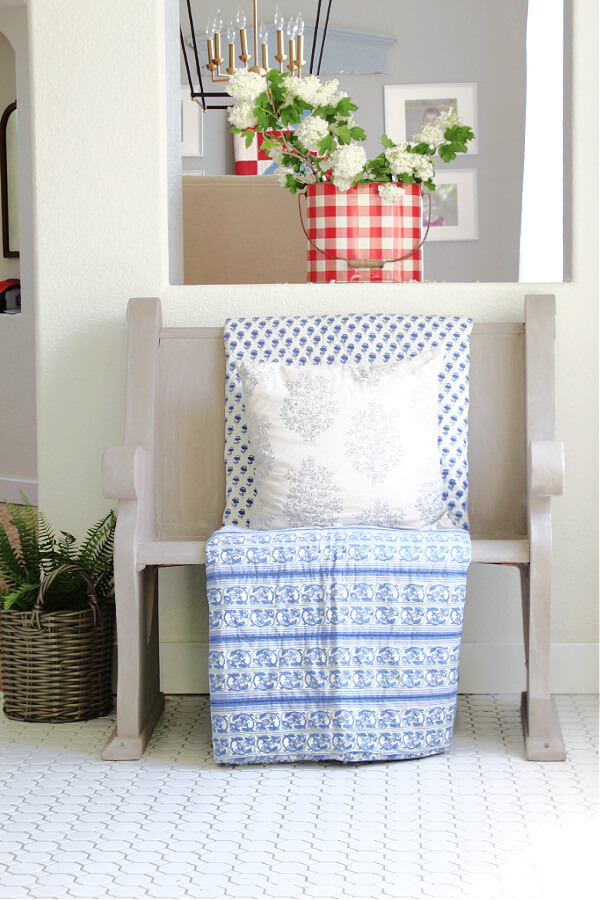 The blue and white block print throw you see draped on my pew is actually an old quilt of my mom's. She has the best style and I have learned everything I know from watching her!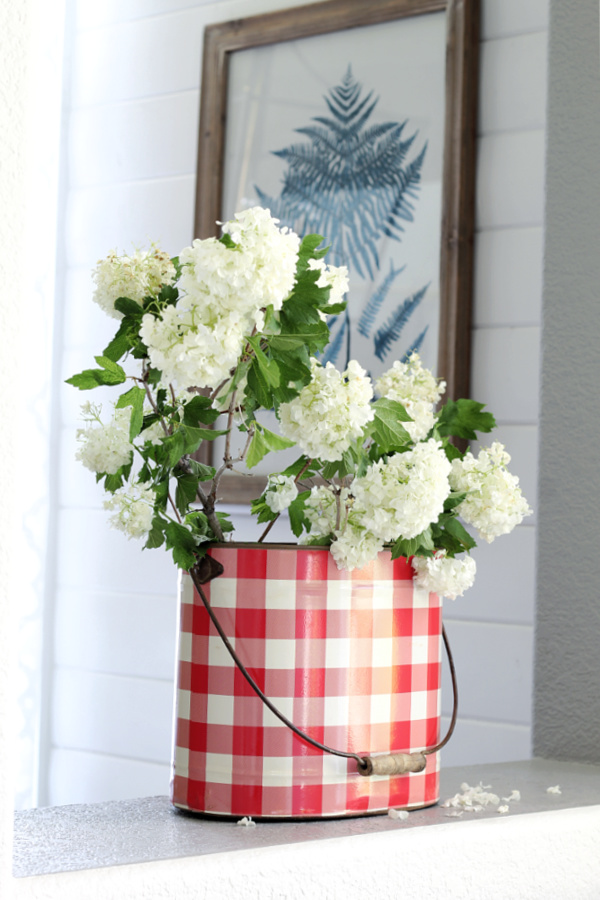 Our pup Zoey wanted to also get in on the action and welcome you in to our home! She is a Carin Terrier and darling, but wild!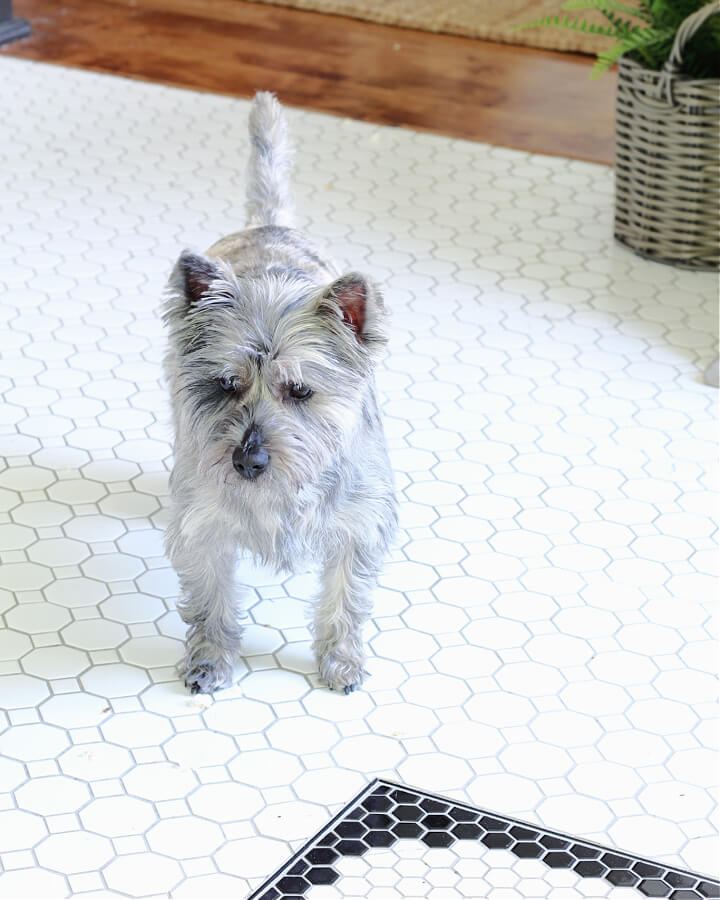 As you walk through our entry you are greeted by probably the largest piece of furniture we own. My husband found this gorgeous Restoration Hardware printers cabinet for me at my favorite consignment shop; Curate Consignments here in Northern Colorado. I love filling her and decorating her. This summer I added pops of green.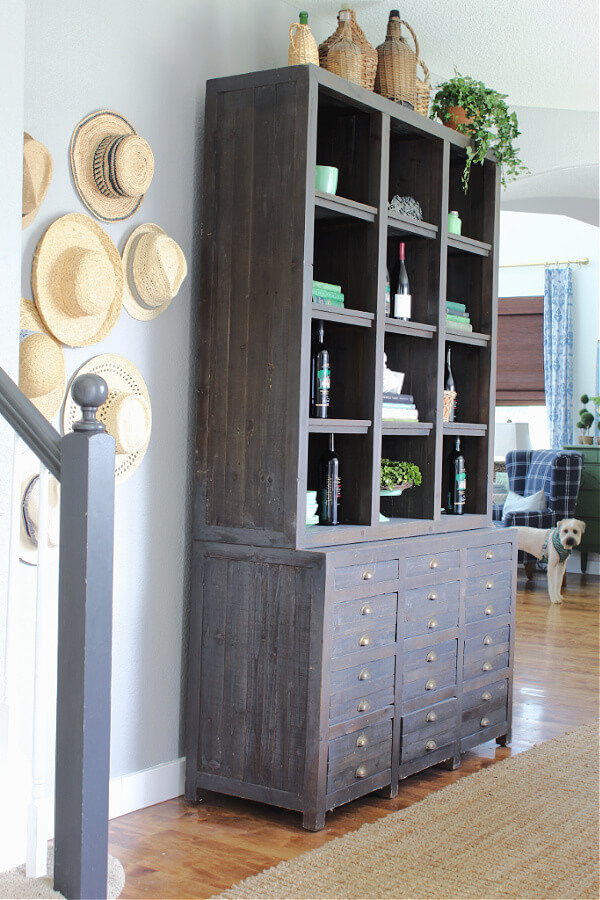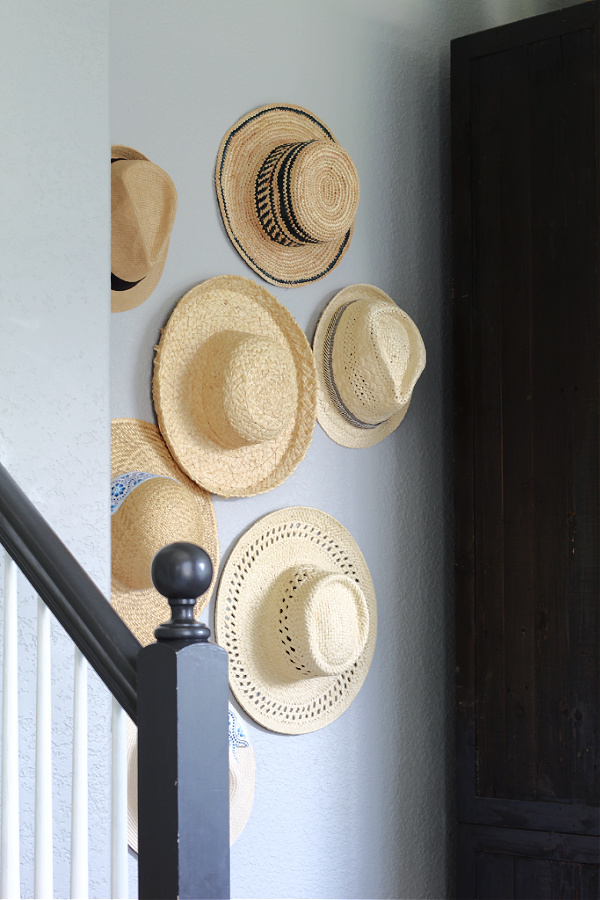 Did you see my hat wall? Have you noticed the decor trend of using hats to decorate your walls? I love the casual feel and felt my straw hat collection should be put to good use! Of course a few are my mom's as well. My kids and husband thought it was a bit crazy but I love it.
Our Dining Room
From the entry, and past the cabinet, you walk directly into the dining room. See that huge gorgeous jute rug under our table? I just scored it off of Facebook Marketplace for $100. Amazing right?! I am obsessed with it! The wing back chairs at the end of the table were also Facebook Marketplace finds from last summer. Our home has a collected feel that I love!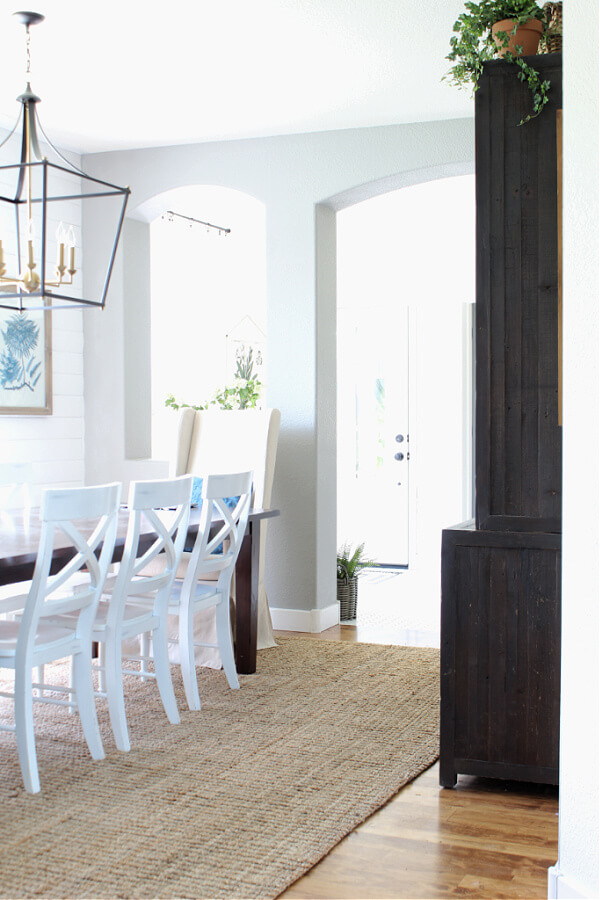 The vintage quilt shown below adds just the right amount of red, white and blue as a nod to summer. It is casually draped over an old shutter.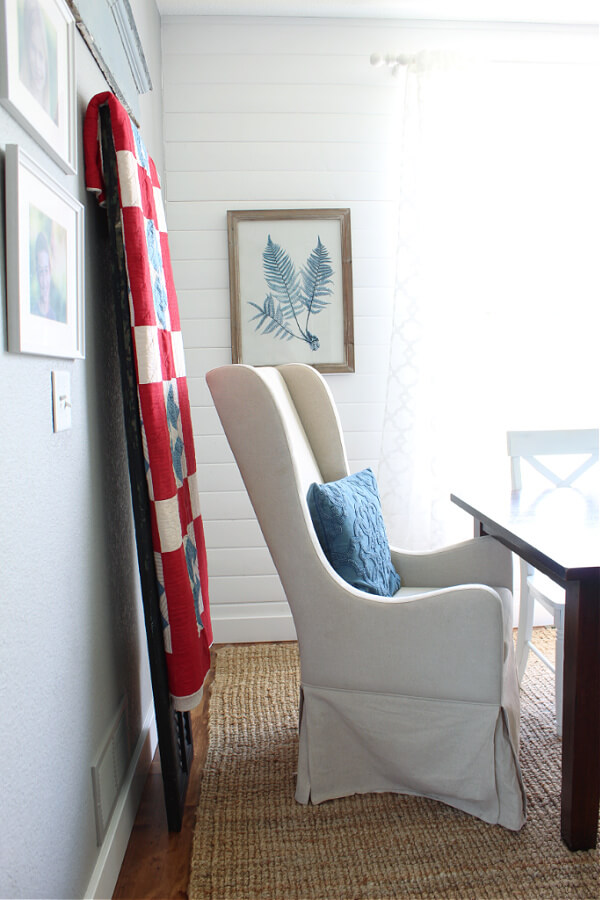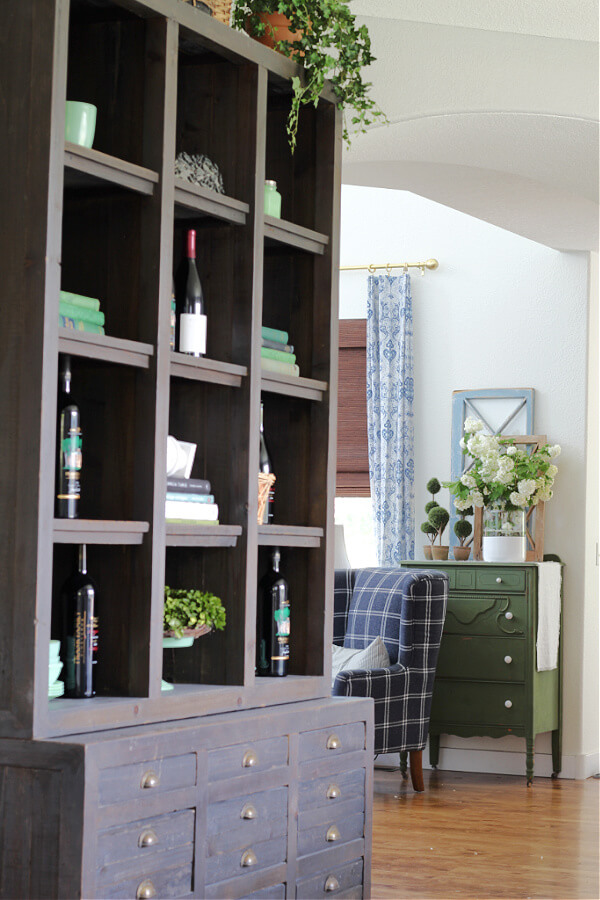 This is another view of the printers cabinet that sits across from our dining room table. Just beyond it you can see my favorite boxwood green dresser.
Shop Our Dining Room

Casual Family Room
Our family room is bright and open and I love how it is connected to our kitchen. The blue plaid chair was a recent Wayfair purchase that we love. The texture and color it adds to this space is just right. It compliments the curtains from Amazon as well as the painted boxwood green dresser.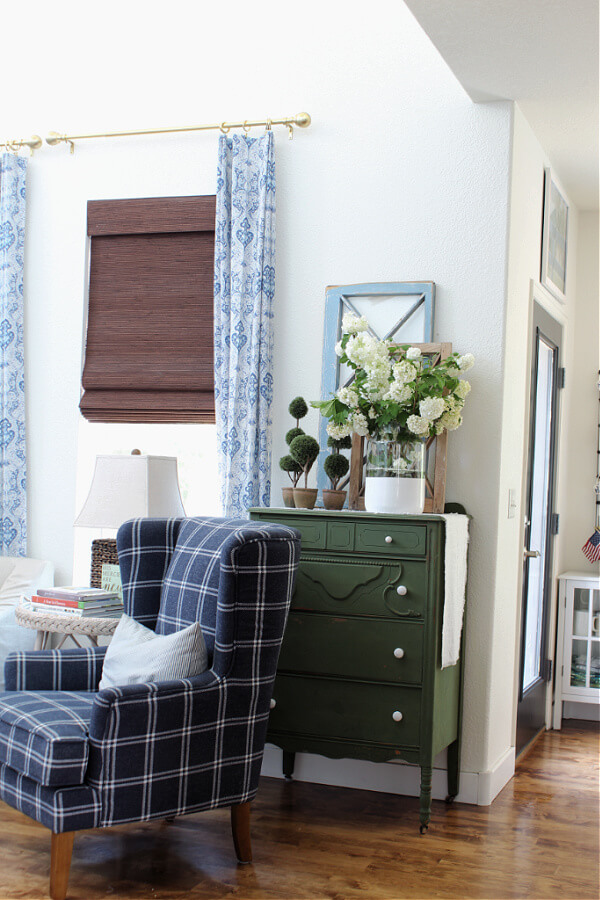 Can you spot our other pup Kona? She is a wheaten terrier and the chill one of the two. She was curious why I was bringing so many flowers into the house and why all the white petals were everywhere. 🙂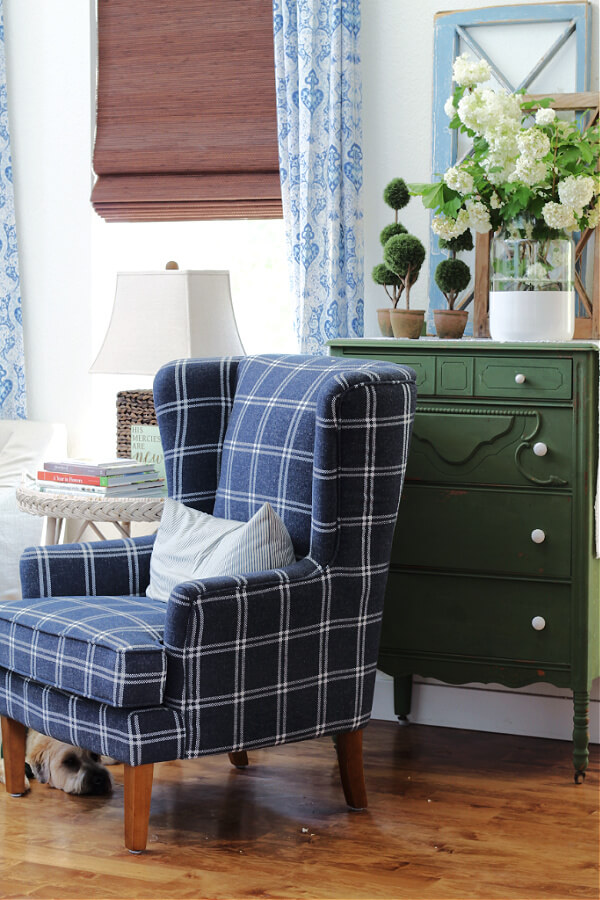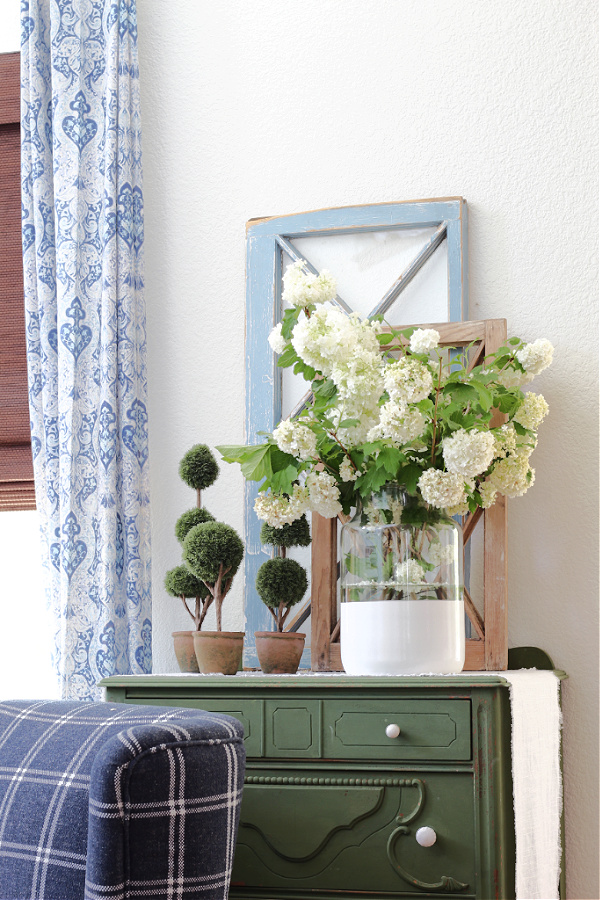 Our viburnum snowballs were in full bloom in our yard when I took these photos. However, they were literally on their last few days and so their gorgeous white petals were dropping all over our house. Obviously that didn't stop me and I was even able to enjoy them inside a few days after I took these photos. I love them outside but I also love them inside. I wish I hadn't waited so long to bring them inside this year. Hopefully I learned my lesson.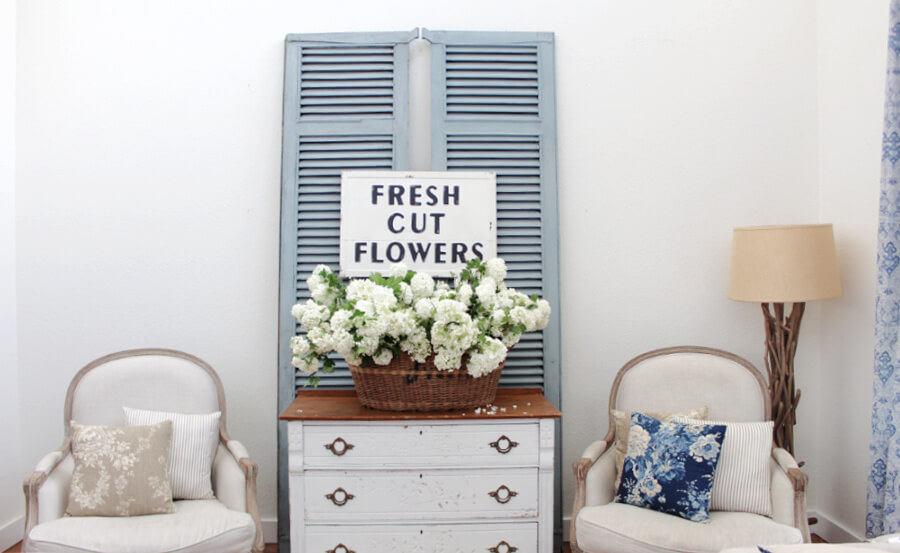 I went a bit picture crazy and decided to create a collage of all the pictures I took because I couldn't just choose a few. Next to my hydrangeas these are some of my all time favorite flowers. I just love how they look in this vintage basket against my painted shutters! This space is also in our family room and just across from the green dresser.
Just like my sign says fresh cut flowers are a budget friendly way to decorate your home for summer. Especially if they come from your own garden!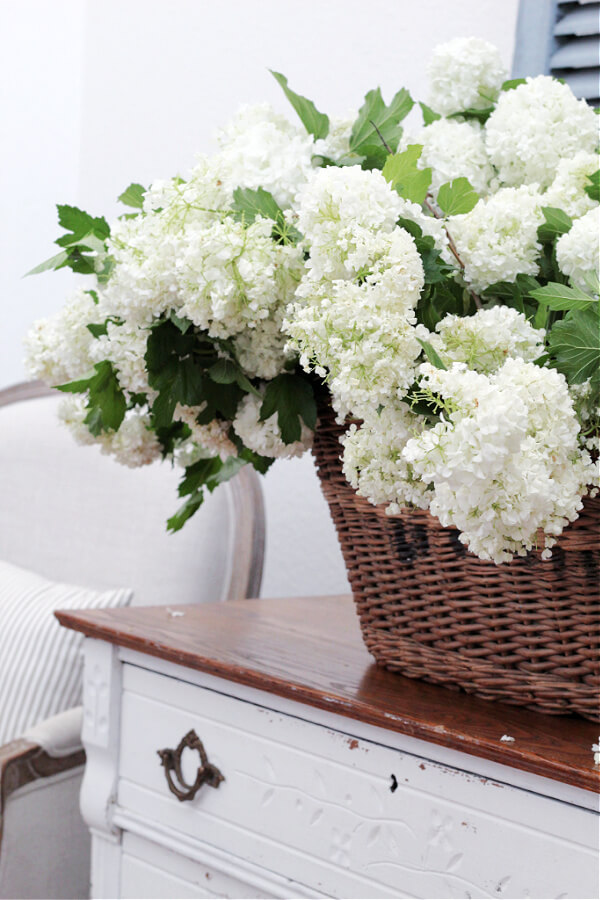 I snuck a few into our kitchen area as well!
Shop Our Family Room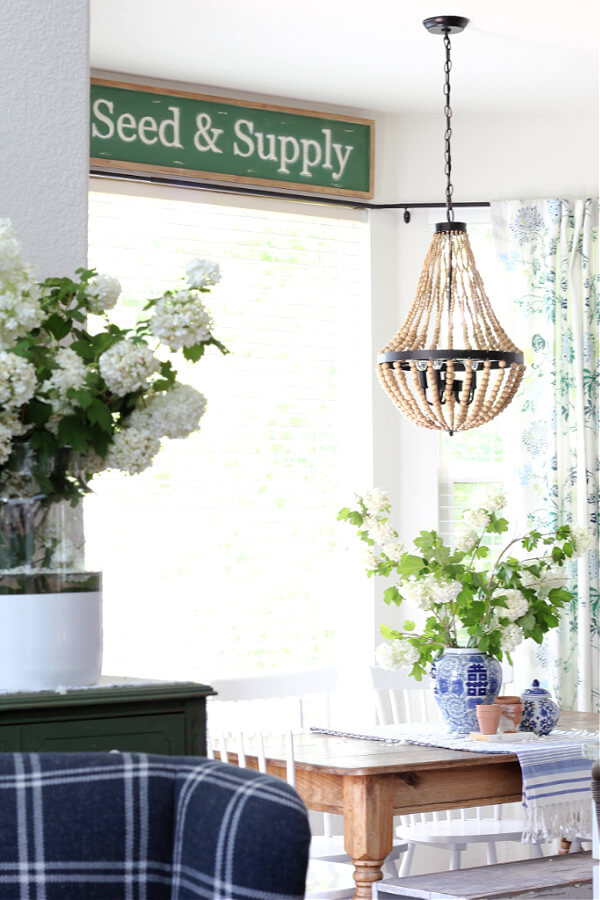 Come take a peek into our eat in kitchen. you will notice I stuck with the greens, blues and whites and even some red!
The Kitchen
We recently refinished our kitchen cabinets and I am loving the bright white feel! In here I added fun pops of color with flags and baseballs and blue and white ginger jars. A fun twist of classy and casual if you will.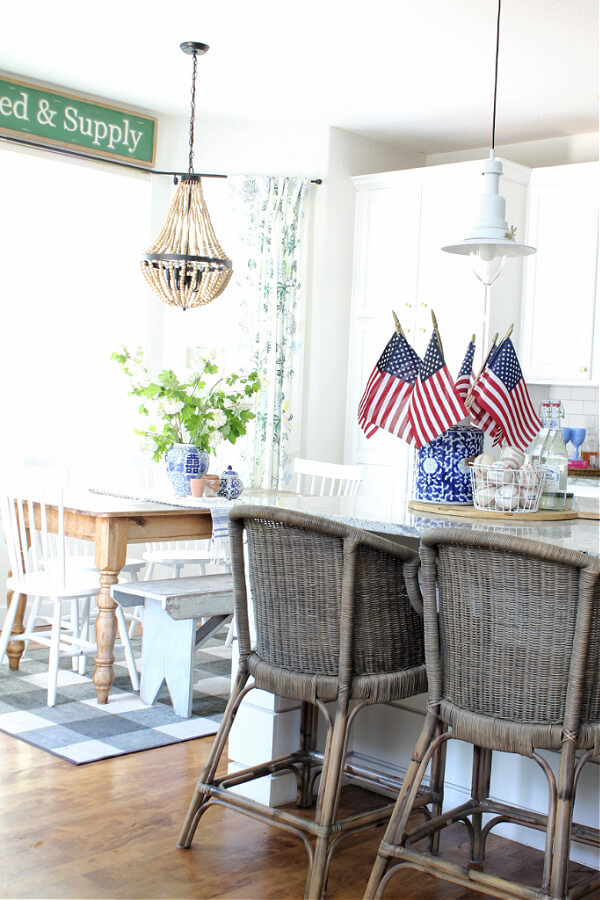 Nothing is off limits for me when it comes to decorating and I love to mix patterns, textures and colors! Do you love mixing textures and patterns or just colors?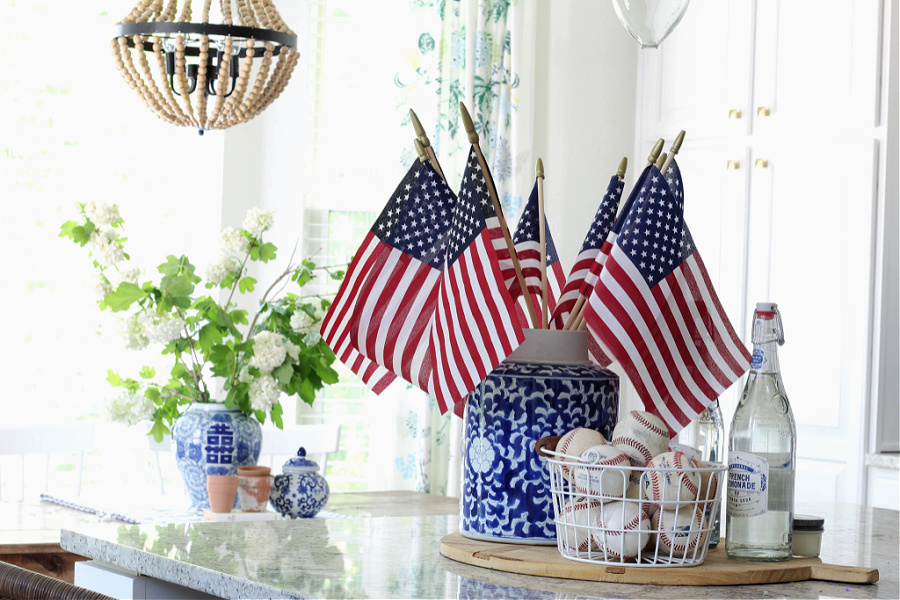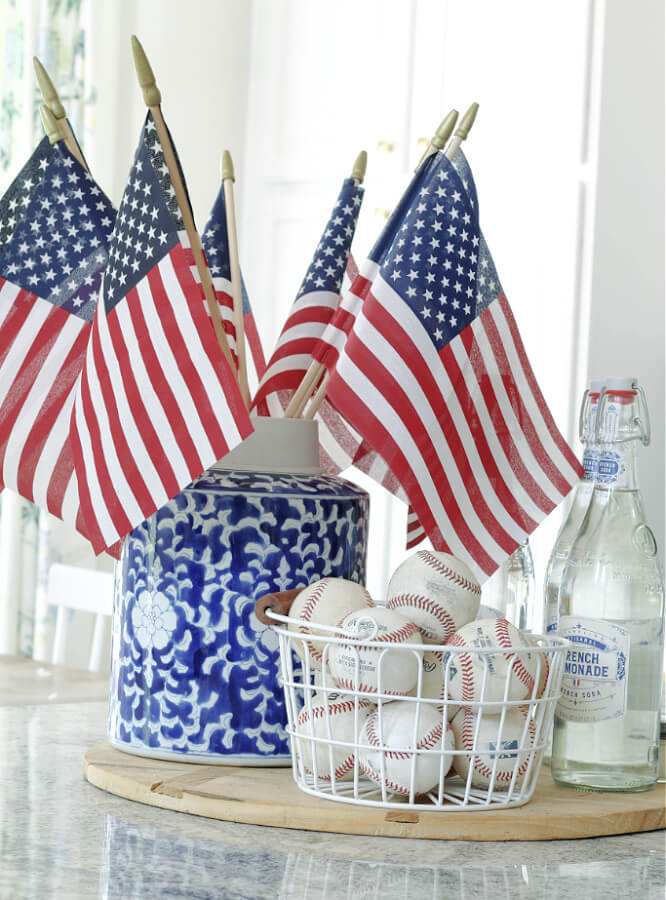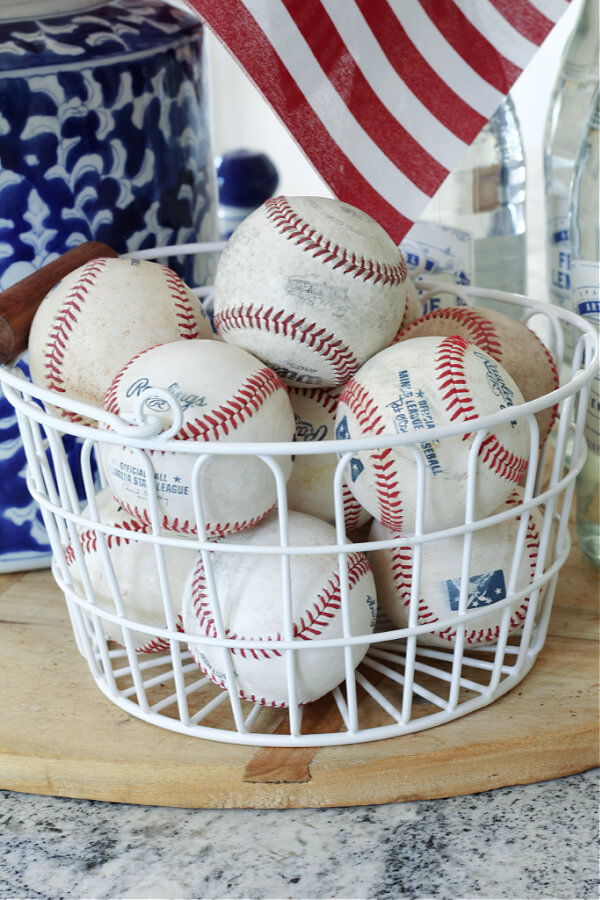 You may have noticed that I brought back the baseballs from last summer's home tour. We love baseball in our home. My husband played and so did both boys. So between playing and attending spring training in Arizona we have quite a few. They hold sweet memories and I love to move them around our home. They add a sentimental feel and are always a great conversation starter!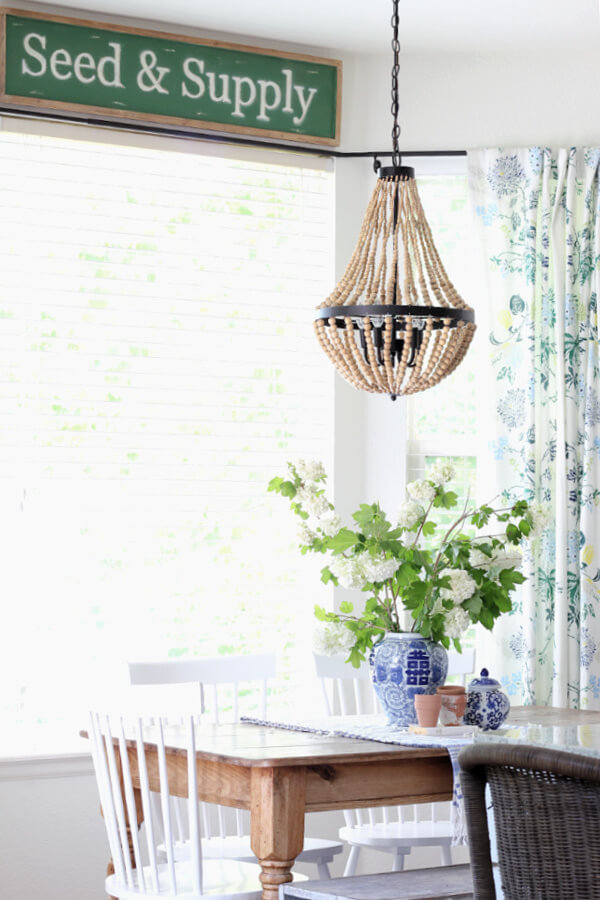 Like I mentioned above more viburnum branches found their way on to our kitchen table. Also a ton more pictures had to be taken so another collage found it's way on to the blog. Imagine that! I had fun catching all the details in here as well.
I think the blue, white, green and terra cotta color combo is my favorite. The patterns from the jars , the tablecloth, the chandelier and the flowers work together so well and add so much interest with very little effort!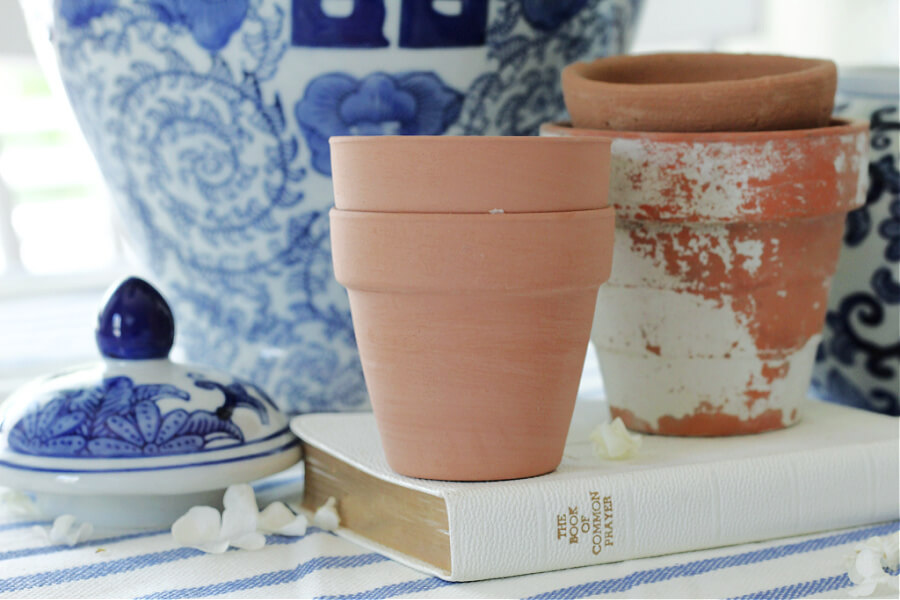 Shop Our Kitchen

Our Casual Summer Home Tour
And that my friends is it for our casual summer home tour. Thank you so much for stopping by! I hope you enjoyed it as much as I enjoyed sharing it with you! Let me know if you have any questions.
Now make sure to visit Yvonne of Stonegable next as she shares a tour of her outdoor spaces. Then visit the other bloggers listed below. Happy touring!!!
XOXO,
Kelly
Blogger's Best Summer Home Tour
This week I'm joining some of my blogging friends for the Bloggers Best Summer Home Tours! All week long we are welcoming you into our homes. You can visit each summer home tour by clicking the links below.
Monday's Tours

The Tattered Pew / Stonegable / My Wee Abode
White Arrows Home / Fiddle Leaf Blog / Dabbling and Decorating
Tuesday's Tours

The Flowering Farmhouse / Sanddollar Lane / Cottage In The Mitten
Up To Date Interiors / Bricks 'n Blooms / Cottage On Bunker Hill
Wednesday's Tours

Open Doors Open Hearts/ Pasha Is Home / Shiplap and Shells
A Blue Nest / Cloches and Lavender / Simply 2 Moms
Thursday's Tours

Cassie Bustamante / First Day of Home / Midwest Life and Style
County Road 407 / She Gave It A Go / Robyn's French Nest
Friday's Tours

The Ponds Farmhouse / DIY Beautify / Follow The Yellow Brick Home
My Thrift Store Addiction / Tatertots and Jello / Sweet Pea
Did you like this post? PIN it for later!