15+ Cozy Fall Decor Ideas From Amazon
Are you ready for some cozy fall decor ideas from Amazon? I had some fun shopping and thought I would share those finds with you! As the vibrant colors of summer give way to the warm and earthy hues of autumn, there's no better time to infuse your living space with cozy fall decor ideas.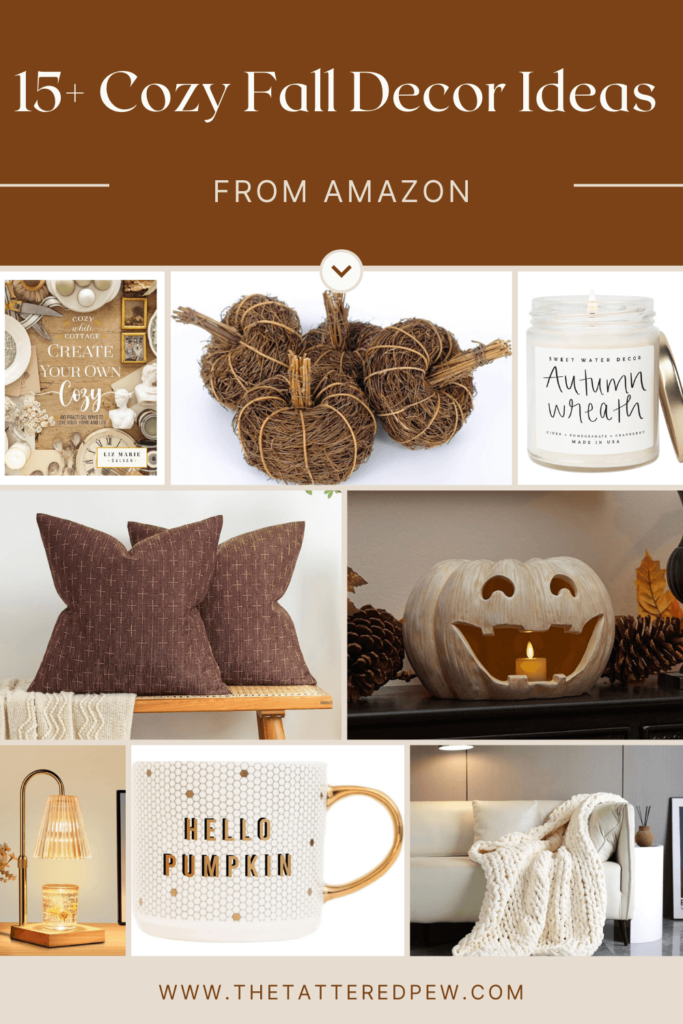 *As an Amazon Associate, I earn from qualifying purchases. This post contains other affiliate links too for your convenience. Click here to read my full disclosure policy.
From the moment the leaves start to turn and the air grows crisp, many of us can't help but fall in love with the idea of snuggling up in a warm, inviting home. Luckily, with a little creativity and some clever decorating tips, you can transform your living room into a seasonal haven that embraces the beauty of the season.
I am so excited to share these 15+ cozy fall decor ideas from Amazon!
15+ Cozy Fall Decor Ideas From Amazon
In this post, we'll explore over 15 cozy fall decor ideas from Amazon that are not only easy to implement but also affordable.
From vintage-inspired accents to natural elements and vibrant throw pillows, get ready to elevate your home decor game and make your space feel like a welcoming retreat throughout this enchanting season!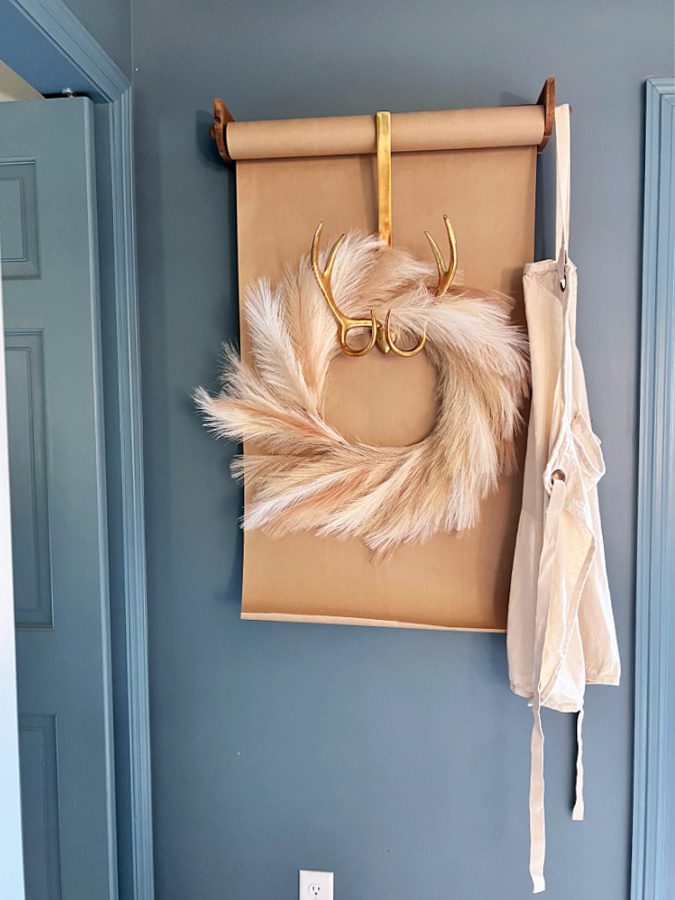 Spruce up your decor with a set of four 4×4-inch grapevine pumpkins. These versatile, hand-made pieces bring a rustic charm perfect for Halloween, Thanksgiving, and Christmas. I love their texture and organic feel!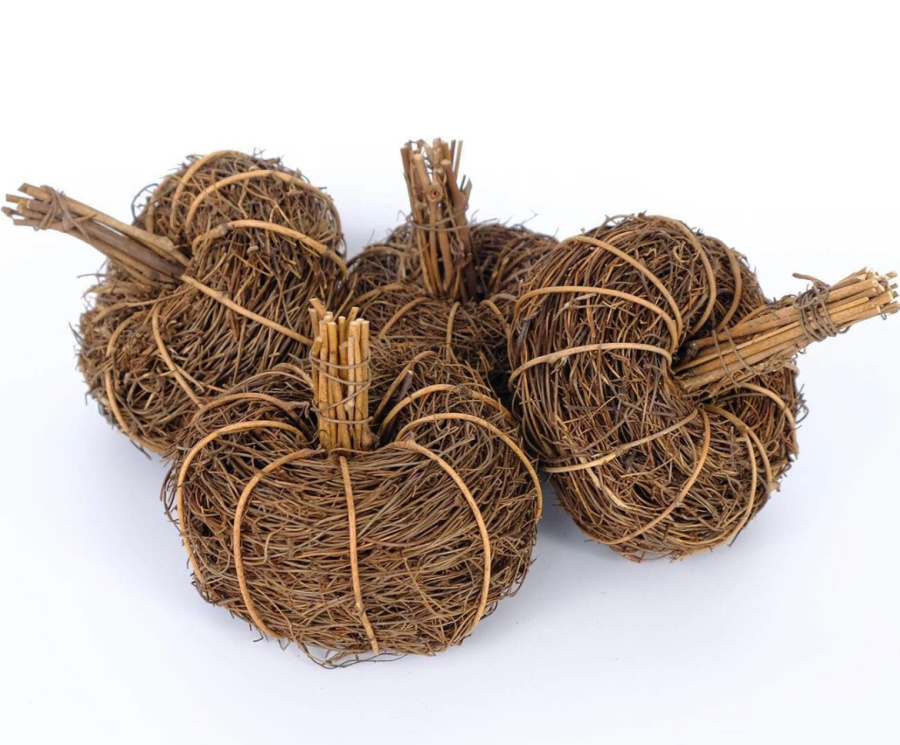 Use them in bowls, vases, or as standalone accents to infuse your space with holiday cheer. Get ready for festive fun with these adorable pumpkins!
Can we all just agree that candles elevate your space? With this set of 5 slim flameless candles in gold glass holders, complete with a remote control, and instruction manual, this is instant cozy fall decor.
These realistic candles offer soft, flickering LED flames for over 400 hours. With timers, light options, and adjustable brightness, they're versatile and safe for any occasion. Perfect for elegant table centerpieces and special events!
Prepare to cozy up in style with this fabulous cotton blanket! It's the perfect addition to your home decor, great for draping over a couch to create a warm, inviting atmosphere. Or maybe consider laying it over a bench or coffee table for extra texture and coziness.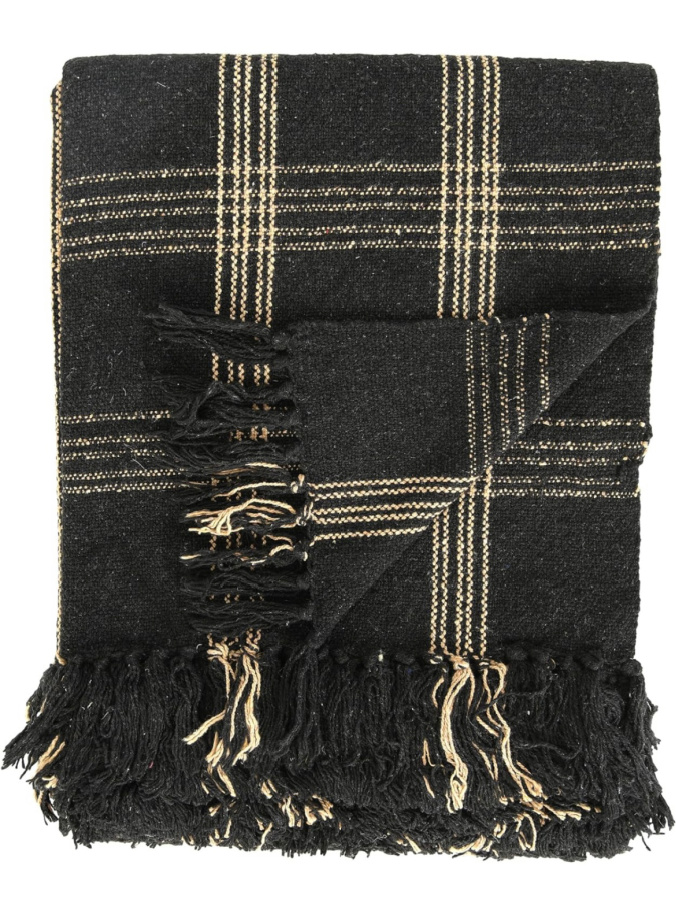 Featuring charming fringe detailing and a delightful black and tan plaid pattern, it adds rustic elegance to any space. Measuring a generous 60 inches in length and 50 inches in width, it's perfect for chilly evenings or enhancing your furnishings!
Pillows are an easy way to cozy up your home decor for fall. I fell in love with these linen-like pillow covers ( I have them in blue too)! Featuring a unique multi-color tone design, durable construction, and an invisible zipper for easy use, they add style to any space.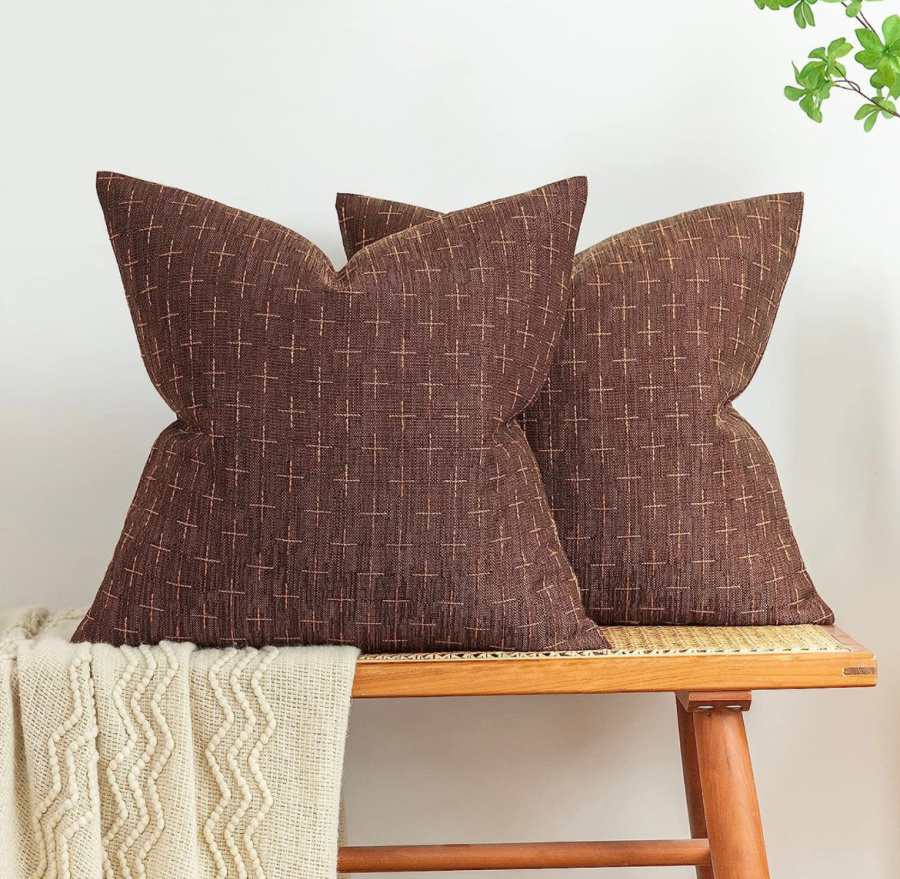 The set includes two 18×18 inch pillow covers (inserts not included), offering an affordable way to refresh your decor. Whether your style is farmhouse or modern, these versatile covers are a perfect match for your sofa, bed, or living room!
How darling is this pumpkin for your indoor decor? This beautiful 10″ x 6.75″ resin piece in the timeless "Perfectly Pale" color. Its smooth finish exudes sophistication, making it the perfect addition to your space! I would probably even set it on my front steps with some battery operated candles. Love this!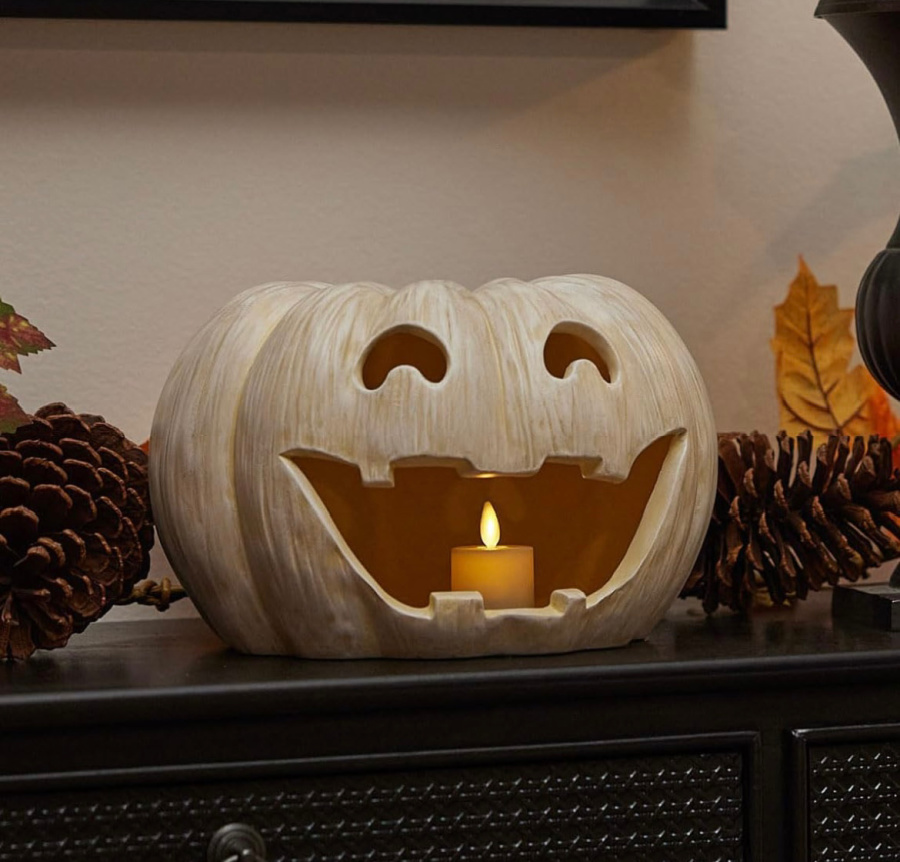 I recently bought this and can't wait to use it. Welcome some relaxation with this Retro-style Candle Warmer Lamp! It melts candles evenly, offers adjustable brightness, and enhances safety with a timing function. Suitable for all candle sizes and versatile in design, it's a thoughtful gift for yourself or others. Upgrade your ambiance today!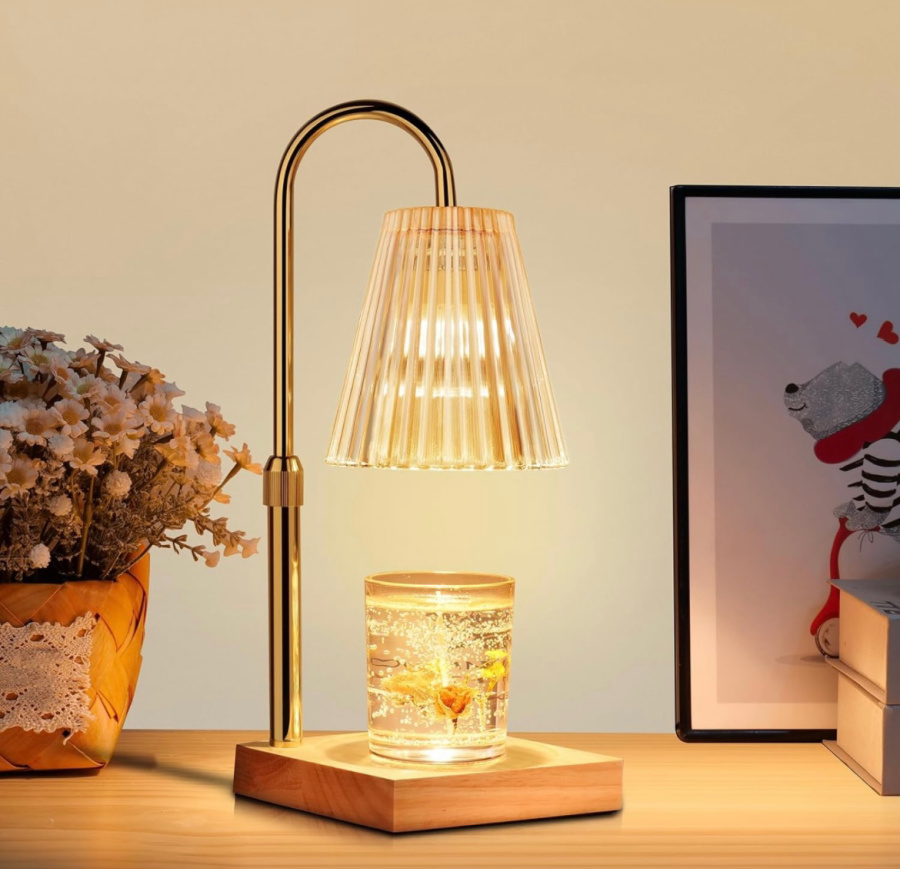 Embrace the vibrant essence and colors of autumn with these Eucalyptus Stems! Each package includes 6 stems, each standing at 27.5 inches tall with a 9.5-inch diameter.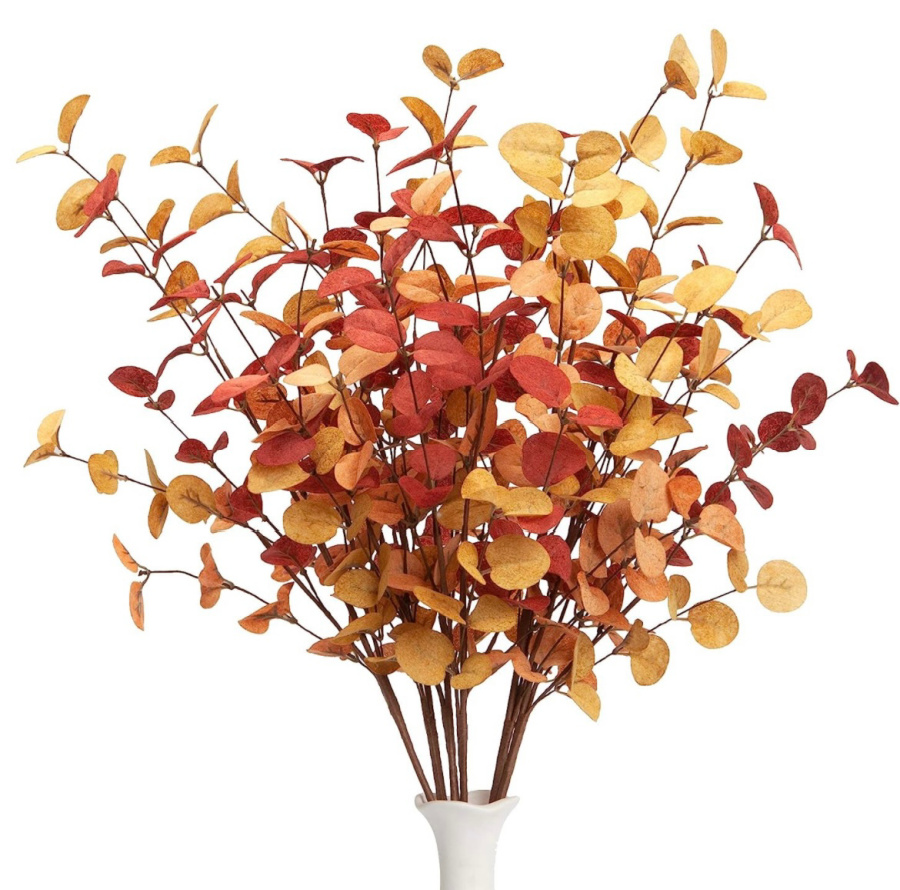 Crafted with durable iron wire and non-woven fabric leaves, they require no maintenance and stay fresh all season. Add a natural touch to your home decor and customize their size with ease! Plop in a vase and you are done.
Enhance your decor effortlessly with this Premium White Pampas Grass Wreath! Crafted from top-quality silk, it offers longevity with zero shedding. Soft to the touch and says classic cozy fall decor. I have this in our bedroom!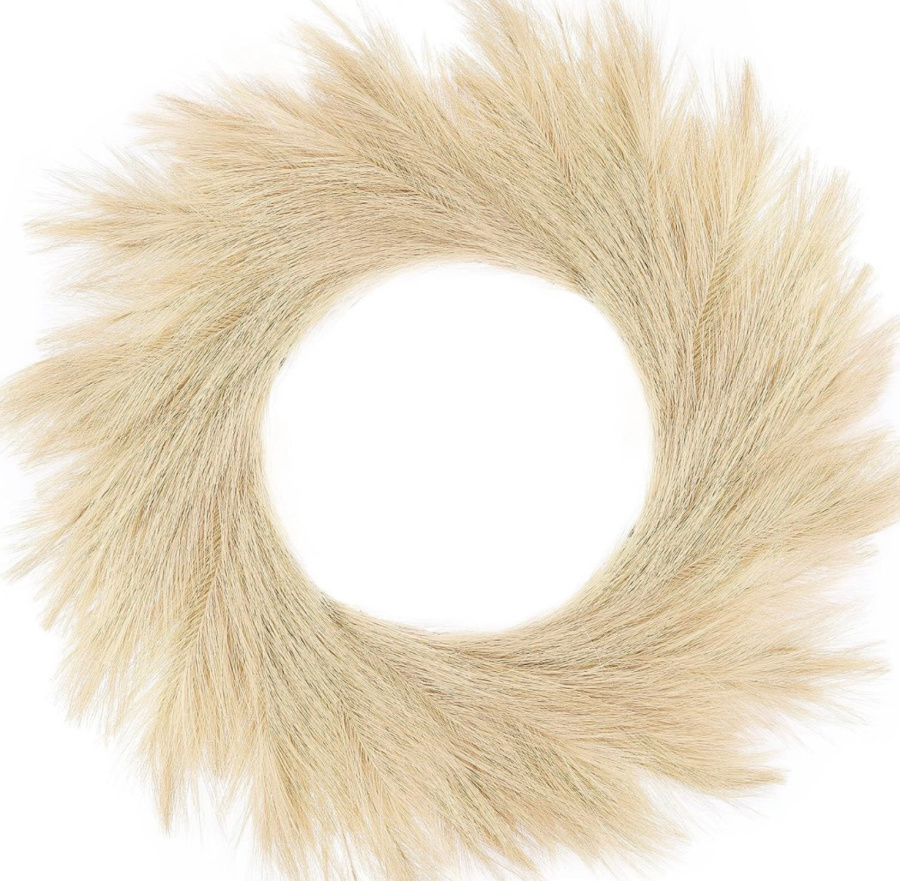 It's designed to last for years without shedding, unlike dried pampas grass. Its warm beige color complements any room and pairs beautifully with our Faux Pampas Grass. A chic gift for any occasion!
Elevate your coffee experience with this 17oz Gold Tile Style Mug! This versatile mug adds daily elegance. It's microwave safe, eco-friendly, and suitable for hot and cold drinks. This collection also has several other sayings so you can collect them all. I have this "Hello Pumpkin" one and use it ALL the time!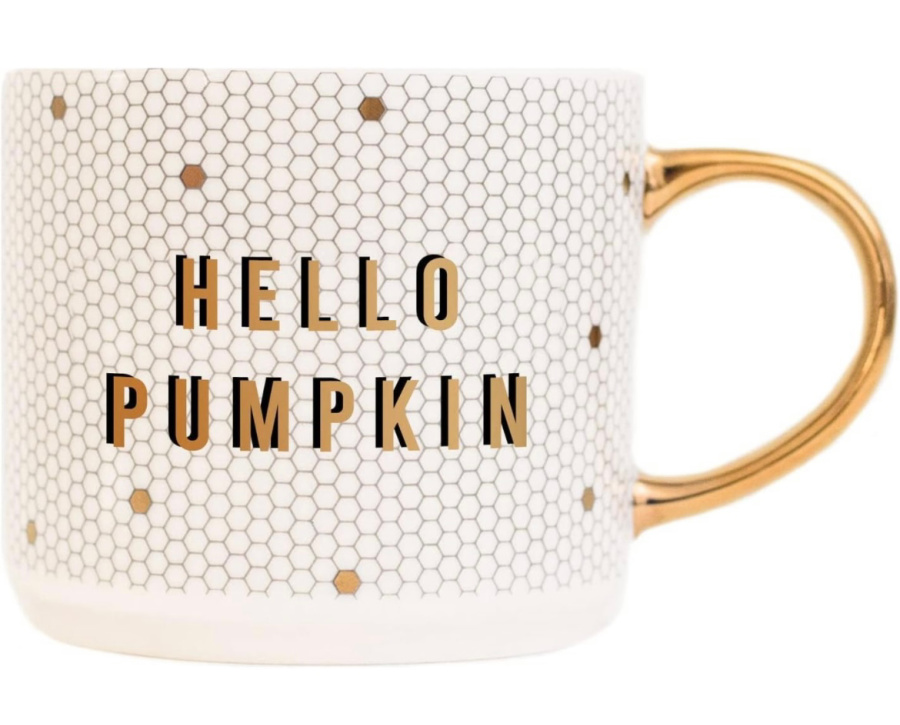 It is perfect for office, home, or outdoor use, and it makes a fantastic gift for any occasion, adding motivation and style to your day. Say goodbye to dull mugs and sip in style!
Upgrade your Fall, Thanksgiving, and Halloween decor with the Vintage Anchor Hocking Pumpkin Cookie Jar! Shaped like a charming pumpkin, it's both a delightful conversation starter and dishwasher safe for easy cleaning.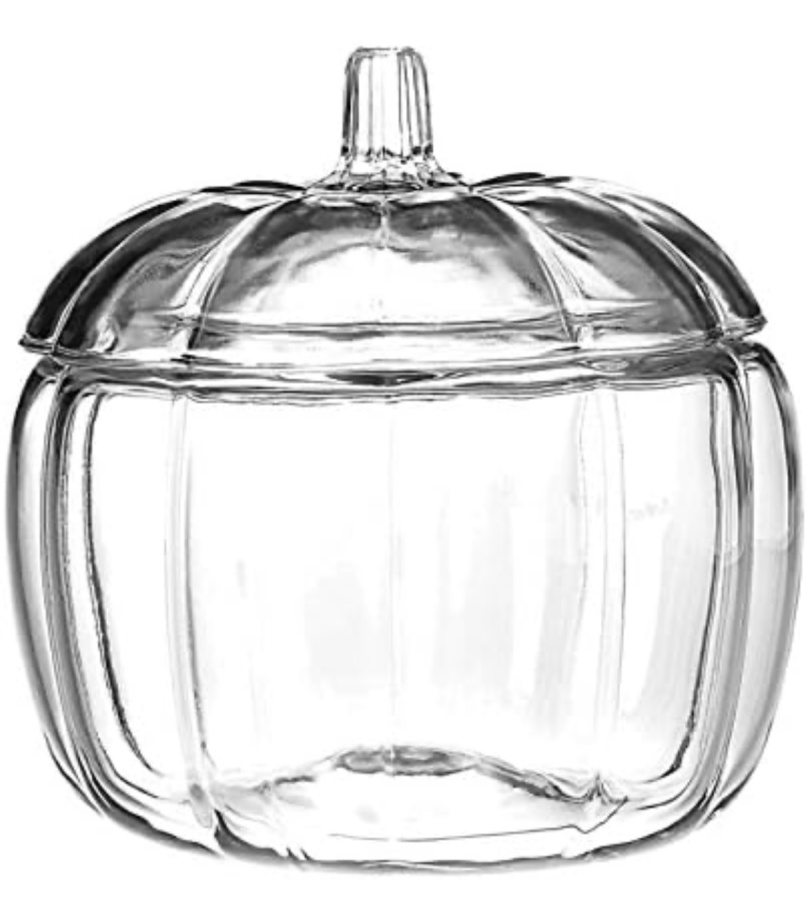 Whether holding treats or serving as a stylish decoration, this jar adds a touch of nostalgia to your festivities and looks so cute on your kitchen counter or even an entry table. Get ready to impress your guests!
Illuminate your space with style using this exquisite Metal Lantern! Featuring clear glass panels to showcase candles up to 3 inches in diameter, it adds instant elegance with its warm gold color and square shape. It's versatile for any decor!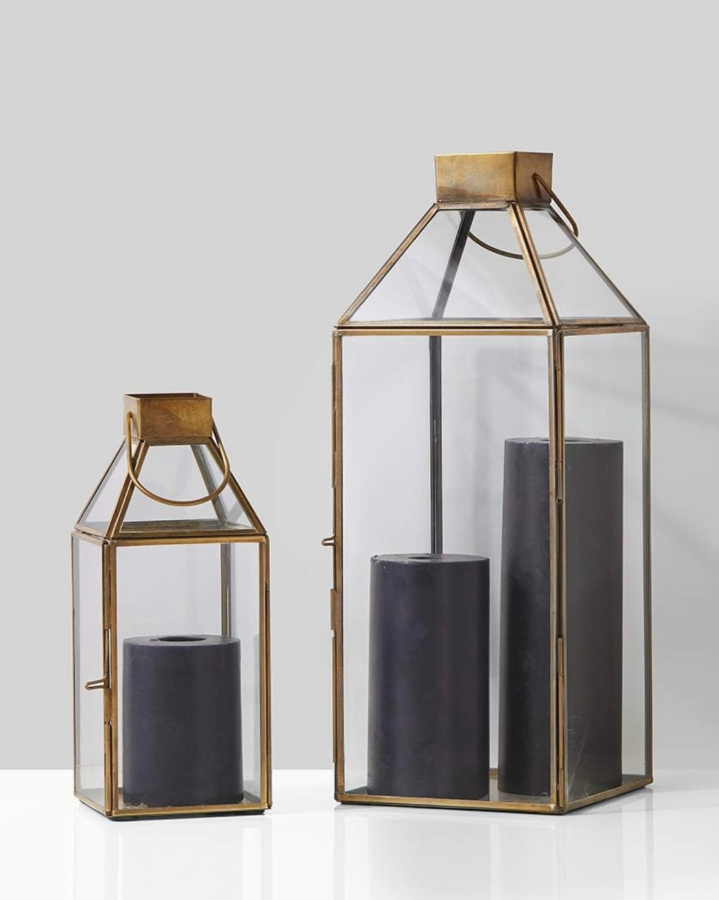 Experience cozy luxury with this Premium Chenille Chunky Knit Blanket! This blanket is pure bliss, with buttery-soft chenille chunky knit yarn that's both fluffy and durable. It's a year-round comfort essential and is perfect for gifting on occasions like Mother's Day, birthdays, and weddings. My sister has this one and LOVES it! A cozy fall decor must have!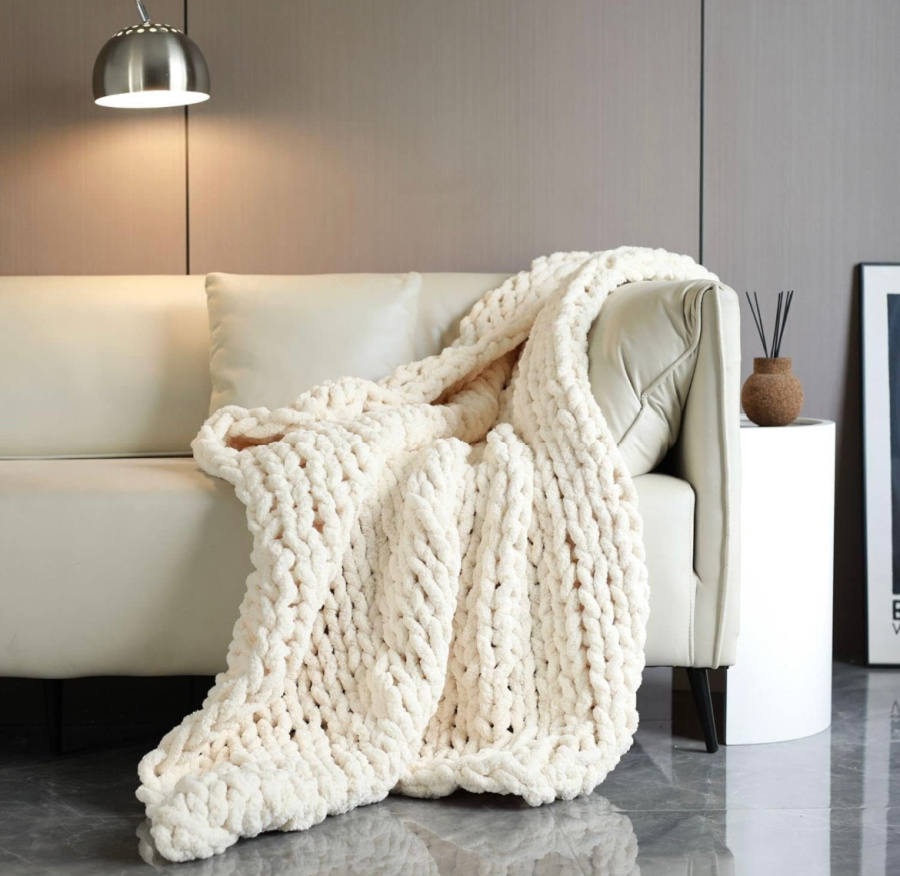 Enhance your decor with this High-Quality Artificial Eucalyptus Wreath! Crafted from silk, it brings timeless charm year-round. With a unique design featuring eucalyptus leaves and pine cones, it's perfect for autumn and beyond. I adore the color and how the mini pinecones pop against the orangey yellow eucalyptus leaves.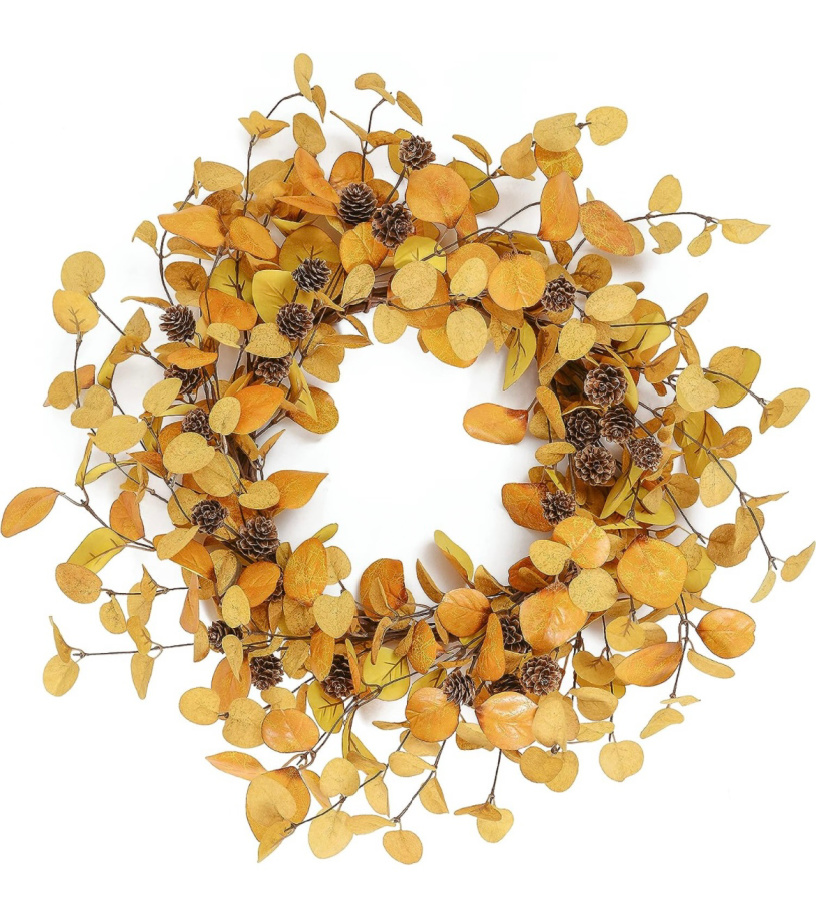 This 18-inch wreath suits indoor and outdoor use, making it versatile for any space. Add beauty effortlessly with this Artificial Eucalyptus Wreath!
Celebrate fall in style with these Artificial Harvest White Pumpkins in assorted sizes. They're incredibly lifelike, made from premium, dense foam, and perfect for Halloween, Thanksgiving, weddings, and more. Get creative and decorate them! I love the variety of sizes too.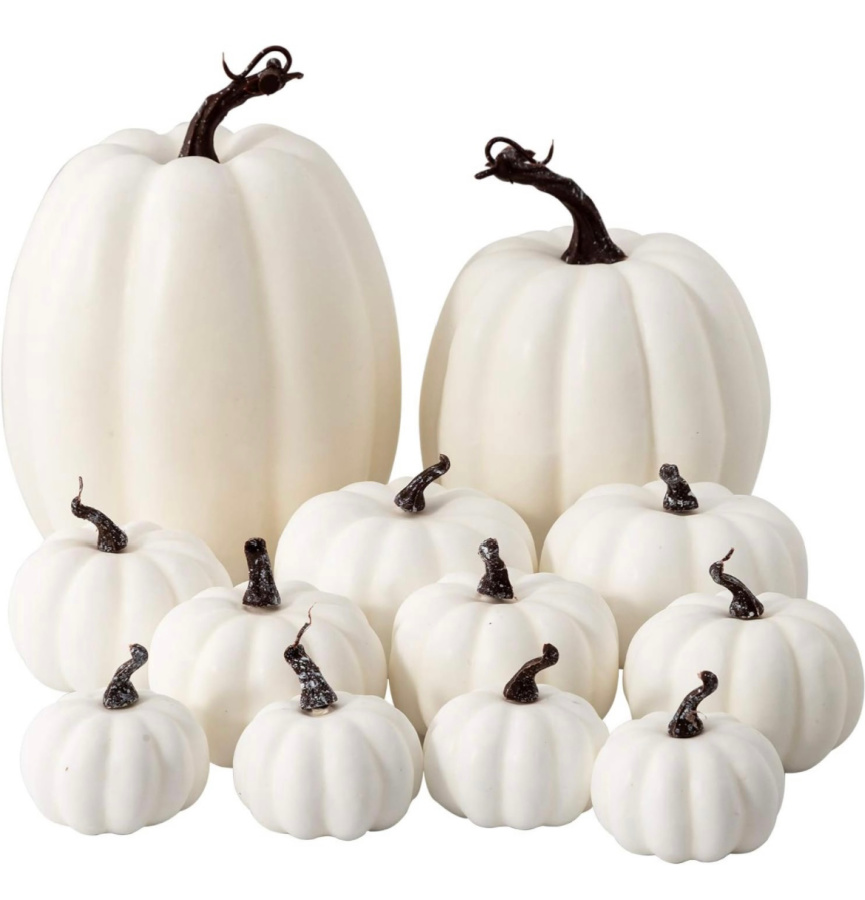 Boost your space with this stylish soy candle, featuring enticing scent notes. Trim the wick to 1/4″ before lighting to prevent soot and to burn for up to 4 hours at a time. This candle is not just functional but also a stylish addition to any decor! Candles are the quintessential cozy home decor in my opinion and you can never have enough!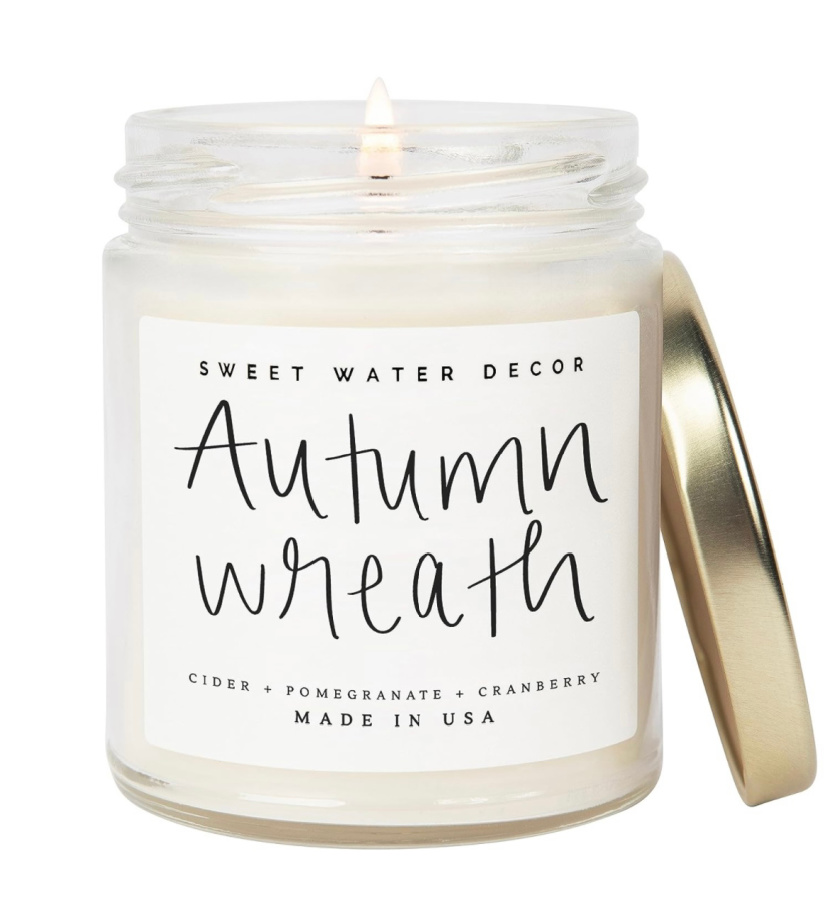 Elevate your Halloween decor with our Cute LED Jack-O'-Lantern! This battery-operated pumpkin casts an enchanting glow, perfect alone or in a group. This Courtly Check Illuminated Jack-O'-Lantern, featuring the iconic pattern and gold stem, is powered by batteries. It's the perfect Halloween and fall decor and anything Mackenzie Childs is ALWAYS on my list!!!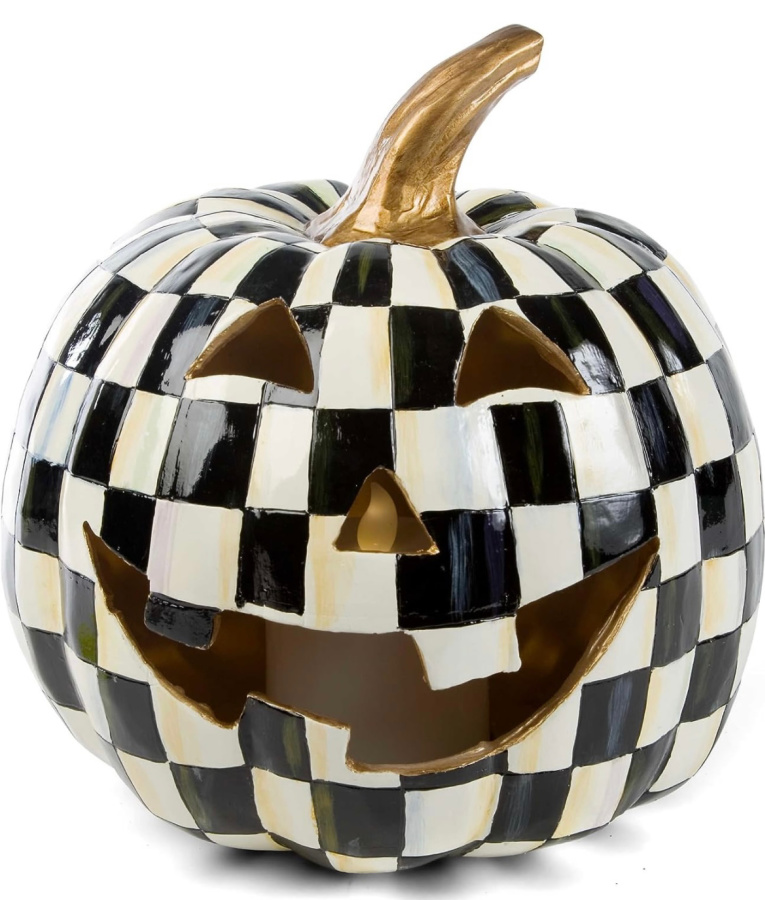 Take your your home and kitchen up a notch with this premium amber glass soap dispenser set. You'll receive two 16 Oz bottles with stainless steel pumps for easy dispensing. These jars offer UV protection to preserve your liquid's integrity and come with five waterproof labels.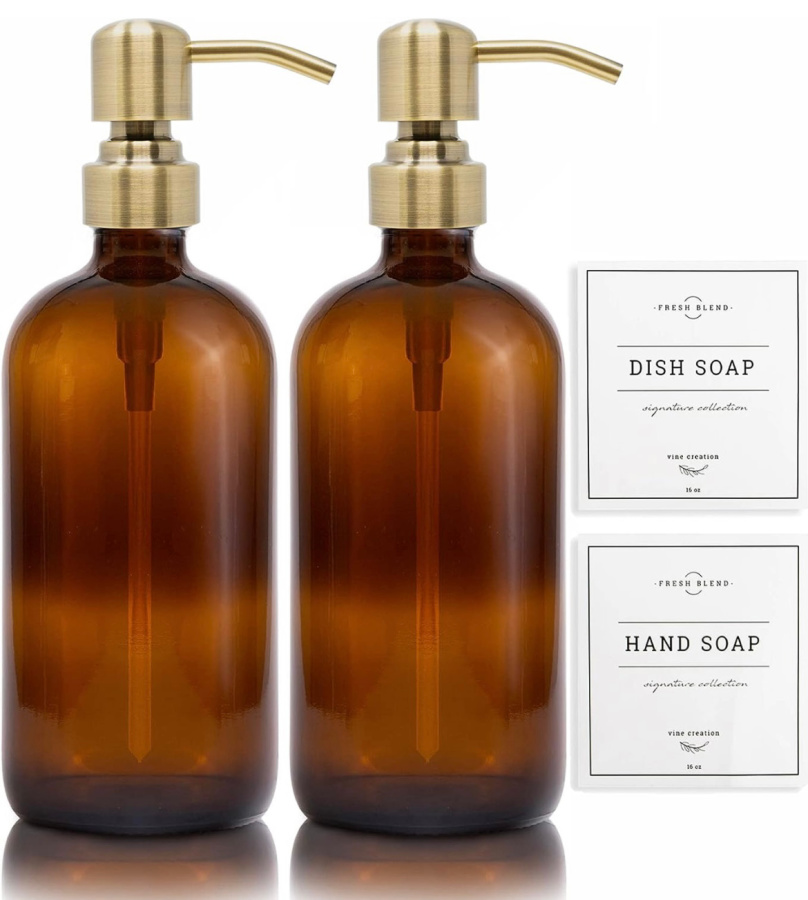 Finally, I can't wait for this book to come out on November 7, 2023. Liz Marie is going to share some fantastic ideas about creating a cozy and healthy living space. In the book, you'll find tips on how to make any place feel comfy without breaking the bank, advice on sprucing up your decor, insights into gardening, tips for sustainable living, cool ideas for hosting and entertaining, and motivation to establish a daily routine that's good for your well-being. It's going to be a great read!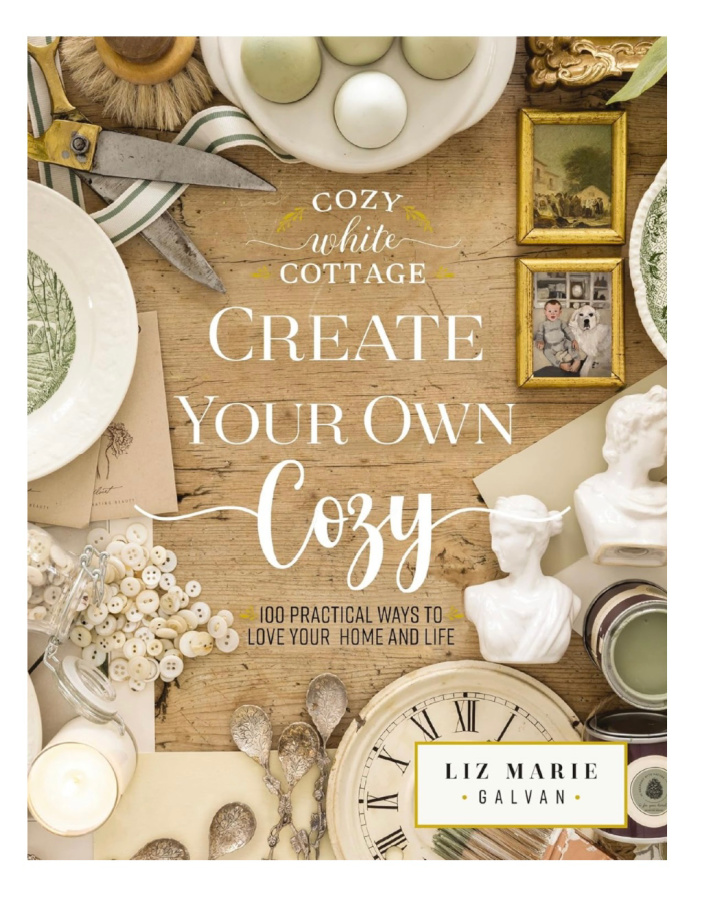 Shop All the Cozy Fall Decor

I Hope You Love These Ideas!
Incorporating these cozy fall decor ideas into your home doesn't have to be complicated or costly. With the use of simple, yet effective decorating tips, you can effortlessly transition your living room and other spaces into warm, inviting spaces that celebrate the season's natural beauty.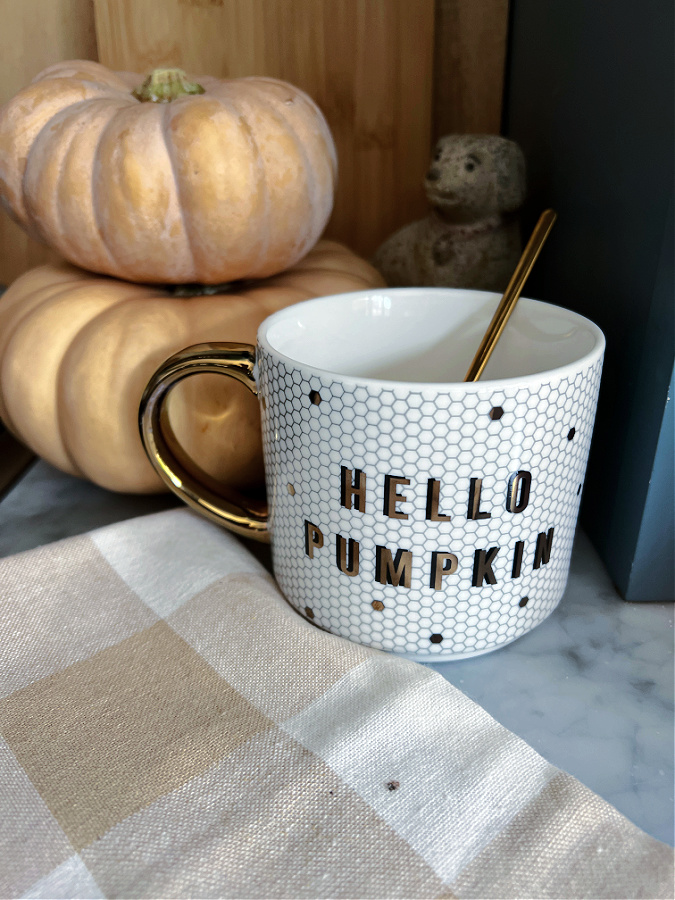 From seasonal colors that evoke the spirit of autumn to vintage-inspired accents that add a touch of nostalgia, the options are endless. By using these decor ideas, you can create a space where you'll love spending time, whether it's with family, friends, or just enjoying your own company.
So, embrace the change of season, adorn your tables with seasonal flair, toss some throw pillows on your couch, and welcome the cozy magic of fall into your home!
More Fall Decor Posts
I'd love to have you hang out with me some more! Feel free to follow along with me on any of the platforms linked below.
LTK | Facebook | Instagram | Pinterest | Amazon
xoxo,
Kelly