Our Summer Front Porch Tour
Our Summer Front Porch Tour
Hi friends and welcome to our summer front porch tour! Today I can't wait to show you around one of my favorite spaces to decorate… our porch.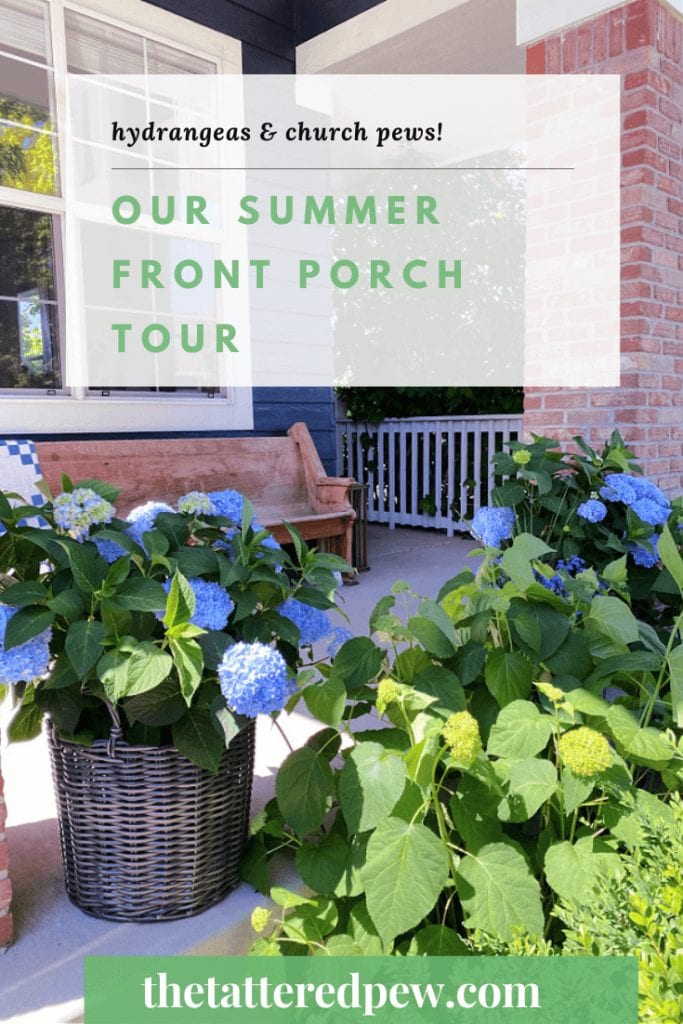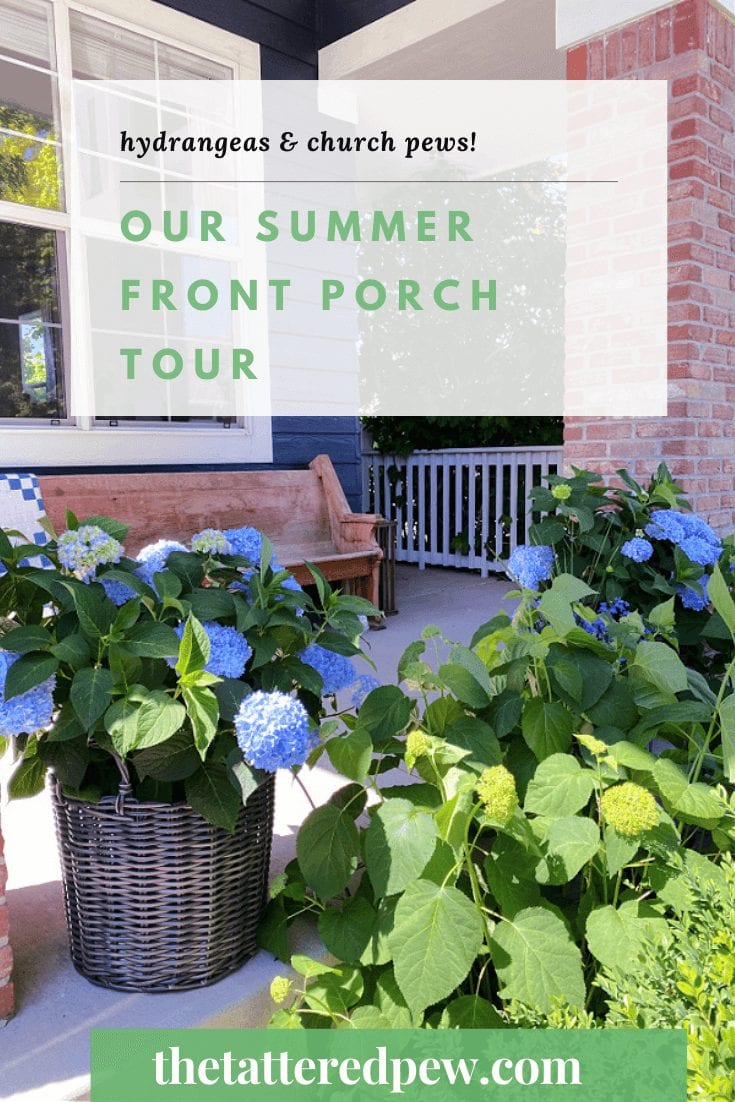 I have to say, today's tour is a bit bittersweet because I recently shared some unexpected news…we are moving! You can read all about our BIG NEWS HERE if you missed it. This will be my last summer porch I get to decorate at this house and while that makes me a bit sad, I would be lying if I didn't share that I have already been decorating our new home's outdoor spaces in my head!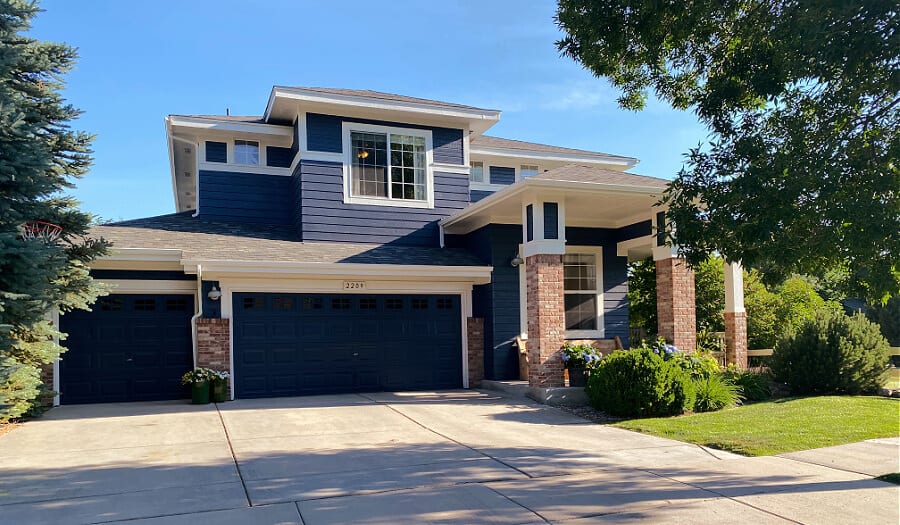 Front Porch Tour
Let me show you around our summer front porch! The one piece that is always a staple on our porch is my old wooden pew. The story of how I found her is a fun one and I adore getting her all dressed up for each season. This summer I kept her simple with the addition of an old blue and white quilt and a vintage watering can. I love how it pops against her worn wood and our Hale Navy house.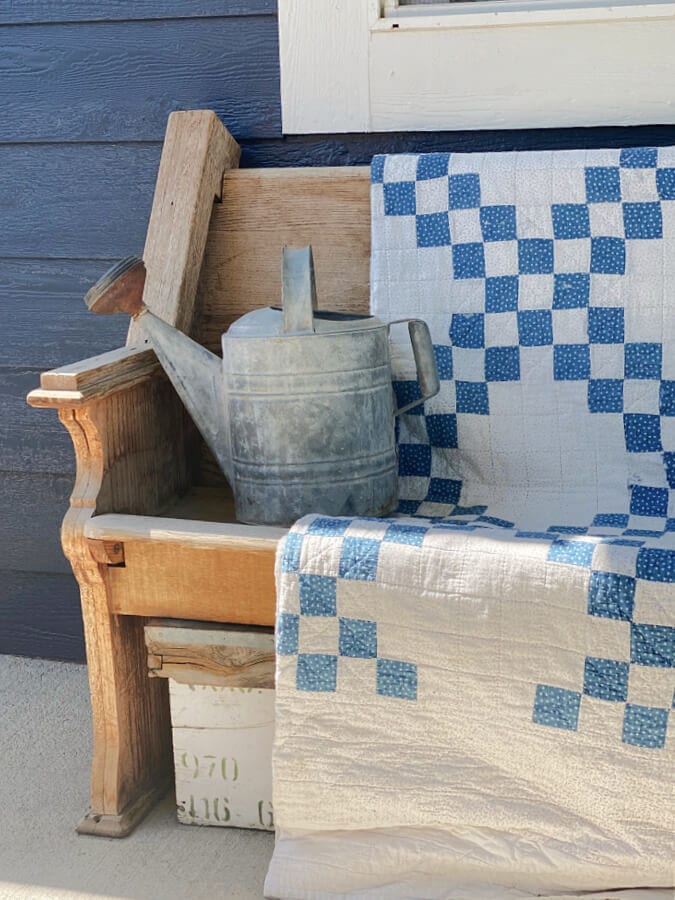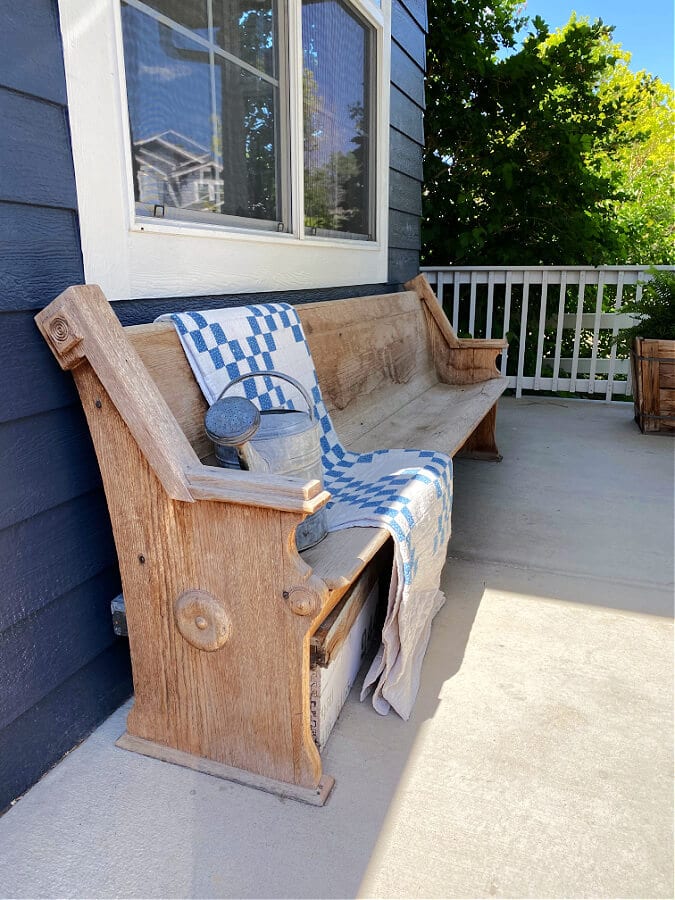 Hydrangea Love
Our summer porch this year is all about the hydrangeas. If you think I have a love affair with peonies you should talk to me about my hydrangeas. I have had Annabelle hydrangeas in our front and back yard for several years now and I just love their huge white moppy flowers! I love drying them and cutting them and enjoying them in our home. Ours are SO close to blooming!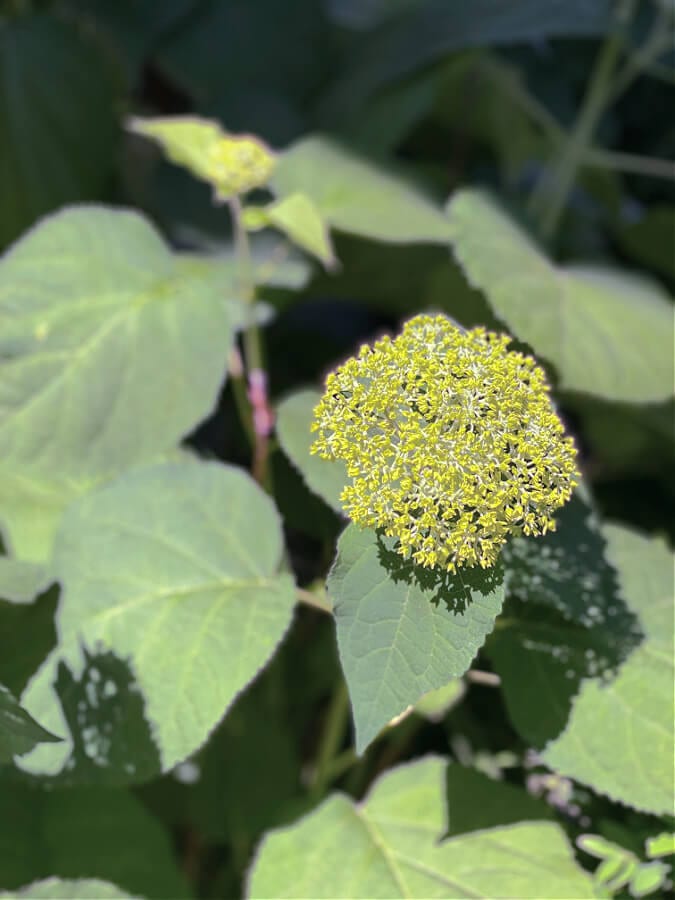 This year I added two Endless Summer hydrangeas and I am already obsessed with their vibrant blue blooms! Instead of planting them in the ground I decided to place them in outdoor baskets on our porch. I found all the flowers on our porch from O'Tooles Garden Center in Denver this past Mother's Day! What a fun day that was shopping.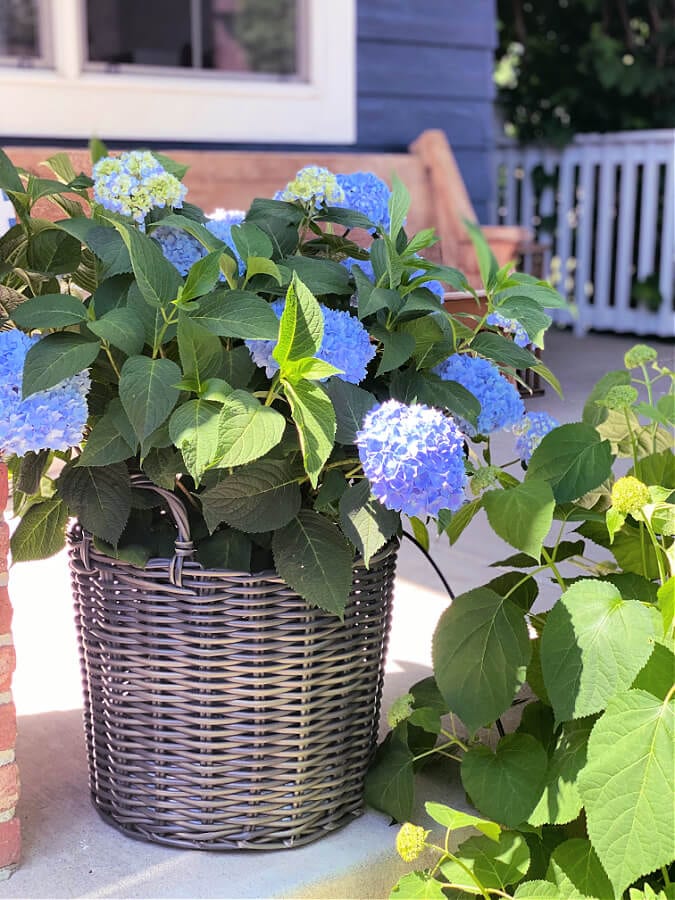 Hydrangea Watering Hack
After a few weeks of having our hydrangeas on our porch during some intensely hot days, I noticed they were wilting every afternoon. I had been hand watering them at first but then hooked them up to our drip system. Hydrangeas LOVE their water! Even after watering them twice a day they were still wilting.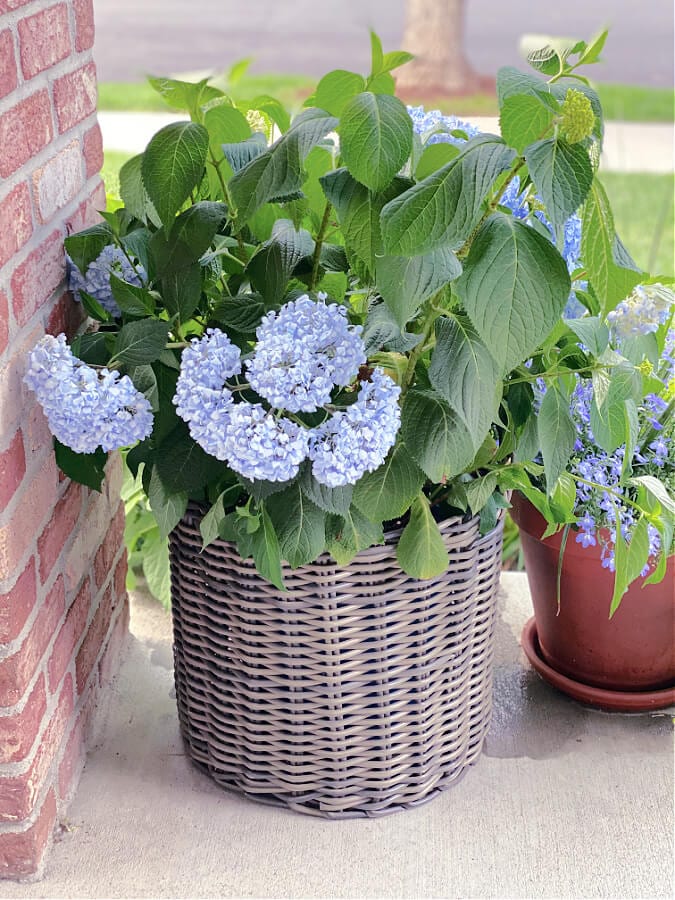 I mentioned this to my mom and she suggested a brilliant idea that I am calling the hydrangea watering hack. This hack works if you keep you hydrangeas in a pot and then place them in a basket or additional container like I did. (You can read all about my potting tips here). Simply place a garbage bag around your potted plant and then set the plant back in the basket. This bag serves as a catch all reservoir for your water once it drains out of the plant and allows the roots to continue to suck up the water rather than all of the water escaping out of the bottom.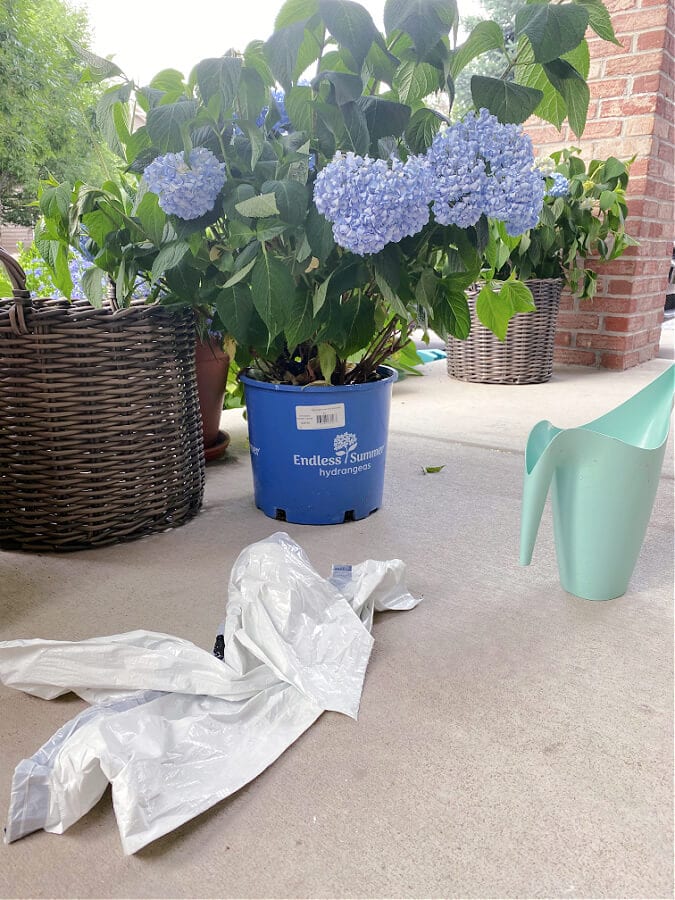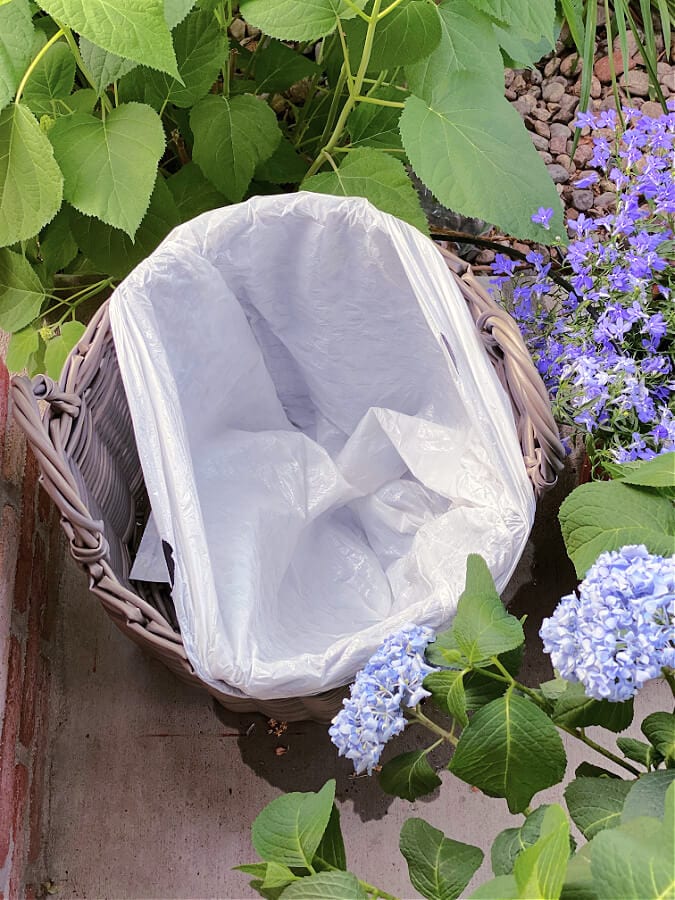 TIP: Simply tuck the garbage bag half way down so it is not visible.
Once I used this hydrangea watering hack I did not have to hand water them and have solely relied on our drip to give them the water they need. They are flourishing! You can't even tell that they are still in their original containers, can you?! I don't know about you but I love finding simple tricks like this to help keep my flowers looking beautiful!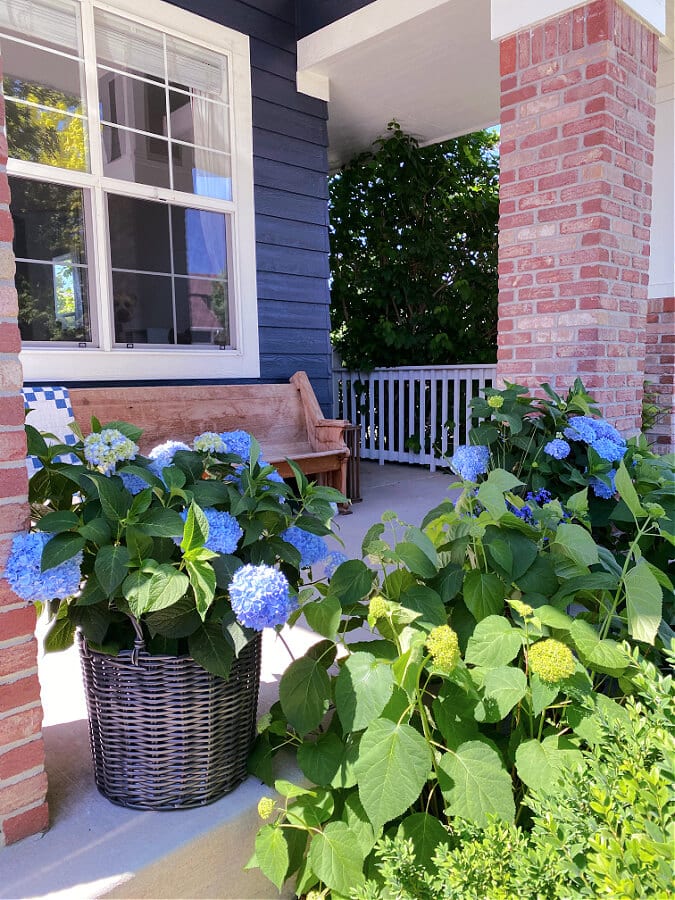 Potted Plants On Our Summer Porch
We also have three other gorgeous potted plants on our porch. Each of these are in terra cotta planters. I kept with the same blue and green color scheme for these as well. This is the first summer I have chosen a color scheme and I love how it looks. It's also the first summer porch tour I have done with our house painted Hale Navy! You can see last summers porch tour here.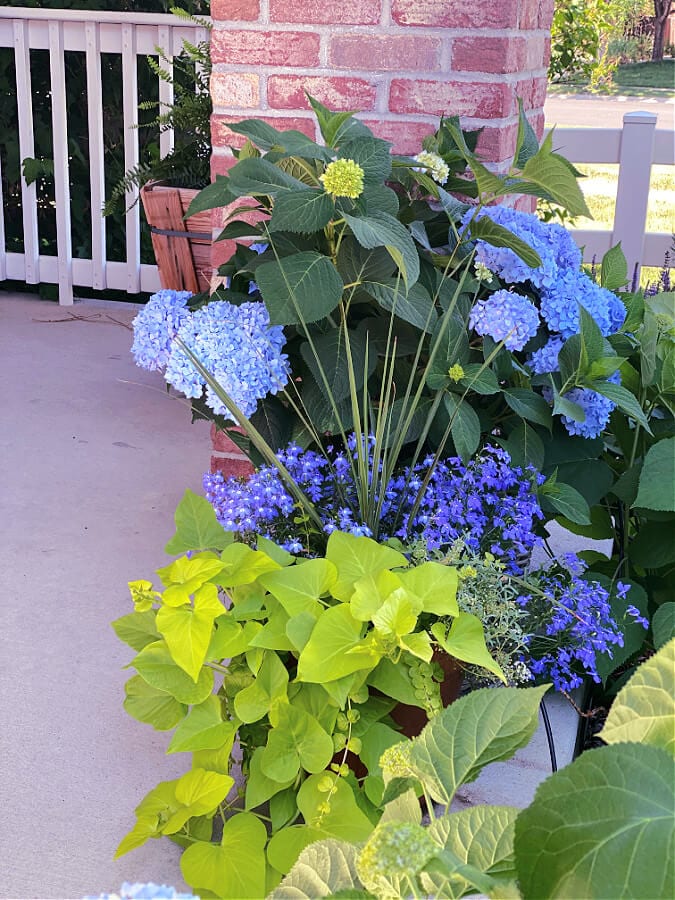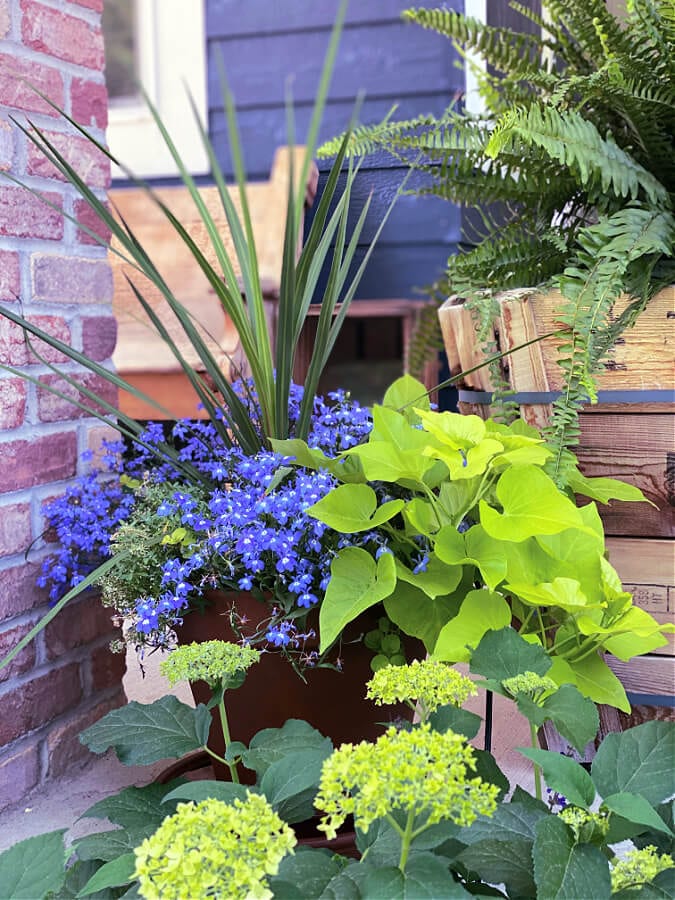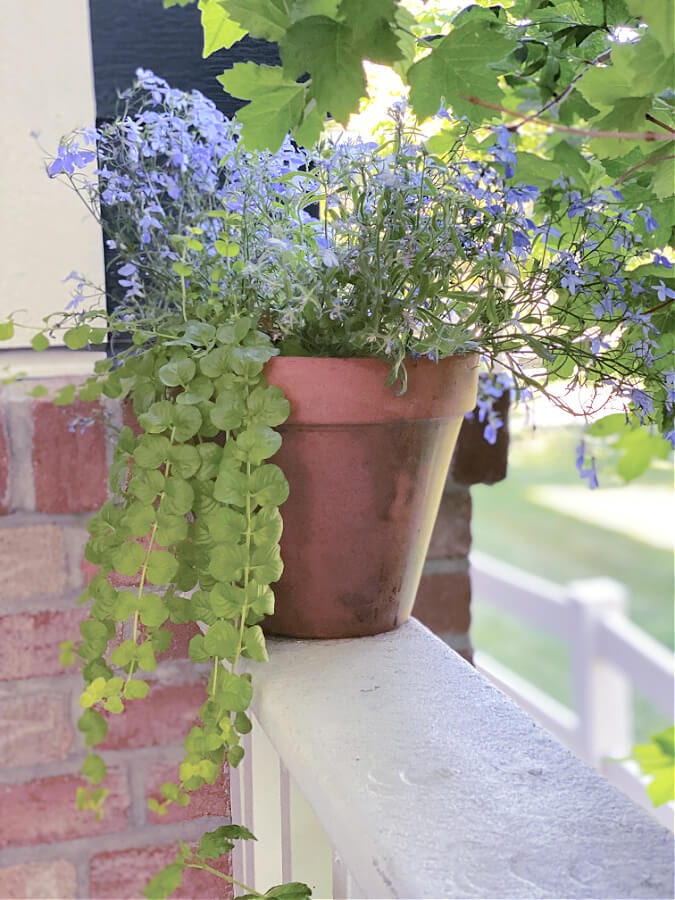 The olden wooden tree crate holds my favorite super market fern. A steal each year for $12.99!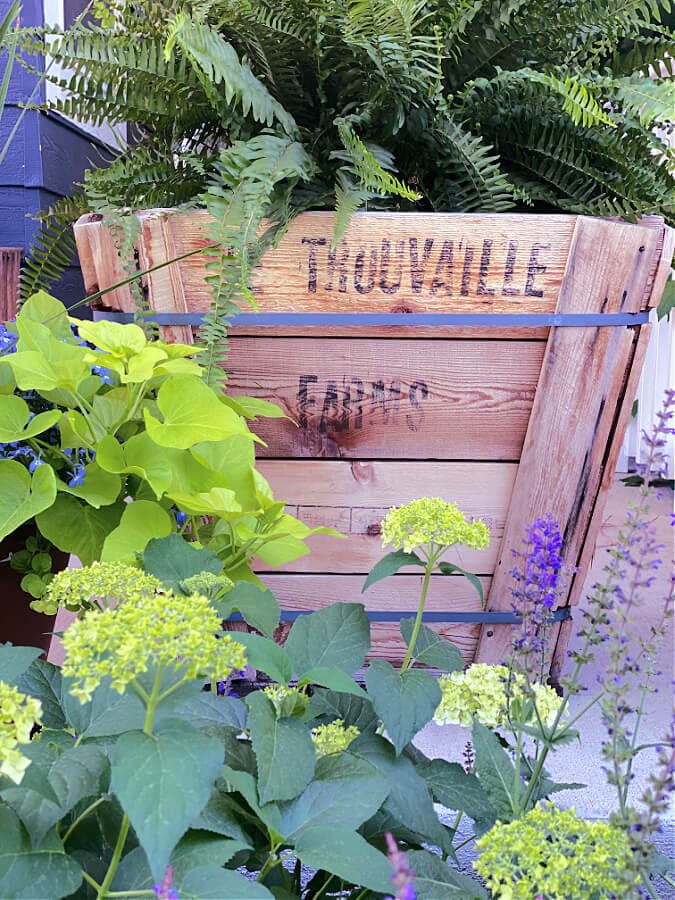 Our Summer Front Porch Tour
I hope you enjoyed our summer front porch tour. I'm so glad you stopped by. What was your favorite part? Do you like hydrangeas as much as I do? Let me know if you have any questions. If you want to follow along with our move to our new home make sure to subscribe below for all the updates. My subscribers always hear news first and have access to all of my freebies.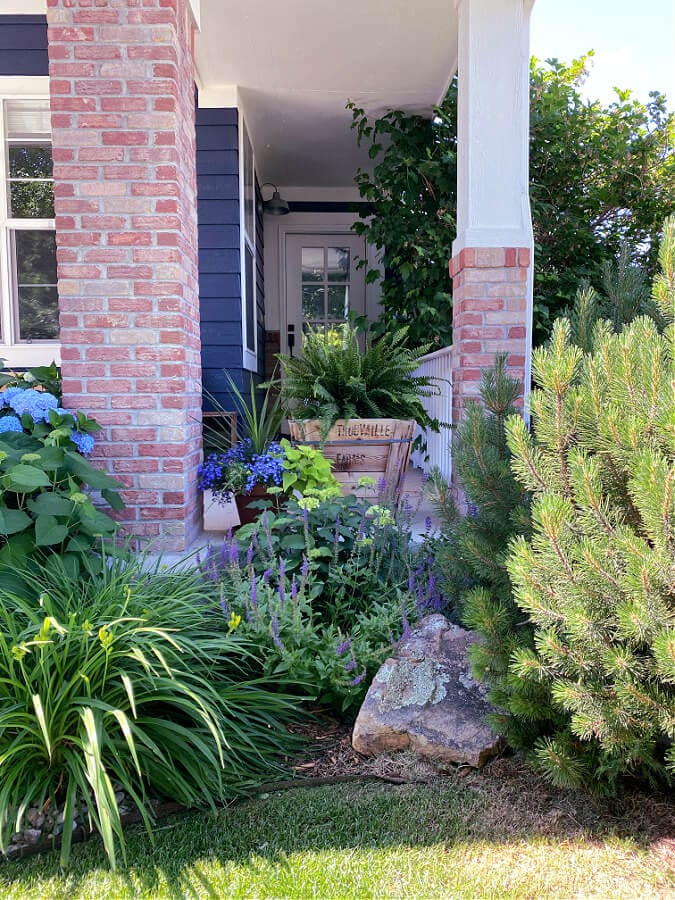 This week I'm joining some of my talented blogging friends for the Summer Seasonal Simplicity Series: Outdoor Spaces Tours! Be sure to check out all of the beautiful inspiration by visiting the links under the images below.
Sharing Wednesday….
The Happy Housie // Joanna Anastasia // Cassie Bustamante // The Tattered Pew
Life is Better At Home // Tatertots and Jello // Finding Silver Pennies // Lemon Thistle
A Pretty Life // Dans le Lakehouse // Clean & Scentsible // Willow Street Interiors
Sharing Tuesday…
Inspiration for Moms // She Gave it a Go // Grace in My Space // Deeply Southern Home
Life is a Party // Nina Hendrick // Happy Happy Nester // Craftberry Bush
Maison de Cinq // Hallstrom Home // House by Hoff // My Sweet Savannah
XOXO,
Kelly