Deciding on winter kitchen decor doesn't have to be as difficult as it sometimes may feel. See how choosing certain colors, collected items and adding real greenery can make your kitchen feel beautiful and cozy!

This post contains some affiliate links for your convenience. Click here to read my full disclosure policy.
Today I am joining the Winter Botanicals and Gardens blog hop hosted by Amber of Follow The Yellow Brick Home. If you are hopping over from Decor to Adore, welcome! Wasn't her Victorian inspired botanical hutch gorgeous?
Winter Kitchen Decor
Winter blues got you down when it comes to decorating your kitchen? Well I'm here to share that it doesn't have to be that way! I'm excited to show you how easy it is to fall in love with your winter kitchen decor!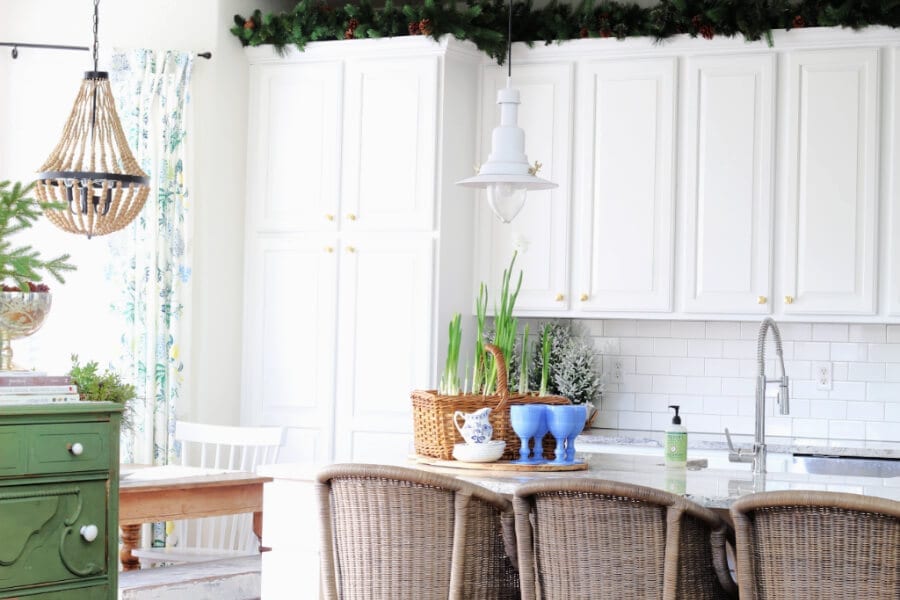 Our kitchen recently got a mini makeover. We refinished our kitchen cabinets from a cherry color to Chantilly Lace by Benjamin Moore and it has brought so much life to our kitchen. All of a sudden adding winter kitchen decor took on a whole new feel. With white walls and white cabinets I was able to pop the colors I love: blue and green!
Popping Those Greens and Blues
I have talked to several of my friends lately who say that when it comes to decorating for winter they really struggle. Well guess what? I'm here to tell you that if you know what your favorite colors are then you can decorate for winter. That's what I did with my winter kitchen decor this year and it tured out to be my favorite space.
I started by literally walking around my house and gathering up all of my favorite items that included my two favorite colors: green and blue.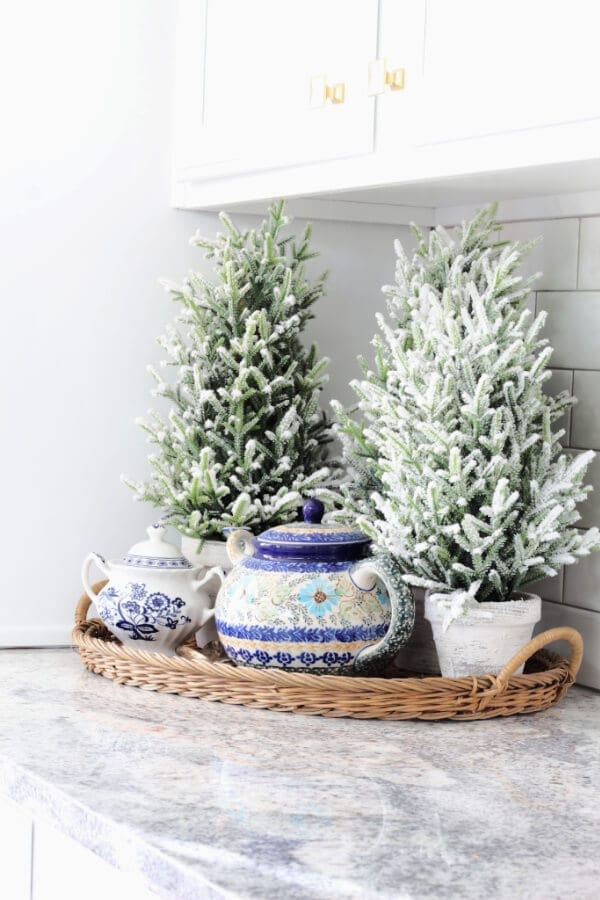 Nothing was off limits! I even mixed different blues and green together like the fun pattern on this Polish pottery tea pot Mike and I received for a wedding gift.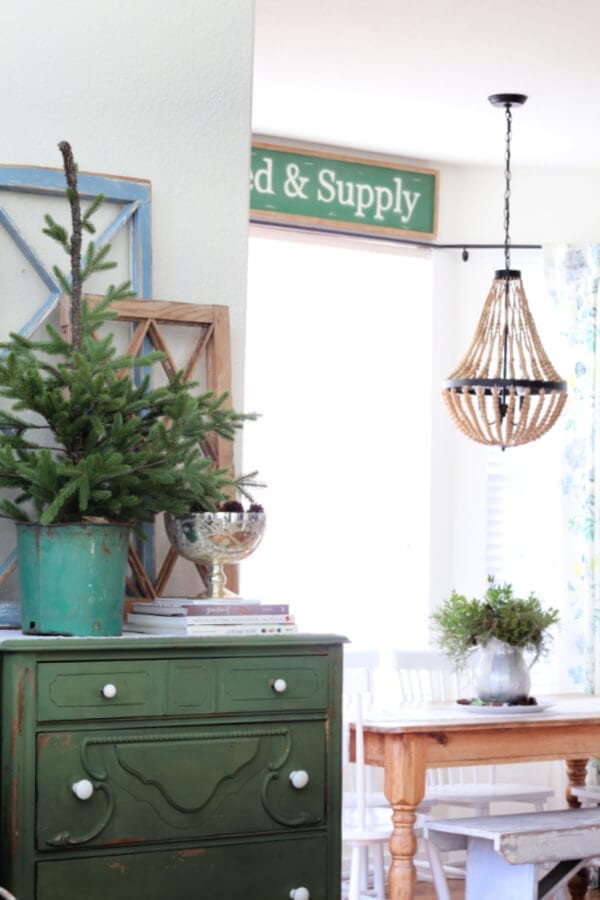 My favorite boxwood green dresser was of course on my list! I wasn't afraid to mix different greens like the metal bucket, the tree and the dresser. Mixing different shades works if you pull them out in other areas around your space as well. It also shows a collected look which I love!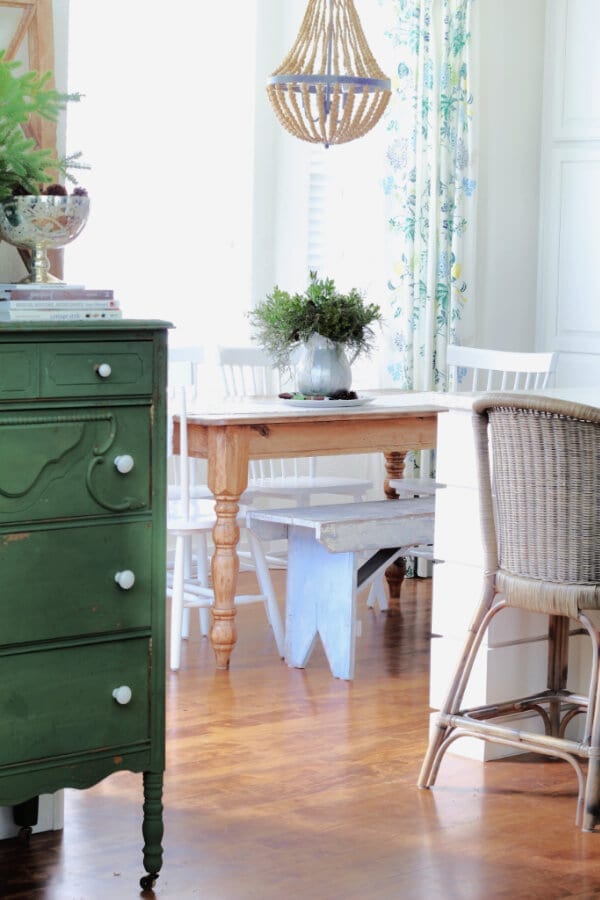 On the dresser I made my tree from Christmas the focus and then stacked some books for balance and added a mercury glass bowl full of pinecones…done! The simplicity makes my heart happy.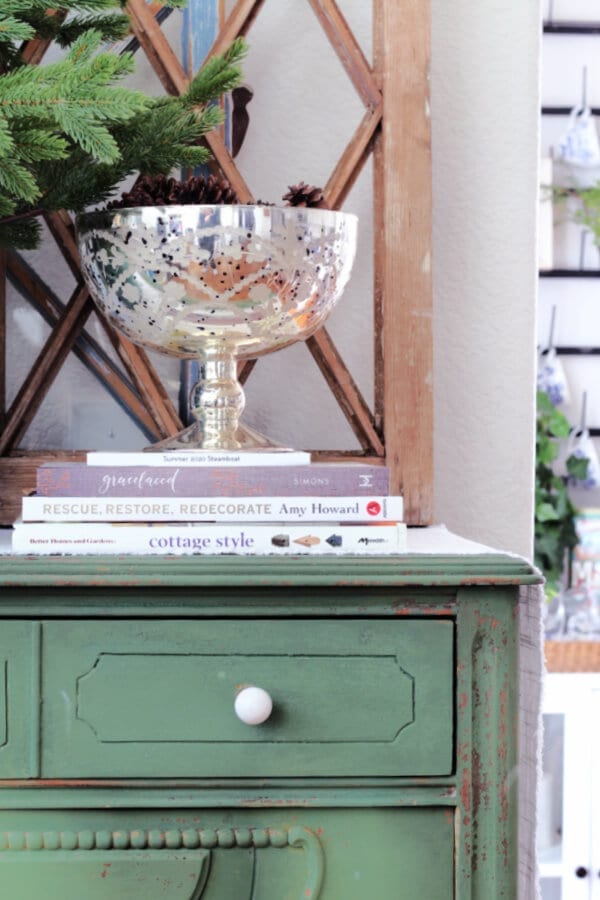 Layering Your Decor
Layering is another trick I like to use when decorating anytime of the year. And I love to layer windows or pieces of art. These two windows are always being layered on my dresser. The blue window you see that matches my curtains can be turned around to the other side which is white. It's double sided just like the double sided vintage shutters I recently painted! This leaves me with so many options for decorating.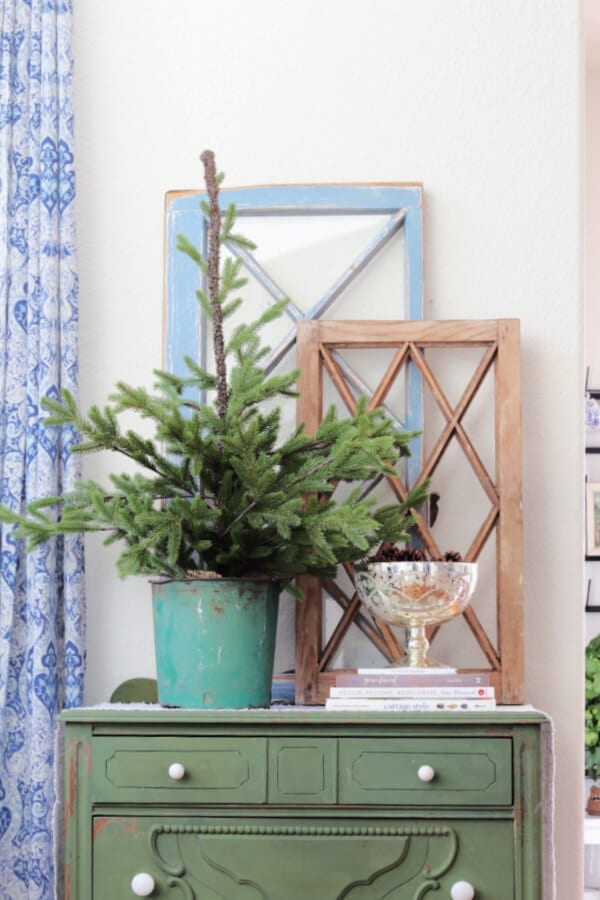 Paperwhites In A Wine Basket?
Have you ever had an idea in your head that you could see happening and then when you try to bring it to life it falls short? But then you try something else spur of the moment and it turns out magical?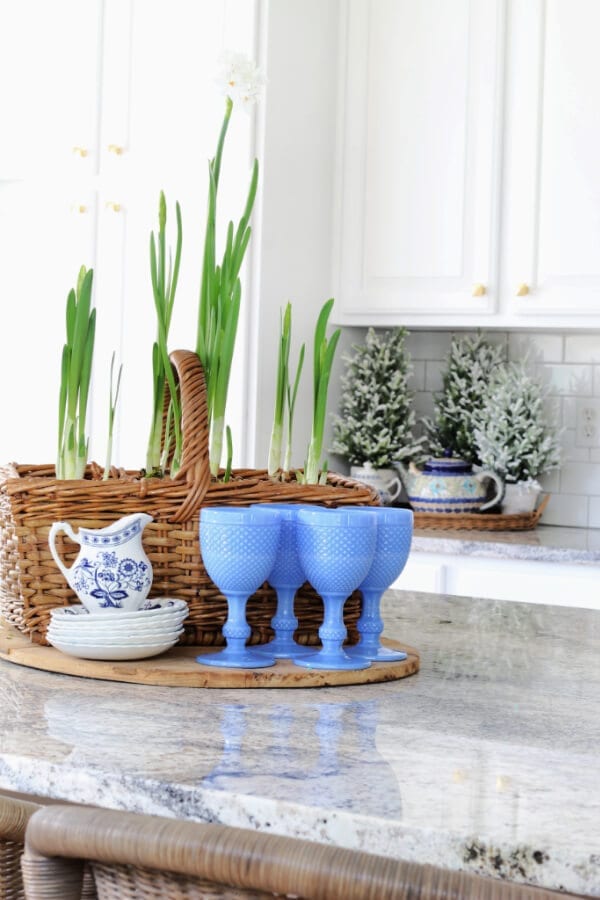 Well that's what happened with my paperwhite bulbs!
I had originally wanted to plant them individually in my blue and white tea cups. But when it came down to me forcing them they just weren't sturdy enough. I wanted to plant them in something a bit different…and this wicker wine basket I scored at the flea market ended up being what I grabbed.
And guess what?
I love how it turned out. If you have ever wanted to know how to force paperwhite bulbs in the winter, I wrote a post all about how easy they are to grow! Just being able to have some real flowers in the kitchen during the winter makes me smile.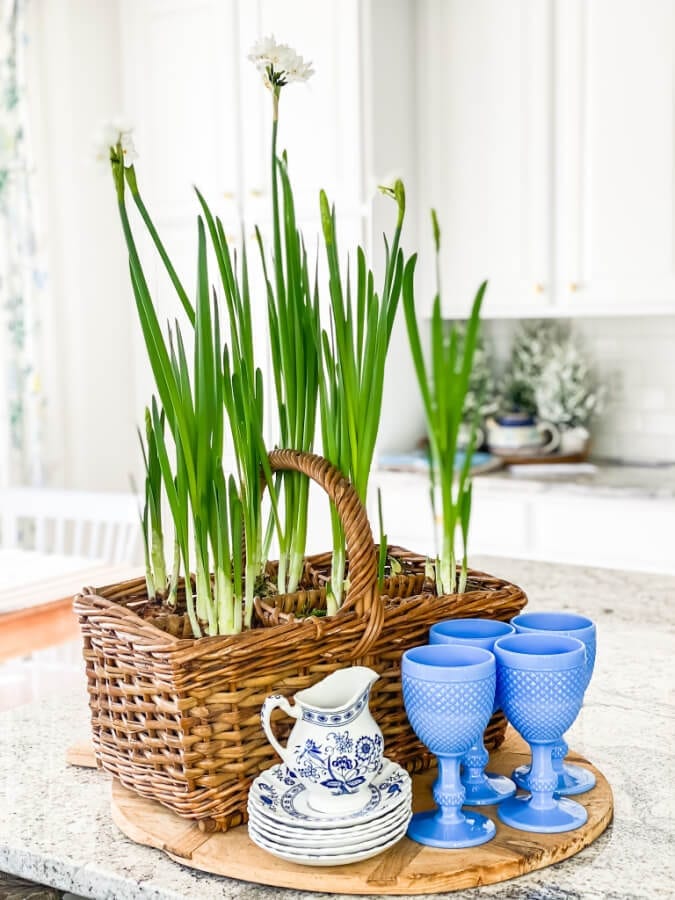 Mug Rack Love
Every time I decorate our kitchen, no matter the season, I always love to start with our mug rack. It's just around the corner from the green dresser and is something you see immediately when you walk into our kitchen. So dressing her up is always fun!
However, decorating the inside of the cabinet gave me a bit of a challenge this time. After many years of just using it as storage for my Rae Dunn mug collection it was time for a change. Luckily my awesome mom stopped by one day and helped me fold some of my linens to add to the inside. I loved this colorful touch!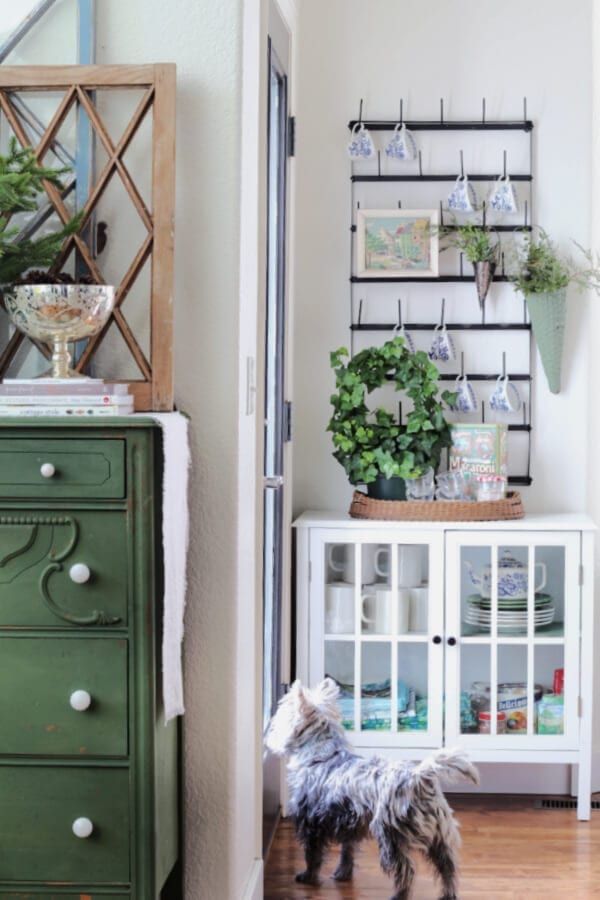 On the mug rack I wanted a collected look. So from my blue and green pile I grabbed a few tea cups, an ivy topiary my husband bought me at Christmas, some old colorful tins, art and hanging cone vases.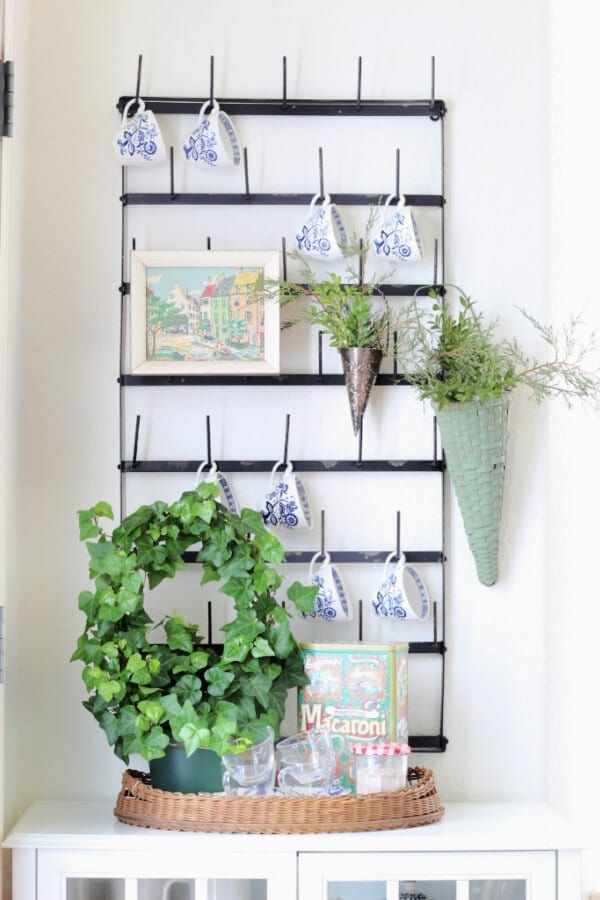 I of course had to grab some fresh greens from the yard to add some more life to this space. I recently found these hanging cone vases at a local flea market and loved that they could be used year round. Don't they remind you of May Day baskets?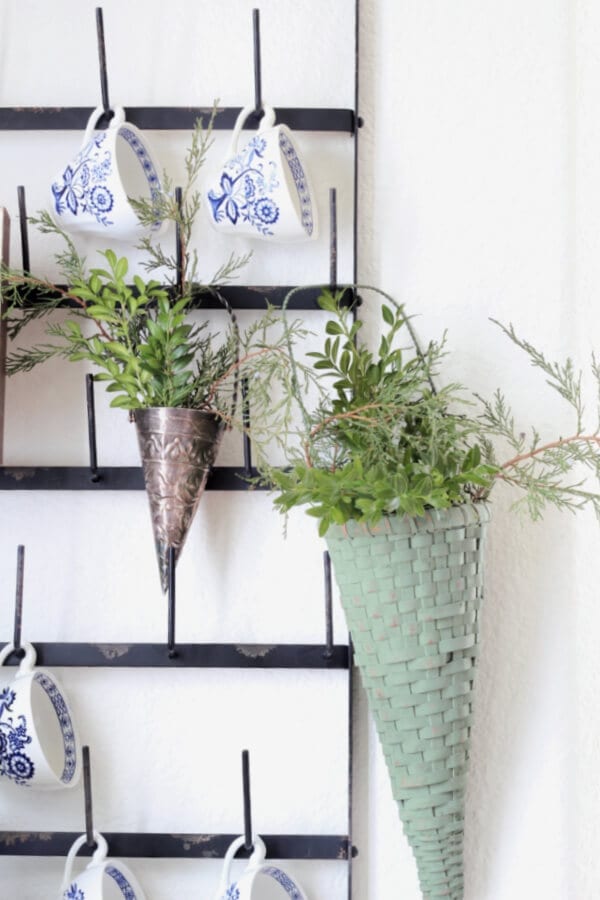 Shop The Post

Bringing In Some Fresh Greenery
Like I mentioned above I had fun bringing in some greenery for what I like to refer to as "the perfect kitchen winter decor". It's perfect because not only is it free but it's beautiful too!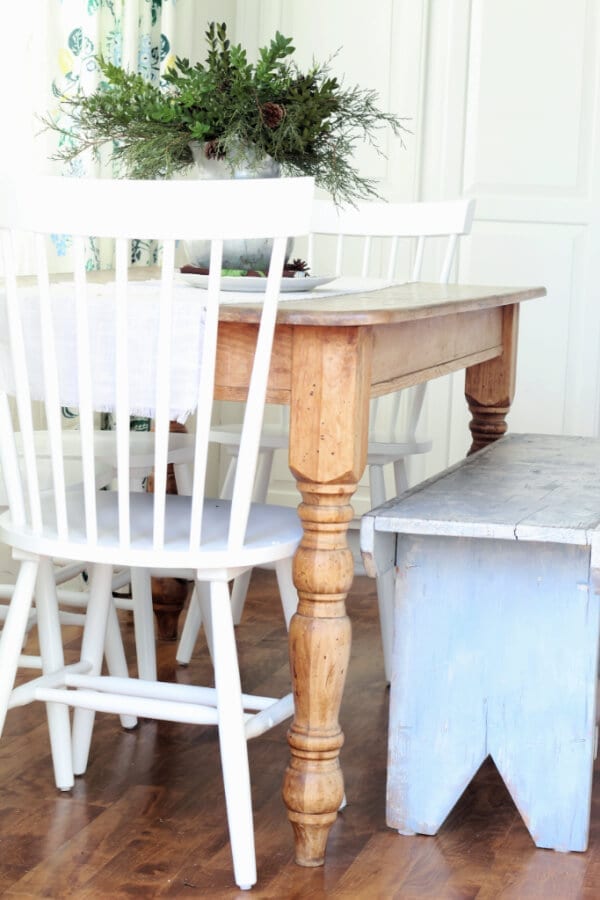 This old galvanized pitcher is full of winter beauty with a mix of boxwood, juniper clippings and pinecones. All found around our home or yard. Sometimes just grouping things together brings the impact that a space needs.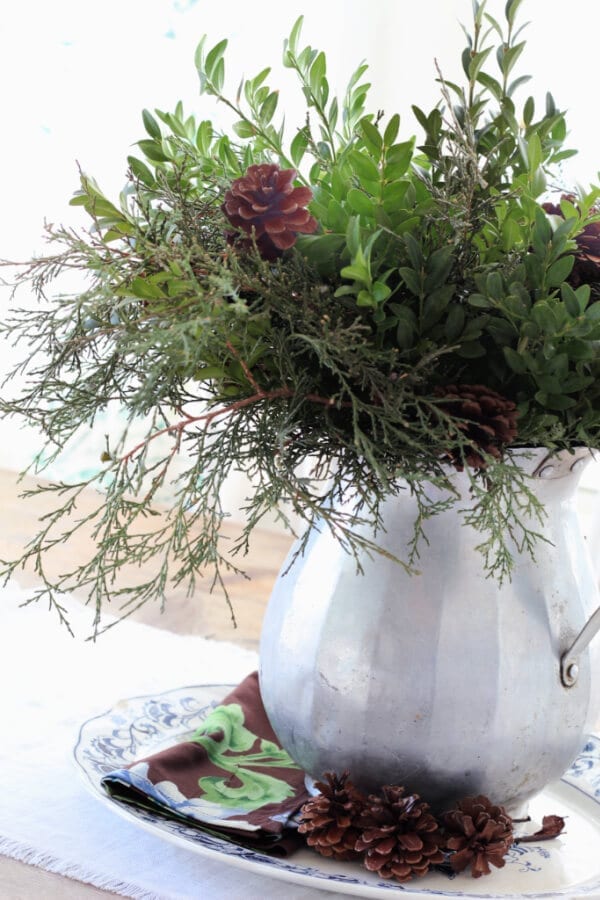 Oh and did you notice the fun new addition to our kitchen? I changed out our white metal chairs for these new white spindle chairs! I love them and the feel they give this space. It was just time for a change!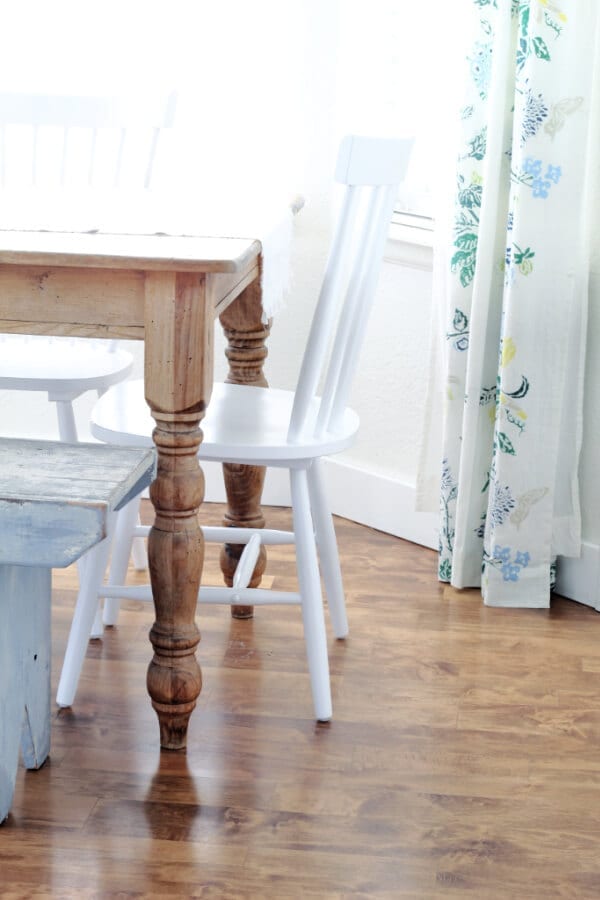 Loving Your Space
When it comes to decorating your kitchen for winter I have decided that using what you love is what makes it lovely. What are your favorite winter kitchen decor must haves? I would love to know!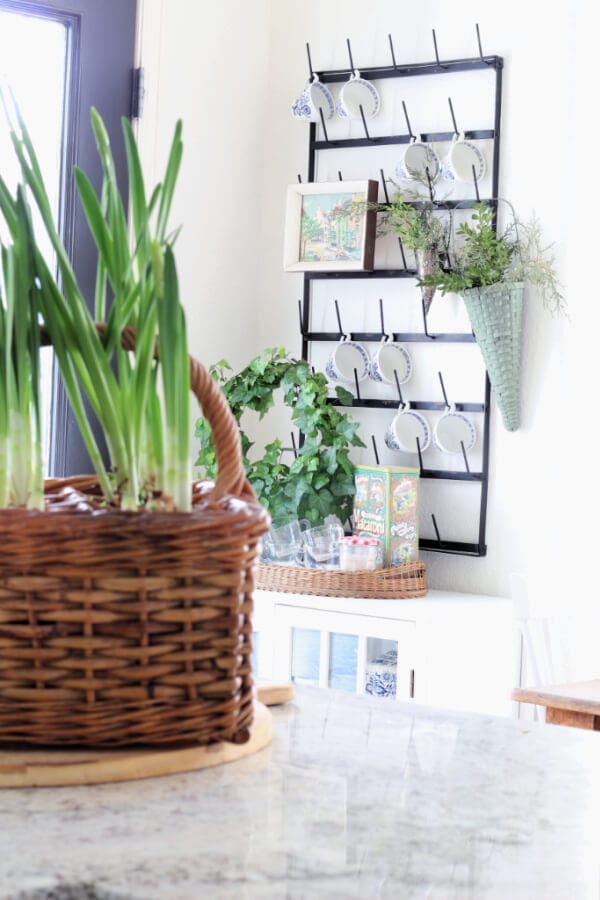 Thanks for stopping by my kitchen today. If you want to hang out with me some more you can subscribe below! Next up un the blog hop is The Painted Hinge sharing how to decorate with winter botanicals!
XOXO,
Kelly
You are invited to the Inlinkz link party!