5 Easy Ways to Add Vintage Decor for Summer
Three of my favorite things in life are summer, vintage decor and decorating. So, whenever I can put them all together, I do my happy dance. Here are 5 easy ways to add vintage decor for summer so you can do your happy dance too!
*As an Amazon Associate, I earn from qualifying purchases. This post contains other affiliate links too for your convenience. Click here to read my full disclosure policy.
5 Easy Ways to Add Vintage Decor for Summer
Hi, I'm Kelly, the voice and face behind The tattered Pew. I am so glad you stopped by today so we can talk all things vintage and summer. I live in beautiful Colorado and during the summer (or anytime really) you can find me hunting down treasures at the flea markets!
Today I am joining a summer vintage blog hop hosted by Heid of Eleanor Rose Home. Make sure to check out all of the other posts linked at the end of mine. You are in for a treat!
You might be surprised at how easy it really is to add vintage decor to your home! One of my favorite pastimes is to venture out to flea markets and consignment shops. I love hunting for unique treasures that are special to my home only. I shared how to seamlessly mix vintage, thrifted and new decor in your home in this post here.
Find Your Inspiration
Often times I am asked by friends or family how I created certain looks or vignettes around my home. And honestly sometimes I just group together items I have and love. While other times I find inspiration via magazines, Pinterest , Instagram or other blogs.
If you find a style you like don't be afraid to try to replicate it. Having a focus of what to shop or look for makes adding vintage decor to your spaces even easier.
But let me show you how easy it can be for summer specifically! Below are my top 5 that you yourself can do today. Hopefully a few of these will inspire you to add vintage decor to your home this summer.
1. Vignettes
I absolutely love grouping items together in little vignettes all over our home! A vignette is a small grouping of unrelated, or sometimes related, objects that are pleasing to the eye and create interest. They tell a story of sorts and are the perfect way to display decor. I love creating vignettes using vintage items throughout our home!
These vintage teacups and saucers are displayed on an old vintage metal tray. I paired them with an IKEA vase and some pretty daffodils for a pop of color. They were a centerpiece on our dining room table. The basket underneath the vignette enabled me to add extra texture as well as move this grouping when we needed to eat on the table!
TIP: Don't be afraid to stack or group like items for more of a collected, impactful look!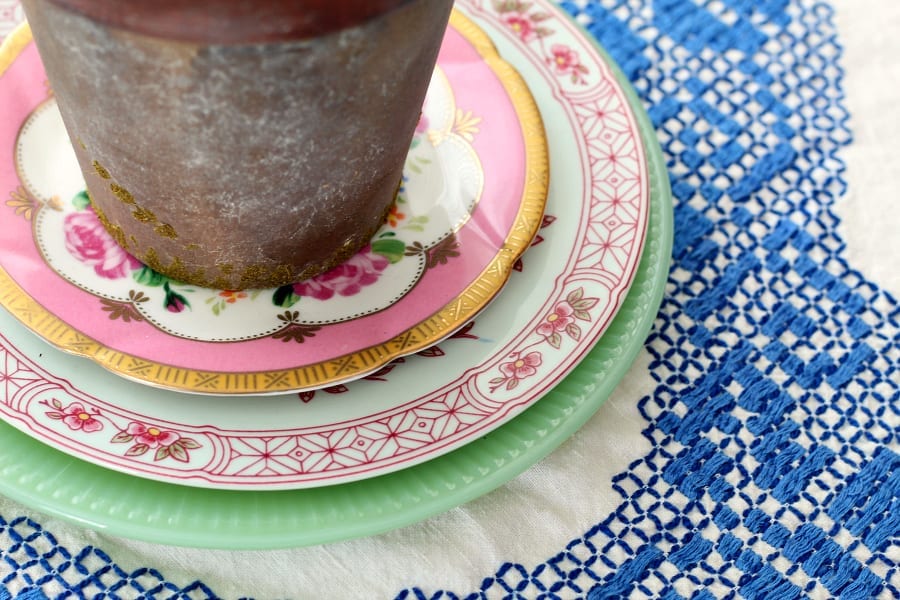 My favorite places to display vignettes are on side table, bathroom counters, on top of dressers, and our kitchen counters or island…just to name a few. This collection of vintage plates is stacked and layered for a fresh pop of color and interest!
TIP: I always use the rule of threes when it comes to creating vignettes & decorating spaces. Groupings in odd numbers is most pleasing to the eye. See this post here from Yvonne of Stone Gable.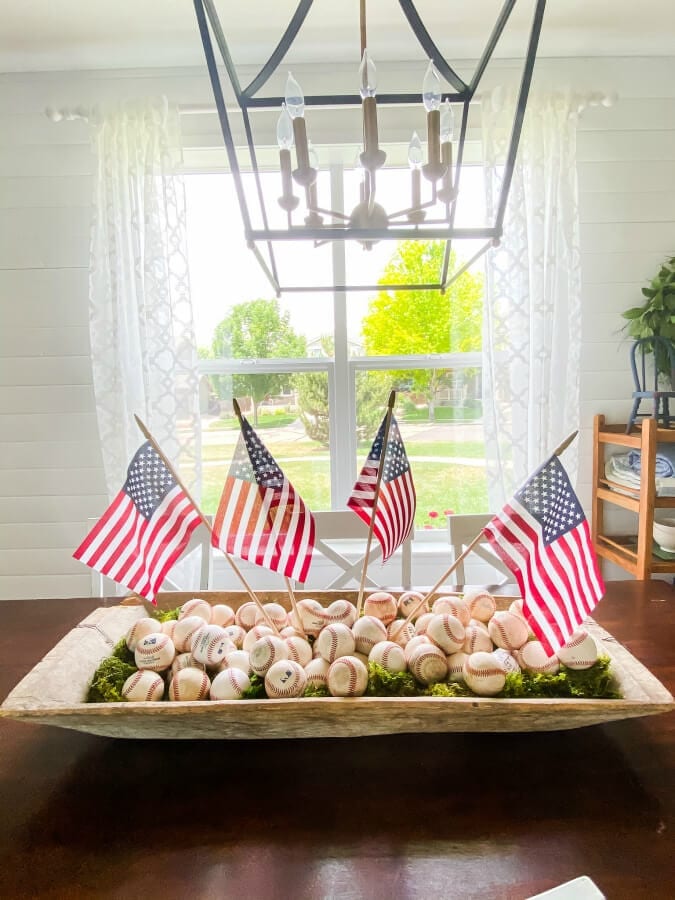 This is and will always be one of my all-time favorite summer vignettes or centerpieces I have created! Our family loves baseball so I gathered them all in my vintage dough bowl on a bed of moss. The moss adds color, and the flags add height and interest. Summer decor at it's best!
TIP: Don't be afraid to use everyday items and things you love from around your home to create a statement piece.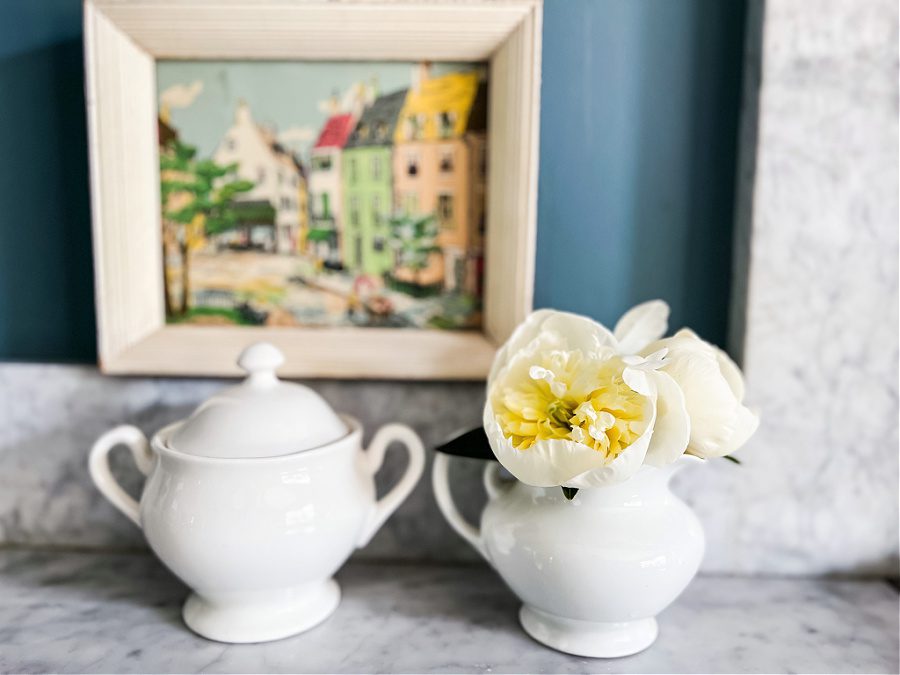 This sweet vignette currently sits on our kitchen counter. The white peonies are long gone but this grouping of 3 vintage items feels so sweet together.
2. Furniture
Just the other day I was talking to my husband about how almost all of the pieces in our family room are from flea markets, Facebook Marketplace or consignments shops.
I love to hunt for vintage pieces and even newer pieces too. I want our home to tell a story and incorporating vintage decor is just the way to do that.
The green dresser you see above was a vintage dresser on I found on FB Marketplace and painted. It was in rough shape and needed to be painted.
The blue books on top are vintage finds as well. Books could totally have their own category in this post! Books are probably one of the fits things I always gravitate to when I am decorating. They come in all kinds of colors and shapes. Perfect for decorating any space.
The darling little side table you see next to our blue chair was a flea market find. I adore the caning on the top!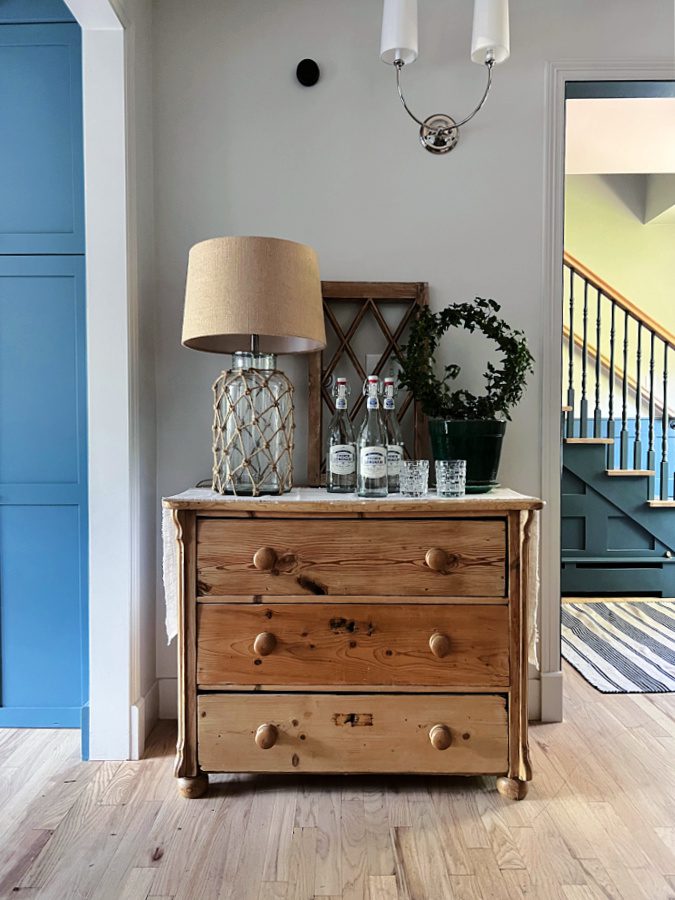 Lately I have been in love with pine furniture. I scooped this vintage beauty up last summer from a Facebook Marketplace listing. It has now become a staple in our home, and I love creating vignettes on top her like this summer vignetter you see currently.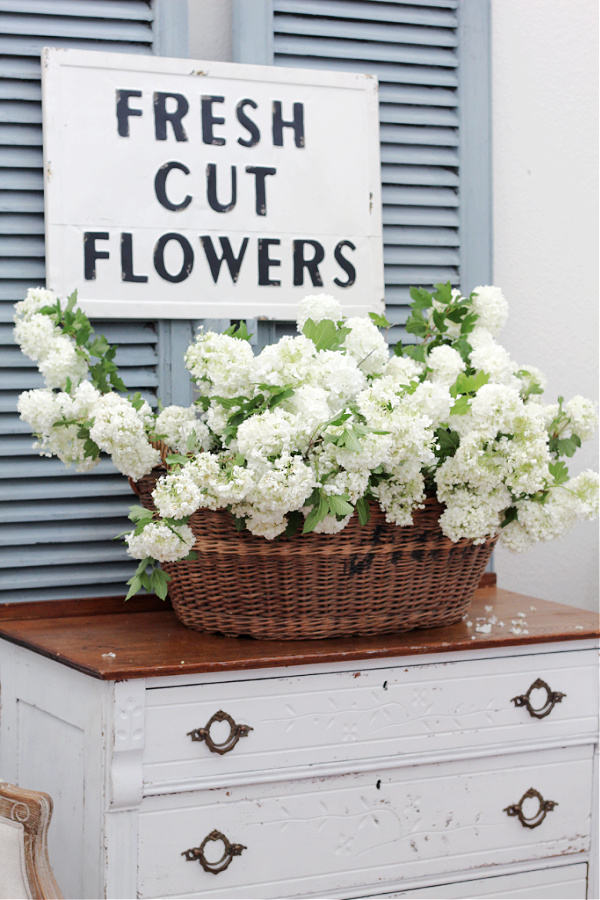 The white dresser was another rescue piece that I painted the base of and left the top natural. The handles are not the originals ones but these new ones I found at Hobby Lobby give it a vintage vibe for sure! I love the basket full of flowers on top of her…the basket was a vintage market find too!
Oh, and we can't forget those gorgeous shutters you see peeking out from behind the white dresser. You can read all about how I painted them using MMS Milk Paint here in this post.
3. Vintage Artwork
In our home we have a mix of old and new artwork. Whenever I am out hunting, I always keep my eyes peeled for paint by number pieces. They have a certain look and feel to them that I love. Plus, their vintage vibes are perfect for my eclectic style.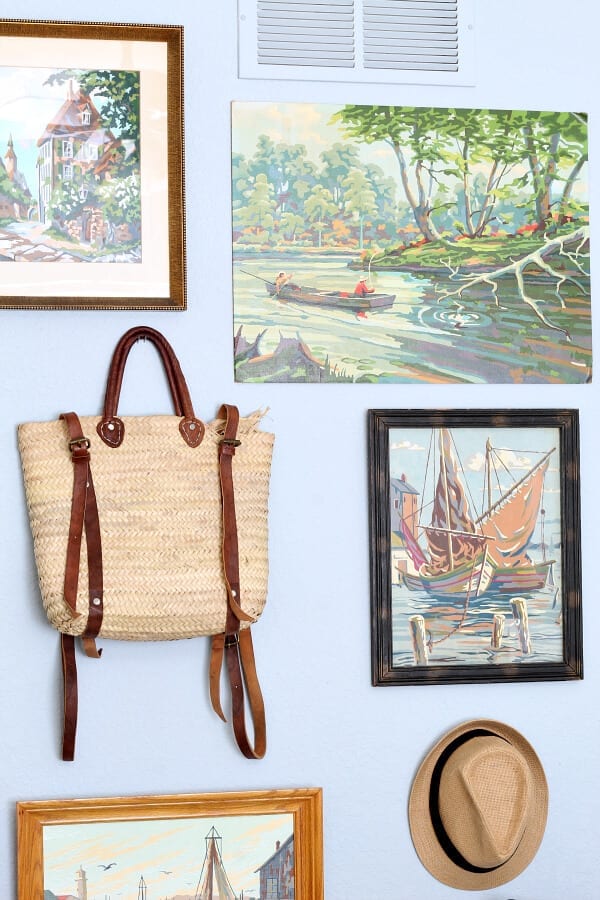 The collage of paint by numbers, mirrors and accessories was one I created in our master bedroom in our previous home. A few of these pieces have made it to our current bedroom now.
I love the mix of different colored frames and different colors in the art. Most of these have some tie to water and I love how that makes them feel like they were always meant to go together.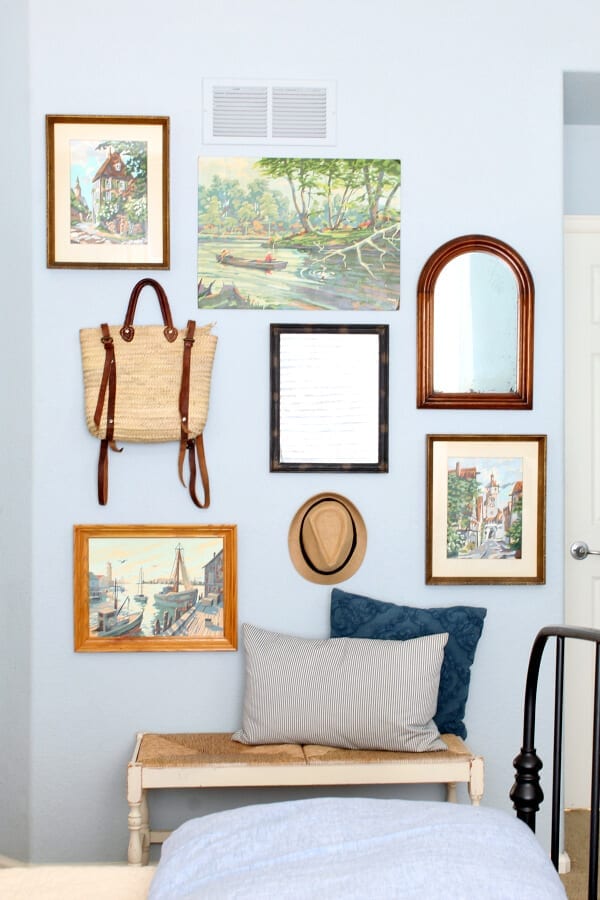 Below is the current view next to my husband's side of the bed. A vintage mirror and one of my paint by numbers pieces.
I'm working on adding more vintage decor to other spaces in our home currently. My friend Roxanne has a wonderful shop with lovely vintage art and prints called Old Home Revivals. I love shopping her site and I love shopping small. If you are looking for affordable vintage art, you won't want to miss her shop!
4. Linens
My fourth way to add vintage decor this summer is through linens. Not just linens on your tables but linens on your beds, stacks of old quilts, outdoor throws and so much more!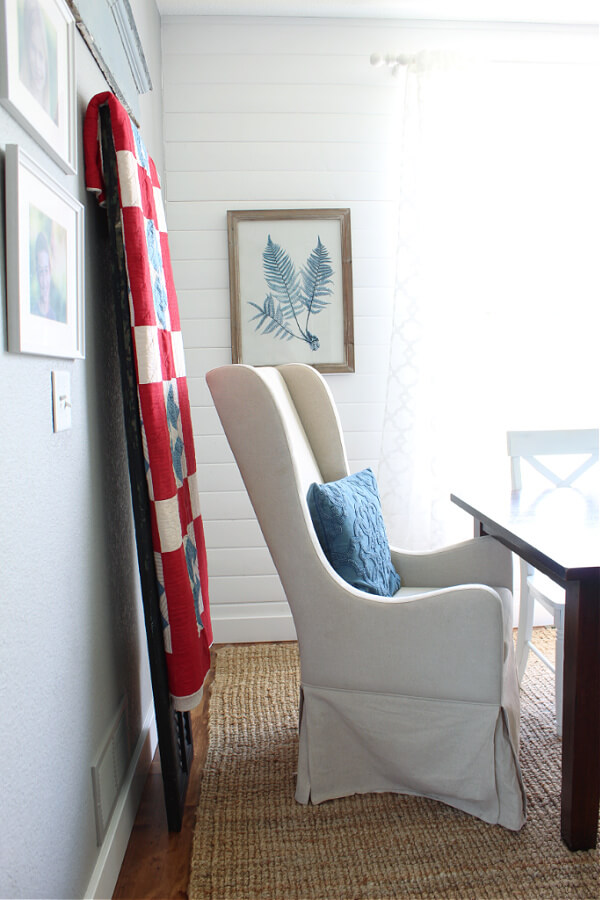 This red, white and blue vintage quilt is actually my mom's. She let me borrow it last summer since I was decorating my house with patriotic colors. I simply folded it long ways and draped it over this ladder. It served as instant hanging art!
It's no secret that I am a fan of blue and white decor. So, when I saw this blue and white quilt at a flea market a few years ago I snatched it up to add to my collection. She instantly found her home on our porch draped over my pew.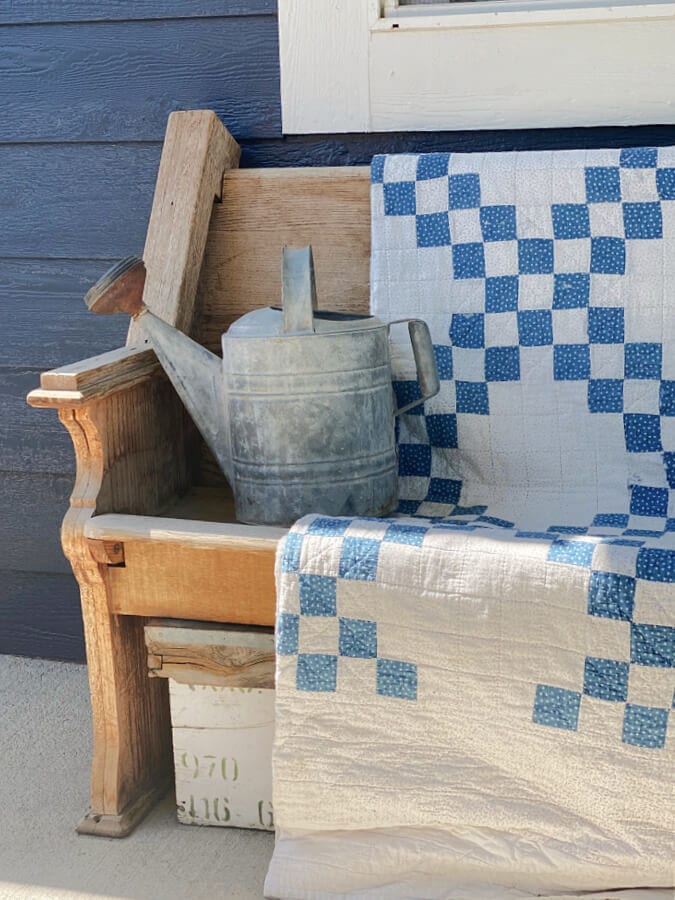 Stacking old colorful quilts is one of my favorite ways to decorate for summer! I have displayed them on tables, baskets, and other pieces of furniture. Since they are soft and lite, they are easy to move around.
TIP: Group old linens together for a pretty display that is both functional and fun!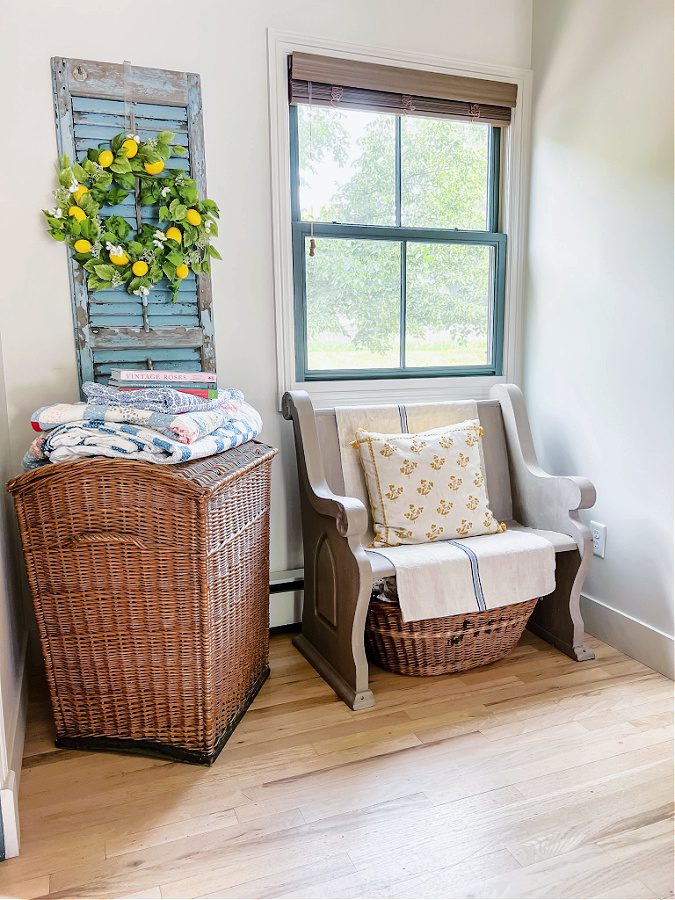 More stacks of quilts as well as a vintage grain sack draped over my sweet little pew! I love the blue stripe. And guess what I keep in that huge basket?! My collection of vintage wool plaid blankets that I love displaying during Christmas! You can see them here.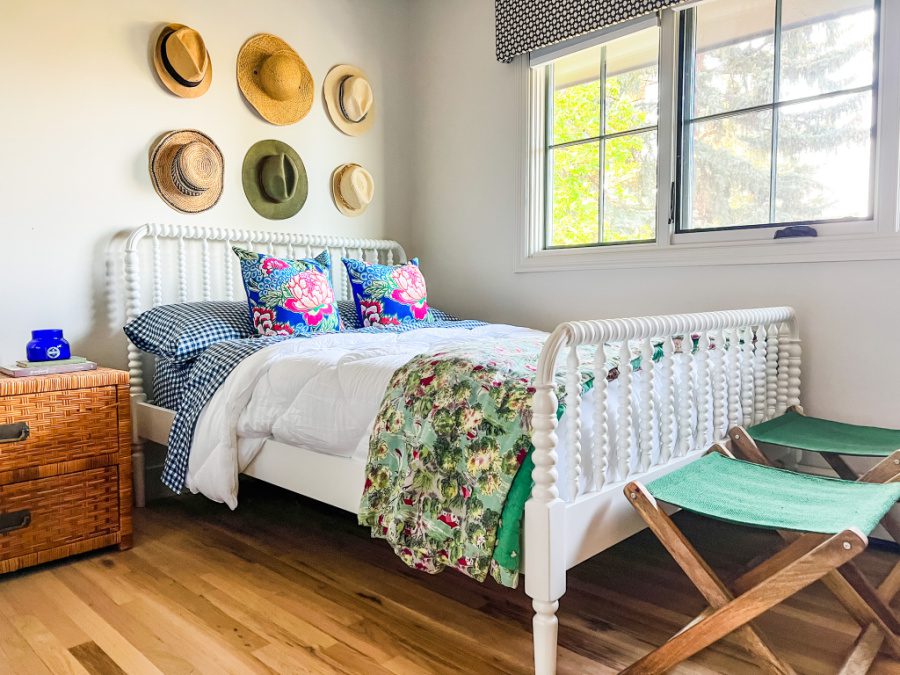 This is our guest bedroom and that quilt on the end of the bed is vintage bark cloth. It's actually a gorgeous two-sided quilt I found at a flea market and rescued and brought home to our house. She looks so pretty mixed with the newer bedding! Mixing patterns and textures always make me so happy when it comes to decorating.
5. Collections
My fifth and final tip for adding vintage summer decor is to display your collections! You may have already noticed a few of my collections in previous pictures but I wanted to share them all in one spot.
Do you have any fun vintage collections? Do you display them around your home? It's such an easy way to get them out and noticed! My personal collections definitely lend themselves to summer!
I love collection and displaying vintage quilts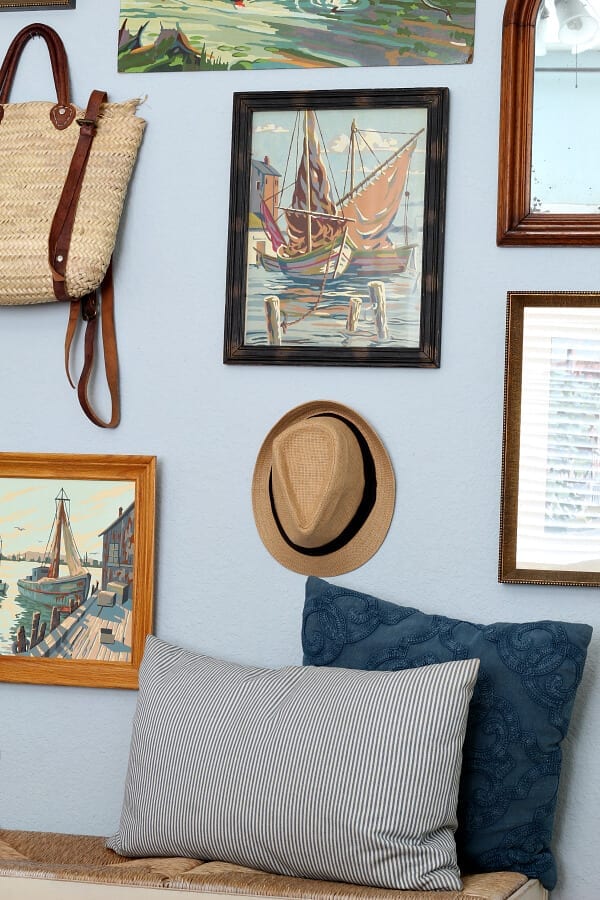 Remember my vintage paint by numbers collection? It is always growing!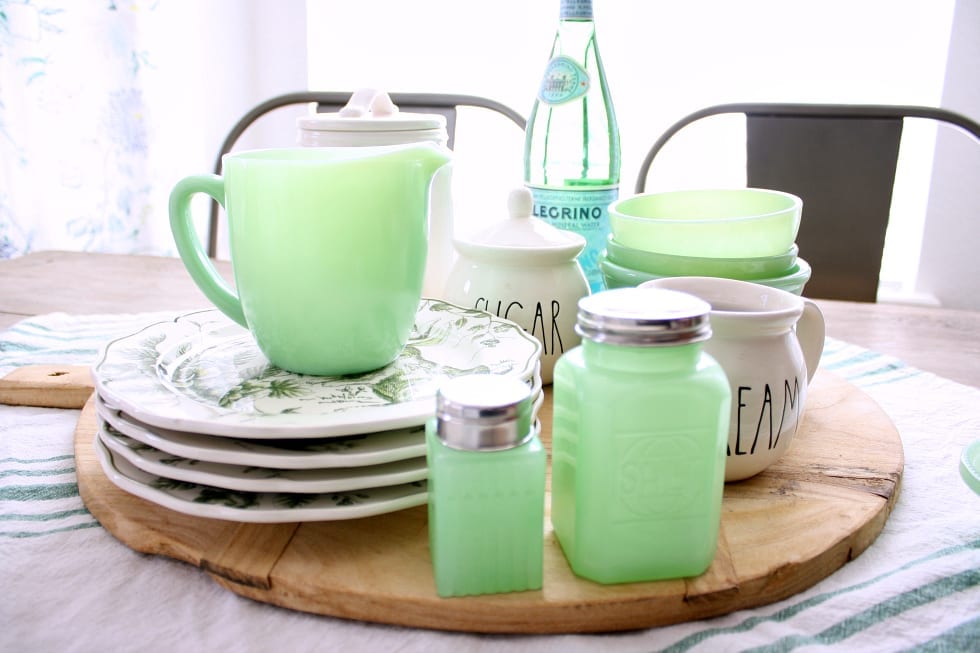 Here you see how I have grouped a few of my jadeite pieces that I collect. I wrote an entire post all about how to tell old jadeite from new. It's a great post if you want to make sure your pieces are vintage!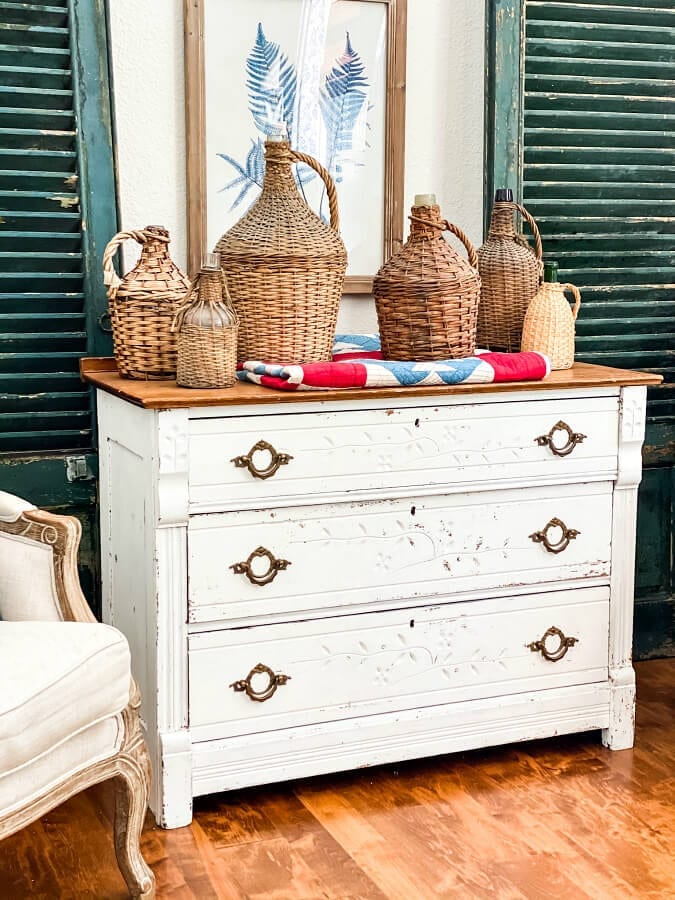 One of my very favorite collections is my wicker demijohn bottles. They are getting harder and harder to find so when I see one I always snatch it up. I love grouping them together for a bigger impact. Aren't they so fun on top of my dresser? I adore their coastal vibes!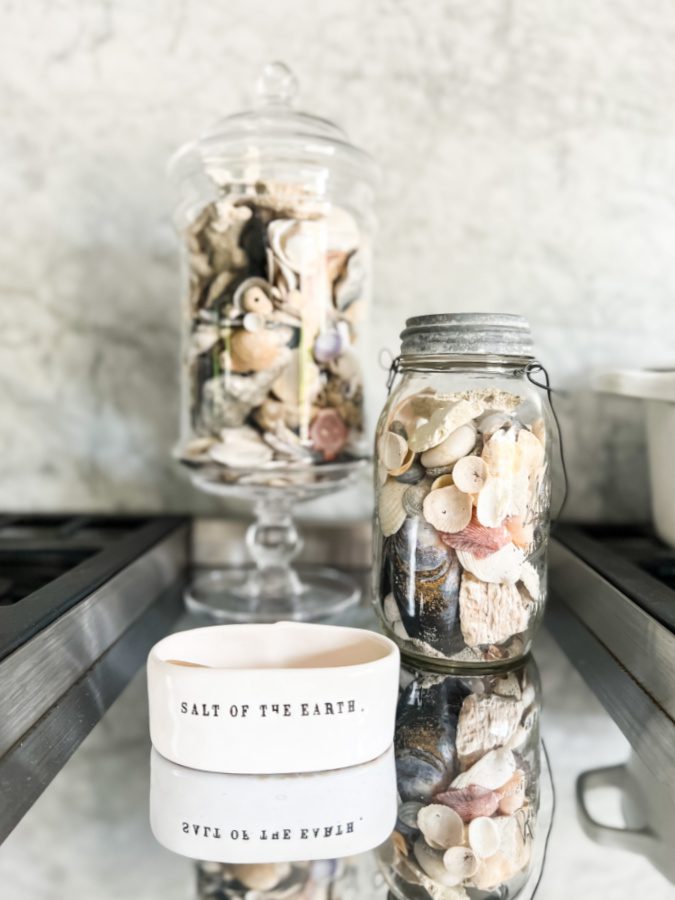 Seashells count as vintage, right?! Ha! I do collect seashells and I love keeping them displayed in vintage containers like this old Kerr jar. Notice the lid? Fun fact, my maiden name is Kerr so finding these jars has also been something I look for when out treasure hunting. Displaying them in special ways like these seashells or my mom's hot chocolate makes them even more special!
5 Easy Ways to Add Vintage Decor for Summer
Hopefully one or more of these easy ways to add vintage decor to your home for summer resonated with you. Let me know which ones you already use in your own home or will be using soon. Now make sure to scroll down to see what the other ladies are sharing for vintage summer ideas!
xoxo,
Kelly
More Old Fashioned Summer Inspiration
The Tattered Pew | Eleanor Rose Home | Midwest Life and Style | Green Valley Gable | Our Tiny Nest Blog | White & Wood Grain